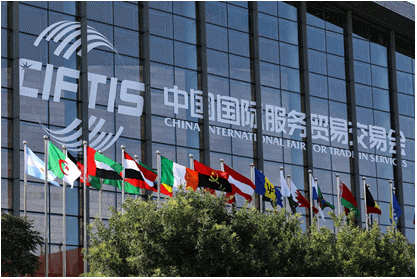 The 2020 China International Fair for Trade in Services (CIFTIS) opens on September 4 at China National Convention Center in Beijing. Photo by Yu Jie
Themed "Global Services, Shared Prosperity," the 2020 China International Fair for Trade in Services (CIFTIS) is now underway in Beijing. Given the still raging COVID-19 pandemic, the international fair is held both online and on-site.
On September 6, as a part of the CIFTIS, the North American Chinese Investment Summit was held in an online-and-offline form, in a bid to promote two-way investment between China and the United States, and the state of Tennessee in particular. Co-sponsored by Tennessee Department of Economic & Community Development of the U.S. and the Investment Promotion Agency of China's Ministry of Commerce, the summit tried to figure out a new path for outbound investment amid the volatile global economic landscape.
"Throughout these years, we have made great efforts to facilitate two-way investment between China and the U.S.," said Liu Dianxun, director general of Investment Promotion Agency of Ministry of Commerce. Noting that the Chinese government has been focused on advancing opening-up, and encouraging companies to go global, Liu pointed out that Chinese enterprises in the U.S. have helped fuel local economic growth, facilitated the development of certain industries, and created jobs for the American people. "China and the U.S. are highly complementary in many aspects, including human resources, markets, capital, and technology. Bilateral economic and trade cooperation is in the common interest of the two countries," he indicated.
"Tennessee and Beijing have a lot in common – friendly people, wonderful culture, preferential business environment, and delicious cuisine," said Hanes Roberts, commercial officer of the Commercial Service, the U.S. Embassy in China, who spent four years of college in Tennessee and now works in Beijing. He is now in charge of attracting Chinese investors to take part in the U.S. program "SelectUSA" which welcomes investors representing international businesses of all sizes that are seeking to establish or expand operations in the U.S. According to Roberts, in 2019, their team assisted 13 Chinese investors in the U.S. with an investment of US $1.672 billion in total; in 2020, despite the COVID-19 pandemic, there are still five Chinese companies which chose to invest in the U.S. with an investment value of US $161 million.
Li Weaver, the Tennessee China Development Center (TNECD) director of Business Development, China, and president of North America Business Progressive Association (NACIC), along with her American partners, also attended the summit via video link. "Since the establishment of TNECD, the China Office has signed cooperation frameworks with the Ministry of Health, Ministry of Commerce, and other relevant ministries (of China), local governments, and business associations, and has achieved fruitful cooperation results," Li said. So far, Shanghai Automotive Industry Corporation, Dalian Fushi Group, Qingdao Double Star Tire Industry Co., Ltd., Marco Polo Ceramics Co., Ltd., Shengnuo Group, and Minth Group have all established a presence in Tennessee.