IN the report delivered at the 19th National Congress of the Communist Party of China (CPC) last October, CPC General Secretary Xi Jinping stressed the significance of promoting an ecological progress, stating that lucid waters and lush mountains are invaluable assets. The Party vowed to establish the strictest possible systems for environmental protection, and develop eco-friendly growth models and ways of life, so as to create good working and living environments for Chinese people and play its part in ensuring global ecological security.
The concept of ecological progress was also put forward in the report to the 18th CPC National Congress in 2012. It was as much emphasized as economic, political, cultural, and social development, thus forming a so-called five-sphere integrated plan. Over the last five years, influxes of funds have generated rapid progress in green development.
In 2016, Jiangxi was designated as one of first three trial zones for ecological development. The eastern province has proactively explored ways of green growth, and has since served as a model in this regard. The extensive, creative exploration has made Jiangxi a harbinger in sustainable development.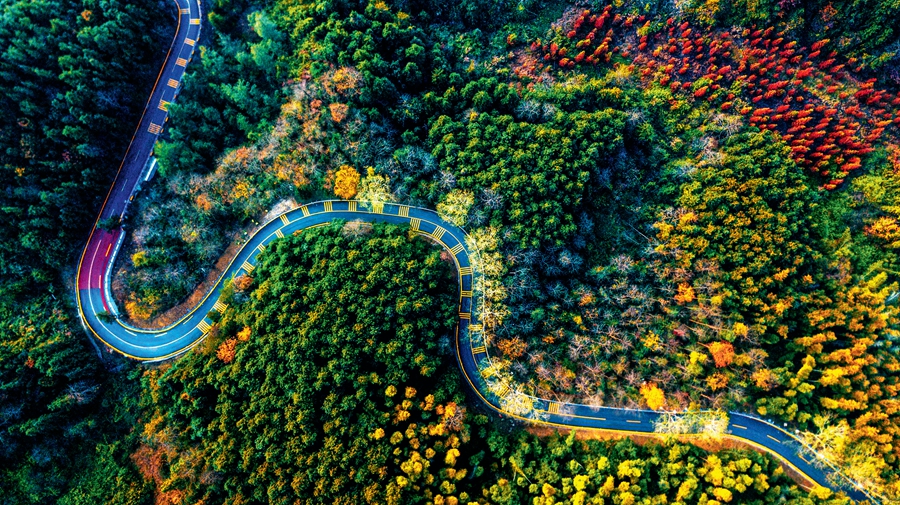 A 7.6-km-long "smart" road runs through Wanli scenic spot in Nanchang. The road is equipped with early warning systems in case of low visibility, frozen weather, etc.
Innovating Mechanism
In January 2015, China's revised Law on Environmental Protection took effect, followed by laws combating air, water, and soil pollution. As a trial zone, Jiangxi Province brought forth new ideas to deal with these types of pollution.
Nanchang, Jiangxi's capital city, initiated the "Blue Sky Action" campaign in May 2013, setting up air quality monitoring stations and no-go zones for high-emission "yellow-label" cars. In 2016, there were 318 days with good or excellent air quality, compared with 222 days in 2013. In the first eight months of 2017, the density of PM10 in local air dropped to 70 micrograms per cubic meter, 3.2 micrograms below the national standard.
To combat water pollution, the "river chief system" was trialed in Jiangxi, with government heads and Party committee members taking accountability of the river water quality. By the end of 2015, the system included five levels of participants – province, city, county, township, and village. The system facilitated pollution remediation in five major rivers and a lake within Jiangxi Province. Now, sewage treatment facilities have been installed in 48 counties and 25 industrial parks; and newly built supportive pipe networks were extended to these counties (with total length of 969.74 km) and industrial parks (565.3 km).
A solar-powered mosquito-trapping light in a tea garden in Zixi County.
The province revised and implemented the regulation on water resources, which sets higher standards for water resources exploitation and water-use efficiency, and strictly controls waste discharge in water function zones. In Jing'an County, for example, effective remediation enabled all rivers to reach grade-II water quality.
Similar mechanisms were also formulated to manage mountain resources. For example, in Zixi County, forest coverage has reached 87.3 percent.
Jiangxi kicked off an action plan to improve soil quality in 2017. It carried out stern regulations on preventing soil pollution as well as soil restoration and quality control. All levels of the government are accountable for soil pollution prevention and management.
With regard to urban management, Jiangxi built city parks, wetland parks, and forest parks, and hastened the pace of building "sponge" cities, laying underground utility tunnels and optimizing the functions of cities and counties. In rural area, time-honored villages and towns have been protected and revived ecologically and economically.
Transformation and Upgrading
Through all this change, one message has been clear: ecology and environment should not be sacrificed for short-term economic growth. It has been a consensus in China that good environment is a fulcrum that leverages constant, healthy development of both the economy and society.
In Jiangxi, ecological awareness has been adopted by all industries, which is mainly manifested in two ways – industrializing its green endeavors and greenizing industrial sectors. Clean production and circulation systems have so far been applied to all industries, as well as the full process of product management. In agriculture, the "ecology plus" mode was promoted, such as under-forest economy. The service industry has also adapted to the trend of green development, for example, by promoting ecological tourism, all-for-one tourism, and cultural services.
Fossil fuels are the main source of pollution and greenhouse gases, so an extensive movement has taken place to restructure China's energy sources. Jiangling Motors is one of the leading companies that produce electric vehicles. Their cars are especially popular in small cities and towns. In 2016, Jiangling received the go-ahead from the National Development and Reform Commission to develop electric passenger cars.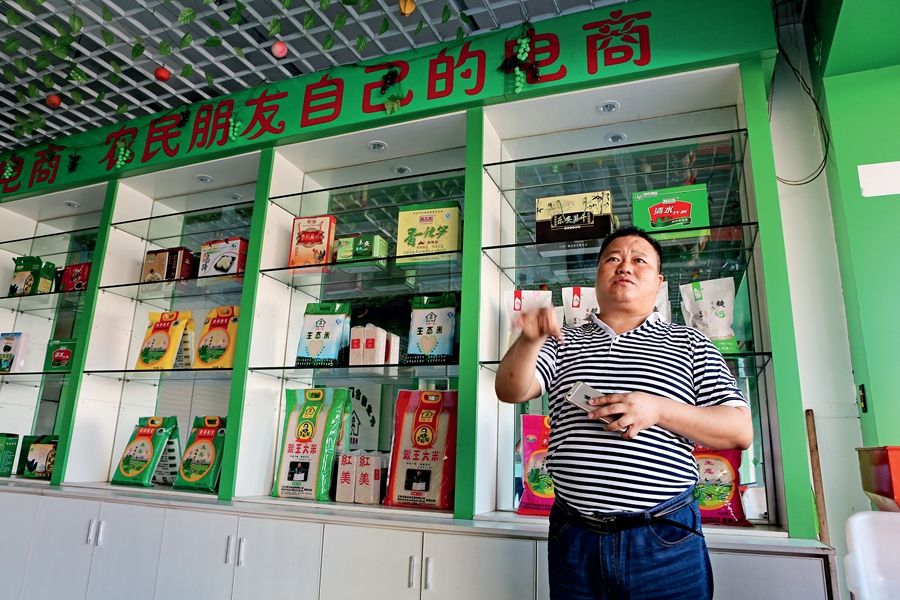 Processed rice products, as displayed in the back cabinet, are a major source of farmers' income.
Heavy industry is another major source of pollutants. In the last few years, a slew of policies have been implemented to support the transformation of iron & steel, nonferrous, and chemical industries. Jiangxi Copper Corporation leads the country in improving end-of-pipe treatment and developing circular economy. It also successfully created a green whole-process metal exploitation system. At the company's smelting factory in Guixi, for example, gold fish swim in the purified wastewater, signifying the facility's success in meeting water quality standards after treatment.
Modern green agriculture also prospers in Jiangxi. A group of time-honored brands have been revitalized by embracing the organic trend, farming organic oranges, pigs, poultry, and fish. The local eco-farming base produces millions of free-range chickens every year. On the sites of abandoned mines, ecological farms have been set up, allowing the bare hills to be covered by forests again.
Promoting Green Lifestyle
To promote the awareness of an ecological environment across the province, Jiangxi extols the virtues of a green lifestyle and green consumption, encouraging the public to enjoy a healthy low-carbon lifestyle.
In recent years, the province hosted several influential events like the Summit on International Low-carbon and Eco-economy Development, China Poyang Lake International Eco-cultural Festival, and Poyang Lake Rim Cycle Race, which offered opportunities to promote ecological progress in local enterprises, communities, rural areas, and schools. The province also selected 16 demonstration counties and 60 demonstration bases, which are expected to explore modes of an ecological development for the entire province.
Publicity and educational departments of the province also include the idea of ecological progress into their public education and official trainings. For example, primary and middle schools carry out activities to spread the concept of "being green," and a position of environment supervisor has been established in governments and companies. The media also proactively participates in the campaign by reporting such cases to raise public awareness.
The concept of a green lifestyle has prevailed in Jiangxi due to projects like garbage sorting, the "no leftover" campaign, and promotion of energy-saving home appliances. Many young people voluntarily raise the temperature of air conditioners to 26 degrees centigrade in hot summer days, opt for new energy cars, and buy green apartments. The booming sharing economy has transformed the consumption style and made everyone play a part in a green society.
In June 2016, Gretchen Daily, a Stanford professor, published her research on Science, stating that China has obtained significant results in environmental protection, which she believed was referential to other countries.
Jiangxi Province is still striving to explore an ecological development path. It reveals the possibility of balancing the environment and development, and foretells a beautiful green life we can have in the future.