THE Belt and Road Initiative (BRI) since its birth in 2013 has made numerous accomplishments in policy consultation, infrastructure connectivity, trade promotion, financial cooperation, and people-to-people exchanges. Meanwhile, great progress has also been achieved in implementing the concept of building a green community with a shared future for mankind.
Green Envoys Program
In March 2019, Khin Cho Cho Shein and other participants were invited to Beijing to attend the China-ASEAN Environmental Cooperation Week. Shein is from the Ministry of Transport and Communications of Myanmar, and received training in meteorology in China's Nanjing University a decade ago. After finishing her studies, she took back what she had learned about advanced ideas and technology and applied them in her work. She felt incredibly excited at the opportunity of visiting China again.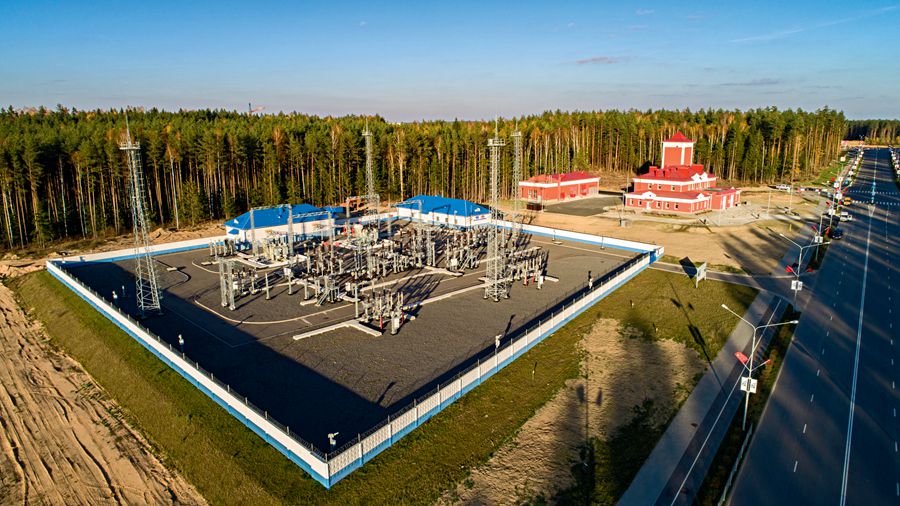 Substation and fire station in the China-Belarus Industrial Park (under construction).
"Myanmar is taking action to deal with environmental changes, which tallies with the United Nation's Sustainable Development Goals 2030 and China's proposal of building a green Silk Road. Therefore, the Myanmar government is implementing a series of action plans which include related policies, implementation organizations, and financial and high-tech initiatives. Meanwhile, it strives to establish a green partnership with nations along the BRI routes." Shein introduced her colleagues from the Ministry of Environmental Protection who accompanied her, "They are responsible for making macro-policies, while our staff members from the Ministry of Transport and Communications collaborate with them to design specific plans."
This five-day environmental cooperation program includes multiple activities such as the China-ASEAN National Focal Point Meeting on Environmental Cooperation, the Seminar on China-ASEAN Cooperation for Eco-friendly Cities 2019, Task Force Meeting and Workshop on Operational and Technical Issues of China-ASEAN Environmental Information Sharing Platform (EISP) 2019, and China-ASEAN Capacity Building Workshop on Climate Change Policies and Actions. Talking about her expectations, Shein hoped it would result in more pragmatic cooperation in environmental protection and sustainable development between Myanmar and China.
There have been lots of such exchanges and research programs concerning environmental protection between China and other BRI countries.
In July 2018, China's Ministry of Ecology and Environment and Laos' Ministry of Natural Resources and Environment signed a Memorandum of Understanding on Cooperation in Environmental Protection and the China-Laos Cooperative Action Plan on Ecological Environment (2018-2022), which showed that the two countries had reached a consensus on cooperation in specific areas. Four months later, the Lancang-Mekong Environmental Cooperation Center organized a Chinese delegation to carry out inspections in Laos. They visited the country's atmospheric environment monitoring system, movable air-quality surveillance station, sewage discharge system, the natural waste-water treatment system around the Thatluang reservoir, and the sanitary landfill facilities in Luang Prabang.
Virasack Chundara, director of Laos' Natural Resources and Environment Institute, accompanied the Chinese delegation on their inspection tour. He said, "Air-quality surveillance is an absolutely new field of work for Laos, and there is only one fixed monitoring site and one movable surveillance vehicle in Vientiane. The collected data are very basic and cannot meet our needs. Therefore, we are looking forward to learning from China's experience in this area."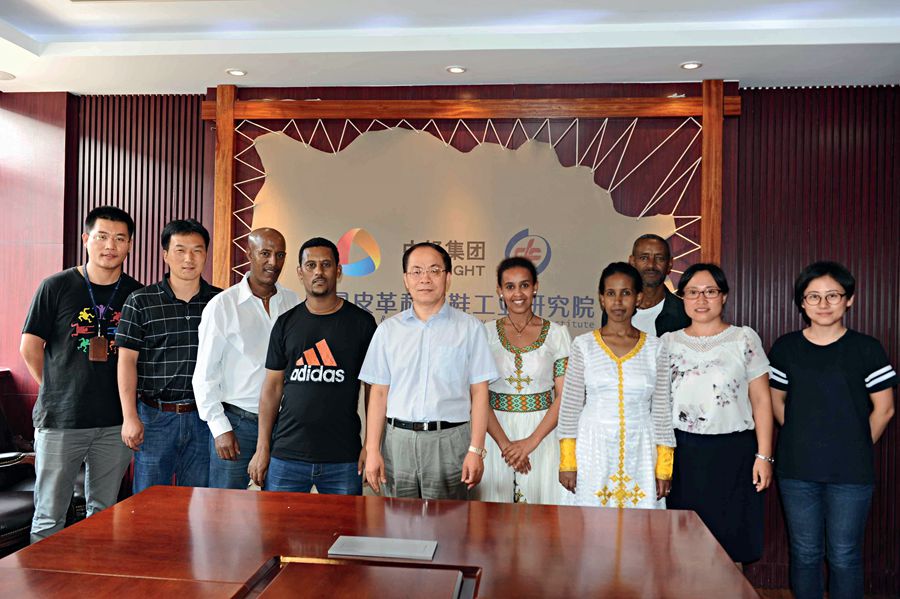 Staff of the Sino-Ethiopian Leather Industry Development Institute.
Laotian trainees are also eager to learn from China's sewage treatment experience. An official from the Bureau of Natural Resources and Environment in Luang Prabang Province expressed his wish to improve their capabilities in environmental governance via the training programs organized and sponsored by the Lancang-Mekong Environmental Cooperation Center.
"Laos' natural conditions are fairly good, but there are still some environmental problems, particularly in the Luang Prabang Province where the hydro-power stations, mining exploration, and booming tourism have resulted in large amounts of untreated sewage water which have been directly discharged into rivers. We need to work closely with governmental and non-governmental organizations, the Lancang-Mekong Environmental Cooperation Center in particular, to pool their wisdom and get support in technology and equipment for environmental management, pollution surveillance, and sewage treatment," said the official.
Early in 2016, the China-ASEAN Messenger Program, a training program on environmental cooperation, was upgraded to the China-ASEAN Green Envoys Program. Through various projects including capacity-building for policy makers and industry cooperation, this program aims at promoting regional ecological and environmental cooperation, advancing regional sustainable development, and jointly building up a flagship program along the green Silk Road.
In 2019, over 150 representatives participated in the five-day training in Beijing. They hailed from China's Ministry of Ecology and Environment, Chinese Academy of Sciences, Chinese provinces of Yunnan, Zhejiang, Hainan, Hunan and Guangdong, and Guangxi Zhuang Autonomous Region, and also the ASEAN Secretariat and the relevant departments of ASEAN member nations, as well as international organizations including the United Nation Environment Programme, Stockholm Environment Institute, and the Energy Foundation.
Zhang Jieqing, deputy director of the Department of International Cooperation and Exchange of China's Ministry of Ecology and Environment, welcomed the ASEAN member nations' participation in the building of a green Silk Road, especially in joining the International Coalition for Green Development on the BRI and the BRI ecological and environmental big data service platform, so as to implement the UN sustainable development goals.
An Eco-friendly Industrial Park
The China-Belarus Industrial Park, named Great Stone, is a landmark project located in Minsk, a vital hub city on the Silk Road Economic Belt linking Europe and Asia. May 11, 2018 witnessed the opening ceremony of the China-Belarus Friendship Park within the Great Stone. In order to provide the newly arrived enterprises and the public an eco-friendly working environment and a livable community, 700 seedlings have been planted within the park with a survival ratio of 99 percent.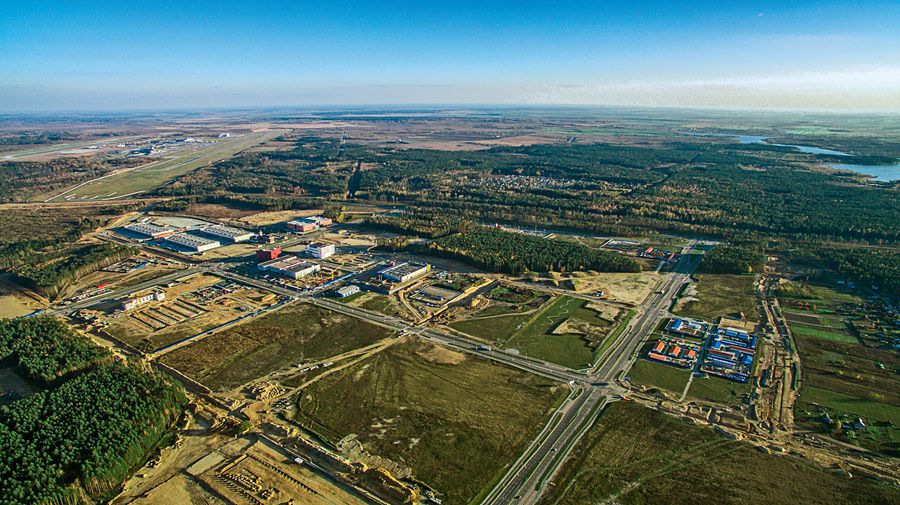 Aerial photo of the China-Belarus Industrial Park.
According to Mikhail Zagorzev, director of the Smolevichsky District of Minsk region where the Great Stone is located, there was criticism and objections when the district was first chosen to host the site. The main conflict was caused by fears of the densely forested land being turned into dusty construction sites and rows upon rows of factories and plants.
When the Chinese delegation visited the site and saw the dense woodland and the birds flying by, they promised to protect its original ecology and minimize the damage to nature. "I was deeply moved and felt relieved when I heard those words from the interpreter," Zagorzev recalled. The two nature reserves there were completely retained during the exploration and development of the industrial park. The industrial park's administrative center signed an agreement on ecological protection with the local government, dispelling the public misgivings about the park.
The construction of the infrastructure facilities in phase one of the industrial park was officially launched in March 2015. Bai Xiujun, a program manager from China CAMC Engineering Co., Ltd. who was in charge of the infrastructure construction, recalled, "When we started to build the first road – Minsk Street, officials of the Belorussian government came to inspect our work every day, and every detail must meet their standards. For instance, in China the builders are required to build five to 10 meters wide green belts on both sides of a road, but in Minsk, such green belts must be at least 25 meters wide, and the fallen branches in the forests 50 meters away should all be cleared away, otherwise you will be fined. Nevertheless, thanks to these rigid standards and requirements, we've established even stricter rules for project management."
The new philosophy for green development proposed by Chinese President Xi Jinping expressed in words "lucid waters and lush mountains are invaluable assets" has been fully applied to the construction of the China-Belarus Industrial Park. While developing modern manufacturing, the industrial park also aims to build a new town suitable for living and business. To this end, the companies that had been recognized by the European Eco-Management and Audit Scheme (EMAS) were invited to evaluate and audit the environmental performance of the industrial park so as to make the park comply with the unified European environmental standards.
The master plan for the Great Stone Park was designed to include existing residential areas and ecological reserves, retaining 15 villages and 13 plantations. The green coverage rate of the park reaches almost 50 percent. An international green town with advanced ecological ideas is rising in Minsk.
Sustainable Leather Industry
Far away on the African continent, Ethiopia has also joined the team of building a green Silk Road. Via cooperation with China to strengthen personnel training and update its industrial chain technology and equipment, the leather industry of the country has stepped on a path towards sustainable development.
Chen Guodong is a trainer at the China-Ethiopia Leather Industry Joint Laboratory. He has been responsible for the training of Ethiopian workers in equipment installation and adjustment, and sewage treatment since 2013. He often speaks highly of Ethiopia's natural beauty and its people, "It boasts a pleasant climate, beautiful scenery as well as a simple and honest people. Being there you'll feel like you're in China's Yunnan."
Ethiopia is seated in the core of the Horn of Africa, famous for its vast plateau and the East African Great Rift Valley. Its livestock population comes first in Africa, giving it an advantage in developing leather industry.
Along with the development of the leather industry, the discharge of tannery waste water has gradually become a restrictive factor to the industry's sustainable development in Ethiopia. Chen explained, "The leather industry has made great contributions to economic growth, but the pollution issues are serious and have to be tackled, otherwise we will lose in the future. China's leather industry has not only updated its manufacturing technology and improved the equipment, but also set up the industry standards to regulate the sector. Sharing the experiences with Ethiopia would be useful to the further development of the country's leather industry, and will also lay a solid foundation for the export of China's leather technology."
On November 25, 2013, in the presence of China's Vice Premier Liu Yandong and Deputy Prime Minister of Ethiopia Demeke Mekonnen, the ministries of science and technology of the two countries signed a Memorandum of Understanding on the construction of the China-Ethiopia Leather Industry Joint Laboratory.
Chen said, "While doing research on Ethiopia's leather industry, I found that the equipment and technology of local enterprises were fairly advanced, but since the process of microorganism treatment was very complicated, it often was unable to be carried through during the production. To meet the needs of Ethiopia, our laboratory mainly provides training in the treatment techniques of sewage and the chromium-containing hazardous waste, as well as the use of relevant equipment. The process of leather manufacturing, such as soaking, degreasing, unhairing, often produces large quantities of industrial effluents. The tannery waste water recycling technologies developed by China can lower the chemical oxygen demand in sewage to under 100, and the operation process is quite simple. Such treated waste water can not only be reused but also has little impact on the environment."
Besides technology, a complete set of Chinese equipment has also been provided to Ethiopia, and related workers have received training in both Ethiopia and China. Chen said, "Our trainees need to understand the details of our technologies and be familiar with the equipment. After training, they've acquired new knowledge and skills, and developed professional capabilities. The laboratory is a technical support base open to local enterprises where they can visit and learn the latest technologies so as to promote their own technological innovation and industrial upgrading."
Chernet Yonas Kebede used to be a staff member of the laboratory. After receiving systematic training, he has grown from a grassroots worker into a technician.
From November 2013 to November 2017, a total of 76 Ethiopians received training at the China-Ethiopia Leather Industry Joint Laboratory, improving their skills in making leather and raising their awareness of and technical competency in environmental protection. As a result, the laboratory provides human resources guarantees for the improvement of Ethiopia's leather manufacturing techniques and its capabilities in achieving goals for sustainable development.
Over the past six years since the BRI was initiated, China and the nations along the Silk Road routes have made remarkable achievements in innovating environmental cooperation mechanisms, expanding fields of cooperation, and developing new forms of cooperation. The concept of a green, eco-friendly, and sustainable development has been widely accepted, and the cooperation programs in various fields of environmental protection have stepped onto the track of rapid development. Accordingly more and more people have joined the team of building a green "community with a shared future for mankind."