ON the 50 Smartest Companies 2017 list unveiled by the world's top technology review journal MIT Technology Review, iFlytek, a Chinese company dedicated to voice assistant technology, ranked first in China and sixth in the world. In 2018, iFlyteck performed the best in 12 international authoritative technology competitions thanks to its continued breakthroughs and internationally leading core technology.
When iFlyteck ushered in the 20th year since its foundation, Liu Qingfeng, a deputy to the National People's Congress, and chairman of iFlyteck, said, "The phased results iFlyteck has achieved in artificial intelligence are the innovation and persistence of generations plus sustained passion."
From a Blank Slate to World Pioneer
In 1992, Liu Qingfeng, a student of the University of Science and Technology of China (USTC), was selected by his supervisor to study in the Human-Computer Voice Communication Laboratory of the university. The eager student developed a deep affection for voice technology when he found that machines can talk like human beings.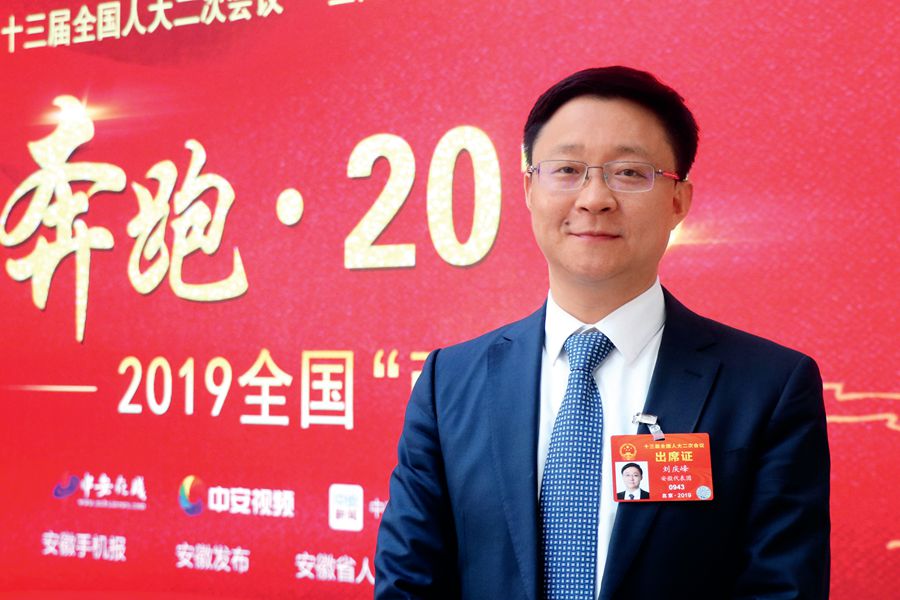 Liu Qingfeng, a deputy to the 13th National People's Congress, and chairman of iFlyteck.
At that time, Liu's dream was to achieve automatic translation of overseas telephone calls between China and the United States, between the Chinese and English speakers. With his outstanding contribution to voice assistant technology research during his school years, in 1995, Liu led a team at the USTC to undertake the state key project for speech synthesis technology development in the laboratory. Under the guidance of Wu Zongji, a famous linguist in China, the team achieved major breakthroughs in voice assistant technology in three months, and won first place in the national competition that year.
In 1998, Liu's team made the computer "speak" for the first time and participated in the first annual International Conference on Processing Spoken Chinese held in Singapore. Liu's team won the Best Paper Award in this field, establishing its preliminary prominence.
In the 1990s, China's reform and opening-up presented college students with more choices of employment. For Liu, his options were to either go abroad for further study or enter the commercial world. Liu admitted that while he did have plans to go abroad at the time, the offer made by his laboratory was more attractive. He, a newly-enrolled graduate student, could lead a research team of more than a dozen people. At the same time, there were a series of innovative mechanisms and methods available to him that he believed would not be as accessible abroad. In the end, what finally convinced Liu of staying in China were the words of Wu Zongji, "If Chinese voice technology is to be the best in the world, the Chinese voice industry must be in our hands."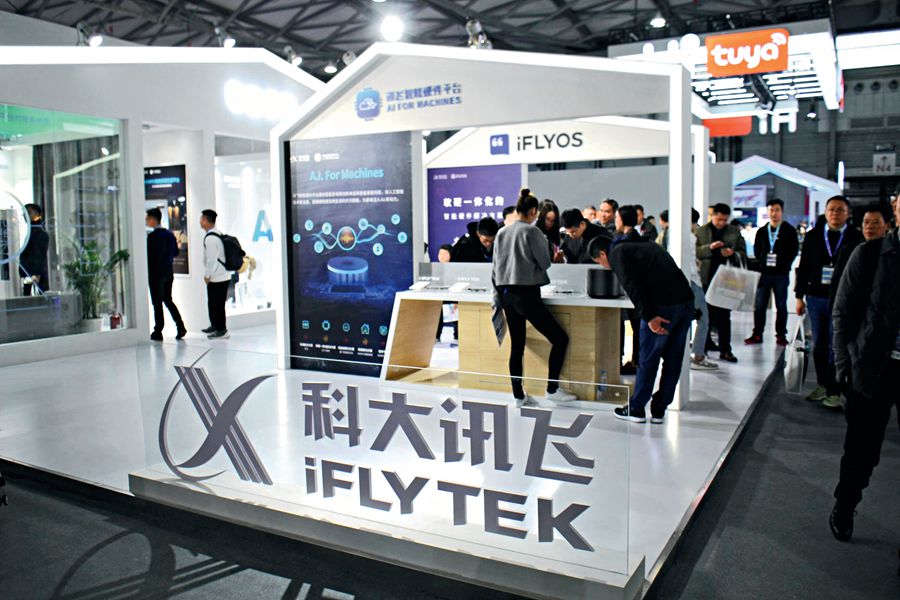 On March 17, 2019, the Science and Technology Park of Shanghai New International Exposition Center displays a full range of smart, integrated Internet of Things products, highlighting iFLYTEK's hi-tech product range.
In 1999, faced with the situation that the Chinese voice industry was basically controlled by large foreign companies and having the ambition to develop the Chinese voice technology industry, Liu Qingfeng led more than a dozen students to establish iFlytec. Liu was still a Ph.D. student at the time. In his view, only industrialization could better promote the development of voice technology and improve scientific research.
However, initially the start-up met with great challenges. Their funding was mainly used for technological research and development. With monthly expenditure far exceeding their available finances, the business could not be sustained and start-up partners began to pull out.
At this critical juncture, Liu convened a meeting and told his colleagues that they needed to commit to being passionate about voice technology, because without a heartfelt passion for what they were doing, it would be difficult to keep moving forward.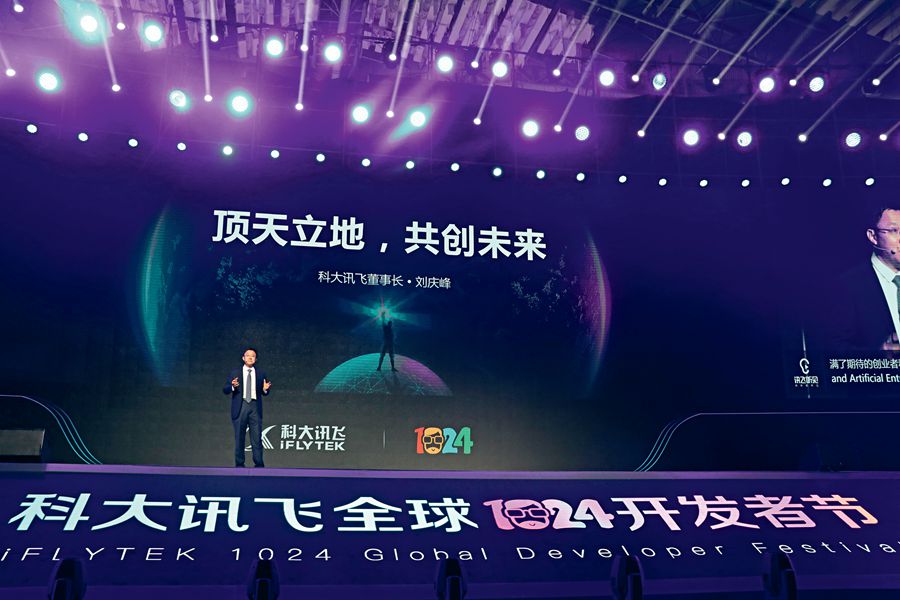 On October 24, 2018, the first Sound Expo and 2018 iFLYTEK 1024 Global Developer Festival opens in Hefei, Anhui Province.
At the end of 2000, iFlytek set a goal to become the largest Chinese voice technology provider in the world, the best multilingual technology provider, and to participate in global technology competitions on behalf of China in the future. According to Liu, this goal has never changed. However, the company suffered losses for five consecutive years and did not break even until 2004. Despite this Liu was still filled with expectations for the future. In 2006, iFlytek first participated in the international English synthesis competition called the Blizzard Competition and went on to win it for 13 consecutive years. In 2008, iFlytek was listed on the Shenzhen Stock Exchange and became the first listed company started by college students in China.
"To date, iFlytek has regained 70 percent of the mainstream Chinese voice market, but more importantly, not only does it rank first in the Chinese voice market worldwide, but also in the English voice market," said Liu.
The industrial ideal of "building a beautiful world with artificial intelligence" has enabled iFlytek to maintain its leading position in the field of perceptual intelligence such as speech synthesis and speech recognition. In addition, in the key areas of cognitive intelligence, such as common sense reasoning, knowledge discovery, machine reading understanding, image recognition and understanding, iFlytek has made remarkable achievements in the international arena, achieving continuous breakthroughs in core technology in these areas.
AI Empowerment: Helping Improve People's Livelihood
The 2019 report on the work of the government proposed to expand "smart +" to better protect and improve people's livelihood. "In 2019, artificial intelligence will move from a typical application pilot stage to a large-scale promotion," said Liu.
On September 20, 2018, the iFLYTEK AI + Medical Treatment, Intellectual Medicine Assistant, and Voice Electronic Medical Record are on display at the China International Industry Fair.
In fact, iFlytek has begun to explore the application of artificial intelligence in improving people's livelihood. "It's a typical example of AI empowerment for machines to act as doctors," said Liu. iFlytek and Tsinghua University jointly developed the "Intelligent Medical Assistant" Robot, which participated in the comprehensive written test of the National Certified Physician Qualification Examination. The robot got 456 in the total score of 600, equivalent to the top four in the exam, which indicates that artificial intelligence has the potential to be a physician.
In March 2018, iFlytek had its artificial intelligence assisted diagnosis and treatment system employed in a community health service center on Shuanggang Street, Luyang District, Hefei, the capital of Anhui Province, to provide diagnosis help for the community doctor He Qi and his colleagues.
When the doctor inquires about the patient, the intelligent medical assistant system can provide real-time pre-diagnosis and treatment advice for the doctor according to the patient's condition. He Qi said that it greatly improved the efficiency of medical treatment.
In 2018, the system acting as general practitioners was widely used in four counties and one district of Anhui Province, assisting doctors to diagnose 1,000 diseases. The number of assistant diagnoses and treatments per day exceeded 12,000. It effectively reduces the misdiagnosis rate of doctors and alleviates the pressure of unbalanced medical resources in these areas. At present, iFlytek medical artificial intelligence products have been applied in hundreds of large general hospitals in China, nearly 2,000 primary medical and health institutions, cumulatively serving more than three million people. They will be extended to more cities in 2019. "In the future, doctors in any remote rural hospital in China can use artificial intelligence technology as a very able assistant. We want to help people not only have access to medical services, but also have their diseases cured," said Liu.
In the field of education, iFlytek has launched a tailor-made learning manual. By collecting and analyzing the big data from classrooms and examinations, it customizes the personalized homework according to the learning situation of each student, and fills in any area that requires attention, so that students can learn more easily and efficiently. It also promotes teachers to teach students in accordance with their aptitude. At present, iFlytek intelligence education series products have been widely used in 31 provinces, autonomous regions, and municipalities directly under the central government, as well as in Singapore and other overseas markets. The products serve more than 15,000 schools and 25 million teachers and students.
In the field of social welfare, iFlytek has as its goal the "AI Public Welfare" project to allow the blind to hear words through speech synthesis, and the deaf to see the sound through speech recognition, said Liu. He hopes that artificial intelligence can better promote the development of a happy society.
In addition, iFlytek has pioneered the release of the world's first open platform to provide intelligent voice interaction capabilities on mobile networks, and continues to upgrade and optimize it. Liu is convinced that employment is the foundation of people's livelihood, and that entrepreneurship is the source of employment. "We hope that through providing a public platform and basic research and development of artificial intelligence, we can pool together more people to create greater dreams around the iFlytek ecological system. Through the platform, we will further deepen the innovation of mass entrepreneurship," he said.
As of February 28, 2019, 940,000 program developers have been using the iFlytek open platform, to create some 600,000 applications. This manifested in 2.28 billion end users, an average daily service volume of 4.7 billion. The iFlytek-centered artificial intelligence industry ecology is continuously growing.
Going Global
China's economy has entered a stage of high-quality development. In Liu's view, to achieve high-quality development of the private economy, it must be based on the premise of environmental protection. On the one hand, it strengthens core technology innovation to form the functional differences of the products, and gains more discourse power in the value chain. On the other hand, through brand promotion, more brand premiums are obtained. Otherwise, enterprises can only develop at the low end of the chain and will have no high-quality development.
At present, iFlytek has dozens of technologies related to language recognition, synthesis, and natural language comprehension. However, having a way to promote the technology overseas is the key to enhance its international competitiveness. Liu said that at present, iFlytek has carried out integration and cooperation of source technology with MIT, Princeton University, and York University of Canada, through which the global promotion of translators will be strengthened. Cooperation has also begun with vehicle-related equipment and major car brands in Europe and Japan, generating positive test results. The next stage will be the promotion of educational products.
Liu also believes that to promote the Belt and Road Initiative, language is the foundation. First, we must be able to communicate freely, so as to build a trustworthy relationship on the basis of mutual understanding and achieve win-win cooperation.
"At present, we have incorporated the related languages of countries involved in the Belt and Road Initiative into the research and development system, and achieved full coverage. At the same time, the application of iFlytek in the field of medical, education and justice can also be promoted in these countries," said Liu, adding that his company was ready to make more contributions to the initiative.
He said Xi Jinping's speech at last year's meeting with private entrepreneurs has brought a more stable expectation of the future political and economic environment. "The more importance the state attaches to private enterprises, the more it remains in the public eye. As long as we have no distractions and are down-to-earth in our development, the enterprise will surely grow," he said.
Liu believes that in the future, private enterprises will win more and more respect and international recognition on behalf of China in major strategic and innovative core areas of international competition.
"In the future, artificial intelligence will be as ubiquitous as water and electricity. But I believe that the future of AI is not to replace human beings, but to let human beings stand on the shoulders of AI, " said Liu.