ON February 26, 2014, at a meeting chaired by President Xi Jinping after his inspection tour of Beijing, he proposed the strategy of Beijing-Tianjin-Hebei region's coordinated development, a plan for China's new megalopolis. "It is a national strategy that we must insist on following a scientific and sustainable development path to give full play to complementary advantages and advance in win-win cooperation." Four years after this announcement, China Today tracks the changes through the experiences of those in the midst of these developments, with workplaces transferring from Beijing to Hebei.
Reallocation of Production Factors
Before coming to Caofeidian District of Tangshan City, Hebei Province, Sun Xuejun worked for the Beijing Municipal Committee of Economy and Information Technology. In November 2016, he was dispatched with another 13 officials from Beijing to Hebei, and is now vice director of the Beijing-Hebei (Caofeidian) Coordinated Development Demonstrative District Management Committee.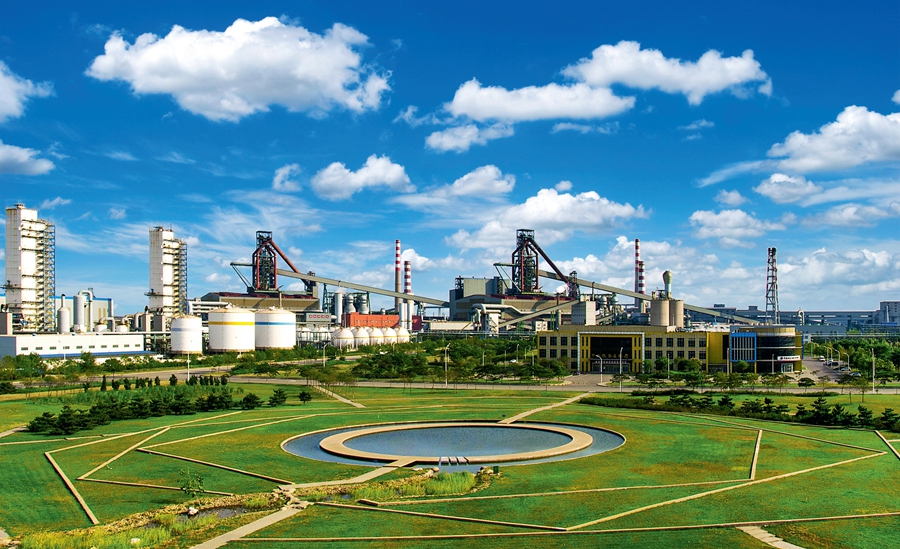 The new site of the Shougang Jingtang Iron & Steel Co., Ltd. transferred to Caofeidian in Hebei Province from Beijing's Shijingshan District.
Sun first visited Caofeidian in 2011 when it was still under construction. The grand architecture and huge harbor district were all built based on the advanced technology of "sand-blowing land reclamation." The four-square-kilometer sand island has thus extended to a 150-square-kilometer landmass, where interwoven bituminous streets and a large patch of factory buildings are set up, with large ships constantly coming from sea to the shore.
The coordinated development in Caofeidian District is backed by both policy and human resource allocation. There are now 28 officials working for the management committee, of which 14 are from Beijing. They have close connections with the Zhongguancun and Yizhuang Management Committees in Beijing, as well as enterprises in the capital's Tongzhou, Shunyi, Shijingshan, and Chaoyang districts, helping companies of related industries relocate to the new district.
The region has planned the 120-hectare Beijing-Hebei Coordinated Development Demonstrative Expansion Area and 1.8-square-kilometer Caofeidian Coordinated Development Demonstration Industrial Park. In the first half of 2018, 50 programs were signed in Caofeidian with a gross investment of RMB 19.4 billion, among which 36 are from Beijing with a total investment of RMB 17.488 billion and 14 Tianjin-based programs with an investment of RMB 1.949 billion backing them.
Shougang Jingtang Iron & Steel Co., Ltd. was transferred to Caofeidian in 2011 from Beijing's Shijingshan District. At the ore terminal, ironstone transported from Australia, Brazil, and Peru is unloaded directly onto the conveyer belt and delivered to the dock yard or manufacturing workshops of the company.
Ren Quanxuan, deputy director of the company's publicity department, said that Caofeidian has a natural waterway with a depth of 36 meters which can accommodate large ships passing through. With raw materials transported from overseas into the harbor and final products out, the transportation cost reduces dramatically, earning the company a competitive advantage in the market. Meanwhile, the company makes full use of the seawater, building four sets of low-temperature water desalination plants, with a daily production of 50,000 tons, saving 19.93 million tons of ground water annually. A comprehensive utility industrial chain of seawater has thus been established, providing its by-product "concentrated brine solution" for a local company – Tangshan Sanyou Chemical Industry Co., Ltd. With an integrated management model, the company's water recycling and reuse rate exceeds 98.8 percent.
Production services have also transferred to Caofeidian along with the companies, including those of equipment maintenance, accessories processing, automation, and IT-based system operation, transferring 8,000 workers from Beijing and recruiting 4,000-plus graduates from local universities.
"Beijing-Tianjin-Hebei Coordinated Development is a new allocation of production factors. Considering the advantageous location, transportation network, and logistics, it is suitable for the construction of a large industrial cluster. The depth of 36 meters is suitable for a high quality port which is ideal for large-scale logistics and manufacturing," Sun explained. "Interactions between the port and city have extended the industrial chain."
Intensive Development in an Innovative Way
"Fear of losing the pharmaceutical companies licensing with Beijing" is the major concern of all medical enterprises moved from Beijing to Hebei. China's pharmaceutical industry follows the local management, which means all pharmaceutical enterprises must produce and be regulated in their registration cities, and once they move to other places the company needs to apply for a re-approval. Liu Zhidong, technical director of Cangzhou branch of Beijing Winsunny Harmony Science & Technology Co., Ltd., told the reporter, "The re-approval needs no less than three years."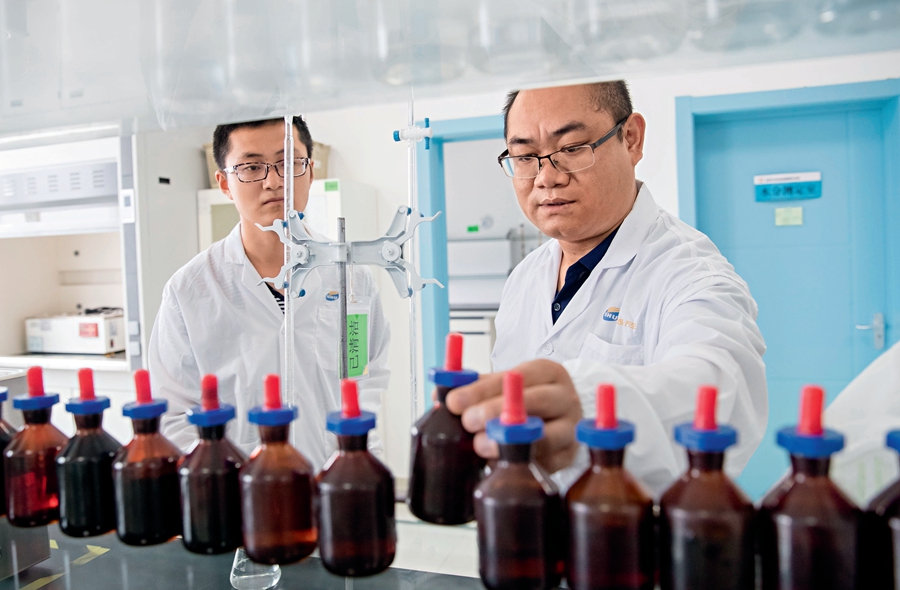 Liu Zhidong, technical director of Cangzhou branch of Beijing Winsunny Harmony Science & Technology Co., Ltd., on an inspection of the research and quality testing center. Guo Shasha
Liu's company, once based in Beijing's Daxing District, was just one of the pharmaceutical enterprises moved into the Beijing-Cangzhou Bohai Biological Pharmaceutical Industrial Park.
The Beijing and Hebei governments decided to build the biological pharmaceutical industrial park and adopt the regulation at Cangzhou, where companies can retain their registered name and address in Beijing with the approval, certification, and regulation of the Beijing Food and Drug Administration. The innovative management model encouraged more Beijing companies to relocate in the industrial park.
"It took us three hours to meet together in Beijing as the pharmaceutical enterprises were scattered in different districts of Daxing, Haidian, and Tongzhou. But now we are neighbors." said Liu. Owing to the aggregated effect of industry and brand, the newly built industrial park has attracted 132 projects with a total investment of RMB 41.1 billion, among which 80 percent enterprises are from Beijing.
Besides the raw material workshop, Liu's company has also set up a research and quality testing center, and invested another RMB 5 million into a sewage treatment plant. In Liu's eyes, the resettlement is not a simple transition of production lines but an upgraded transformation.
A shortage of technical talent is another worry of Liu. However, good news came in June. The management committee signed a cooperative agreement with Nankai University in Tianjin to jointly build a research institute; meanwhile, an agreement with Hebei Chemical & Pharmaceutical College was also signed for an "order-based" training mode to provide high-quality technical talent to companies.
Proper Resettlement of Migrant Population
Wang Ligong is the general-manager of Beijing Shengyaomei Clothing & Accessories Co. which has been engaged in the garment production and processing business for more than 20 years. He told the reporter that in November 2017 a big fire burned down the dreams of many job-hunting "Beijing drifters" and forced Wang to find a new place for his company. He then traveled to Tianjin, Shijiazhuang, and finally chose Cangzhou which took him only 51 minutes riding on a bullet train from Beijing. He considered three factors: one is to keep a distance from capital cities or big cities; the second is convenient transportation and preferential policies; the third is the charisma of Dongsu Group's chairman Yu Guiting.
"Chairman Yu is nearly 70 years old but he insists on meeting with business owners from Beijing every day, introducing the local government's policy to sell the land for the construction of the factory with 50 year property rights to us with RMB 160,000 per mu (one mu equals to 0.067 hectares), while the Dongsu Group subsidized RMB 52,000 for us. Finally we bought the land with RMB 108,000 per mu, which is unbelievable in Beijing." Wang expressed his gratitude to Yu. "Dongsu Group also helped me rent storage yards for clothing materials from a winery."
"The dispersal of non-capital functions of Beijing is a national strategy, and the key is to properly re-allocate the 600,000 migrant workers affected," Yu said. "The municipal government of Beijing should treat those migrant workers who have made great contributions to the city as its "daughters" who are going to get married and move to other places; while for Hebei Province, it should have a mentality of growing trees for the next 100 years, helping migrants live a prosperous and contented life at their second hometown."
Yu, 68, therefore met with small businessmen and shop owners from Beijing, talking about their difficulties and worries about housing, medical care, and children's schooling. He set up a special work group that is responsible for almost everything from resettlement services to cargo storage, from building temporary factories to renting stores. From the end of 2017 to date, he has received 60,000 migrant people from Beijing to Cangzhou.
In less than one year, businesses from Beijing's wholesale marketplaces have moved to Cangzhou. On August 30, 2017, the Building of Mingzhu Commerce City opened with 600-plus Beijing brands settled in. The newly decorated shopping mall provides a new shopping experience for local residents.
The city will build a 133.33 hectare Mingzhu Commerce City and 200-hectare Mingzhu Clothing Industry Town to accommodate Beijing's relocated clothing industry and update local industry, as well as establish a brand-new business model including design and research, production and processing, wholesale and retail, warehousing and logistics, e-commerce and entertainment.
With sound policies, a committed workforce, and innovation-driven strategies, the newly forged Beijing-Tianjin-Hebei megalopolis stands to become a model of efficient, productive, and balanced redistribution of urban and industrial production resources and assets along with the distribution of important governmental functions based on maximizing efficiency, land usage and new lives of employees.