THERE is a group of people called Danmin in Chinese, living in the middle and lower reaches of the Minjiang River and the coastal area of Fuzhou in southeastern China's Fujian Province, who, since ancient times have lived on the water in house boats. For their unique lifestyle, as part of Han people and yet also being a relatively independent group, the Danmin people have formed their own distinct traditions and customs.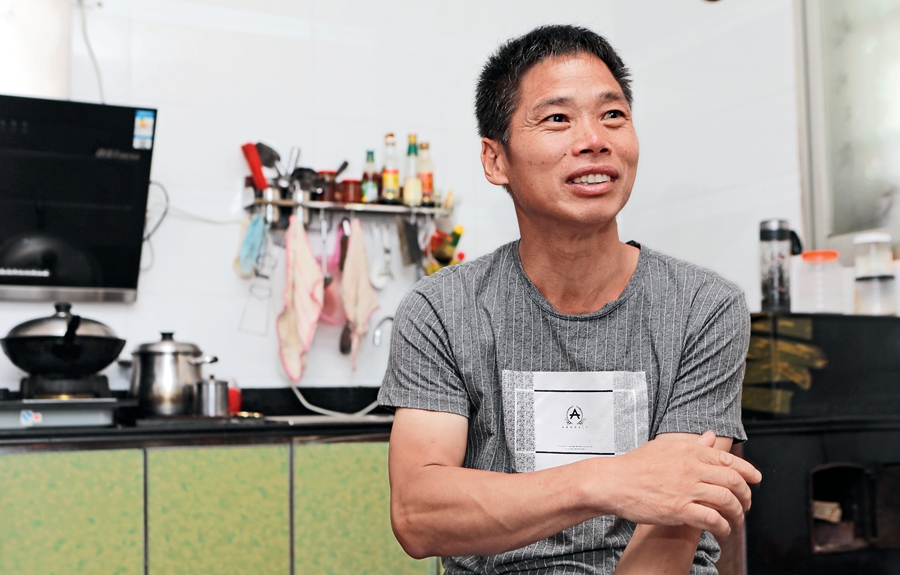 46-year-old Liu Rongquan, a villager from Xipi, settled on land in 2008. His burgeoning seafood business has earned his family a well-off life.
Very early every morning, around three o'clock, Liu Rongquan, a villager of Xipi in Fuan City of Fujian Province, rides his motorcycle to the seaside miles away from his home to purchase seafood. Then he resells the seafood and sends it to different cities by truck or express delivery. Despite being a toilsome endeavor, Liu's work can bring his family an annual income of over RMB 100,000.
Since they settled down on land in 2008, Liu and his family, part of the Danmin group, have had their lives totally changed. Now, Liu is very satisfied with his current state, and feels happy as he is full of hope about the future.
Liu's father and grandfather both made a living on fishing. Three generations of the family once lived in the same boat, with water both dripping from above and oozing below. They captured fish and shrimps and bartered them for grain and vegetables. These were the earliest childhood memories for Liu, and also a true picture of the Danmin's hard life in the past.
Starting from the 1960s, Danmin people came to the land in succession in small groups. By reclaiming the wetlands adjacent to the Linjiang Village, 146 households of 612 people settled down in the newly reclaimed lands by the end of the 1980s. Thus Xipi Village came into being. Since then, having a home on land had been a dream for Liu's family.
Long-Cherished Wish Fulfilled
"My parent's toiling could barely eke out subsistence for the family in the past. For poor households like ours, building a house on land was an unattainable dream," Liu said. Poverty forced Liu to drop out of school when he was in grade four as he had to help the family's fishing livelihood.
At 18, like many young people of Danmin, Liu chose to work in big cities as a migrant worker. In 1996, Liu's family still couldn't shake off poverty. His first son was born in a dilapidated cabin as they couldn't afford hospital fees. The biggest wish of Liu's parents was to settle down on land. However, before they passed away in succession in 1998 and 1999 respectively, they could not see their dream come true.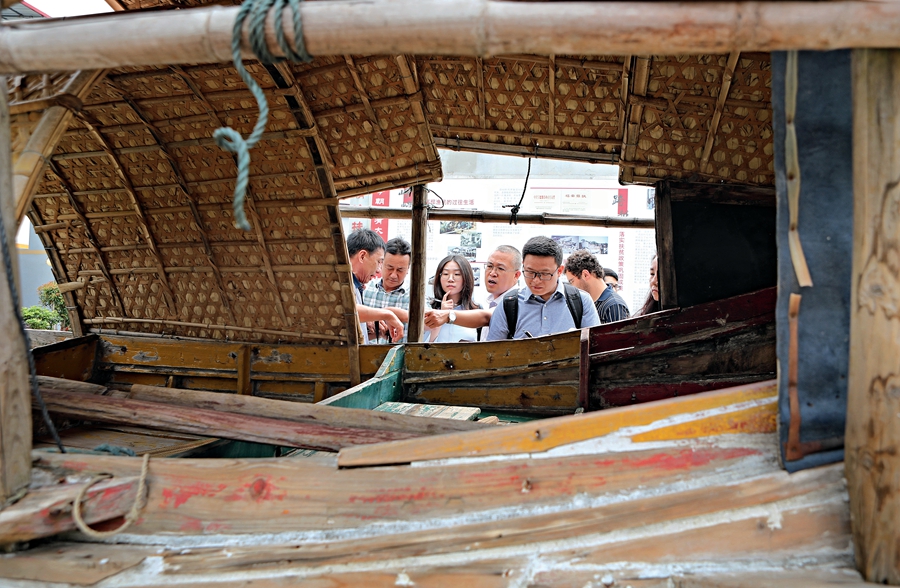 A broken-down fishing boat moored at the village square of Xipi tells visitors of the past hard lives of local fishermen.
In December 1998, at a meeting in Fuan on Danmin's resettlement on land, then Deputy Secretary of the CPC Fujian Provincial Committee Xi Jinping committed to solving the issue by listing Danmin's resettlement on land as one of the priorities of Fujian's wellbeing project.
In 2000, Liu came to Guangdong to seek his fortune. By running a small business and selling seafood, he earned his first pot of gold. In 2006, he started building his dream house on land. In 2008, his three-and-a-half-floor house began to take shape, which had cost Liu more than RMB 300,000. From then on, the country has increased its support to Danmin people who have moved to land. "Our five family members received an allowance of RMB 10,000 in total for the resettlement and an additional RMB 10,000 as a subsidy for purchasing land."
Jiang Kuanquan, 62, director of the Xipi Villagers' Committee, still remembers the past preferential policy clearly, "In the late 1990s, the local government launched the resettlement project for the Danmin people by providing free land, ensuring electricity, running water, telecommunication, and TV transmission available for those choosing to live on land. By subsidizing them RMB 650 per capita for building their houses, local government helped 1,425 Danmin people of 349 households relocate on land."
Jiang still has a vivid memory of living on a boat. "When I was young, my parents together with my six siblings and I were cramped in a shabby fishing boat. The supposedly happy New Year was often a time of distress for us. Because when the New Year was approaching, well-off families would prepare new clothes for their kids. We couldn't even afford a pair of new shoes. We were barefoot all year round," he said. Since the 1960s, the resettlement program has brought Danmin people new hopes.
Supported by effective poverty alleviation measures and all the other preferential policies for the Danmin people, households in Xipi Village all had access to running water by 2001. During the period of 2008-2013, the remaining 661 people of 137 households living on their fishing boats all moved to land.
To create more living space for the Danmin people, the villagers' committee and the Party branch of Xipi Village have led villagers to reclaim 5.8 hectares of land and build a new village and six relocation sites with 635 new buildings erected. With per capita space up to 25 sq.m., all Danmin people of the village have realized their dream to live on land.
Nowadays, strolling through Xipi Village, one can still easily spot those wooden houses built in the 1960s, stone houses from the 1980s, concrete and steel houses of the 1990s, and the recently built multi-story buildings. All these houses with their varying architectures and construction tell fascinating tales of the journey of the Danmin people in different eras from water to land.
Getting Rich
General Secretary Xi once said, "To help the Danmin people truly settle on land, we have to make sure they can make a living on land," which has become the guiding principle for addressing issues related to the Danmin people's relocation of local governments in Fuan.
"Living by the sea, of course, we should make good use of the marine resources. As for 'how,' we have a different idea from the past. We develop local aquaculture," Jiang pointed out. He thought the first step was to equip local villagers with necessary skills.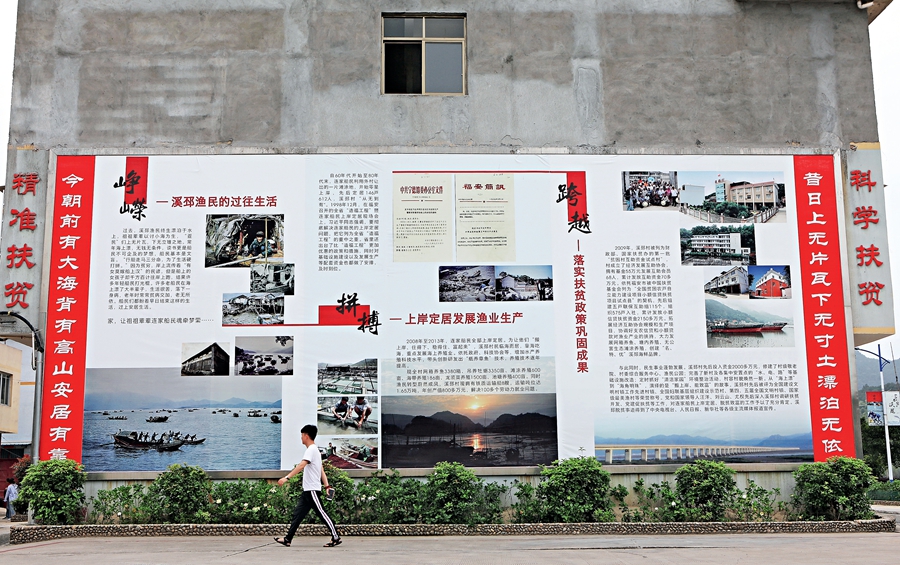 A poster on the entrance wall of Xipi Village of Fu'an City in southeast China's Fujian Province informs visitors of the Danmin people's on-land resettlement history.
By cooperating with the local marine and fishery bureau and the aquaculture association, Xipi Village regularly holds aquaculture training sessions, imparting villagers with knowledge and skills on the field. Then local people gradually changed their traditional concepts on aquaculture and bought equipment such as the aerator and electric generator, trying to improve the benefits and efficiency of their aquaculture businesses via technical means. Some even developed new techniques on octopus farming. With their cultivation skill improving steadily, incomes rose markedly.
"Local fishermen's old practices like collecting shellfish along the beach and in the mudflats have become obsolete. They started to realize the importance of transformation through modern aquaculture," Jiang Kuanquan said. According to him, cage farming has been introduced to the village. There are now 4,300 fish cages. The village has also realized large-scale modern culture of oysters, kelp, asparagus, and other varieties of shellfish and fish. While expanding their scientific aquaculture, the former traditional fishermen are realizing their personal transformation by riding the wave of the country's booming marine economy. Now Xipi Village owns eight cargo ships with a total capacity of 16,500 tons. The ships have offered more than 100 jobs for local villagers and created an annual income of over RMB 8 million.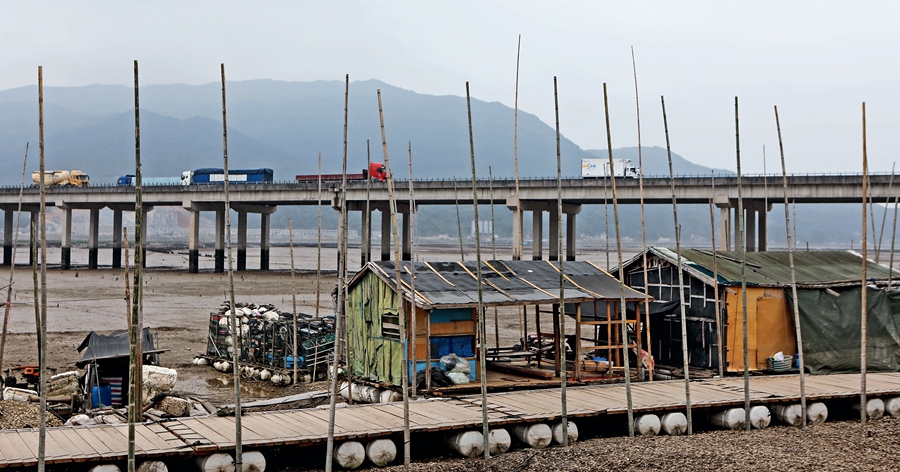 A seafood processing plant built in Xipi Village for local boatmen who have settled on land.
Photos by Yu Jie
"Financial support such as loans has also provided a guarantee for the village to become a moderately prosperous community in all respects," Jiang said. In 2009, Xipi Village was listed as one of the first pilot villages using a mutual assistance fund for poor villages by the Ministry of Finance and the State Council Leading Group Office of Poverty Alleviation and Development. To further expand the channels for local villagers to raise funds for production, the village established a mutual assistance association for local economic development with a fund of RMB 550,000 (RMB 400,000 coming from the local government, with the remaining injected by the village). Now with 68 members, the association has distributed RMB 3.59 million to those in need.
In addition, the village also received financial support from the China Foundation for Poverty Alleviation. Supported by the newly instilled fund, local villagers have formed three cooperation teams respectively on aquatic breeding in cages and ponds, and pollution-free mudflat aquaculture. By paying special attention to the quality and distinguishing features of their products, local people have tried to build their own seafood brands.
As the economy of Xipi Village hits the fast track of development, the annual yearly per capita income of local people has hiked to RMB 18,756 in 2017 from RMB 850 in the early 1990s with the income of the village collective surging to RMB 1.16 million in 2017 from RMB 66,000. The Danmin people, once adrift at sea all year round to make their living, have finally realized a happy life on land.
Ningde is the place where General Secretary Xi first implemented his poverty alleviation strategy. Based on his in-depth field investigation, Xi proposed ideas such as "ceaselessly dripping water bores holes in stone" and "weak birds should make an early start" to guide local people to get rid of poverty. By setting out "speeding up local development and shaking off poverty" as the roadmap of the local government's efforts, Xi started a new chapter of China's poverty reduction and development, and nurtured a work style among local officials of taking substantive measures, being close to people and listening to their voice by going to the grassroots to collect public opinion on local government performance, learn their demands, address their concerns, and inform people of the country's policies.
Through this approach, the city has secured decisive progress in its fight against poverty. Over the past 30 years, more than 740,000 people have been lifted out of poverty. Taking the period of 2012-2017 for example, around 190,000 people had shaken off poverty. By the end of 2017, the poverty headcount ratio of the city dropped to 0.028 percent, with a mere few hundred left to uplift.