IT was the best of times, it was the worst of times," Chinese President Xi Jinping quoted Charles Dickens in his keynote speech at the annual meeting of World Economic Forum in Davos in January 2017. In conclusion, he denoted, "We should not lose confidence or run away from responsibilities. We should join hands and rise to the challenge," signaling China's resolution to further contribute to globalization.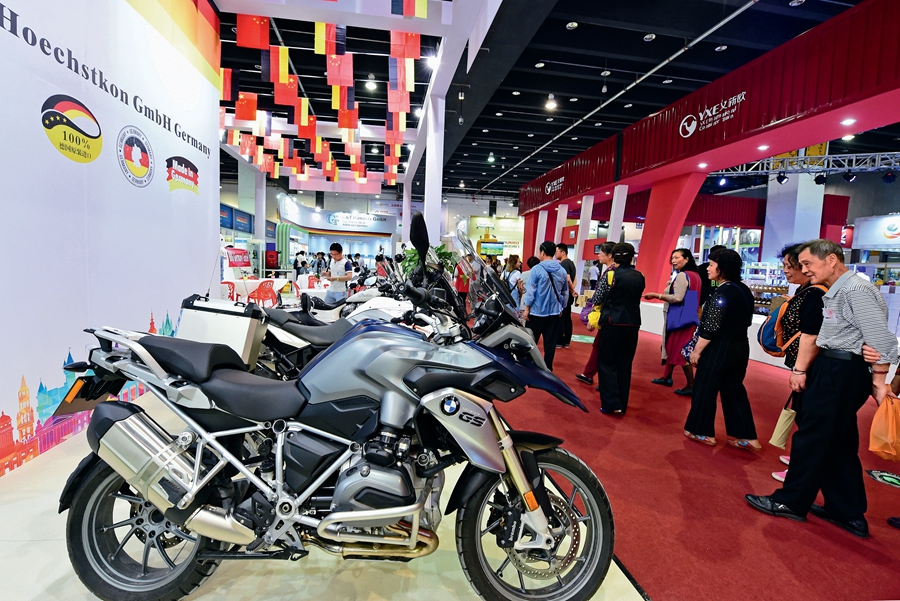 Imported motorcycles on display at the German Pavilion in China Yiwu International Commodities Fair on May 6, 2017.
As a beneficiary and a proponent of globalization, China works together with the international community to solve problems emerging in the process of globalization. In economic and trade fields, China stands firm on maintaining a multilateral trading system and has accelerated the building of a high-standard network of free trade zones (FTZs). In addition, China has put forth the Belt and Road Initiative and offers Chinese wisdom to APEC, G20, and BRICS.
Economic Globalization Prompts Global Governance
"Global governance issues were highlighted against the backdrop of deepening economic globalization and pressing global issues, which, in various forms, could only be solved through joint efforts of all countries," remarked Zhang Yuyan, director of the Institute of Economic and Political Research, Chinese Academy of Social Sciences.
In her opinion, trade protectionism and game theory regarding benefits among countries boost the formation and evolution of trade rules, while the evolution of patterns of global production and trade accelerates the adjustment of international trade rules and their coverage.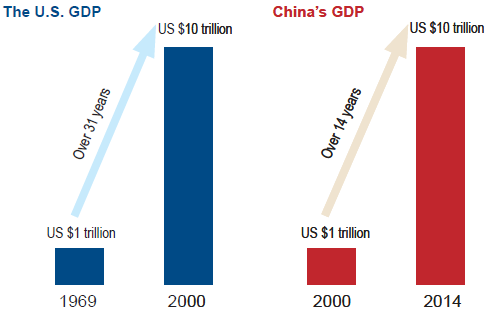 According to Zhang, China's participation in global governance began in 1971 when the People's Republic of China resumed its legitimate seat in the United Nations. However, it has been a painstaking process for the country to integrate into the global economy and play a role in global governance.
In the 1990s, China participated in international affairs in a broader scope, in the context of deepening domestic reform and opening-up, and a changing global landscape. When the Asian financial crisis broke out in 1998, China played a constructive role in steering the Asian economy out of crisis, displaying its confidence and responsibility as a major country in the region by participating in regional and global governance.
Entering the 21st century, with a growing economy and overall strength, China became more proactive towards global governance. China's entry into the WTO in 2001 was a milestone, marking its integration into the world economy.
In 2008, when the global financial crisis broke out, G20 was pushed to the frontline as the major platform of global governance, and China naturally became one of the most important and the most active members of the platform.
In 2013, Chinese President Xi Jinping proposed the Belt and Road Initiative, bringing new vitality to global governance. In 2014, China advocated setting up the Asian Infrastructure Investment Bank (AIIB), regarded as equally historic as China's entry into the WTO. In 2016, at the G20 Hangzhou Summit, China stated its plan to cope with global economic challenges and made the appeal to claim power of discourse and rule-making for developing countries and emerging economies.
Features of the "Chinese Approach"
It's imperative to consistently reconstruct global trade rules. Based on the idea of mutual benefit and win-win results, China actively participates in global economic governance and offers a "Chinese approach." Zhuang Rui, deputy director of the Institute of International Economy, University of International Business and Economics, is an expert of macro-economic policies. He believes the "Chinese approach" features four aspects: advocacy of harmony and inclusiveness, emphasis on pluralism and balance, proposal of mutual benefits and win-win results, and the pursuit of practical cooperation.
China advocates harmony and inclusiveness. At present, the global governance system is complex, composing of multilateral trading systems, emerging bilateral and multilateral trade and investment agreements, and regional and sub-regional economic cooperation organizations. From China's perspective, all kinds of mechanisms and platforms should coexist and complement each other as long as they can promote trade and investment globally. To this end, China has held negotiations over free trade agreements (FTA) and bilateral investment treaties (BIT), supported the Regional Comprehensive Economic Partnership (RCEP) at the regional level, and promoted various cooperation platforms such as Free Trade Area of the Asia-Pacific (FTAAP), Asia-Pacific Economic Cooperation (APEC) and G20. It also supports multilateral trading systems such as the WTO.
China emphasizes pluralism and balance. In this diversified world, global economic and trade rules should comply with the interests of developed countries, and also embody the appeals of developing countries and underdeveloped countries. Developing countries make up over 30 percent of global trade and investment. The percentage is growing, so their appeals cannot be neglected.
At the G20 Trade Ministers Meeting held in Shanghai in July 2016, China proposed an initiative to promote a more inclusive and harmonious global value chain, so as to help developing countries and small and medium-sized enterprises (SMEs) share in the benefits of economic globalization and achieve a balanced and sustainable global economy. The initiative promoted the inclusiveness of the G20 mechanism, and also fulfilled the commitment, made in The Nairobi Ministerial Declaration at WTO's 10th Ministerial Conference in 2015, of helping the least developed countries (LDCs) integrate into the world economy. This was also a solid contribution to the UN 2030 Agenda for Sustainable Development.
China promotes mutual benefits and win-win results. As clearly stated in the Outline of the 13th Five-Year Plan, China vows to adhere to the principle of mutual benefits and win-win cooperation, facilitate free global trade and investment, and oppose trade protectionism in any form. The Belt and Road Initiative, put forward in 2013, is centered around mutual benefits and win-win results. During the Belt and Road Forum for International Cooperation held in Beijing in 2017, China signed trade and investment agreements with more than 30 countries, negotiated FTAs with relevant countries, and declared to hold the China International Import Expo in 2018.
China focuses on practical cooperation. Global economic governance is complex, demanding the maneuvering of different mechanisms and platforms. China has been making unremitting efforts to improve efficiency and reinforce disciplines of various mechanisms and platforms.
In terms of multilateral cooperation, ever since WTO members reached the Bali Package in December 2013, China has actively implemented the agreement and became the 16th member to accept the Trade Facilitation Agreement (TFA). In the 10th WTO Ministerial Conference held in Nairobi in December 2015, the Chinese delegation held a roundtable conference for LDCs to enter the WTO, together with the WTO Secretariat and the Kenyan government. Chinese delegates introduced China's experience in entry into the WTO and opening up to the world, which was acclaimed by representatives from 40 LDCs.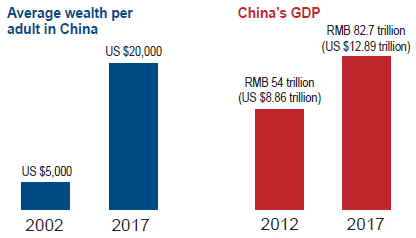 In terms of regional cooperation, China facilitated building various cooperation platforms. At the APEC Beijing Summit in 2014, for example, symbolic documents such as the FTAAP Beijing Roadmap and APEC Interconnectivity Blueprint were approved.
Openness Brings Progress
At present, global trade governance is confronted with two challenges. First, the new trade pattern – represented by the global value chain – demands the adjustment of international trade rules. Second, emerging economies call for reconstruction of the global trade governance structure that is currently led by major countries. Signs of rising trade imbalance, state protectionism, and populism are notable on the global value chain. To this, Zhang Yuyan responded, "It is not a problem of economic globalization itself, the problems come from outside."
Indeed, economic globalization brings favorable opportunities for China to realize very rapid development. According to the World Bank, China's nominal GDP, based on constant price, increased by 9.6 percent annually from 1992 to 2016, rising more than nine fold.
Complying with economic globalization, China has risen to the center of the world economy. The country imports raw materials, energy resources, capital, and technology, and exports high-quality products. China has become a leading engine of the world economy. In 2016, it contributed 33.2 percent of the world economic growth, ranking first in the world. Today, China is the only country with all the industrial categories classified by the UN.
To put it simply, people's accumulation of wealth or China's rapid development wouldn't be possible without globalization. China has grown to be a major country in global governance. China actively promotes an open economy and shares opportunities and interests with other countries across the world.
In January 2017, at the opening ceremony of the Davos World Economic Forum, Chinese President Xi Jinping's remarks were forceful and resounding: "We should commit ourselves to growing an open global economy to share opportunities and interests through opening-up, and achieve win-win outcomes. We firmly oppose protectionism. Pursuing protectionism is like locking oneself in a dark room. While wind and rain may be kept outside, that dark room will also block light and air. No one will emerge as a winner in a trade war."
In the report delivered at the 19th CPC National Congress last October, President Xi enunciated China's vision to the world: "We should develop a modernized economy and make new ground in pursuing opening-up on all fronts. Openness brings progress, while self-seclusion leaves one behind. China will not close its door to the world, and it will only become more and more open."
Global trade rules belong to the whole world. It means that they should be discussed and amended after consultation by major economies or authoritative international platforms in light of various countries' appeals. Undoubtedly, the "Chinese approach" would be indispensable in this process.