OVER the 61 years since it was founded in 1958, Guangxi LiuGong Group Co., Ltd. (Guangxi LiuGong) has grown from a regional plant to a world leading construction equipment manufacturer. It produces a full range of machines applicable to all working conditions, and offers total solutions in the sector to clients around the globe.
During its six-decade-long existence, LiuGong has been continuously undertaking management reform and technological innovation. Guided by the strategies of going global, offering total solutions to varying climates, and adopting smart technologies, the company has achieved leapfrog development and pushed the forays of Chinese equipment manufacturing industry into international markets.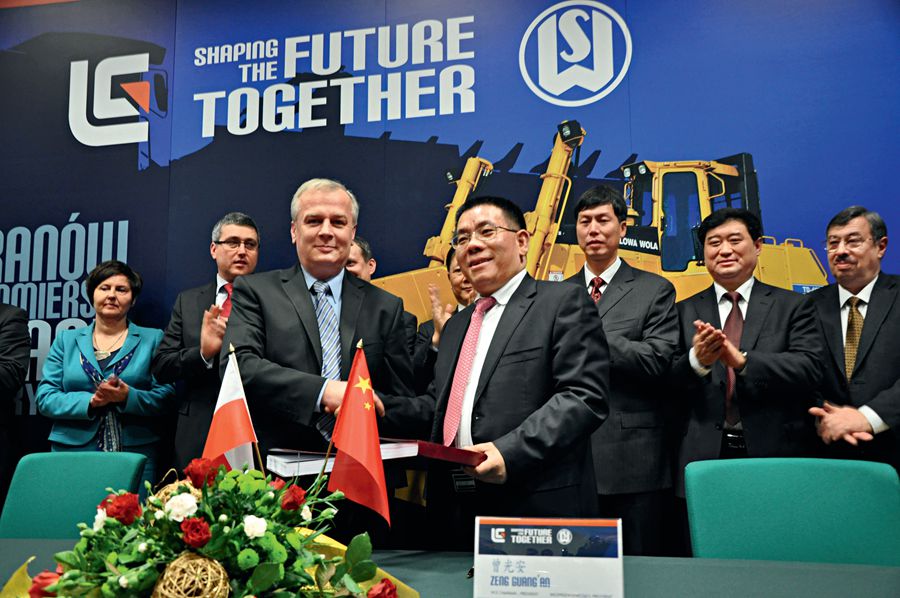 The ceremony of Guangxi LiuGong's acquisition of the Polish HSW Company.
At the moment, LiuGong has 20 manufacturing bases, five research and development (R&D) centers, and 13 regional fulfillment centers across the world. With more than 300 dealers in some 100 countries and regions, the machinery giant is ready to render responsive and professional after-sales services to global customers.
Zeng Guang'an, a deputy to the 13th National People's Congress, and president of LiuGong, began to work in the company 34 years ago. Rising from the position of an ordinary employee to the group's helmsman, Zeng aims to build the company into an open and international conglomerate.
"Our successes are mainly the result of developing markets. The next goal is to gain market shares in Europe and America and grow to be a truly competitive global company," Zeng said with firm confidence.
From Exporting to Marketing Globally
LiuGong's globalization started with the export business back in 1993 when it was granted an import and export license. Over the first 10 years, it only sold around a dozen sets of equipment annually to foreign buyers, and failed to seek out the target clients in the global market.
In 2003, the company adopted a new strategy of going global. Around that time, Zeng took over the overseas businesses. He led a group to North Africa and hired the company's first ever overseas agent in Morocco.
The agent was an elderly man around 80 years old. But his passion about working touched and convinced Zeng to establish a partnership with him. The agent was confident about China's promising future.
The trip brought far-reaching influence to the development of LiuGong. Changing its business mentality, the company upgraded its export trade to international marketing, which enabled targeted support from R&D, manufacturing systems, and distribution channels.
In 2003, LiuGong started to establish overseas marketing networks. In 2009, its first overseas plant was put into operation in India. In 2011, it merged the production line of engineering machinery of a Polish company.
From overseas marketing to international manufacturing and then to overseas acquisition, LiuGong established a strong foothold in the international market in three steps. Thanks to its efforts over many decades, its products have been on the markets of more than 100 countries and regions, reaching some 50,000 clients and bringing in sales revenues far exceeding expectations.
Zeng told China Today the company plans to further expand its marketing campaigns. "Our goal is to increase our market share, and improve brand awareness and customer loyalty in major foreign countries. Our main production lines need to be adapted to better meet the demands of targeted markets," he said. "This is the greatest challenge in going global."
Engaging the Services of the World's Top Engineers
LiuGong could not be fully successful in globalization without talented human resources, especially those who had a good command of technology and marketing expertise. Back in 2003, there were only five staff members in the company who could communicate in English, including Zeng Guang'an.
"I asked David Beatenbough to join LiuGong, but he refused," Zeng recalled. An acclaimed U.S. mechanical engineer, Beatenbough had an established career back home with a large construction equipment maker.
Zeng didn't give up after his first rejection. In the following three years, he continued to send Beatenbough offers and introduce to him the corporate culture of LiuGong. In 2006, he finally won over Beatenbough, who also saw the fast pace of the company's overseas expansion.
Beatenbough was the first foreign staff member of LiuGong. Unable to speak Chinese, he found communication with Chinese coworkers his biggest challenge. Later, he noticed that his Chinese colleagues' English reading ability was better than their English speaking ability, and that the engineers were able to read machine drawings. He then put three white boards in his office and wrote on them to communicate. "Inspired by this, we installed boards measuring 8,000 square meters in our global R&D centers for staff communication," Zeng said.
Beatenbough impressed his Chinese coworkers with his ability to solve technical problems. He once led his team and tackled more than 100 problems for good, upgrading the company's technology, quality, and performance of skid-steer loaders and loader-diggers to international leading levels within a short time. As a result of Beatenbough's outstanding performance, he was promoted to vice president in charge of R&D.
Edward Wagner is another employee from the U.S. He worked as the director of new technology and trials. The VL80A loader his team developed was the world's first vertical lift loader. Compared to conventional loaders of the same power and carrying capacity, the newly-developed ones enable increased tipping load and lift height. Wagner originally planned to leave in a few years, but he is now happily married and lives in China with his Chinese wife.
Wagner is not alone in LiuGong, a company now having more than 1,800 foreign employees speaking nearly 50 languages from some 30 countries. They account for around 20 percent of the company's total employees.
"It is necessary to create an inclusive and amiable environment for talents, as our goal is to build management and technological teams that have international vision and mentality, and who are capable of succeeding globally," Zeng Guang'an said.
Localization and Adaption
The vision of globalization has been of overarching importance in LiuGong's development strategy. In Zeng's view, integration with different cultures and values is vital in helping a company going global. LiuGong has attached importance to its communication with local people.
In 2006, the then Chinese head of state visited India. At that time, the Indian economy was growing at a high speed, and China-India economic cooperation was strengthening. LiuGong decided to invest in the country.
In 2007, Zeng paid four visits to India to decide on the site of the plant. Finally, he chose Indore, Madhya Pradesh. After preliminary infrastructure construction, the first loader rolled off the production line in the company's first overseas manufacturing base in October 2009.
From the beginning, LiuGong set its aim high in India. Rather than pursue short-term gains, it has been making steady steps forward. Addressing the market and the customers' demands has become the driving force for its growing business in India. And the company has been placing customers at the heart of its strategy.
Now, LiuGong places even greater stress on after-sales services ranging from flexible guarantee terms to customer follow-up. This boosts the trust of customers, many of whom have become loyal clients and recommended many new ones. Over the last eight years, its manufacturing base in India has been selling the very high numbers wheel loaders of five tons capacity, accounting for 43 percent of total local market. The total sales of wheel loaders rank the third highest in the host country.
"So far, our manufacturing base in India has built well-established systems of R&D, manufacturing, procurement, internal operation, and marketing," said Zeng. "Key posts are all staffed by local managers which is very important. Globalization is not sending Chinese staff to a foreign country, but growing together with local people."
In 2012, LiuGong bought out Dressata, a subsidiary of Poland-based HSW. The deal was not easy. It took almost one year to finish the negotiations. The cross-culture investment faced the daunting challenge of brand management. In response, LiuGong took a palatable approach by allowing independent brands, which proved to be a success.
After that, LiuGong purchased the world's leading powertrain component maker ZZN in Poland, and set up its European headquarters, R&D center, and fulfillment center there. Two awards show the company's achievements in Poland: the award for best foreign investor, and that of best employer.
"So far, our globalization has been successful. One of the important contributing factors is that we follow local customs," Zeng said. "Adapting to the local culture and values is of vital importance. We respect and communicate with local people, follow their laws and customs, and honor their lifestyle."
A New Start
On October 23, 2018, the Hong Kong-Zhuhai-Macao Bridge opened to traffic. Measuring 55 km in length, it is the longest sea crossing bridge and one of the most complicated construction projects with the highest construction standards in Chinese transport history. Liuzhou OVM Machinery Co., Ltd., a subsidiary of LiuGong, contributed four types of essential equipment to the project: anchorage devices, OVM intelligent lead rubber bearings, a reinforced rebar anchorage system, and a steel box girder positioning system.
In spite of declining demand in the construction equipment manufacturing industry from 2012 to 2016, LiuGong has stayed committed to pursuing the goal of going global, going intelligent, and being a service-oriented manufacturer. Against the backdrop of serious market competition, it continues to invest in R&D, accelerate product upgrades, and explore new avenues and opportunities on overseas markets.
Bygones are the prologue of the future. Last year, LiuGong laid out a strategy of starting a new chapter in development by shoring up two core businesses of engineering equipment and construction equipment, further building two internationally-recognized brands of LiuGong and OVM, and developing modern agricultural machinery and intelligent manufacturing, the two emerging pillar industries. It also aims to establish a modern financial services platform integrating with and supplementing its core businesses. In June 2018, LiuGong built a new subsidiary, Guangxi Zhituo Technology Ltd., marking the construction equipment giant's first official foray in the robotics manufacturing sector.
"The market is the first core element to building an industry. The second is globalization. We should go across the border and compete with leading international companies," Zeng said. The world is undergoing the Fourth Industrial Revolution. Latest technologies, such as artificial intelligence and big data, are having a profound influence on businesses. "Only by advancing technological transformation, and supply-side structural reform, can a company provide more competitive products and technological services on the market while at the same time improve its development and performance. I think this is the most important thing."