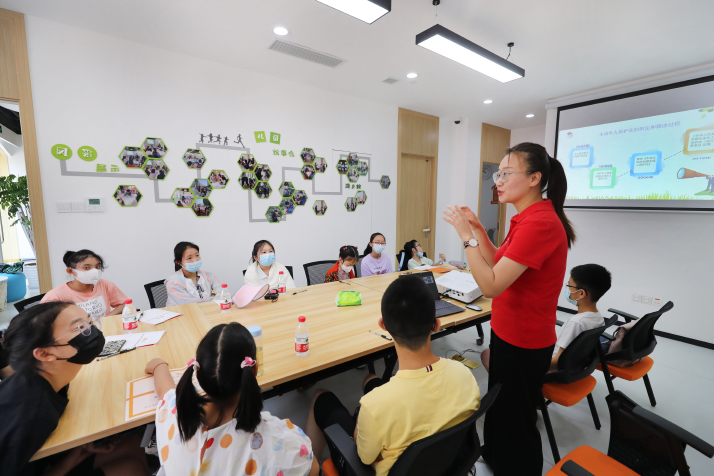 A community worker explains the Law on the Protection of Minors to members of a children's council in Huangpu District, Shanghai, on July 30, 2021 (XINHUA)
Five-year-old An An selected a picture book from a 1-meter-high shelf at a children's library after school on December 7, 2022. These 1-meter shelves have been specially made for preschool children at the Suzhou Library in Suzhou, Jiangsu Province.
The child-friendly concept has also been reflected in the design of the children's center at the Xuzhou Garden Expo Park in Jiangsu Province. Chen Nian, head of the center, said the shelves at the center are around 50 cm high to help the little ones access books and toys. The decorations on the walls at the center are all around 80 cm above ground, enabling children to see them easily.
As environment improvement at the park has attracted an increasing number of bird species, the children's center at the park has set up a tower for children to observe birds. Chen said the park will offer courses in bird nest making and birdwatching using telescopes to help children get close to nature.
In October 2021, 23 departments, including the National Development and Reform Commission (NDRC), jointly issued the Guideline on Promoting the Construction of Child-Friendly Cities. The guideline proposed that by 2025, 100 pilot child-friendly cities will be built nationwide. On December 2, 2022, the NDRC, the Ministry of Housing and Urban-Rural Development and the National Working Committee on Children and Women under the State Council issued a Guideline on Building Child-Friendly Urban Spaces, which served as a supporting document to the aforementioned guideline and provided standard solutions for building child-friendly cities. The new guideline has attached importance to guaranteeing a child's right to play. For instance, it requires communities to increase the number of spaces for children to play and to install facilities such as slides. Newly built compounds should have at least 100 square meters of space for children to play, the guideline read.
Children play at a sports park in Weihai City, Shandong Province on August 24, 2022 (XINHUA)
Play space
Liu Yu, an associate professor of child studies at Zhejiang Normal University, has found it hard to find facilities such as swings near his compound for his own child to play on. This has prompted him to develop an interest in the design of spaces for children to play in urban communities. "Play is an indispensable part of one's childhood and an indisputable right of children. The building of child-friendly cities should start from the establishment of play spaces," he told China Education Daily.
In the first child-friendly neighborhood in Wuxi, Jiangsu Province, facilities have been built taking into consideration children's needs. There is a rotating slide as tall as a two-story building, all the indoor signs are around 1 meter high, and all public restrooms are equipped with wash basins that are half a meter from the floor.
Jincheng Community in Chengdu, Sichuan Province, has set up sand pits and rock climbing facilities for children. To satisfy children's needs to explore science, it has even established a planetarium within the community.
Lu Yuan, an instructor with the School of Social and Behavioral Sciences at Nanjing University, said in the past, cities were designed by adults without considering children's perspectives.
He said the most basic way to achieve child-friendliness is to ensure children have a public place to go play. He suggested adding recreational facilities such as sand pits and slides along city streets and alleys. "These spaces don't need to be large, but they should be widely distributed to provide room for children to play."
Masters of cities
According to the guideline, children are encouraged to take part in social activities. A mechanism for children to participate in public activities should be established, while children and their caregivers' opinions should be listened to when making decisions on major related affairs.
Jiang Chenyu, a staff member with the women's federation of Dongshan Subdistrict in Nanjing, Jiangsu Province, received an invitation to a meeting on December 6, 2022. The invitation was sent by the children's council of the Zhongqian community.
At the meeting, the members of the council discussed how to improve a worm farm.
Jiang said the council was established in April and more and more children have joined in recent months. She said the worm farm is a child-friendly ecological park program launched by the Zhongqian community of Dongshan Subdistrict. In August, children set up wooden houses and moved 5 kg of earthworms to the farm. In addition to planting and caring for flowers, the children have also carefully observed the earthworms and written down their observations in diaries.
The farm features Chinese roses and the earthworms loosen the soil after eating vegetable scraps.
Decisions on what plants to grow, what animals to raise and how the farm should be maintained have all been made by the children themselves. Jiang said children's enthusiasm for taking part in the management of the farm has increased and they have become more outgoing in the process.
In June, the crosswalk outside the gate of a primary school in Nanjing was painted with bright colors. The idea was proposed by Li Muyu and Yin Shize, two primary school students in the city, when they were asked to offer their opinions on how to improve people's lives.
Li said when it rained, the crosswalk would become blurred, making it hard for cars to see and posing a safety hazard. If it is painted with bright colors, cars passing by will know there is a school nearby and will slow down. The city's traffic administration bureau took Li and Yin's advice.
"In the past, we seldom listened to children's opinions when providing public services," Wang Yumei, an official with the Nanjing Women's Federation, said, adding that children's councils have now been set up in some communities, through which children representatives from the communities can give their opinions on community management.
Wang said Nanjing has more than 30 children's councils, attracting the participation of more than 2,100 children.
Song Yunlai, Secretary of the Communist Party of China Committee of Yechenglu Primary School in Nanjing, said in addition to improving facilities, more respect should be given to children and channels for them to express their opinions should be widened in building child-friendly urban spaces.
"Creation of public spaces should be based on children's aesthetics instead of adults making decisions for them," Song said.
(Print Edition Title: The One-Meter Perspective)
Copyedited by G.P. Wilson
Comments to jijing@cicgamericas.com