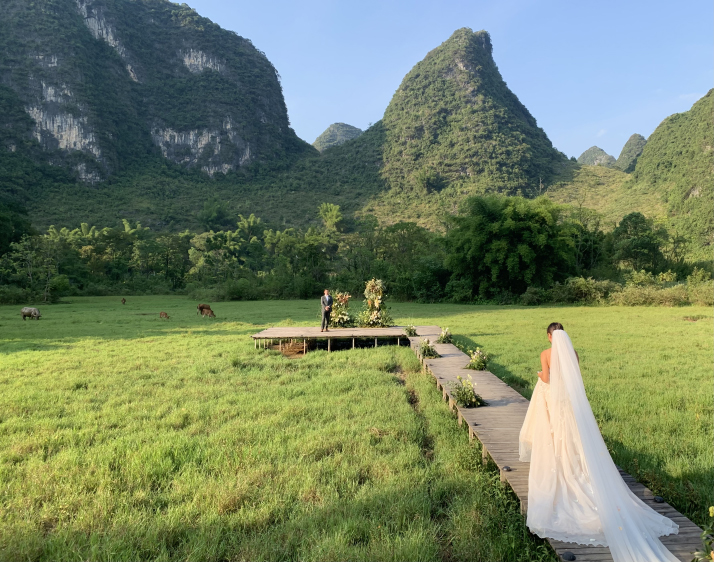 Environmentalists Li Shaoxin and Huw Slater at their wedding ceremony in Yangshuo, Guangxi Zhuang Autonomous Region, on September 3 (COURTESY PHOTO)
Four Weddings and a Funeral (1994), 27 Dresses (2008), A Wedding Invitation (2013), Crazy Rich Asians (2018)… The past decades have seen their fair share of matrimonial films, some obvious and spending their reels building up to the big day, others with nothing but a pivotal, momentary iconic scene dedicated to the nuptials. One shared feature: They all channel the wedding trends of their time.
Wedding trends are such a big part of planning a couple's big day, and every year brings a new crop of things that are "in" and others that are on their way out. To make this once-in-a-lifetime event unforgettable, many Chinese couples today rack their brains to figure out something unique to suit their taste. Some end up celebrating their weddings in castles, surrounded by great splendor; some march to a different beat and opt for a rock 'n roll vibe with the bride wearing sneakers instead of high heels; while others adopt a retro Chinese style with the groom riding a horse to the wedding and his bride sitting in a sedan chair—a closed chair for one passenger, with bridal versions usually carried on poles by four or eight bearers.
It's hard not to appear "beige" in the middle of such an outlandishly colorful wedding landscape. But Li Shaoxin managed to break the mold with one word: simplicity.
Their careers in environmental protection led Li and her future husband Huw Slater to first cross paths. The couple long ago already decided they would have a "carbon-neutral" wedding, aiming to lower emissions during the preparations for the ceremony and offsetting their environmental footprint by purchasing carbon credits, a permit representing the right to emit a set amount of greenhouse gases, something that reflects the growing interest in minimizing climate impacts among younger generations in China.
Sustainable sophistication
Like Leonardo Da Vinci, the couple believes "simplicity is the ultimate sophistication." Set to tie the knot on September 3 in Yangshuo, Guangxi Zhuang Autonomous Region, not far from Li's hometown in Guangdong Province, simplicity was the red thread running through their wedding arrangements.
The couple booked one flight for themselves and high-speed rail tickets for their invitees to their wedding destination and set up a carpool to the hotel for those who arrived at similar times to reduce unnecessary travel emissions. They also forewent the traditional fleet of limousines, usually borrowed from local car rental operators to take the bride from the hotel she's staying at to the wedding venue.
As Li is a vegetarian, the wedding banquet included dishes such as hummus, salad, tomato parmesan soup, Napoleon spinach lasagna and truffle porcini pasta. The menu looked quite different from the excess of fish and meat traditionally found at Chinese weddings. This one was young, hip and, more importantly, low carbon.
The greenhouse gas emission of food, and particularly meat products, is a big deal. Food accounts for roughly one quarter of all human greenhouse gas emissions.
According to the Ethical Consumer Research Association Ltd., a British nonprofit organization, just occasionally substituting meat for a veggie option or swapping out an animal product for a plant-based alternative both add up to a big difference. Even just one vegetarian day per week (52 days a year) can save nearly 100 kg of carbon dioxide per year.
To avoid wasting supplies, Li also chose local pot plants over imported fresh flowers and some of the decorative vines came from a mountain near the wedding location.
Nevertheless, as green wedding pioneers, it wasn't all smooth sailing. This was the first time Li's caterer had to prepare a vegetarian banquet. "Due to a lack of experience, the pastry chef told me she would use the best whipped cream for the cakes [which contained rendered animal fat]. I replied 'please don't. Use vegetarian cream instead'," Li told Beijing Review.
To further reduce waste, Li wanted to avoid the wedding favor cookies being wrapped individually. For them not to crumble during delivery, she ordered a harder type of cookie and chose a reusable tin box for packaging. But unfortunately, the deliveryman swathed the box in multiple layers of plastic bubble wrap. "I was upset about it; environmental protection should not be one person's idea; it requires the cooperation of society at large," Li said.
But despite the bumps in that walk down the aisle, Li would do her green wedding all over again. In her opinion, this was about much more than a "simple" wedding; it was about creating a platform to advocate a more sophisticated ideology that "green" should be an integral part of modern lifestyle.
"By organizing a green wedding, we wanted our families and friends to gain a better understanding of us, as a couple," Li said. "It's more important to tell them who we are and how we can all live happier life in the future."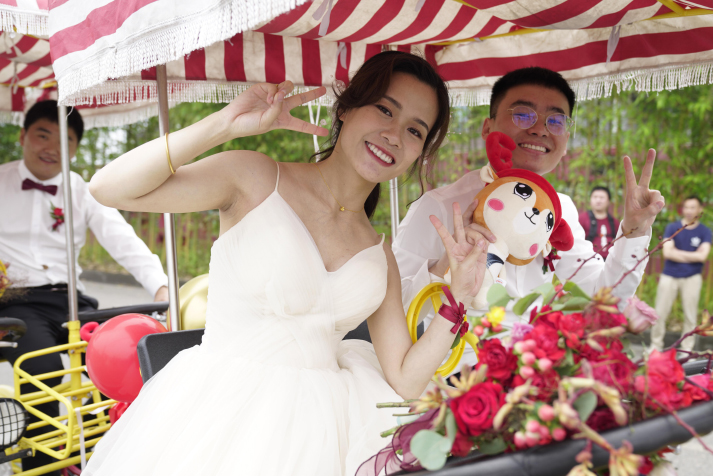 Newlyweds pedal their way to their wedding site in Chongqing on May 27 (XINHUA)
Carbon neutrality
Aside from Li and Slater, more and more couples are committed to reducing their big day's carbon emissions by sending out digital invitations, inviting fewer guests, canceling the customary fireworks, and so on. But all these low-carbon moves are just the first step to a full-fledged green wedding.
Enter: carbon neutrality, a goal Chinese President Xi Jinping has pledged to achieve in the country before 2060.
So how can a wedding and carbon neutrality be a match? According to Carbonstop, China's first carbon management software and consulting services provider that helps enterprises or individuals calculate, analyze, manage and report their carbon emissions, Li's wedding generated 23 tons of carbon dioxide equivalent emissions, of which 17 tons came from the emissions of planes, trains and automobiles, 4.4 tons from accommodation, 0.5 tons from flowers and decorations and 0.2 tons from foods and beverages.
The couple, with the help of Carbonstop, then donated 2,000 yuan ($280) through the China Certified Emission Reduction scheme, a voluntary program in which participants can trade carbon credits, to a registered wind power project, which would offset the carbon emissions generated by their wedding­—eventually resulting in carbon neutrality.
Another intercultural couple who got married in Beijing achieved the same goal. While bride Janna Lipiainen hails from Finland, one of the countries with the highest forest coverage in the world, the groom, working at an energy firm, is from Beijing, a city once plagued by severe air pollution. Their backgrounds inspired the two to host a carbon-neutral wedding.
After careful calculations, their wedding ended up generating 10 tons of carbon dioxide equivalent emissions. The couple then donated 1,270 yuan ($178) to the China Green Carbon Foundation (CGCF), a nonprofit publicly funded foundation dedicated to combating climate change by increasing carbon sinks, specifically by planting trees in Beijing's Yanqing District, neutralizing their emissions.
The Humble Administrator's Garden, a UNESCO World Heritage Site in Suzhou, Jiangsu Province, has seen couples hosting collective carbon-neutral weddings over the past three years. Each pair then donated 1,111 yuan ($156) to the CGCF to plant trees in Yunnan Province to balance their wedding emissions.
And so, the carbon-neutral wedding storyline continues to unfold.
To wrap up the green-inspired festivities, every guest of Li and Slater's received a biodegradable thank you card with a real seed attached to it, which would sprout after being planted in the soil. By sharing the seeds, the couple wanted to spread the word on a sustainable lifestyle and hopes for these seeds to one day grow into a forest—representing society's green consensus.
When asked "do you contribute your bit to a healthier planet?" all these newlyweds replied with a resounding "I do."
(Print Edition Title: I Do!)
Copyedited by Elsbeth van Paridon
Comments to zhangshsh@cicgamericas.com