One Ameican's devotion to Chinese culture trips to off-the-beaten-track destinations converges into the national endeavor to boost rural culture and economy as well as improve the outside world's knowledge of China.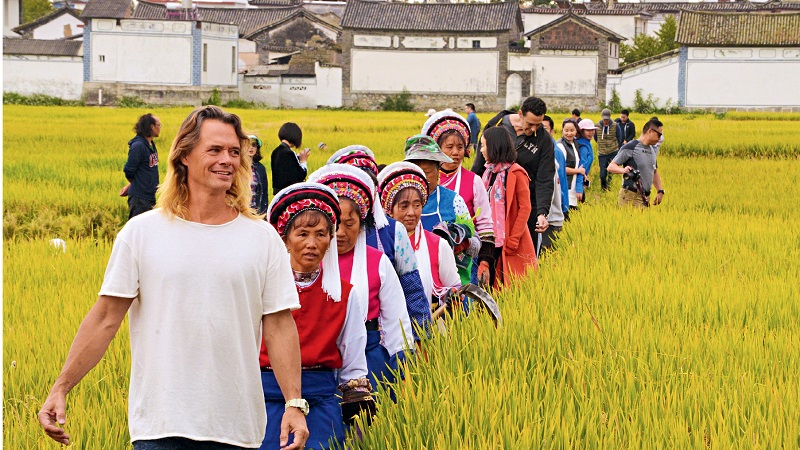 Brian Linden is walking through a field in Xizhou with local villagers.
Brian Linden, a Chicago native, made his first trip to China in 1984 to study at the Beijing Language Institute. During the ensuing four years, he played the leading role in a Beijing Film Studio movie, worked as a photojournalist with CBS News, and spent over 200 nights on trains traveling to every Chinese province.
Linden became increasingly fascinated by the rich cultural traditions in China's rural areas. In 2004, after visiting over 100 countries, he decided to move back to China, but not to the more common destinations like Beijing, Shenzhen, or Shanghai. Instead, he chose Xizhou, a small town in Dali Bai Autonomous Prefecture of southwest China's Yunnan Province, a once bustling trade spot along the old Tea Horse Trail.
With a population of just 2,500 residents, mostly from the ethnic Bai community, Xizhou had been forgotten by the outside world following the decline of the ancient trade routes. Linden, however, was mesmerized by the town's rich history and unique culture and felt it would be disappointing if this rich, timeless culture went unprotected.
After starting his Ph.D. at Stanford, Linden worked on education projects around the world for 14 years. In 2004, after an extended absence from China, he and his wife, Jeanee, felt that China had to remain a part of their lives in some form. They decided to sell their house in the U.S. and searched throughout China for two years for a place to settle down, homeschooling their two young boys, six and nine years-old in the meantime.
In 2006, the family finally decided to live in Xizhou and embarked on their plans to start a boutique hotel that would serve as a cultural exchange platform. They chose an old building, renovated it, and launched their first hotel in 2008. Today, the Lindens have five unique sites, including one in Shaxi's Shibaoshan National Park and a Ming/Qing courtyard complex in Jiangsu's Suzhou/Dongshan. The hotels run under their brand, The Linden Centre.
Culture Is the Soul
The Lindens focus on culturally sensitive projects, which require careful renovation and repurposing. The Lindens' priority is preserving traditional culture, a mission that they believe should be incorporated into the business model of all who work in rural tourism. "Old buildings, where they were placed and how they were built, are a result of a dialogue between the local people and the surrounding environment. There are many cultural treasures, both tangible and intangible, nestled in older structures. We need to retell those stories, and share those early bits of wisdom with the outside world," Linden said.
The Xizhou government was very supportive of his project and allowed him to rent a protected heritage complex. Dating from the 1940s, it was the residence of a wealthy local merchant, Yang Pinxiang, and was built in a stunning traditional Bai style. The complex was declared a national cultural relic under state protection in 2001.
To protect the original wood structure and adapt it for modern use, extensive renovation was required. The Lindens used only local craftsmen in order to retain its authentic features. "Between 60 and 100 villagers worked with me every day for months," Linden said. "From renovating the roof to replacing rotten wood, we did everything ourselves in order not to destroy the original building." After 18 months of hard work, the complex was restored to its former glory, marking the beginning of a new chapter. Today this renovated residence with 16 rooms is one of the top hotels in the area.
Following this successful model, the Lindens restored other old residences in Xizhou, including one that offers educational experiences to enhance cross-cultural learning.
Over these past two decades, the Lindens have witnessed remarkable growth throughout Xizhou and its environs. Their projects have had a major impact on the local economy, villagers' lives, and the recognition of the importance of the region's architectural traditions. Linden even wrote the stories of his life in China over the past 35 years into a book, One Village at a Time, which was released in this November.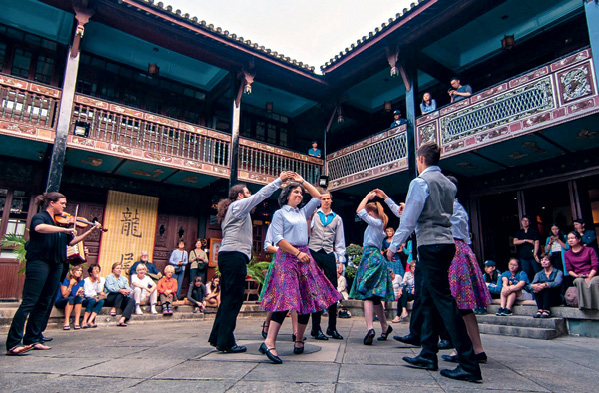 A cultural activity is held at the complex of Yang Pinxiang.
Rural Tourism's Core Value
Statistics show that Chinese tourists are increasingly interested in staying in local residences rather than newly built, luxurious hotels. The new focus on culture-oriented tours is contributing to this trend. More Chinese are realizing that time-honored traditions and cultures embody the core value of rural travel.
The Linden Centre's wide range of activities enable visitors to better understand the local culture, for example, spending a day with the locals on a trip to the morning vegetable market and cooking a meal together; visiting a dairy or a dyeing workshop where they can take part in some of the more valued handicrafts, and eating local food like fried glutinous rice cakes and Xizhou babas at villagers' homes.
"Many people are surprised how fast China's economy has expanded over the past decades, but I think China's rich cultural traditions should also be respected. While financial riches are more visible in China's coastal cities, the cultural foundation of the Chinese people can still be sensed in the rural areas," Linden said.
The Linden Centre also serves as a cultural communication center connecting outsiders and locals. For the past decade, students from Sidwell Friends School, a Washington D.C.-based school renowned for educating many of American top politicians' children, has been coming to Xizhou for a four-month credit program called the China Fieldwork semester. During their stay, each student learns skills from a local craftsman or artisan. Some students have also written about their Xizhou experiences.
One student, Carrera Chao, attended the program in 2017 and wrote a book, Silver of the Bai People, which highlights the art and skill of Dali's silversmiths and the story of one particular local artisan. Copies of the book can be found in the library of each of the Linden Centres. Some students have returned to Xizhou for further travel and studies after finishing their course.
The Shanghai American School and Middlebury School of the Environment also organize cultural exchange trips to Xizhou for young people to understand China's rural culture. Over the past decade, the Linden Centre has received over 200,000 domestic and international guests from all walks of life, including ambassadors, entrepreneurs, scholars, and artists.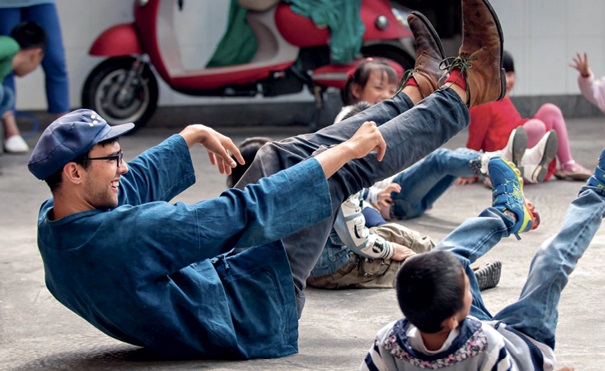 An American intern is playing a game with local children at the Linden Centre.
The Power of Rural Tourism
China's investment in its infrastructure has made rural tourism more feasible. In July 2022, the National Development and Reform Commission and the Ministry of Culture and Tourism jointly issued the Outline of National Tourism and Leisure Development (2022-2030), a blueprint for deve-loping culture-oriented rural tourism designed to drive rural economic growth.
Linden remembers the challenges he faced traveling around China in the 1980s. The first time he visited Dali, the city where Xizhou is located, he had to endure a 10-hour bus ride from Kunming, the provincial capital. Today, Yunnan boasts high-speed trains and expressways as well as new airports. The improved transportation means new opportunities for Xizhou, boosting tourism and the local economy. There are other changes in the town: new schools, hospitals, parks, and libraries. Some of the children Linden taught in his first years of English Corner are now attending universities, making him extremely proud.
As rural cultures attract tourists from the city, everyone is benefiting from the improved facilities and learning from their interaction with the outside world. At the Linden Centre, 40 percent of the space is open to the community, including a library, classrooms, a cooking school, and a gym. All the activities can be enjoyed by anyone, villagers and tourists alike. There also is a free English class every weekend for the village. For Linden, rural tourism is not only about getting something from the countryside, but also about how to give something back in return. A successful model of rural tourism showcases the age-old culture and the opportunity to become immersed in it. In this way, everyone benefits from the preservation of traditional culture and the sustained well-being of local people.