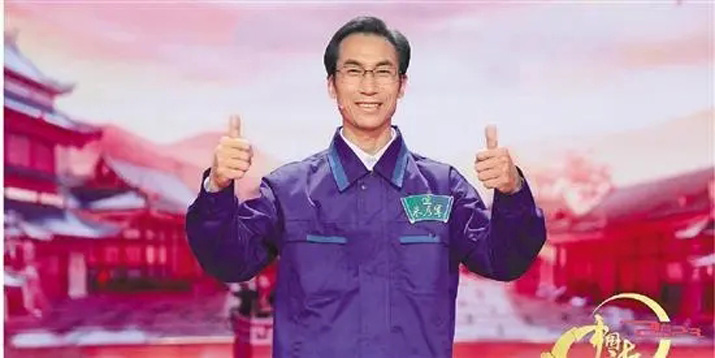 Migrant worker Zhu Yanjun left audiences in awe as he won the silver medal on China Central Television's (CCTV) Chinese Poetry Conference, a show that tests its competitors' memorization and recitation of classical and modern Chinese poetry,
on February 3.
On the show, broadcast at 8:00 p.m. every day from January 25 to February 3, Zhu appeared wearing his blue work uniform and a pair of glasses. He was slightly older than most other contestants and spoke with a strong accent often heard in China's northwestern regions. Following his "podium place," Zhu told Xinhua Daily Telegraph he was nervous in the beginning because it was his first time on television. But once he started answering the judges' questions, he found his rhythm and soon gained a sense of confidence and calm.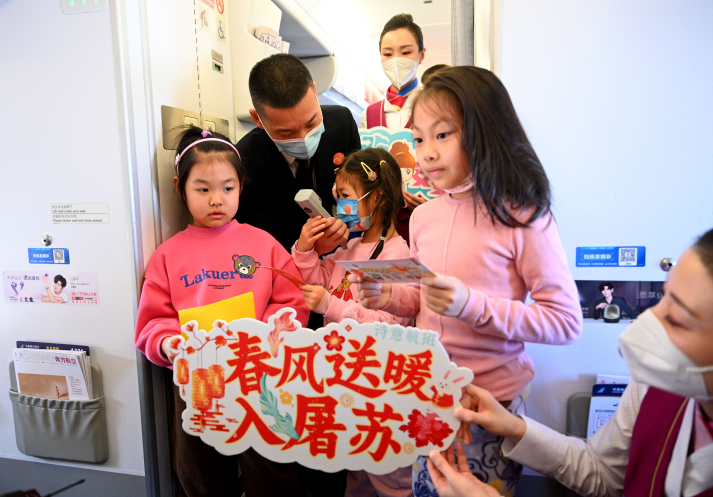 Ma Baoli (second left), a pilot with China Southern Airlines who won first place at this year's Chinese Poetry Conference, plays a spring-themed ancient poetry recitation game with passengers during his break on a flight from Dalian in Liaoning Province to Guangzhou in Guangdong Province, on February 4 (XINHUA)
The noon blaze
The 50-year-old from Weigou Village in Pingliang, Gansu Province, developed an interest in poetry from an early age. The first poem he ever came across was Tang Dynasty (618-907) poet Li Shen's Sympathy for the Peasants in his first-grade Chinese textbook. Its flow simply captivated him:
Hoeing millet in the mid-day heat,
Sweat dripping onto the earth beneath:
Do you know the food on your plate,
Each grain was hard-earned.
When Zhu first read this poem, it triggered images of his father and grandfather plowing the field in the scorching sun and he instantly grasped its meaning. Throughout his childhood, he enjoyed reading poetry while herding the family's sheep at sunset on the Loess Plateau covered by powdery wind-blown soil.
After realizing his son's passion for the verse, Zhu's father bought him several poetry anthologies. From that moment on, the young boy adopted the habit of writing down poems and reciting them.
After completing junior high school, at the age of 13, Zhu left his hometown to become a migrant worker—like so many of his peers—to seek better opportunities in the cities. Rural migrant workers are workers whose permanent residency is registered in the rural areas, but who are employed and reside in an urban area and therefore may not be entitled to all urban public services and social welfare benefits. Zhu moved to cities including Xi'an in Shaanxi Province and Xiamen in Fujian Province, where he worked as an electric welder, painter and plumber, among other jobs. However, his love for poetry never dwindled.
He often appeared out of place among his coworkers because he would spend most of his spare time reading poetry and taking notes while his colleagues were browsing short video platforms on their phones or playing cards. Some of his coworkers would make fun of him, scoffing "We are migrant workers. What is the point of reading poetry?" He would always reply to their sneers with a smile and continue his immersion in the poetic realm.
To this day, whenever he spots an unknown character or word, he will look it up in his dictionary, which has accompanied him for more than 20 years. Its worn pages bear testimony to Zhu's eager dedication.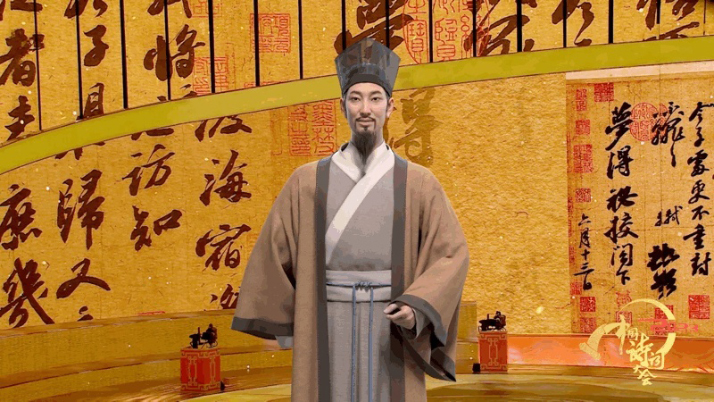 A holographic virtual character of the ancient calligrapher, essayist, gastronomer and poet Su Shi of the Song Dynasty (960-1279) appears on the China Central Television show (FILE)
Life lessons
In the interview with Xinhua Daily Telegraph, Zhu mentioned how every time he travels to a new city, he will look for a bookstore or library close to the construction site where he's working. He works during the day and goes to the bookstore at night to transcribe and recite poems. "Rainy days are best because the construction site will usually shut down and I can spend the entire day surrounded by books," he said.
For Zhu, poetry is like an old friend that has enriched his life. He likes the attitude toward life expressed in Tang Dynasty poet Du Xunhe's (846-904) line He who does not talk about worldly affairs is one who is free from worldly concerns.
Zhu has memorized some 1,000 poems and no matter how physically exhausting the day may have been, he feels a sense of relief when he can escape from this world into that of rhyme and verse. His favorite poet is Xin Qiji (1140-1207) from the Southern Song Dynasty (1127-1279). Xin's The Moon Over the West River—Written at Random left a lasting impression on him.
Drunken, I'd laugh my fill,
Having no time to be grieved.
He chanted these lines from the poem in an interview with Tianmu News, a news app affiliated to Zhejiang Daily.
Although Zhu himself never drinks or smokes, in order to save money, he added that every time he read this verse, it was as if he was drunk like the poet.
The way Xin conveyed resilience and optimism through so very few yet well-chosen words inspired him.
But after participating in this year's CCTV competition, Zhu found a new idol—the ancient court official, calligrapher, essayist, gastronomer and poet Su Shi (1037-1101), also known as Su Dongpo, of the Song Dynasty (960-1279), and one of the biggest Chinese literary icons of all time.
During the competition, a hologram of Su appeared on stage to recite the lines he had once written, including:
I am willing to be a Lingnan person the rest of my life with three hundred lychees every day and night.
Lingnan, or South of the Ridges, refers to the region south of the Five Ridges in Guangdong Province in south China. Su wrote these words when he was demoted to the area after his career as an official stationed at the imperial court in north China suffered multiple political blows.
Zhu explained that even though Su had been demoted multiple times during his lifetime, he always managed to find joy amid hardship. This resonated strongly with the migrant worker.
Zhu further added he didn't care all that much about the competition's results and was mostly happy the show had introduced him to a group of likeminded people. "Learning from them, I will continue to enrich my knowledge of poetry," he said. "I hope I can help people around me appreciate the charm of Chinese poetry."
A cultural cultivator
Launched in 2016, the Chinese Poetry Conference gathers amateur contestants and a panel of scholars and judges, aiming to rekindle people's appreciation for Chinese poetry and encourage a better understanding of their cultural roots.
Classical Chinese poetry can trace its history back to the Spring and Autumn Period—about three millennia ago. The genre has given rise to a number of renowned poets such as Li Bai (701-762) and Du Fu (712-770) in the Tang Dynasty. The art of poetry is one of the shining beacons of the country's literature and poetry writing was once a prerequisite skill for ancient Chinese scholars and officials.
Ma Sai, Dean of the Academy of Arts and Design at Tsinghua University, said in a commentary published on Workercn.cn, a news website operated by the All-China Federation of Trade Unions, that this year's Chinese Poetry Conference focused on ordinary people and told the stories of how they first fell in love with poetry. This year, first place went to Ma Baoli, a pilot with China Southern Airlines. From a commercial airline pilot to a rural migrant worker, the program has brought poetry back in motion by exploring ordinary people's connections with the art form and once again lit up that longstanding Chinese cultural beacon.
(Print Edition Title: Poetry in Motion)
Copyedited by Elsbeth van Paridon
Comments to jijing@cicgamericas.com