There is a building featuring distinctive Victorian architecture style on the bustling Fuchengmennei Street, in downtown Beijing. It was the first comprehensive Western medicine hospital financed and operated by Chinese nationals, originally named Central Hospital. Today, the 104-year-old building is used as the main building of the Baitasi branch of Peking University People's Hospital. Zhong Zhaohui, a general surgeon at the branch, has worked in this ancient building for 22 years, and witnessed the development of Chinese surgical medicine.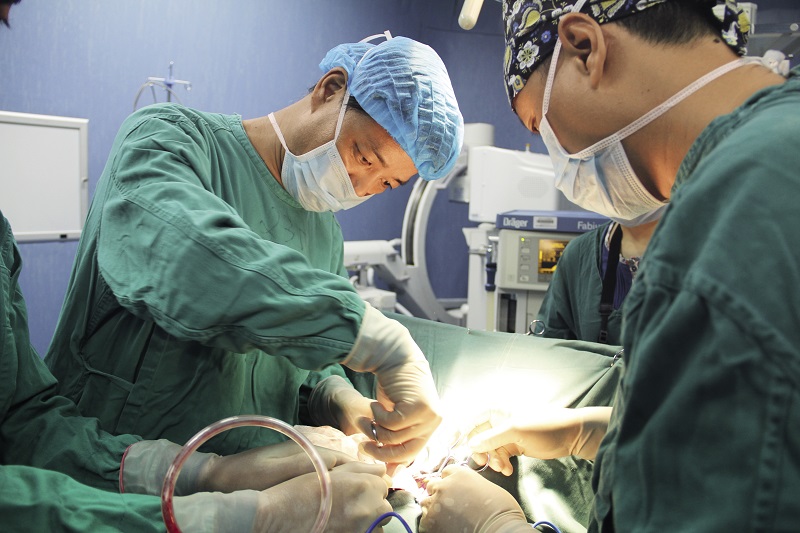 Zhong Zhaohui is performing a surgery on a patient of ethnic minority in Xishuangbanna, Yunnan Province.
Devoted to Surgical Development
After obtaining a master's degree in surgery from Peking University People's Hospital in August 2000, Zhong then successively earned a doctorate in clinical surgery (hepatobiliary surgery) at Peking University Health Science Center, and later conducted postdoctoral research in stem cells at Purdue University in the U.S.
During his study at Purdue, Zhong conducted research on the growth and differentiation of human adipose-derived stem cells (ADSC) and vascular endothelial cells (VEC), under the guidance of his mentor Professor Du Yansheng. After three months, he successfully established an in vitro angiogenesis model of ADSC and VEC, which can be used to screen new drugs. Through the study of ADSC, Zhong expanded his horizons and explored the regeneration and intervention of tumor vessels. He held that the treatment of tumors in the future had to make breakthroughs in the direction of tumor angiogenesis and inhibition.
For more than two decades, Zhong has diagnosed and treated a large number of patients with hepatobiliary diseases, gastrointestinal malignant tumors, thyroid and parathyroid diseases. According to Zhong, he has operated close to 4,000 laparoscopic surgeries and about 1,200 gastrointestinal tumor surgeries. In addition, he was one of the first surgeons in China to operate the Leonardo Da Vinci surgical robot. In recent years, his innovative weight loss surgery and metabolic diseases treatment have achieved good clinical effects and social benefits.
According to Zhong, although China's surgical science started late, it has progressed rapidly. In recent years, the gap of this field with that in developed countries in terms of new drug research and development, treatment innovation, and medical insurance system has narrowed, and in some cases disappeared.
"Taking tumor treatment as an example, with the improvement of China's clinical research, more domestic tumor research results have been adopted by international authoritative institutions to formulate international clinical diagnosis and treatment standards, which has enhanced the international status of China's clinical research," said Zhong.
With the continuous development of tumor diagnosis and treatment technology, new technologies and drugs have also been promoted and applied clinically, he said.
The five-year survival rate of cancer patients in China has increased from 30.9 percent 10 years ago, to 40.5 percent currently. Among them, the five-year survival rate of breast cancer patients has reached 83 percent, which is comparable to the level in developed countries. The five-year survival rate of patients with esophageal cancer is even higher than that in developed countries.
"Helping Patients in Need Is Our Duty"
General surgeons have a busy routine. Every workday, Zhong does medical rounds, consultations, teaches in the morning, and receives about 30 patients in the afternoon. On weekends, he writes papers and gives public lectures. Apart from this tight schedule, Zhong has also helped out at the rescue scenes of catastrophic events and supports the development of medical undertakings in China's border areas.
On May 12, 2008, the four counties (cities) of Beichuan, Pingwu, Jiangyou, and Anxian in Sichuan Province, were hit by a devastating earthquake. In the face of the sudden disaster, Peking University People's Hospital immediately organized a rescue medical team. Zhong, who already had extensive clinical experience at that time, was a member of the team. After braving torrential rains, Zhong and his colleagues arrived at their destination. Without stopping to settle in they immediately joined the rescue team and began tending the wounded. They also conducted rounds overnight with the local field hospital medical staff to record the name, age, gender, medical history, and treatment of each patient in detail. They worked for 40 hours without a break in spite of many aftershocks and rain.
During the rescue work in Beichuan, Zhong and his colleague treated 912 wounded, including 78 in critical conditions, and performed 60 surgeries. No deaths were recorded despite the continuous aftershocks, poor medical facilities, and harsh environment. The timely medical aid they provided to the wounded ensured their subsequent safe transfer to hospitals for continued treatment and rehabilitation.
In 2014, Zhou, a then 41-year-old woman in Xishuangbanna Dai Autonomous Prefecture, Yunnan Province, had suffered from urinary calculus for many years. Fortunately, she met the experts from the 15th batch of Peking University People's Hospital medical team, who came to aid the People's Hospital of Xishuangbanna Dai Autonomous Prefecture. After a multidisciplinary joint consultation by the medical team, she was diagnosed with renal hyperparathyroidism. Then, with the cooperation of local doctors, Zhong performed an operation for Zhou lasting 70 minutes. This was the first operation of hyperparathyroidism performed in the hospital. After the operation, Zhou's parathyroid hormone level quickly dropped to normal, and she was discharged from the hospital four days later.
During his work in Xishuangbanna, Zhong successfully performed surgeries on more than 60 patients from 12 ethnic minorities including Dai, Hani, Yi, Lahu, and Blang. He also gave professional lectures and training to local medical staff, organized a number of special lectures on surgical treatment of hyperparathyroidism, obesity, and type II diabetes.
"Only by understanding the disease characteristics and needs of patients in ethnic minority areas like Xishuangbanna, can we deeply understand the shortcomings in the treatment of common and difficult diseases in these areas. We can thereby more effectively serve the people there, so as to fulfill our commitment," said Zhong.
Zhong later participated in a free clinical program organized by the All-China Federation of Trade Unions in Xinjiang in 2017 and 2018, helping to improve local medical treatment, providing medical guidance, and establishing a long-term cooperation mechanism. In July 2018, as a medical team member from Peking University People's Hospital, Zhong performed laparoscopic metabolic surgery on an 18-year-old Tibetan girl. This was the first case of this type of surgery for a Tibetan patient in China.
Going to the border areas to conduct free clinical programs, serving patients in ethnic areas, Zhong takes these experience as rare opportunities to hone his skill. "Helping patients in need is our responsibility. In fact, every time we contact people in ethnic areas, we are both teachers and students. We bring them life and health; these good-hearted people give me inspiration and endless power in life," he said.
Innovating Medical Services
Zhong believes that the development of the Internet enables diagnosis and treatment to achieve a perfect complementation of offline and online forms. "Internet Plus allows diagnosis and treatment services to go beyond hospitals, and broadens the concept of receiving treatment. This improves the efficiency of medical treatment and reduces the cost. Especially after the outbreak of the COVID-19 pandemic, it greatly improves the medical experience for both local and nonlocal patients," said Zhong.
In addition to providing free consultation online, Zhong also uses mass media to widely publicize medical knowledge. Earlier this year he introduced methods and knowledge about "weight loss and health management" on China Central Television, which garnered 10.619 million views. He also comprehensively analyzes the characteristics and curative effects of the same type of patients through cloud computing and big data services. This enables him to provide patients with accurate medical guidance and information.
Zhong always does his best to relieve the pain of his patients with his professional skills, and also gives them emotional support. According to one of his tumor patients, Zhong often impresses his patients with a warmhearted bedside manner and genuine concern for their wellbeing. It is through this attitude and commitment that each patient experiences both the heart and mind of this extraordinary yet humble surgeon.