In 2017 at the age of 60, Dr. Li Ning was awarded the "Golden Lancet Award" in honor of China's most prestigious surgeons. As he stood on the podium, he recalled, many emotions and memories flashed through his mind. "I began pursuing my career at 20, was independent at 30, and became very qualified at 60. I'm expecting to be a master in this field when I turn 90, and also want to be a surgeon in my next life as well," Li said.
As an expert in liver transplant surgery and a pioneer in the field of liver implantology in China, Li Ning has been elected as the hospital president for 20 years. He always aims high and is always resilient in the face of clinical and management challenges.
Dr. Li Ning (first from right) receives the 6th China Charity Awards from the Ministry of Civil Affairs in July 2011.
China's College Entrance Exam Changed His Life
The resumption of China's national college entrance examination or gaokao system, in 1977, after a decade-long pause, triggered a huge change in contemporary Chinese history as well as the fate of a generation of young people, Li Ning was one of them. He took part in the historic exam in 1977, and then on March 8, 1978, stepped onto the campus of the Beijing No. 2 Medical College, now renamed as the Capital Medical University, embarking on a road to become a surgeon.
The saying "Knowledge changes everyone's destiny" was evidenced in the 20th century China. "I will never forget the resumption of the national college entrance examination," Li recalled. "It was a turning point in history and my own destiny. It is the road to university that closely links my fate with the fate of our nation and the lives of patients." He further noted, "When you step into a vast forest of knowledge from a barren plain, you feel a deep hunger and thirst to learn from the endless collection of books." At that time, every student wasted no time in getting down to study hard to contribute to the country's modernization.
"There was a huge age gap between students in our class," Li recalled. "The oldest student was a 32-year-old father of two children, while the youngest was only 18. I was just in my early 20s then." Despite this age gap, all the students devoted themselves to their studies and reading books, especially during the first two years.
"After two years of basic science courses, each of us was assigned to an internship. It was the first time I came in contact with the patients. A strong desire welled up within me to apply all the knowledge I had learned in class to patients. I did everything I could, learning about the patients' medical histories and how their disease had developed; taking their blood for tests, and changing dressings of patients postoperatively. I carefully observed and recorded every small change each patient had." From then on, Li's holidays and weekends were occupied with doing daily medical rounds every morning, never missing a day. "I cannot say I did it voluntarily, or even willingly.It was just what a doctor should do. I learned this from my teacher," Li said as he reflected over that period of his life.
Five years of college life passed by rapidly, and in December 1982, Li was assigned to the General Surgery Department of Beijing Chaoyang Hospital, where he picked up the scalpel starting his surgical career.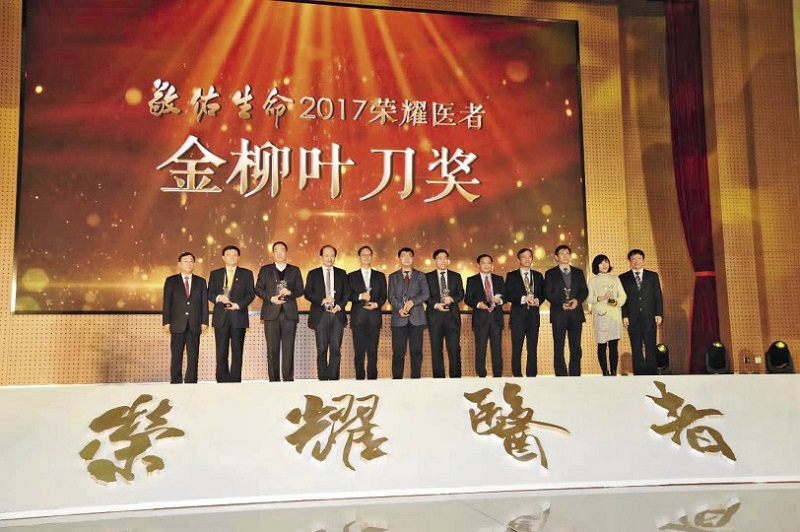 Dr. Li Ning (second from left) is awarded the Golden Lancet Award in December 2017 for being one of China's most skilled surgeons.
A Perfectionist in His Work
During the first year of his surgical residency, Li spent 24 hours every day in the hospital to make sure he was present when needed. Every night at a fixed time, he would conduct his daily medical rounds and make detailed notes on the records of each patient. When emergencies occurred in the middle of the night, he was always present in the operations, carefully observing what the senior doctors did and the changes the patient experienced.
Li is truly a perfectionist. For 30 years in a row, while ensuring each operation was successfully done, he also kept trying to increase the speed, in which they were completed. He set two surgical records when he was young: An appendectomy that took only seven minutes to complete and a hernia repair which took only 20 minutes. After each operation, Li always felt a sense of pride and satisfaction as a surgeon when he saw the grateful faces of the patients' families.
In 1989, at the age of 33, Li was elected as the vice president of Beijing Chaoyang Hospital, the youngest vice president in charge of medical affairs in large general hospitals in China at that time. Young as he was, he was fully aware of the responsibilities that rested on his shoulders and fully committed to disciplinary construction and hospital development.
In the early 1990s, there was still a big gap between China and developed countries in hospital management. In 1994, financially supported by his uncle who was living abroad, Li went to study hospital management in the United States. He was enrolled in the ISP program for Health and Hospital Administration at the University of Minnesota.
Li experienced quite a culture shock when he first arrived in the U.S. The differences between U.S. hospitals and the ones he had worked previously was huge, in terms of everything from advanced equipment, fully purified operating rooms, EMR (electronic medical records), to a centralized discipline structure, patient-centered services, team collaboration, and mostly medical concepts. Being greatly inspired, Li threw himself into learning all he could. At the same time, it was not easy for him, because of the language barrier. To solve this problem, he stayed in the U.S. for every summer vacation in that period, spending two weeks attending lectures and two weeks working as an intern in local hospitals.
One summer vacation, Li stayed with a cardiothoracic vascular surgeon, and went every day with him on hospital rounds, learning how American doctors and the American medical system worked. Li said, "My host once asked me whether I wanted to stay in the U.S. If so, he would be able to help me. I appreciated his kindness, but told him my mind was full of plans for the medical reform back home. I told him the U.S. is highly developed but my home country was not. My dream was to build an advanced hospital in China."
The time Li spent in the U.S. fundamentally changed him as a surgeon and a hospital manager. Later, during the 14-year service as vice president of Beijing Chaoyang Hospital, he led the hospital in updating its emergency and critical care medicine, organ transplanting, artificial prosthesis, endoscopy, and minimally invasive surgery and tumor biotherapy.
Later he was promoted to be president of Beijing You'an Hospital, and served as head of the Beijing Institute of Hepatology for 12 years. Here, he transformed a hospital that focused only on infectious diseases into a renowned comprehensive medical center for the prevention, medical treatment, scientific research, teaching, and rehabilitation of diseases related to contagion and infection, as well as acute or chronic diseases.
Moving Forward
For a long time, end-stage liver disease (ESLD) had poor prognosis with high mortality. In 1963, an American doctor Thomas Starzl performed the world's first orthotopic liver transplantation, bringing hope to patients on the verge of death.
Liver transplants are considered as one of the most difficult and risky surgeries. A U.S. study reported that the difficulty index of performing kidney transplants was 7+, while that of liver transplants was 55. Liver transplant surgeries in China started in 1977, and 57 cases were completed by the end of 1983. But sadly the 1-year survival rate was 0. During the second phase from 1991 to 1998, there were several hundred liver transplants, with a 5-year survival rate of 19 percent, which was far from the average 5-year survival rate of 75 percent in developed countries at that time.
It has always been the long-cherished desire of the Chinese medical community to master this cutting-edge technology in order to save more lives. In 1999, as director of the general surgery department of Chaoyang Hospital, Li and three other colleagues traveled abroad to study at the liver transplant center of Austin Hospital in Melbourne, Australia. The first liver transplant he participated in there left a lasting impression on him.
"It was midnight when the surgery was over. The next day while we were doing our daily rounds, we did not find the patient in her bed; but before we called the nurse, a figure walked slowly into our sight. We were so surprised to see the female patient walking around by herself only eight hours after the liver transplant surgery. This was really incredible according to my knowledge!" Li recalled.
During his time in Australia, Li took of every opportunity to participate in operations, observing and recording every detail, as well as every tiny change patients had postoperatively. This laid a solid foundation for later clinical practice in China. After returning to China, Li cooperated with Professor Shen Zhongyang to perform the first liver transplant operation in Chaoyang Hospital. Today, this patient still lives his life healthily.
Over the past 20 years, Li has led his team in completing more than 1,000 liver transplant operations of all kinds, achieving the highest success rate of liver transplants and the longest survival rate in Beijing. He has become the academic leader of liver transplantation in Beijing, and conquered many worldwide challenges in the field of liver transplantation and liver cancer.
Thanks to Li's superb medical skills, a college student with the rare blood type of Rh-negative who was suffering from liver failure underwent a successful liver transplant surgery, and later got married and gave birth to a healthy baby. Another patient, with colon cancer suffering from duodenum and pancreatic head invasion and liver metastasis, was saved from death after a complex resection and gene therapy. Today, the patient is still alive after over five years. These are just two examples of the many lives Li has saved.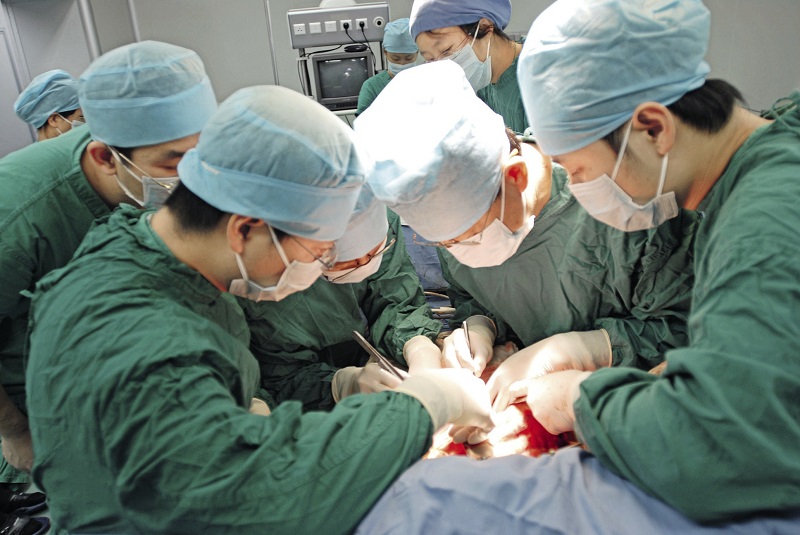 Dr. Li Ning and his colleagues are performing a liver transplant surgery on a patient.
Aiming Higher
China is a country with a large number of liver cancer patients, with 410,000 new cases and 390,000 deaths reported in 2020. The main reasons behind the heartbroken numbers are due to the fact that first, China's diagnosis rate of early-stage liver cancer is low, and about 80 percent of patients have already entered the middle or late stages when being diagnosed; and secondly, liver cancer is not sensitive to radiotherapy or chemotherapy and lacks effective targeted drugs.
In the year 2000, Li cooperated with academician Ma Ding to carry out basic and clinical research on ADV-TK gene therapy on solid tumors, and perform liver transplantation plus ADV-TK gene therapy for patients diagnosed with middle- to late-stage liver cancer which exceeds the international Milan criteria. After two rounds of exploratory clinical studies and phase-II clinical trials, the indications for liver transplantation have been improved to the cumulative diameter of liver cancer less than 12cm, and alpha-fetoprotein (AFP) less than 1000μg/L without primary and secondary macrovascular invasion. The 5-year overall survival rate reached more than 70 percent. These results have been included in the European guidelines on transplants for liver cancer and entered phase III clinical trials.
In another study, the 5-year survival rate of patients with small hepatocellular carcinoma (with a diameter of less than 5cm) was more than 90 percent after undergoing ADV-TK gene therapy, followed by local resection and then injecting a kind of gene inhibitor into local blood vessels.
Other clinical studies on solid tumors such as glioma, lung cancer, breast cancer, cervical cancer, and stomach and colorectal cancer have also achieved good efficacy. The future clinical application of this clinical breakthrough will greatly improve the clinical prognosis of solid tumor patients.
Another area of Li's research is the use of multi-omics to screen specific markers for the diagnosis of stages in hepatitis-B related liver cancer. Funded by the Ministry of Science and Technology and the Beijing municipal government, Li and his research team succeeded in screening specific markers of HBV associated liver cancer at a very early stage with the use of BMC-DNA methylation technology in peripheral blood immune cells. The diagnostic accuracy has reached nearly 100 percent, and has obtained international and domestic patents.
In other aspects, specific markers that can accurately distinguish chronic hepatitis-B, liver fibrosis, liver cirrhosis, as well as the different stages of liver cancer have also been successfully screened. Many of Li's medical achievements have taken a leading role in medical research and practice around the world.
Missions as a Respected Doctor
Today, Dr. Li Ning is well in his sixties. He has stepped down from the presidency, but as a surgeon, he continues conducting clinical work, scientific research, and teaching. His sense of mission for medical science and technology innovation and hospital improvement has not changed at all.
In his opinion, there is no age limit for the profession of doctors. "When I stood on the podium holding the Golden Lancet trophy in my hands, I saw four medical masters in their 90s who had won the Golden Saint Award sitting in the first row. Compared with them, I am such a young man. I hope to make full use of the rest of my life to help my country shake off the disrepute of being backward in liver cancer treatment."