In springtime, as everything takes on a new lease of life, Zhanqi Village in southwest China also comes alive with its beautiful scenery, unique culture, and influx of tourists.
Located in Pidu District, Chengdu City in Sichuan Province, the village has undergone tremendous changes during the past five decades. Formerly called Jifeng, the village was a pioneer in building water conservancy projects and carrying out land reforms in the 1960s. Later, it embraced more reforms to further development, and is now a well-known location on the path to rural revitalization.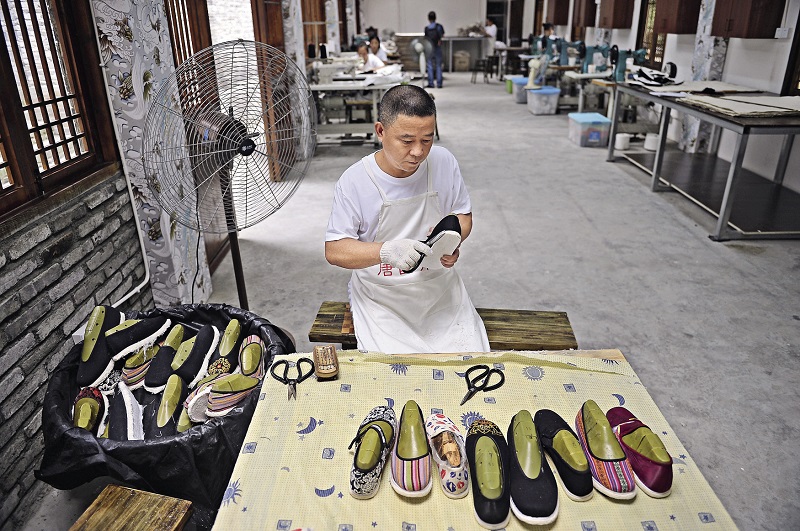 An artisan is making Tangchang cloth shoes, which are well-known for being comfortable, in a workshop in Zhanqi Village, Pidu District, Chengdu, Sichuan Province.
Protect Our "Live Culture"
Wooden beams, grey tiles, stone roads, and bamboo handicrafts are all visual aspects of the courtyards harboring around 18 manual workshops, conjuring up a feeling of nostalgia for many visitors. The manual workshops are a perfect fusion of rural culture with modern business systems, bringing a new way of life to the village, as well as providing work opportunities for local villagers.
On August 8, 2018, the courtyards opened up to visitors. That morning, Lai Shufang went to her workshop to welcome customers. She was owner of the Tangchang cloth shoe workshop. "The Tangchang cloth shoe handicraft technique has a history of around 700 years. I learned it from my father," said Lai, who was born and raised in the village. At 22, she went to a local shoe factory as an apprentice, and learned the craft from experienced artisans. She is now 64 years old. Initially, she sold her handmade cloth shoes on the streets, and has since progressed to opening her own shoe shop in town.
Today, Tangchang cloth shoes are on the list of intangible cultural heritage at both county and city levels, thanks to their profound history and unique skills. With new development opportunities, Lai has become even more motivated to shoulder the responsibility of inheriting this traditional handicraft.
To her surprise and delight, on February 12, 2018, when President Xi Jinping visited Zhanqi Village, he bought a pair of cloth shoes from her workshop. "Since the courtyards opened, more and more customers have come to buy shoes from me," said Lai.
Inside Lai's workshop, the area where she works is clearly visible to visitors, who can watch her going through the 32 steps to make a pair of shoes which are of high quality and very durable.
"I was worried about having no successors for some time," Lai admitted. But now, her son Ai Peng has stepped up to the plate. He resigned from a stable job at a state-owned enterprise in 2015, choosing to help his mother and become an inheritor of the family handicraft. Since then, he has opened an online sales channel on the e-commerce platform Taobao, and now has a dozen trained villagers working for him.
Opposite Lai's workshop, there is a Sichuan embroidery workshop, where 38-year-old Yuan Shengli produces fine pieces of embroidery artwork that usually takes a month to complete. Yuan is mute and deaf. There are several artisans with disabilities like her working in the embroidery workshop, which was founded in 2013 to provide free training to women and people with disabilities living in and around the village, providing them with part-time jobs during the off-season of farming and tourism.
Booming Local Industries
Most Sichuan food lovers would have heard of Pixian broad bean paste. Considered the soul of Sichuan cooking, it makes dishes much more savory. The most prized broad bean paste comes from Pixian County, now Pidu District, where locals began making this paste in the Qing Dynasty 300 years ago. At present, there're around 300 workshops in Pidu District.
Zhanqi Village is the location of a Pixian broad bean paste museum. Inside, a grand workshop, exhibition hall, and manufacturing area are situated opposite a big yard where the products are sunned to mature.
The yard attracts the most attention. Pleasant smelling vats of broad bean paste are neatly lined up. Every day, workers will lift the lids and stir the bean paste, which is left to dry and ferment during the day; while at night, the lids will be lifted again to allow the bean paste to fully absorb the dew from the air. The longer it is stirred and dried, the smaller the volume, and the better the flavor.
"After a visit, I realized there's a variety of broad bean paste. I'm thinking of buying some vintage paste to make stir-fried boiled pork slices at home," said a visitor surnamed Chen, excited after having tasted some of the five-year-old bean paste. In recent years, the Pixian broad bean paste industry has developed rapidly, and its manufacturing skills have been included in the national intangible cultural heritage list, giving it more recognition and fame.
At present, Zhanqi Village pays great attention to developing its agribusinesses. In the agricultural sector, it has cultivated several new programs, including a fungus company with output value of more than RMB 100 million, an organic fruit and vegetable planting base, and a lavender planting base.
"As our village industries are thriving, we're happy to see young entrepreneurs setting up businesses here. Many college graduates are also willing to come back home to start a career," said a local tourist guide. Zhanqi Village is now an AAAA-level tourist destination, receiving more than one million visits each year, a real pioneer of coordinated development in agro-tourism, business, and culture with local characteristics.
Sharing Success
After the development model of Zhanqi Village went viral, inspection teams flooded in from all over the country. Located at the foot of a mountain and along the Baitiao River, Zhanqi's success is an example of how small villages can revitalize themselves.
"For the next step, we are going to build our village into an education and research base," said Gao Demin, Party chief of the village. In recent years, among the many visitors have been a great number of village officials, coming to learn Zhanqi's experience.
Gao said he hoped the village will also be a window for students to learn about and be inspired by rural life.
Concrete measures have also been taken in Pidu District towards reaching this goal.
Zhanqi Village is now one of the national educational bases for primary and secondary schools. It has launched a set of programs for students and adults respectively. For students, activities like picking fruits and vegetables, and grinding soy beans to make tofu could give them a better understanding of nature and local culture.
In early 2019, the Sichuan Zhanqi Rural Revitalization Training Institute was officially inaugurated in the village, with the hope of sharing local success with the rest of the country. It can accommodate 2,000 students at a time, and has invited renowned experts on agriculture and rural affairs, leading scholars from prestigious universities, as well as Party chiefs from many model villages to give lectures.
Villagers still remember that when President Xi visited the village as part of an inspection tour in February 2018, just before the Spring Festival, he motivated them to further their efforts for a better life. For half a century, everyone in the village, including Party chiefs and ordinary villagers, has worked hard to create a better life. The small village is a witness of the times: the people's commune from the last century, the land contract responsibility system beginning in the 1980s, the development of modern agriculture in the new century, and the integration of agriculture, business, culture , and tourism today.