China's brokering of a rapprochement between Iran and Saudi Arabia was particularly impressive in light of a certain Western power's relentless ratcheting up of geopolitical rhetoric calculated to divide the world and stoke war. There had been long-standing hostility between the two Middle Eastern countries, exacerbated by historical, religious, and geopolitical factors. The success of the Saudi Arabia-Iran talks in Beijing, therefore, was hailed as a diplomatic coup in a world, fraught with confrontation and suffering, whose people long for peace and development. Former U.S. Secretary of State Henry Kissinger compared the landmark deal between the two Arabian countries to the thaw in China-U.S. relations of the 1970s.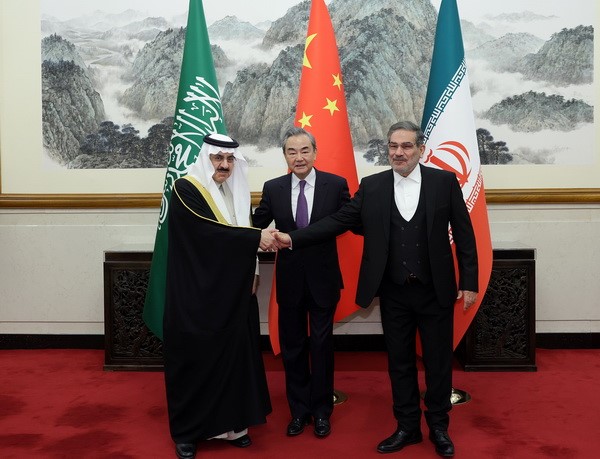 As announced by China, Saudi Arabia and Iran on March 10, 2023, the latter two have reached a deal which includes the agreement to resume diplomatic relations and reopen embassies and missions within two months. Photo: Chinese Ministry of Foreign Affairs
This improvement of ties between Saudi Arabia and Iran has paved the way towards regional peace and stability in the Middle East, and has set an example of settling divergences and differences among countries through dialogue and consultation, said Wang Yi, director of the Office of the Foreign Affairs Commission of the Communist Party of China (CPC) Central Committee.
Why China? Certain Western observers, uneasy about China's growing political clout in the Middle East, are skeptical about the country's motivations. As both a friend and important trade partner of Saudi Arabia and Iran, China's consistent policy of peaceful coexistence and mutual respect, as well as its Global Development Initiative and Global Security Initiative, have been instrumental in steering the world towards what it most needs – peace and development. China's global good-will engagement and humanistic proposal to build a community with a shared future for mankind have won it the trust of many countries.
"Humanity lives in a community with a shared future where we rise and fall together," Xi Jinping, general secretary of the CPC Central Committee and Chinese president, said in his keynote speech at the CPC in Dialogue with World Political Parties High-Level Meeting via video link on March 15. "The frontrunners should sincerely support other countries in their development. One will not be seen in a more favorable light after blowing out others' lamp; nor will they go farther by blocking others' paths," he concluded.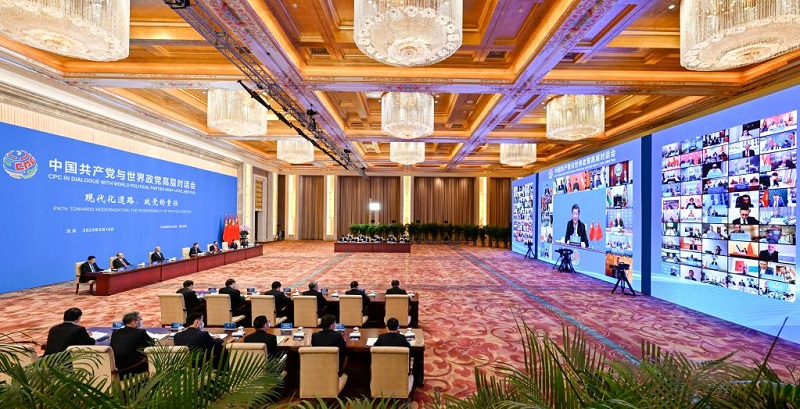 Xi Jinping, general secretary of the Communist Party of China (CPC) Central Committee and Chinese president, attends the CPC in Dialogue with World Political Parties High-Level Meeting via video link and delivers a keynote address in Beijing on March 15, 2023. (Xinhua/Yin Bogu)
With the theme on modernization, the high-level meeting convened upon the conclusion of China's annual "two sessions," which mapped out the country's development targets and policies for 2023 in its journey toward modernization. Xi's speech emphasized the people-centered governance approach, the principle of independence, the exploration of diversified paths towards modernization, and mutual help in its advancement. "Modernization is not 'an exclusive patent' of a small handful of countries, nor is it a single answer question," Xi said. "For any country to achieve modernization, it needs not only to follow the general laws governing the process but, more importantly, consider its own national conditions and unique features," he added.
Xi proposed at the meeting the Global Civilization Initiative, encompassing four strands: respect for the diversity of civilizations; advocating the common values of humanity; highly valuing the inheritance and innovation of civilizations; and jointly advocating robust international people-to-people exchanges and cooperation.
The Global Civilization Initiative will help the world work in unison to meet pressing global challenges, reduce conflicts and confrontation, and realize harmonious coexistence, said Stephanos Stephanou, secretary general of Cyprus' Progressive Party of Working People.
Meanwhile, the Ukraine crisis drags on. At a recent geopolitics lecture, world-renowned economics professor of Columbia University Jeffrey Sachs bluntly dubbed the conflict a proxy war between the United States and Russia whereby Ukraine, as the battlefield, has been battered by armed conflicts, and Europe as a whole struggles with inflation, food crises, and massive influxes of refugees. "Instead of championing peace in Europe, overcoming differences and difficulties through dialogue and diplomacy, we've acted as a pawn for NATO, captured by the military-industrial complex, imposing sanctions," Member of the European Parliament Clare Daly argued in a debate on March 17. "If we want to be stronger, stop playing U.S. war games, stop antagonizing our trading partners, stop interfering and trying to have regime change in countries we don't like, stop robbing the global South," Daly contended.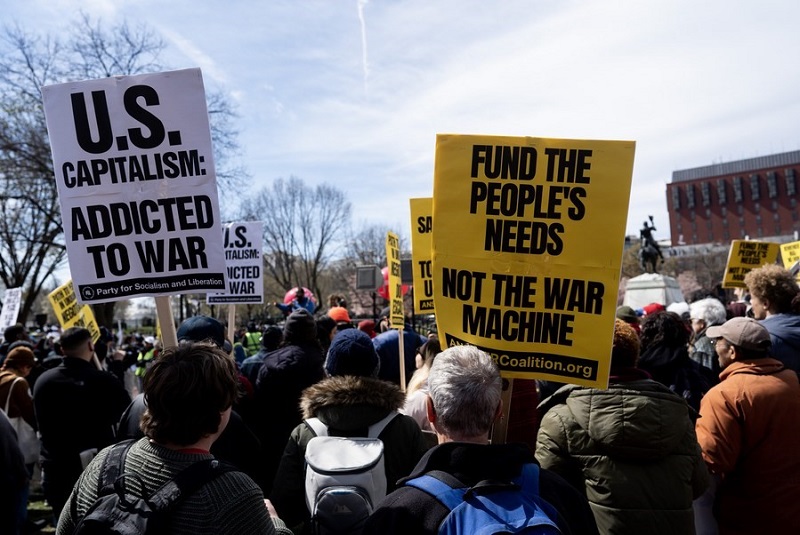 Protesters gather during an anti-war demonstration in Washington, D.C., the United States, on March 18, 2023. (Xinhua/Liu Jie)
Under the pretext of democracy, the United States has either started or fueled many wars and conflicts worldwide. Two decades ago, on March 19, 2003, the then U.S. President George W. Bush ordered the invasion of Iraq. Without a shred of solid evidence, the administration nevertheless convinced the peoples of America that Iraqi dictator Saddam Hussein was armed with weapons of mass destruction, and that "he is in league with al Qaeda." A poll conducted by Pew Research Center showed that, one year after 9/11, two thirds of Americans surveyed believed that the Iraqi leader had helped the terrorists. Yet even though both U.S. and U.K. forces occupied the country within weeks, the war has irrevocably tarnished the U.S. government's credibility both at home and abroad. "This is not about democracy. It's about geopolitics," Jeffrey Sachs said on March 19 in an interview with CGTN anchor Liu Xin when talking about the U.S. invasion of Iraq. Sachs moreover observed, "The war in Ukraine is not about democracy, but about NATO enlargement."
As a proactive force in advancing the political settlement of the Ukraine crisis, China released the 12-point paper titled China's Position on the Political Settlement of the Ukraine Crisis that takes into account the legitimate concerns of all parties. "We believe that as long as all parties embrace the vision of common, comprehensive, cooperative and sustainable security, and pursue equal-footed, rational and results-oriented dialogue and consultation, they will find a reasonable way to resolve the crisis as well as a broad path toward a world of lasting peace and common security," Xi said in his signed article published on March 20 on Russia's newspaper Russian Gazette and the website of RIA Novosti news agency ahead of his state visit to Russia.
Kenya-based international relations scholar Cavince Adhere commended the CPC's commitment to upholding international fairness and justice, promoting world peace and stability, advocating and practicing genuine multilateralism, and safeguarding the international system with the United Nations as its core. He was quoted by Xinhua as saying "Without peace, no country can develop. The Communist Party of China has set a good example in this regard for other political parties in other countries."