ZHANG Fei, aged 34, is the first Party secretary for poverty alleviation in Ganjiagou Village, Xiaojin County, Abe Tibetan and Qiang Autonomous Prefecture, Sichuan Province. In July 2019, his short videos of his family having dinner at their mountain home were posted on social media, and in no time they went viral. The tens of millions of views have since helped Zhang achieve celebrity status, something he accredits to the scenery and appreciation of family life.
Zhang Fei is sharing the beautiful scenery of the mountains with his fans on his mobile phone.
"My videos show my family having dinner in our yard. In the forefront, there is our dining table loaded with steaming dishes, while in the background, there is a misty mountainside. Such an ethereal lifestyle is attractive to many people," said Zhang. The popularity of his 10-second videos revealed to him the unlimited possibilities of the Internet, and sparked his hope about rural rejuvenation in Ganjiagou Village.
Since his first short video was released in November 2016, short videos and live streaming have become a way for local villagers to increase their income. "At the end of 2018, through short videos and live streaming, villagers sold sausages and bacon worth more than RMB 300,000. In the summer of 2019, they sold more than RMB 300,000 worth of matsutake mushrooms," said Zhang. In his eyes, the Internet economy has given people living in the mountains more opportunities to make money and opened their hearts and minds which had been long closed. "This is very important. It is a change from the inside out, from thinking to action," he said.
By the end of 2018, 109 people from 26 poverty-alleviation households in Ganjiagou had lifted themselves out of poverty with the help of the government and the poverty-alleviation team. Consolidating the gains and pursuing rural renewal are now part of Zhang's daily routine.
There are still many things to be done," Zhang told China Today. He is currently working with Ganjiagou villagers on a plan to develop tourism on the mountain and wineries below the mountain.
First Encounter with Ganjiagou Village
Zhang Fei comes from Anhui Province. He joined the cultural and tourism bureau of Xiaojin County in 2010, after being discharged from the army in Sichuan. In July 2016, he was sent to Ganjiagou Village to serve as the first Party secretary for poverty alleviation.
Ganjiagou is located deep in the mountains. Due to its geographical conditions and poor transportation, local people live in extreme poverty. "The villagers generally have a low level of education, and young people my age generally have not graduated from primary school. Living in such a closed and backward place, they are less able to accept new things," said Zhang.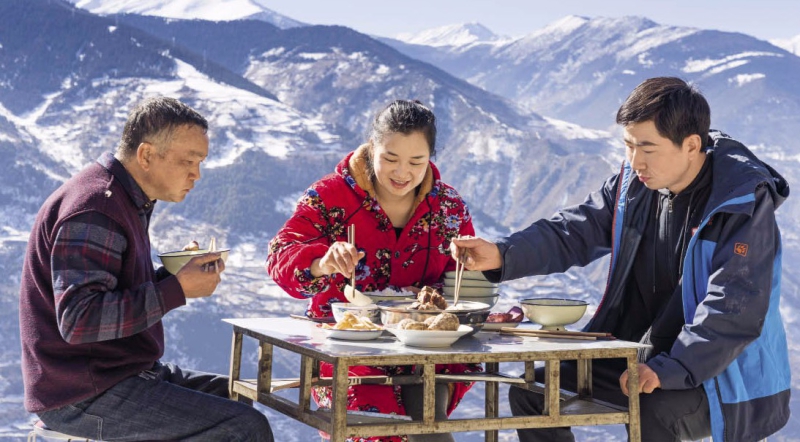 Zhang Fei enjoys a regular meal with his family, while in the distance the snowy mountains bask in the sunlight.
Because of their limited education, many young people are not able to earn a living in big cities. Instead, they usually pick up odd jobs in the Xiaojin county town. "The elderly just grow crops, do farm work or raise some pigs and cows to make ends meet," he said.
After Zhang assumed his position in the village, he found that the only way for villagers to make money was to sell farm produce such as free-range chickens and homemade bacon. However, due to transportation and logistics restrictions, the local products could not get beyond the mountains. "Two things hampered villagers' business: one was the difficulty to promote the quality standards of their organic agricultural and farm products, and the other was the high transportation costs of produce."
Ganjiagou is on a mountain road 10 kilometers from Xiaojin county town. The first e-commerce transactions took place in the county in 2016. The county is 500 kilometers away from the transit city Chengdu, and there was express delivery every two days. "Five jin ( 2.5 kg) of homemade bacon could be sold for RMB 300 but the express delivery fee to Chengdu was RMB 100. The high logistics cost suddenly made the product less attractive," said Zhang.
Seeing his concern about marketing the village produce, Zhang's younger brother suggested to him a new path. In November 2016, Zhang began broadcasting live streaming on social media in order to promote and sell local village produce, something he had never tried before.
Zhang said the purpose was to present the villagers' lifestyle, sell local produce, and show where that produce was grown. All of these aspects encapsulated his poverty alleviation efforts. Not in his wildest dreams did he ever expect that this initiative would alter the life of the villagers forever.
Life Resuscitated by Live Streaming
"Seeing the everyday life of the poor in my live streaming videos, some netizens donated money and goods. This made me feel that live broadcasting might be a channel to bring about change," Zhang noted. After consulting with the town and village heads, in 2017 Zhang decided to convince villagers to raise free-range chickens and sell them live online.
After building the infrastructure needed, fate struck a blow. "In 2017, the whole country suffered from a fowl plague. Although our chickens were strictly quarantined, more than 2,000 were still not sold, and our sales model was seriously questioned," said Zhang, admitting that those were the most stressful times to endure.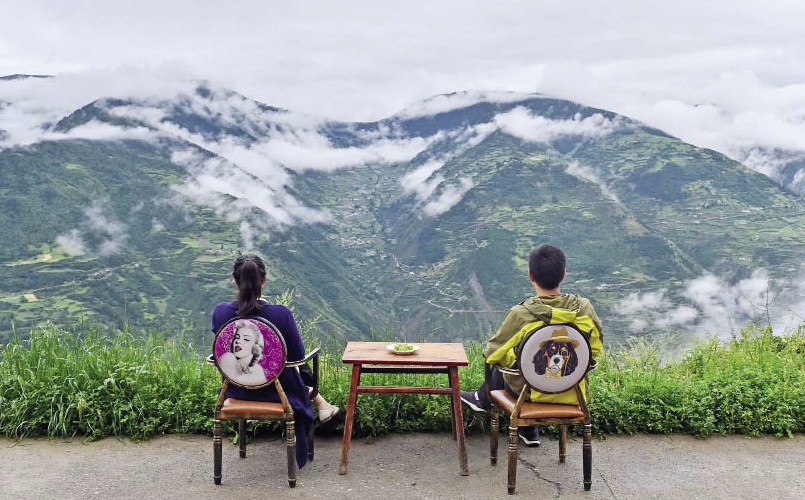 Zhang Fei's online followers dream of having a meal on such a table overlooking the misty mountains.
A crisis often also presents an opportunity. One day, when Zhang was descending the mountain, he saw a young man named Sanwa herding cattle on the mountain slope. He took a video with his smart phone and posted it online. "I did not expect that this short video would become popular online that same day." With this video, Zhang's followers rose from a few hundred to more than 20,000. He then sold local chickens on live streaming and they were sold out. Zhang's confidence was boosted by the generosity of his followers.
In 2018, Xiaojin County introduced large logistics enterprises while implementing the poverty reduction policies. The convenience that these enterprises brought enabled the agricultural products of the local poor farmers to be sold to a larger market.
At the end of 2018, Zhang and his wife moved to Mazu Village close to where he worked. From that time, the couple settled down in their mountain home.
"My mother helps us take care of our two daughters in a rented house in the county town as they go to school there. They usually join us on the weekends," said Zhang. He is a family man and looks forward to the time they can all be together.
After the videos of his family eating in the misty mountain clouds went viral, Zhang received hundreds of thousands of hits. Led by Zhang, neighbors now all do live streaming, and on weekends they accommodate tourists.
Sanwa, the cattle-herder in Zhang's video, is 26 years old and mentally challenged, like his mother and elder sister. They are a registered poor household in Ganjiagou and the cattle are all they have to live off. Zhang said that the video made the herder become a popular figure and he received a lot of concern from strangers.
Knowing that Sanwa likes listening to music and wanted an old fashioned MP3 player, a netizen bought him a smart phone. "Years of solitude has made him reticent and a bit eccentric. I took some netizens' advice and took him to the county town to try different foods, to Chengdu to see the big city, and taught him how to go to shops, and how to pay with his smartphone. This way, he can feel the beauty of life," said Zhang, adding that Sanwa has become lively, and knows how to use his phone to interact with netizens.
Edible fungi in spring, matsutake mushrooms and cherries in summer, apples and pears in autumn, and sausages and bacon in winter — all local products are sold countrywide via Zhang's live streaming. In his view, as the first Party secretary, he has only helped the people solve one of the problems of poverty alleviation, and there is still a long way to go in the future.
Rural Revitalization through Live Streaming
Zhang's home on the mountain is now an Internet-famous site where many netizens have visited to experience the fun of eating at the family restaurant in the clouds. More than 50 people reserved a table during the past Labor Day holidays, according to Zhang.
As the number of social media followers grew, it has brought with it new challenges for Zhang and the villagers. "Due to the 2008 earthquake, most of the villagers living higher up on the mountain have moved down to the foot of the mountain. At present, there are only three families still living on the mountain, including us," said Zhang. With the increasing number of visitors wanting to come and experience life on the mountain, providing food and accommodation for this new found tourism has been tabled on the agenda of the local government.
Zhang told China Today that the Internet popularity has helped to bring tourists to the village. But now they can only provide a basic reception. If they want to provide a better travel experience, they need more capital to renovate the facilities.
Many netizens have suggested that Zhang and the other villagers should turn the vacant and abandoned houses on the mountains into modern hotels and build a winery at the foot of the mountain. This way, local industries will be boosted by tourism.
By the end of this year, Zhang said, his term as the first Party secretary would come to an end, but he had never thought of leaving the village. "It gives me a sense of belonging. I feel so relaxed working here in the countryside."
Zhang said that his experience in live streaming gave him the confidence to change the life of the locals through e-commerce. "This is something I feel most proud of during the years I have worked here," he said.
Zhang now has over 800,000 followers on the Chinese short video platform. "During his visit to Shaanxi in May, General Secretary Xi Jinping said that as an emerging form of business, live streaming e-commerce can not only promote agricultural products, help people out of poverty and earn more, but also promote rural rejuvenation. That gave me great encouragement," said Zhang.