On December 30, 2012, Xi Jinping, general secretary of the Communist Party of China (CPC) Central Committee, paid an investigation visit to Fuping County located in the Taihang Mountains in Hebei Province. In the home of Tang Rongbin and Gu Baoqing, a typical poor household in the village of Luotuowan, Xi sat cross-legged on their kang, a heatable brick bed, and discussed with them how to get rid of poverty. It was there that Xi launched a campaign to eliminate poverty nationwide.
Since 2013, the campaign has lifted more than 10 million people out of poverty every year. By 2020, all 98.99 million poor people in the country had shunned poverty, with all of the 832 poor counties and 182,000 poor villages removed from the list of poor areas. China achieved the poverty reduction goal of the UN 2030 Agenda for Sustainable Development 10 years ahead of schedule, creating a miracle in the world's fight against poverty.
However, China doesn't see the triumph as an end in itself, but the starting point of new endeavors to further improve the life of people in the countryside through the strategy of rural revitalization. With a steady improvement in the living standards, the country is more determined than ever on marching toward its next target: common prosperity.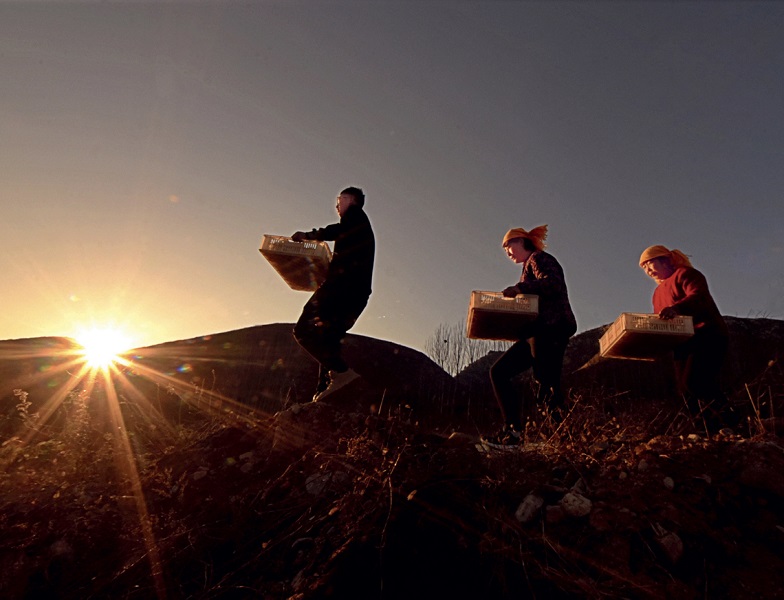 Chen Yichong (left) and workers carrying the platycodon to be dried at a processing station in Nanlushan Town of Yiyuan County in Zibo City, Shandong Province, on November 9, 2021.
Eliminating Poverty
The village of Luotuowan consists of 295 households in nine hamlets scattered throughout a predominantly mountainous area. Apart from a few small parcels of irrigated fields, most of the village's crops are planted on mountain slopes fenced with stones.
At the time Xi visited, Gu's family of seven could barely make ends meet with the potatoes and corn grown once a year on their three mu (0.2 hectares) of sloping fields. Due to a lack of local job opportunities, their son Tang Junfeng left home to work in Beijing, like his fellow villagers, at the age of 18.
Things began to change in early 2013 when a joint poverty reduction working group formed by several departments of the Hebei provincial government was dispatched to the village.
One major project the working group undertook was the construction of new houses for the villagers. Gu liked the new house, which was equipped with a heating system, running water, a flush toilet, and kitchen. She only had to pay a small fraction of the cost, and the rest was covered by government subsidies.
To generate new sources of income, a tourism company was jointly established by Luotuowan Village, Gujiatai Village and Fuyu Investment, a state-owned investment company from the county, with the help of the working group. The tourism company rented and renovated local farmers' houses for rural tourism. The old house of Gu's family that Xi had visited was renovated, becoming the top tourist attraction of the village. In addition to collecting rent, Gu earns more than RMB 2,000 (US $298) per month from working as a cleaner for the company.
The rise in income transformed the lives of Gu's family members. Her son bought a truck and became a driver. He also bought a house in the county town and settled down there. Her elder daughter is about to graduate from college and her younger daughter is studying in the junior high school of the county town.
Tremendous changes have also taken place in the lives of other villagers. Ten years ago, over 70 percent of the 582 residents of the village were poor. Thanks to the poverty reduction efforts such as planting specialty crops and rural tourism, the per-capita disposable income of the villagers surged from RMB 950 (US $142) in 2012 to RMB 17,480 (US $2,603) in 2021.
The great changes in the village of Luotuowan are a microcosm of China's poverty reduction achievements. Tan Weiping, deputy director general of the International Poverty Reduction Center in China and an expert on international poverty reduction, said that after nearly 10 years of continuous efforts in poverty reduction, the Chinese government has developed an approach to poverty reduction with Chinese characteristics.
According to him, China's achievements in poverty reduction are reflected in three aspects. First, the living standards of the people who were lifted out of poverty have significantly improved, with guaranteed access to food, clothing, compulsory education, basic medical care, housing, and safe drinking water. Second, the regions involved have built a greater capacity for economic development. In each of the counties involved, two or three leading industries have been established, and problems such as transportation, electricity supply, and communication have been resolved.
Finally, the results of poverty reduction are continuously consolidated. The government has issued 33 policies for the transition from poverty reduction to rural revitalization, and established a dynamic monitoring and assistance mechanism to prevent a resurgence of poverty; a total of 160 key counties nationwide have been identified to receive assistance for rural revitalization. These measures are put in place to ensure that large groups of people don't return to poverty again.
Promoting Rural Revitalization
Following the elimination of absolute poverty, China has embarked on a rural revitalization program to further boost rural development. Guizhou Province in southwest China, once among the poorest regions in China, is a typical case. In 2020, all its 9.23 million poor people were lifted out of poverty, among whom 1.92 million were relocated from the mountains. Today, Guizhou has embarked on a road to rural revitalization based on its characteristic industries, unique environment, and culture.
Yang Yan was previously a housewife in a poor family in the village of Huawu in Qianxi City of Guizhou Province, but is now known as a moneymaker. She has not only mastered chicken raising techniques, but also opened a homestay in collaboration with her brother. In her spare time, she makes batik and embroidered handicrafts in the village's workshop. These activities together bring her a monthly income of more than RMB 10,000 (US $1,489).
The idea of building a workshop for poverty reduction in the village came from Xu Lei, secretary of the village Party branch. By introducing capable people, she helped establish a cooperative and created the workshop to produce embroidered and batik handicrafts characteristic of the village. The workshop has enabled villagers with these traditional skills to get additional income without having to leave the village.
These businesses with local characteristics have guaranteed a steady growth of the rural economy and increase in local incomes, according to Tan. With the accelerated upgrading of traditional rural industries, new types of businesses such as tourism and livestreaming e-commerce have emerged in rural areas. Leisure farms and modern agricultural parks have been built across the country, meeting the needs of modern rural development.
In the village of Huawu, a tourism-oriented development pattern has taken shape featuring an array of income-generating sources such as family-run guest houses, homestays and orchards. In 2021, the village received more than 540,000 tourists, with overall income from tourism exceeding RMB 250 million (US $37.2 million), and the per-capita disposable income of the village exceeding RMB 19,000 (US $2,829).
Xu especially emphasized the importance of talent for rural revitalization. She said apart from craftspeople with traditional skills, the workshop must recruit professionals who could help make the products more fashionable, build brands and develop the business into an industry. "In the future, the village must introduce professional talents while cultivating more capable locals like Yang, and using their example to inspire others," she said.
Talent has indeed played a vital role in promoting rural revitalization. According to Tan, capable people have been identified and trained for management, industrial development and entrepreneurship, among other fields. They have filled the gap in human resources needed for rural revitalization.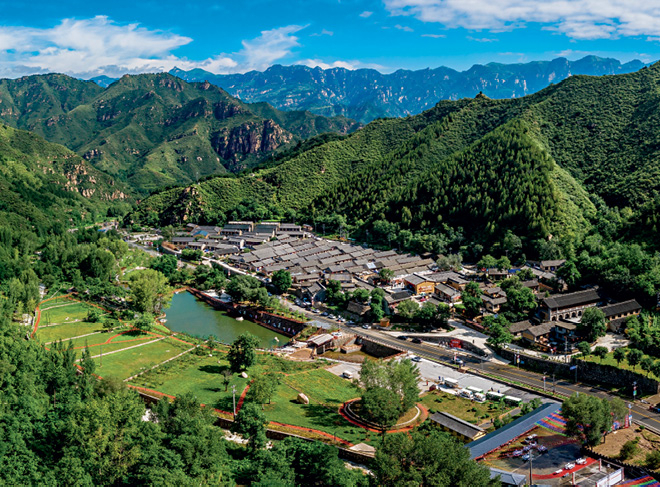 A bird's-eye view of the Camel Bay. Li Yuliang
Benefiting Farmers
Rural revitalization is a major initiative taken by the Chinese government in its bid to consolidate the achievements of poverty reduction and support China's development in the long run. At present, plans to implement the strategy have been formulated by all provincial-level regions in the Chinese mainland and more than 80 percent of the cities and counties. According to Deng Xiaogang, vice minister of Agriculture and Rural Affairs, since the launch of the strategy, remarkable results have been achieved in many fields, bringing tangible benefits to locals.
The development of agricultural product processing has been accelerated. A total of 156,000 primary processing facilities and more than 50,000 refrigerating and fresh-keeping facilities in places of origin have been built nationwide. More than 70 percent of the country's agricultural products are processed, bringing revenue of RMB 25 trillion (US $3.72 trillion) to the processing companies.
Rural tourism has developed steadily. A number of scenic spots have been developed in agricultural areas, with more than 1,000 refined routes being recommended by governments of different levels. Nationwide, there are more than 300,000 leisure farms, sightseeing farms, and homestays, generating a combined annual revenue of more than RMB 700 billion (US $104.2 billion).
New industries and new types of businesses are booming in rural areas. E-commerce is developing vigorously, with more than 30,000 agriculture-related e-commerce platforms in operation. Annual online retail sales in rural areas have exceeded RMB 2 trillion (US $297.8 billion), and agricultural products sold online each year are worth more than RMB 420 billion (US $62.5 billion).
The integrated development of rural industries has become a trend. Efforts are made to promote the integrated development of the primary, secondary, and tertiary industries in rural areas and allocate agricultural and modern industrial elements across industrial borders. So far, the country has identified 140 industrial clusters with advantageous characteristics, 250 national modern agricultural industrial parks, more than 1,300 towns with strong agriculture, and more than 3,600 demonstration villages and towns with well-developed industries.
Innovation and entrepreneurship are on the rise in rural areas. More than 2,200 rural innovation and entrepreneurship parks and incubation and training bases have been built nationwide, from which, a total of 11.2 million people have returned to their hometowns to start businesses. On average, each of them has created stable jobs for more than six people and flexible employment opportunities for 15 to 20 people.
In 2021, the per-capita disposable income of Chinese rural residents reached RMB 18,931 (US $2,819), doubling its level of 2012. According to Deng, in the future, improving farmers' employment and income continue to be the central goal of the development of rural industries. He said that more employment opportunities and value-added benefits of the industrial chain will be left to farmers, so that they become direct beneficiaries of rural revitalization.
Inspiring the World
In the eyes of Tan, the significance of China's poverty reduction practices is not confined to China. According to him, at least three aspects of China's experience can be inspiring to other countries. First, China has put poverty reduction in a prominent position in the governance of the country. Second, it has promoted the inclusive development of economy and society, taking development as the fundamental way to solve poverty. And third, it has applied targeted measures for poverty reduction with great effectiveness.
Nasser Bouchiba, president of the Africa-China Cooperation Association for Development in Morocco, has visited China many times and witnessed China's poverty reduction process. He was impressed by the government's strong support in various aspects including subsistence allowances and entrepreneurship, formulation of targeted policies based on in-depth investigations, and assignment of officials for specific aspects of poverty reduction, among others. He said it is worthwhile for the less developed countries of Africa to learn from China's invaluable experience in poverty reduction.
Gaddafi Nassur, president of the Youth League of the National Resistance Movement, Uganda's ruling party, admired the idea of developing villages with unique environments and culture into tourist destinations after visiting Shibadong in Hunan Province, the village where Xi first proposed the concept of targeted poverty reduction. He said that Uganda, known for its beautiful scenery, can learn from the experience and boost local economy through the development of tourism.
China's poverty reduction practices and achievements have also attracted the attention of Amina J. Mohammed, deputy secretary general of the UN and chair of the UN Sustainable Development Group. She said that by sharing its experience and resources, China has made a positive contribution to achieving the poverty reduction goal of the UN 2030 Agenda for Sustainable Development.