C
ERINGPE was born in 1942 in Damxung County, Lhasa, Tibet Autonomous Region. Both of her parents were serfs of the local magistrate, and her first employment, at the age of eight, was also for the magistrate.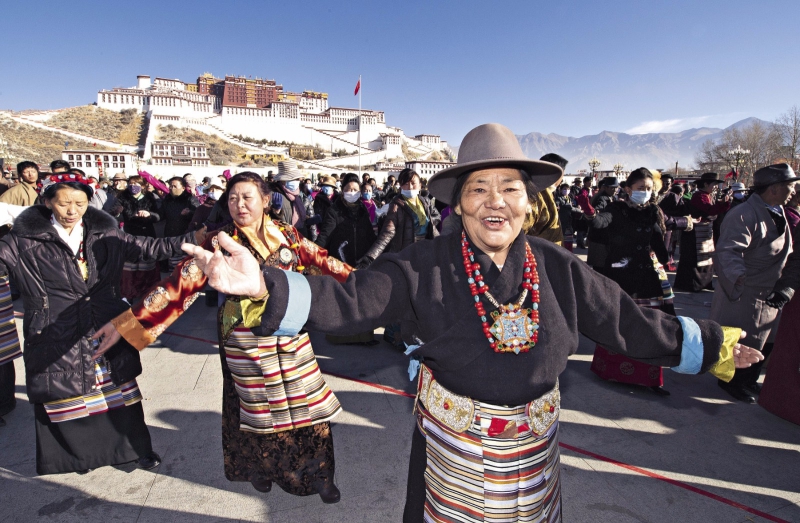 Ceringpe joins a celebration event at the Potala Palace Square in February 2012.
"Fetching water, making tea…I did everything, and the slightest lapse [in duties] might bring severe punishment – getting eyes gouged, tongue cut, beaten with a club, and so on. The memory still brings me to tears today," Ceringpe recalled. There are volumes of records about the atrocities against serfs before the democratic reform in Tibet, but no one understands it more than those who lived through it.
Ceringpe lived at the mercy of the magistrate for nine years before the central government launched the democratic reform in Tibet in 1959. Since that time, the working people who had been exploited and oppressed for centuries became masters of their own fate, their region, and their country. Ceringpe and her family now have a completely new life.
At the end of 1959, Ceringpe and her two brothers, along with many other children of serfs, were admitted to Tibet Public School (now Xizang Minzu University) in the inland city of Xianyang, Shaanxi Province, about 3,000 kilometers away. "The armed rebellion by Tibet's ruling class against the democratic reform was raging on. On hearing that my brothers and I were going to study inland, many people in my neighborhood said we would never have the chance to return home," said Ceringpe. On the day of her departure, her mother cried, but her father was joyful and assured his wife saying, "Don't worry, our children are following the Communist Party of China, and they will be back someday."
Ceringpe and other children crossed snow-clad mountains and turbulent rivers before they arrived in Xianyang. In a strange environment, the care and support of teachers alleviated the intense homesickness of Tibetan students. Upon graduation three years later, Ceringpe returned to Damxung and got a sales clerk job at a supply and marketing cooperative.
In 1967 she married another graduate of Tibet Public School who is also a child of former serfs. Two years later their first daughter was born. Juggling the obligations of work and childcare amid economic hardships, the young couple were however full of hope about life.
Ceringpe retired in 1999. Ten years later she and her husband moved into a big house with enough room for all her three daughters.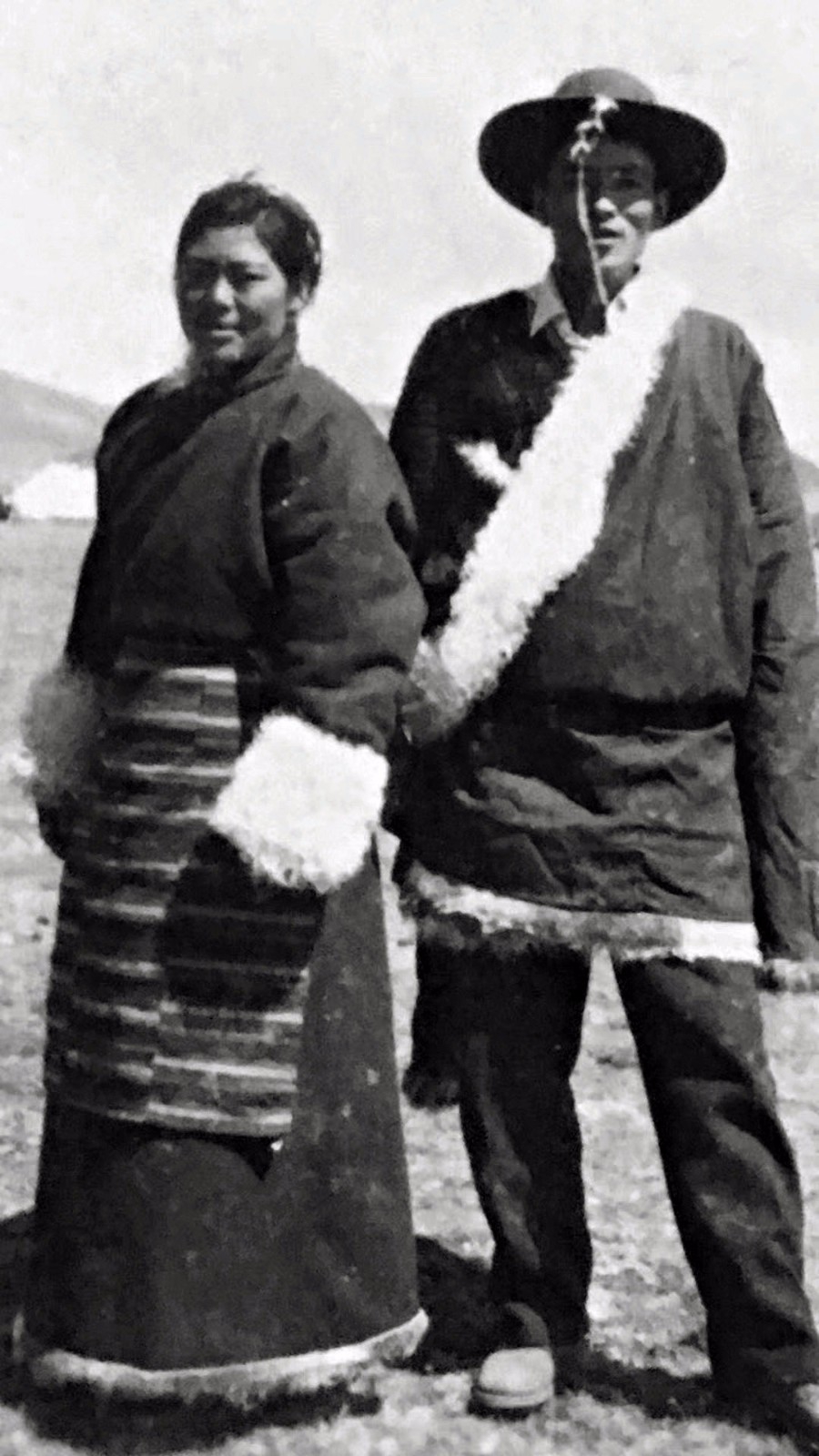 Ceringpe and her husband.
I first met Ceringpe at an event commemorating the emancipation of Tibetan serfs on the Potala Square in Lhasa last year, and we quickly became friends. During a phone call before the Tibetan New Year in February, she told me that she had donated 15 yaks to people in financial difficulties in rural Damxung. Valued at RMB 10,000-20,000 each, they add up to a large sum for a retiree. In our recent meeting Ceringpe talked more about the motivation that inspired her to make the donation.
She worked for a period in a village in Namco Township, Damxung, in 1994, during which she became acquainted with Lobsang, a herdsman. "From talking with him, I learned how his house leaked badly during the rainy season, and was unlivable. So I gave him RMB 10,000 to build a 60-square-meter new home," Ceringpe recalled. But Lobsang's financial predicament didn't stop there. Later he again approached her to borrow more money. Ceringpe purchased three of his yaks, but left them in the family's care. Over the following 20 years, these three yaks produced a herd, which provided Lobsang's family a stable income and lifted them out of poverty.
"Later on I got the idea of donating 15 yaks to other poor people in my hometown to give them a source of income," Ceringpe said. These yaks are worth at least RMB 150,000, a big sum for any family, but Ceringpe didn't think much about the money. "Every member of my family has a salary, so we don't worry about our livelihood. The money should be given to those who need it most. If every one of us does what we can to help others, life won't be that difficult for those living in poverty."
Lobsang is only one of the many people Ceringpe has helped in her life. "Some are Tibetans and some are Han people. We are all a family. I just do my bit to help those in difficulties." Her daughters are all proud of their mother and have followed her example.
During a recent visit to her home, I found Ceringpe's husband watching a historical drama on TV, and her grandchildren watching cartoons on mobile phones. She said she could not expect more from life. "Having been married for so many years, my husband and I have never squabbled. My daughters and sons-in-law are respectful to us as well. Some of my grandchildren are working, and some are still in school. I am close with my brothers and sisters. I hope my life could always be as happy as it is now."
WANG YUANYUAN is a reporter with Tibet.cn.