IN November 2017, I and a group of more than 20 other African entrepreneurs flew into Shanghai as guests of Alibaba, the global e-commerce company based in China. We were the first batch of applicants for the Alibaba eFounders Fellowship, a program designed by Alibaba to promote e-commerce around the world by exposing entrepreneurs to Alibaba's extensive knowledge and experience with e-commerce in China.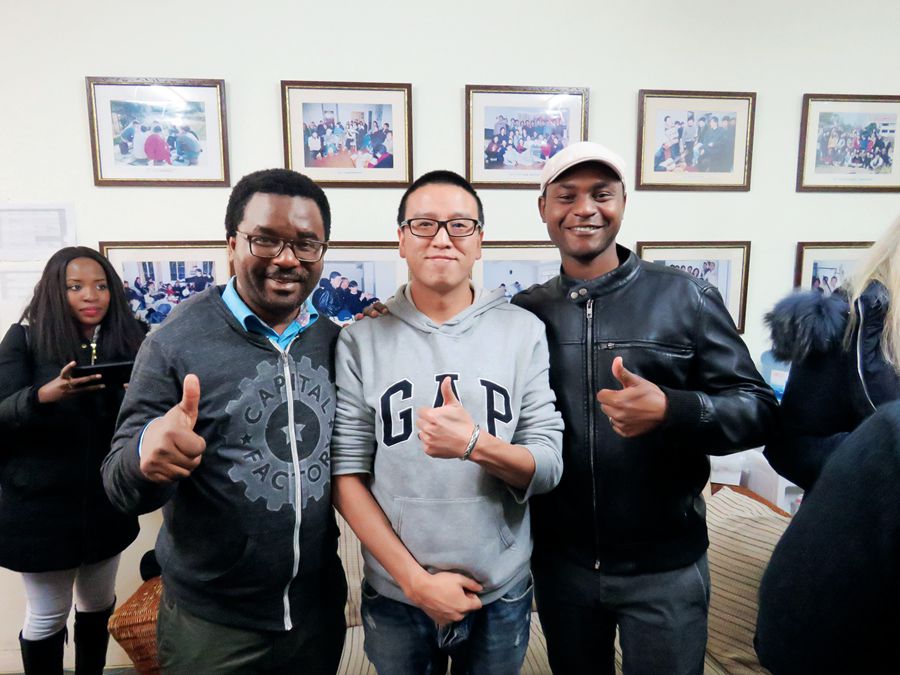 Eston Kimani (first right) with fellow trainees of the Alibaba eFounders Fellowship program
For most of us, this was a dream come true. Alibaba has become a global icon and has uniquely helped to transform commerce in what was then considered "third world conditions" to get to what can now only be considered as world class. It's not surprising that Alibaba would especially inspire African entrepreneurs who have viewed the rise of China as an inspiration for what is possible in Africa and other developing countries.
My personal journey to Alibaba is demonstrative of the extent to which Alibaba is already influencing entrepreneurs across the world just by the power of its example.
In 2010, I sat down with my former college roommate at MIT and came up with the idea of starting a technology company focused on Africa. Our inspiration for doing this was seeing how technology was changing the world, how big companies were being started by young people that were transforming entire industries and countries and we felt that it would be great to become part of that movement by creating an important technology company for Africa. The United States had the likes of Google, Amazon and Groupon, to name a few, but it was China's Alibaba that was really the model we aspired to. Here was a company that was empowering small businesses across China to engage in global commerce and transforming how China engaged in global trade.
Our very first business idea then became Africa Soko; Soko is the Swahili word for market, we wanted to create a large online market where African producers could sell to the world. Our first challenge quickly led to the realization that most of what Africa sells to the world is agricultural or horticultural produce and raw materials such as copper, diamonds, and the like. Most of the raw material suppliers were very big companies operating mines and the like and they had enough money and contacts to sell their produce across the world. Therefore it seemed that the opportunity would have to be in helping African farmers to sell their produce overseas. We quickly found out that the import and sale of agricultural produce is heavily regulated and controlled with many restrictions from foreign countries in Europe and Asia. As a small team with limited resources, we worried that it was not yet a good time for us to try to transform this industry because the timing did not yet seem right and we didn't have enough resources to create a platform. We decided to try something else that could work with our constraints and I resolved to revisit this opportunity later when conditions were right.
We ended up pivoting our idea to focus on the mobile communications industry in Africa, resulting in the formation of Africa's Talking, a technology company that provides APIs for developers to integrate their applications with telco infrastructure. While our business was quite different from Alibaba, I was still inspired by watching some of Jack Ma's videos online talking about technology and growing companies. Once Africa's Talking was successful and expanding across Africa, I started thinking about revisiting the business model that Alibaba had created in China.
In 2017, Jack Ma and other team members from Alibaba announced that they would be visiting Africa for the first time and even more exciting for me was that they would be coming to East Africa. I had been toying with the idea of organizing a personal trip to Hangzhou to visit Alibaba and this seemed like a great opportunity to connect with the Alibaba team. Jack Ma came to packed audiences in Nairobi. Unfortunately, I couldn't get a ticket to any of the events in Nairobi even though I tried very hard to do so. Finally I decided to go to Kigali for the Africa Youth Connect Summit where Jack would be speaking.
During that summit, Jack spelt out his vision for Alibaba's engagement with Africa. He was seeking partnerships with African entrepreneurs and not merely trying to globalize Alibaba's business. He said that he was inspired by the optimism of Africa's youth and the possibilities that this had for the future. He challenged us that he had found Internet speeds in Africa were much faster than what he had experienced when starting Alibaba with the rest of the Alibaba founding team in 1995. The crowd of over 3,000 gave him a standing ovation as he left the stage and I could feel that this was just the beginning of something more exciting in Alibaba's engagement with Africa. I left the summit very inspired to have seen Jack Ma in person but I was especially proud of the autographed picture of an inpirational quote of his that is hung up in my office. "Never give up. Today is difficult, tomorrow will be worse, but the day after tomorrow will be sunshine."
A few months after Jack Ma's visit, I learnt that Alibaba would be holding its very first Alibaba eFounders Fellowship for African entrepreneurs. This would be a two week program which would include attending the Singles Day sales event as well as spending time in Alibaba's Hangzhou headquarters and learning about both rural and urban e-commerce. It sounded like the opportunity of a lifetime and I immediately put in my application. Luckily I was among the entrepreneurs chosen to attend the event and that is how I found myself in Shanghai attending the world's biggest sales event, the Singles Day sales event.
By the end of the Alibaba eFounders Fellowship training program, I can honestly say that it was the best training program I have ever attended. We were basically watching in real life how Alibaba was setting a new bar for global e-commerce. We spent time in a Hema Fresh store, watched young university entrepreneurs explain their million dollar revenue businesses at the Alibaba Business School, visited Yiwu where a lot of products are sold to the world, had a close up session with Jack Ma and other members of the Senior Management of Alibaba, saw the little apartment where Alibaba was founded and contrasted that with the Alibaba's ultra-modern campus at Hangzhou.
I believe all of us came out of that training session inspired and desiring to rethink our business model. Personally, I was very impressed by the value system and culture at Alibaba. At the core of Alibaba is a culture of humility, taking action, and supporting the success of others first. As an African entrepreneur that was lucky enough to have built a successful business, I felt that I should contribute more to the development of entrepreneurship. I did this in two ways: firstly, I started my blog where I wanted to share my knowledge about entrepreneurship in Africa which was read by thousands of people, and secondly, I decided to start investing in other African start-ups to help them overcome the lack of funding that many of them face when I sold some of my equity in Africa's Talking to a large multinational VC; so far, I have invested in two start-ups; one of which was part of the Alibaba eFounders Fellowship program.
Importantly, I have also started working on a new company, Ideas Come To Life Ltd., that I believe will transform commerce within Africa and between Africa and the world. As part of the journey of starting this company, our friends at Alibaba have been very helpful in connecting us to one of their partners in South Asia and my team and I spent a week learning about e-commerce in India. We are working on creating a new future for Africa's small businesses thanks to Alibaba's idea of sharing what they know with African and other global entrepreneurs. I believe that this Alibaba spirit will create a new, prosperous future not only for Alibaba and African entrepreneurs, but ultimately will herald a new global partnership culture that will transform the lives of millions of people across the world.