Renovation of dilapidated houses is the starting point of rural revitalization in Zhejiang Province.
Quartzite slates, ancient alleys, rows of houses with rammed earth walls built on the mountainside greet visitors to Chenjiapu Village in east China's Zhejiang Province. Also dotting the picturesque landscape are centuries-old trees and seas of cloud. This summer, a large number of visitors come to discover the rural beauty of the village.
Located in Songyang County, Lishui City, this 640-year-old village is perched in mountains at an altitude of 850 meters. Previously, due to the high mountains, poor transportation, and limited industrial development, Chenjiapu was a "hollow village," with young people moving elsewhere to work and live.
Starting in 2014, Chenjiapu has been taking the opportunity of the Green Rural Revival Program for development, transforming old houses into bookstores, homestays, artistic workshops and cultural centers. The once deserted village is attracting more and more tourists.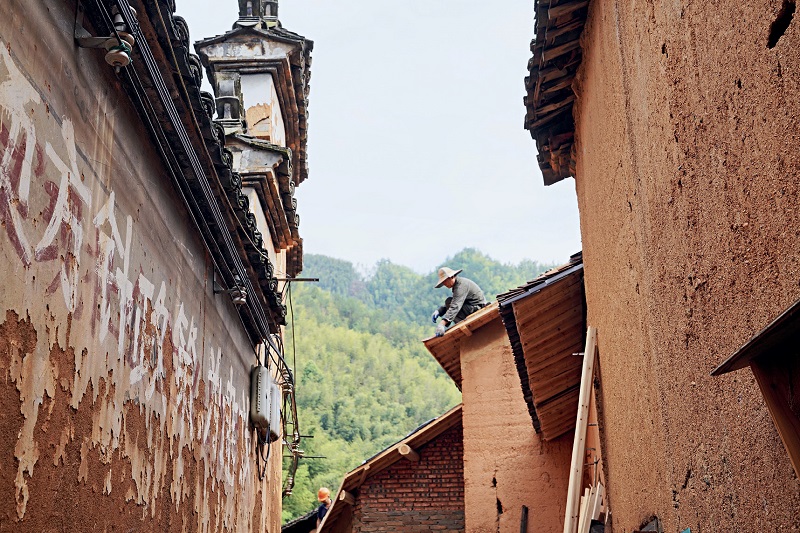 Renovation of traditional houses is underway in Songzhuang Village, Songyang County, Lishui City.
Keeping Authentic Style
In 2016, approved by China's Ministry of Finance and the National Cultural Heritage Administration, the China Foundation for Cultural Heritage Conservation launched a traditional village protection program in Songyang County. With an investment of RMB 40 million (US $5.6 million), the program aims to repair, protect and revitalize old houses. As a pioneer in this field, Songyang had no example to follow.
"Different villages have different characteristics. The best way to revive traditional villages and old houses is to follow a low-carbon, eco-friendly fashion and put in minimal intervention," said Zheng Sheng, deputy curator of Songyang County Museum.
Old houses in Songyang, dating from the Ming (1368-1644) and Qing (1644-1911) dynasties and the Republic of China (1912-1949), are characterized by rammed earth walls, grey roofing tiles, wooden structures, and horse-head-shaped walls. As local residents left, many houses have fallen into disrepair, with damaged beams and columns, collapsed walls and deteriorated floors.
"Restoring old houses while retaining their authentic style is more difficult than building new ones," said Zheng. To make the houses liveable while retaining their original features, the county invited experts from the Zhejiang Ancient Building Design Institute to give advice on the restoration. The construction personnel involved in the repair work are mostly local craftsmen, and traditions were honored in the process.
Zeng Xinliang, a resident of Yinyuan Village, has been a carpenter for over 30 years. He thought that traditional skills, such as building rammed walls, and repairing and changing tiles, would be lost. He started learning carpentry at the age of 15 and found an interior decoration job in Hangzhou. After learning about the renovation program, he returned to Songyang with his 23-year-old son to help restore old houses. He was delighted to see that his income had increased, and that traditional skills like carpentry could be passed on to the next generation thanks to the project.
Zheng said the county has brought together more than 30 teams with more than 2,000 people to work on restoring old houses. Craftsmen who had left their villages returned. So far, 312 old houses from 75 villages in Songyang County have been restored. At the same time, the old paths have been repaired while keeping their original character, and the old corridors, wells, stelae as well as centuries-old trees have been preserved.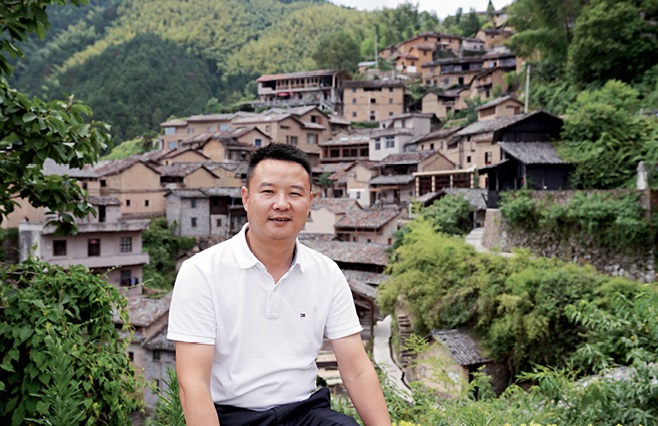 Bao Chaohuo, secretary of the Chenjiapu Village Party branch.
Resource Utilization
Preservation without development is not sustainable. Songyang adheres to the principle that "reasonable use of resources is the best way to protect them," and uses the restored houses as a lever to utilize the ecological resources, including mountains, waters, forests, and fields, and historical and cultural resources for development.
Bao Chaohuo left Chenjiapu Village when he was 16 years old. In 2012, he returned to the village and began to work as the secretary of the Chenjiapu Village Party branch. Responding to the call for building "beautiful rural areas," he came up with new ideas for the green development of the village.
Bao makes use of the village's natural resources and his accumulated experience in doing business in cities to connect with suitable investors. In 2016, Avant-garde Bookshop, known as one of the 10 Most Beautiful Bookstores in the World, decided to open a branch in the village. After opening, the bookstore attracted a large number of visitors to the village.
To make the best use of the rural resources, it is important to combine ecological efficiency, economic profitability and social benefits. Development projects in Chenjiapu Village should fit into the regional characteristics, give full play to the ecological resources, and help to increase villagers' income. Currently, the village has attracted an investment of about RMB 100 million (US $13.9 million) and built several high-end inns. In 2022, the village received over 400,000 tourist arrivals, earning over RMB 19 million (US $2.6 million) in revenue.
Changes in Chenjiapu Village are only a small part of rural development in Songyang. The county has more than 100 well-preserved traditional villages, including 78 ones under state protection. Each village has several traditional dwellings nestled in green mountains and clear waters.
According to official data from the local government, the county has attracted nearly RMB one billion (US $138.9 million) in investment for old houses renovation. More than 500 high-end inns have been built, which generate nearly RMB 136 million (US $18.9 million) in revenue annually. Some 60 percent of the traditional villages in the county have started new business activities, such as homestays, family trips, study tours, and cultural and creative industries, pushing the average annual income of villagers by more than 20 percent.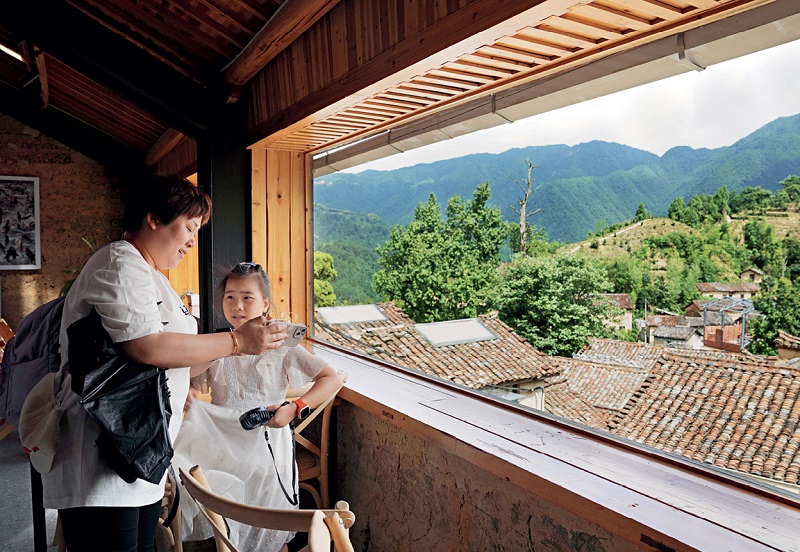 Visitors in a photography studio in Pingtian Village, Songyang County, Lishui City. Photos by Yu Xiangjun
Sustainable Development
"The restored houses should not only be pleasing to look at but also comfortable to live in, only then can we retain the locals and protect the hometown," said Zheng. During the restoration of old houses, Songyang has emphasized the protection of cultural heritage as well as the improvement of living conditions.
Thanks to the changes in the village of Chenjiapu, more and more young people who had migrated to towns are coming back. In 2021, 34-year-old Wang Zhijie and her younger sister returned to the village to transform their house into an agritainment restaurant. Today, her annual income exceeds RMB 100,000 (US $13,888.9). "The once dilapidated village is becoming more beautiful today," she said. Previously, there were shy of 40 permanent residents in Chenjiapu Village. Currently, more than 200 people live there, many of them young people.
In Pingtian Village, five km away from Chenjiapu, outlets of Cloud to Cloud Pingtian Boutique Hotel are spread throughout the village. Ye Liqin is one of the founders of the brand. After graduating from college, Ye worked as an image consultant for a fashion brand in Hangzhou. In 2014, she was invited to participate in the protection of traditional villages, and she agreed because of her affection for her hometown.
Over the past eight years, dilapidated houses in Pingtian Village have been transformed into six Cloud to Cloud Pingtian Boutique Hotel outlets. Restaurants, teahouses, a museum of agricultural work and a tie-dye workshop were built and opened, providing many jobs for local villagers. Architects graduated from prestigious Tsinghua University and the University of Hong Kong have also settled down here. According to Ye, the annual earnings of her business have reached RMB eight million (US $1.1 million).
Thanks to the restoration of the old houses, the villages are embellished and the villagers are better off, giving a new impetus to the development of traditional villages.