Located in Zhejiang Province in southeastern China, Qingtian County is surrounded by mountains and seems unsuitable for farming. To overcome the geographical limitations, its inhabitants innovated the practice of raising fish in rice fields. Based on a mutually beneficial symbiotic relationship between rice and fish, this more than 1,300-year-old practice has enriched the traditional definition of agriculture.
In June 2005, this exemplary agroecological system was included into the Globally Important Agricultural Heritage Systems (GIAHS) list by the Food and Agriculture Organization (FAO) of the United Nations. This recognition was a first for both China and Asia.
In Zhou'ao Village of the county, Ye Lingmei, a nonagenarian, is the oldest person who has mastered this traditional technique. She passed it on to her son Lin Guoping, who became the sole prefectural-level inheritor of the intangible heritage of rice-fish culture in the county.
The rice-fish farming, which was once a complementary food source, is now generating additional income, which has led to its wide adoption in recent years, even in other countries.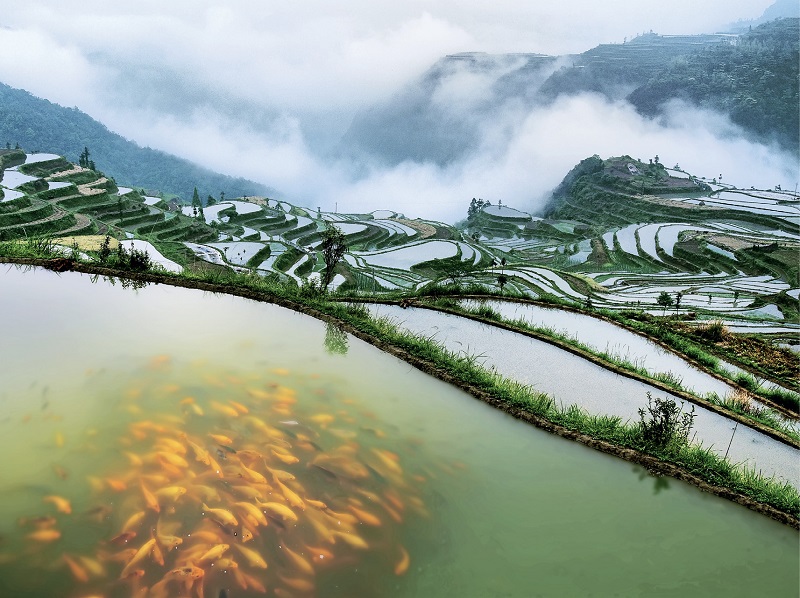 Rice-fish farming is a practice that is based on a mutually beneficial symbiotic relationship between rice and fish with a history of more than 1,300 years.
Time-Honored Heritage
In 2019, Lin returned to China from the Czech Republic, where he was doing business, to popularize the traditional technique of incubating fry. He made this decision both to be able to look after his elderly mother and also due to a sense of duty.
Lin's village, Zhou'ao, has seen the exodus of young people to cities and even to other countries. Upon his return, Lin found that very few villagers were still using the traditional technique of fish farming, even though the village lies in the core protection zone of the rice-fish cropping system. "In rural Qingtian, the fish-breeding technique is transmitted within families, and it will be lost if young people don't learn it," he said.
Lin spent two years learning the technique from his mother. He then managed to raise more than RMB 3 million to set up a rice-fish farming cooperative. In addition to training fish technicians, the cooperative has established a research base in cooperation with Shanghai Ocean University, which combines modern technology with the traditional fry farming process to improve the output and quality of the "rice fish" (a species of carp).
Under Lin's leadership, the village's fish farming area has grown from some three hectares two years ago to more than 30 hectares today. His objective is to encourage more people to learn the technique in order to realize common prosperity by promoting this agribusiness with local features and ecological benefits.
"Future generations will be able to enjoy the authentic taste of Qingtian's rice fish," he added.
Rice-fish farming showcases China's wisdom in ecological agriculture, traditional farming practices, and agricultural heritage conservation.
Double Harvest
The winners of the Golden Ox 2022, an annual award recognizing leadership in rural revitalization and common prosperity in Zhejiang, were unveiled in Hangzhou on February 7, 2023. Xu Guanhong, CEO of Qingtian Yugong Agricultural Technology Co., stood out among 97 candidates from across the province, along with nine other winners. The secret of his success is precisely the rice-fish farming practice.
Now 52, Xu used to be a high school physics teacher and then a businessman in France. After the recognition of rice-fish farming by FAO, he staked his future on the rice fields of his native village. He returned to China in 2007, and rented and cleared 3.3 hectares of land to establish his Yugong ecological farm. Yugong is a legendary figure in Chinese mythology who led his family members to move the mountains in front of their village with pickaxes, shovels, and baskets, so that subsequent generations would no longer be stranded there. By naming his farm after the legendary figure, Xu showed his perseverance and commitment to the business.
During the first few years, he saw no returns from his investment, but continued to learn from agricultural technicians and the elders. A few years later, his efforts finally paid off.
Xu developed an organic, circular method of rice-fish cultivation that does not require weeding, fertilizer or pesticide. He also built a center for the protection of original Qingtian rice fish species, the collection of alpine species in the vicinity, and the introduction of modern glasshouses and artificial propagation technology. Through his efforts, the breeding period was shortended from two years to one. To increase the survival rate of fish, he developed a technique to delay broodstock reproduction, and set up a fish disease detection room to provide free services to fish farmers.
Now an expert in rice-fish farming, Xu has helped more than 3,000 households with the farming technique, giving training sessions and lectures, so that farmers can reap the benefits of double harvest.
Under the aegis of the local government, Xu has participated in targeted aid projects as part of the coordination between China's eastern and western regions. For example, he introduced Qingtian's rice-fish technique to Gulin County in Sichuan Province and promoted his rice-fish farming model in 11 provinces with suitable conditions, including Anhui, Hubei, and Fujian, providing local farmers with fry and technology to help them raise their incomes.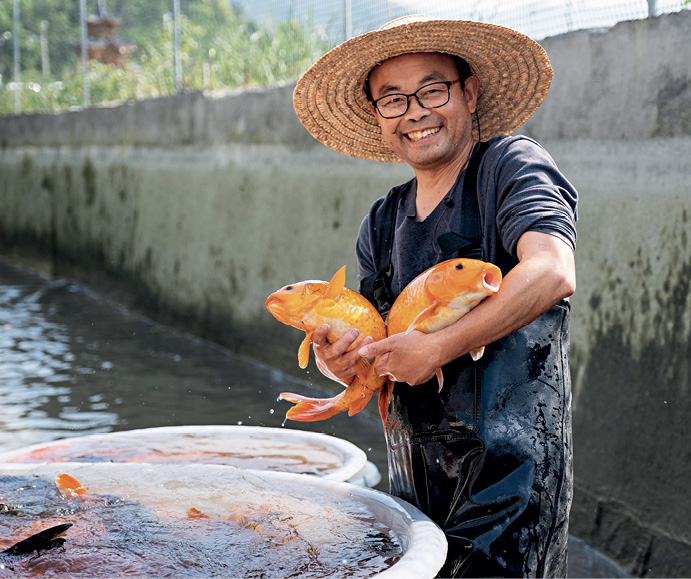 Xu Guanhong, CEO of Qingtian Yugong Agricultural Technology Co., Ltd. Photos courtesy of Qingtian County government
Global Appeal
Longxian Village, also in Qingtian County, relies on rice-field fish cultivation to develop agrotourism. Wu Yongqiang was one of the first villagers to open an inn, which specializes in braised rice fish. It attracts streams of Chinese and foreign tourists, generating an annual revenue exceeding RMB 350,000. In the first half of this year, the village received nearly 200,000 tourists.
In the same vein as Wu, Yang Xiao'ai is also interested in promoting the traditional farming practice. As the first president of the Qingtian Chinese Compatriots Association in Ecuador, Yang invested RMB 20 million in her home village to build a global agricultural heritage learning center for primary and secondary school students. She also hopes to use her connections to invite overseas Chinese and foreign youth to experience the charm of this Qingtian heritage.
This Chinese agricultural system has also been adopted in other parts of the world, bringing people in many developing countries the hope of higher incomes. Through South-South cooperation, Nigeria has adopted Qingtian's rice-fish system as an important means of increasing farmers' incomes. With the help of Chinese experts, Nigeria's rice and tilapia production has almost doubled. Apart from Africa, the Qingtian rice-fish polyculture has also been introduced to many countries and regions in Southeast Asia, South Asia, Europe, and the Americas.
In recent years, seizing opportunities offered by the Belt and Road Initiative, and through the more than 20,000 restaurants run by overseas Qingtian natives, the county has introduced fish-pond rice and rice-field fish to foreign tables, so as to promote China's agrarian and culinary culture.
At present, Qingtian is booming with a highly profitable organic planting model with ecological benefits. In 2022, the county's rice-fish farming occupied an area of 4,000 hectares. The average yield of rice was 7,200 kg per hectare and that of fish 442.5 kg per hectare. During the same year, the sector generated a total of RMB 280 million revenue and increased the average per-hectare income by RMB 69,000 for 35,000 farmers.
According to Luo Ming, deputy director of the Qingtian Bureau of Agriculture and Rural Affairs, the reason Qingtian's rice-fish system can be promoted and appreciated abroad is that it significantly reduces the crop's dependence on chemical fertilizers and pesticides, improves biodiversity, ensures the ecological balance of fields, and promotes harmony between humans and nature, while bringing the benefits of two harvests at the same time.