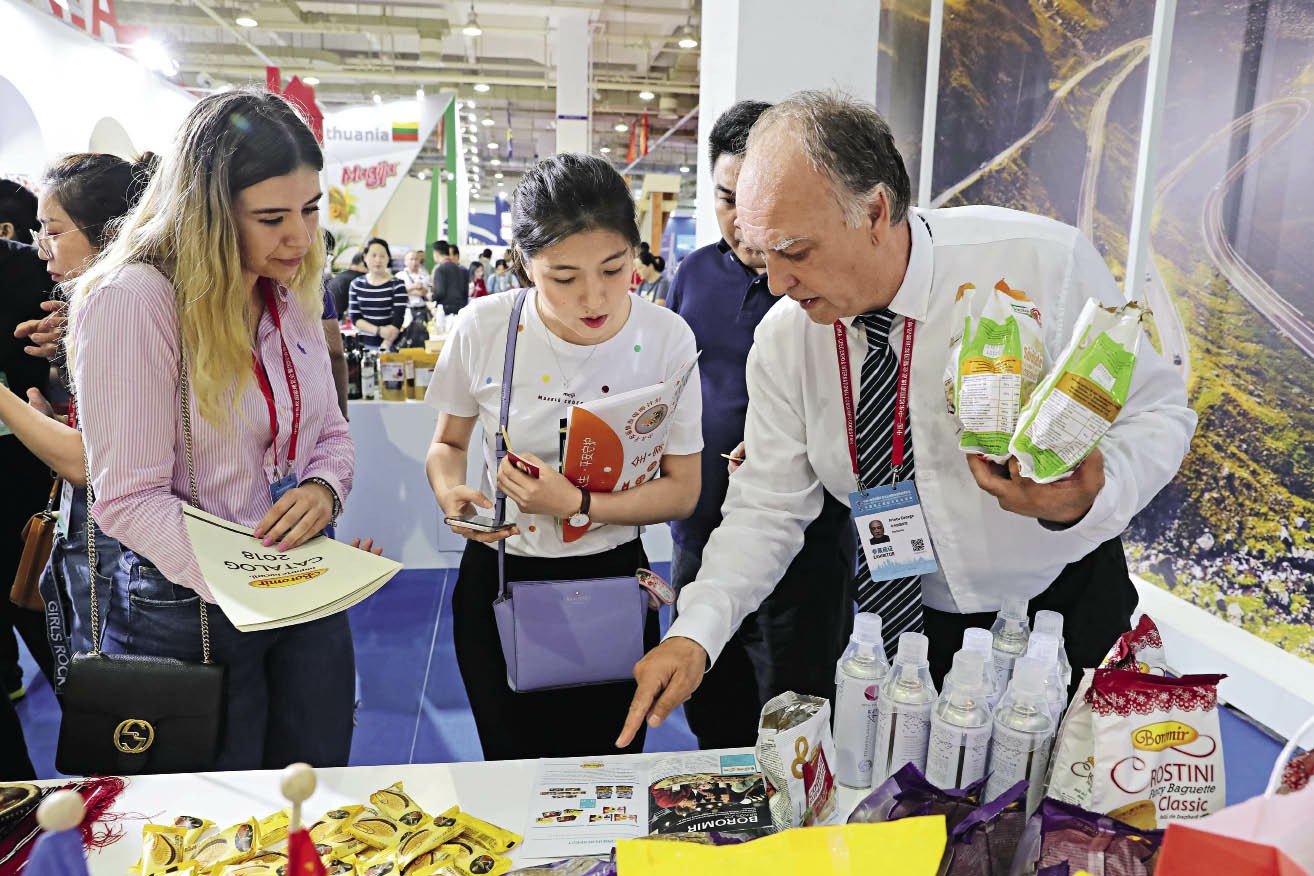 Romanian exhibitors introduce products to customers in Ningbo, Zhejiang Province, on June 8, 2019.
FROM Bulgarian yogurt to Greek olive oil, Polish milk, Czech beers, and Hungarian wine, more and more farm produce from countries in Central and Eastern Europe (CEE) is being served on Chinese tables. While diversifying Chinese consumers' choices, the food presents a window to learn about other cultures and food flavors.
Agriculture has traditionally been a pillar of the economy for CEE countries. It has also become an important area of their cooperation with China.
The raging COVID-19 pandemic has wreaked havoc on agricultural production and exports in these countries. China, having contained the epidemic at home, is recovering from the crisis and also brings a silver lining to CEE countries as its domestic market is fueling rapid growth of farm produce imports from these countries.
Blazing a New Trail
Lowicz in central Poland is home to a variety of dairy products. The county is less than 100 kilometers away from the Lodz Railway Station, a logistics hub along the rail freight line connecting the Chinese city of Chengdu with European countries. Every year, over 600 containers loaded with dairy products worth €10 million leave Lowicz for China. Thanks to encouraging demand from the Chinese market, Poland is seeing a rapid growth in exports of dairy products to China.
The COVID-19 pandemic dealt a heavy blow to Poland's dairy industry which depended heavily on European markets. Facing plummeting consumer demand, Polish dairy farmers had to reduce the number of cows they bred. "The pandemic increased the cost of storing and transporting dairy products by about 20 percent," said the sales manager of a local dairy cooperative Szymon Musk. "Many farmers were on the brink of bankruptcy. Without the Chinese market, our losses would be even greater."
In contrast, Poland found promising prospects from the Chinese market. Exports of dairy products from Poland to China registered rapid growth over the first half of 2020, despite headwinds. The total amount of milk and cream exported to China rose by 25 percent, and the sales of whey powder rose 1.6-fold.
"Poland's dairy products boast high quality and unique flavors, and are well-received in China. Facing the effects from the continuing pandemic and rising protectionism, China is becoming an increasingly important export destination for us," said Agnieszka Maliszewska, director of the Polish Chamber of Milk.
Supporting the increase of exports is the China-Europe freight rail service, particularly at a time of pandemic. Its cold-chain equipment is ideal for shipping animal products, fruits, vegetables, and dairy products. Compared with transportation by air and sea, railway transportation is much cheaper. In August, the number of China-Europe freight trains in operation and containers shipped through the rail service hit record highs, as the figures jumped by 62 percent and 66 percent respectively.
In 2019, the trade in agricultural products between China and 17 CEE countries was valued at US $1.4 billion, according to the Warsaw Chamber of Commerce, which is bullish on the prospect of exports to China, particularly when the farming and animal breeding sectors are hard hit by the COVID-19 pandemic. He also suggested to blaze new trails for the trade cooperation in farm products by tapping into the merits of the China-Europe freight rail service.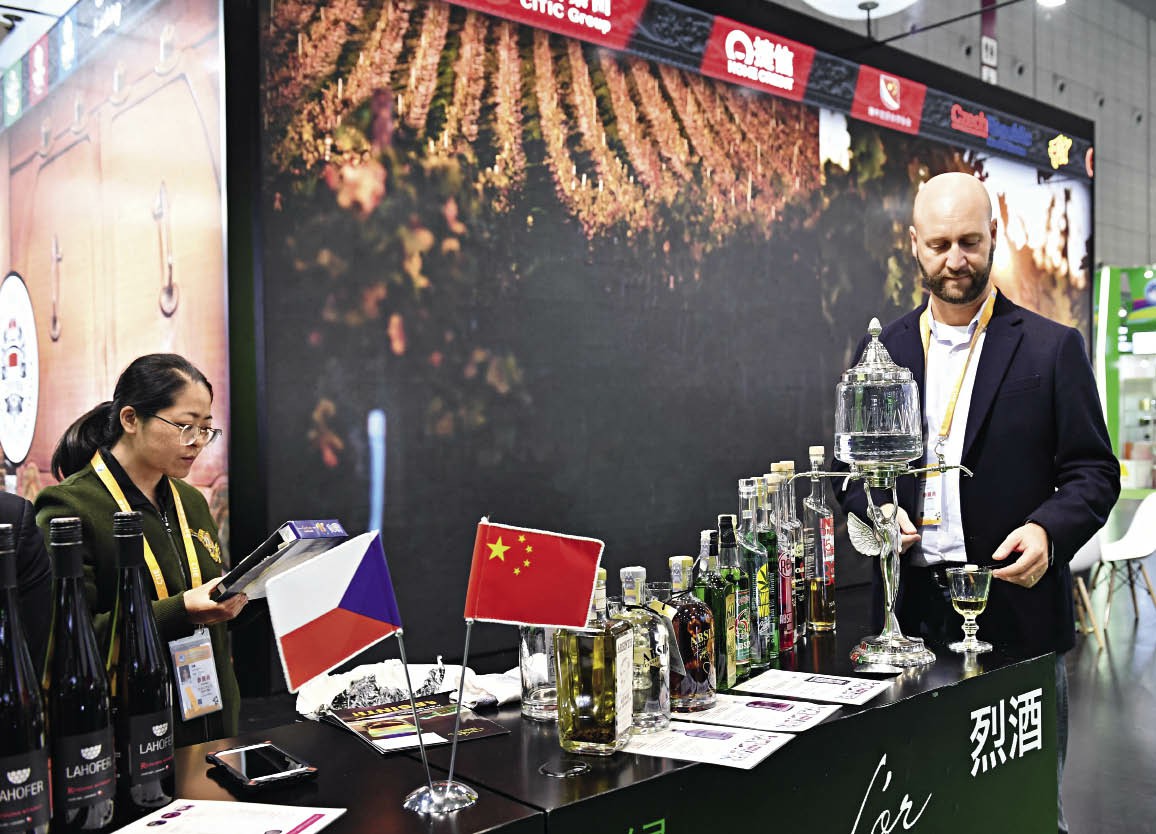 The Czech wine booth at the first CIIE on November 8, 2018.
Connecting Online
On September 17, the China-CEEC Virtual Expo for Premium Agro-Products was unveiled in Weifang, east China's Shandong Province. Close to 100 businesses from CEE countries showcased their products online. Promotion was also made via livestreaming, attracting more than 6.5 million visitors to the virtual expo and creating an online shopping spree.
The year 2020 is an epic year for agricultural cooperation between China and CEE countries. The pandemic has forced the cancellation of some agricultural cooperation projects and exhibitions, but given rise to online trade cooperation. Over the first half of 2020, the trade in agricultural products between the two sides amounted to US $730 million, up 8.2 percent year on year.
According to media reports in Bulgaria, the country's winemaking industry suffered declining domestic sales and exports due to the pandemic. Online trading brought hope to the industry. Over the last three months, many wine dealers have moved their businesses online and raked in an increasing amount of orders from Chinese consumers.
The brisk online trading between China and CEE countries was not achieved overnight, but is the result of years of efforts in platform building between the two sides. In November 2018, China-CEEC Agricultural Products E-Commerce Logistics Center and its exhibition hall were unveiled in Yantian Port of Shenzhen, enabling cross-border business-to-business trading of agricultural products between China and CEE. In February 2019, the first China-CEECs e-commerce exhibition center was inaugurated in Plovdiv, the second largest city of Bulgaria. In April 2019, a special venue for Hungarian products was launched on JD.com, one of China's leading e-commerce retail platforms.
The annual China-CEEC Investment and Trade Expo held in China's Ningbo was also moved online this year, enabling businesses from the region to continue tapping into the potential of the Chinese market. In mid-June, the Information Exchange and Matchmaking Conference between China and CEEC SMEs on Resuming Work and Production gathered 157 Chinese firms and 135 small and medium-sized enterprises (SMEs) and governmental agencies from Central and Eastern European countries, to share their insights on boosting cooperation in a post-pandemic era. Participants from the two sides signed nearly 70 cooperation agreements in manufacturing, investment, agriculture, tourism, people-to-people exchanges, and healthcare among other areas.
Online platforms supported by the government gather trade associations in the food and agricultural products sectors, and offer a gateway for farmers to unite and enter the Chinese market, said Vasil Gelev, executive director of the Association for the Promotion of Agricultural Cooperation between China and CEE Countries.
"There is huge potential for agricultural cooperation between the two sides as they have highly complementary agricultural industries," said Gelev. CEE countries adopt European standards in food production, but boast lower prices, according to Gelev, who is confident of the prospects of the Chinese market.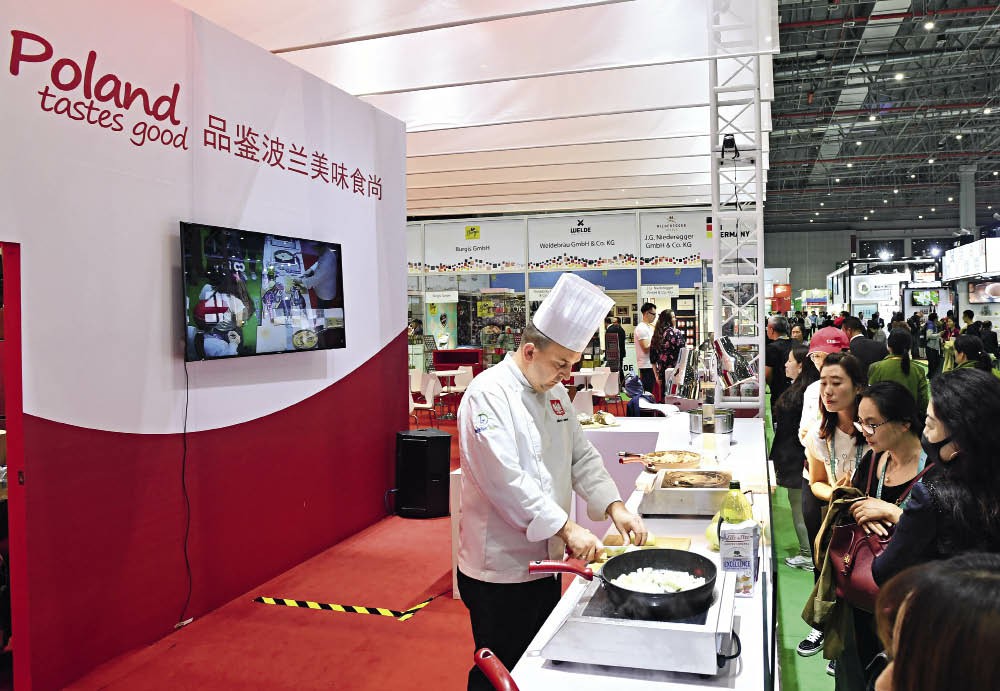 The Polish food booth at the first CIIE on November 8, 2018.
Cooperation in Agricultural Technology
Over the last few years, China and CEE countries have seen fruitful results from exchanges, investment, and cooperation in agriculture and related research. The first China-CEE demonstration zone for agricultural cooperation was set up in Bulgaria to boost partnerships in agricultural research, farm machinery, planting, breeding, and processing industry. China and Romania built an agricultural science park in Romania's capital city of Bucharest, exploring new technologies including intelligent LED plant factory and energy-saving sunlight greenhouse.
Agricultural cooperation between China and CEE countries are mutually beneficial, said Gelev. With a long farming history, CEE countries have accumulated unique experiences in agricultural production and management. For example, Poland leads EU countries in fruit processing, Romania in vegetable planting, and Hungary in animal breeding. Cooperation in agricultural technology will improve the comprehensive agricultural production capabilities for both sides, said Gelev.
A jujube tree grows vibrantly in a laboratory in the University of Agronomic Sciences and Veterinary Medicine of Bucharest in Romania. Originally from Shaanxi Province in northwest China, the tree was planted in Romania in 1996, and now dozens of new varieties have been cultivated through grafting. Vice rector of the university, Florin Stanica, who brought the tree to Romania, said the tree witnessed the history of agricultural cooperation between the two countries. "Undoubtedly, Chinese capital and market will play an increasingly important role in agricultural production of CEE countries," he said.