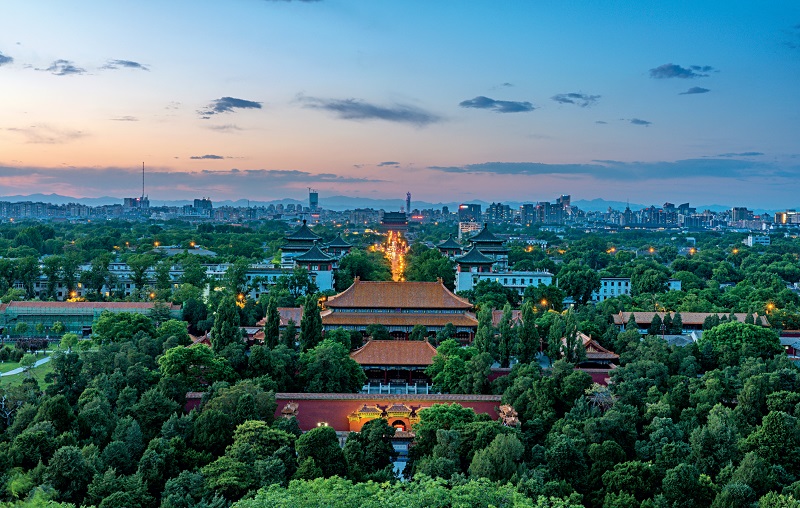 The charming Beijing cityscape around the Drum Tower in the sunset on May 15, 2022.
The Central Axis of Beijing is a magnificent urban landscape ensemble, running 7.8 kilometers through the ancient city of Beijing from north to south. It is a living carrier of the Chinese culture and value system. Organizing the imperial palaces, gardens, temples, and altars as well as markets and streets for everyday life in an orderly and rhythmic manner, the Central Axis presents a mesmerizing spatial array of history and culture.
First built in the Yuan Dynasty over 700 years ago, the Beijing Central Axis has witnessed the social changes of the capital city, which in turn has impacted its structure and features, thus showing the inclusiveness of the spatial order.
In particular highlighting "the value of the center" in Chinese culture, the Central Axis exhibits the unique symmetry and the ancient Chinese ritual system in its overall layout, implying the traditional Chinese ideology and feudal hierarchy.
Now, in its bid for the prestigious UNESCO World Heritage status, the Central Axis is glowing with new vitality thanks to the extensive planning and measures for its protection and preservation as well as more people's involvement in bringing those ancient cultural relics alive.
In this issue's Special Report, we try to delineate an overall picture of the Central Axis' history, modern evolution, cultural connotations, and cosmopolitan value – and share stories of the lives associated with it and impacted by it.