When the Long March-5 rocket and Chang'e-5 lunar probe" were transported to the launch pad in Wenchang, south China's Hainan Province, a lady dressing up as Chang'e, or Chinese moon goddess, captured the attention of many who rushed to take selfies with her. This lady, born in the mid-90s from Puyang in Henan Province, is a frontline tech researcher working at Wenchang Satellite Launch Center.
She is one of the science-loving and innovative Generation Z group, or Gen Z, in China. This group of young Chinese, driven by their determination and ambition, is growing and becoming the leading light in the field of science and technological innovation.
The Youth Innovation Summit, a sub-forum of the 23rd Annual Meeting of the China Association for Science and Technology, was held at Etrong International Exhibition & Convention Center in Beijing in July 2021.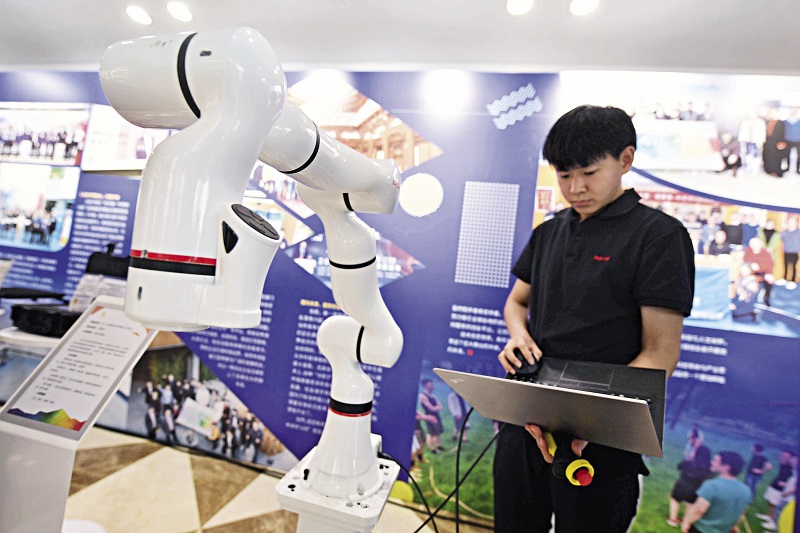 The annual launch event of Youth Forum – Zhongguancun U30 2021 is held at China Science and Technology Hall in Beijing on July 22, 2021. It kicks off a new round of recruiting and selecting young technology innovation entrepreneurs and services providing programs for them, promoting a more inclusive vision and strategic thinking.
Power of Science
"Gen Z are committed believers. We believe in the power of science, the power of the nation, and the power of belief," said Feng Chong, the 25-year-old founder and CEO of Beijing Shenguang Tech Co..He is a representative of Gen Z in the science and technology world.
Feng's devotion in science and innovation originated from a typical Gen Z fantasy. Inspired by the mid-air touch control interaction in the movie Spider Man, Feng wondered why not make the scene a reality. Subsequently, Feng and his student partners embarked on an enterprising undertaking of translating the augmented reality (AR) technology into a naked-eye interactive experience.
The financial problems he encountered at the beginning of the venture was an important lesson for Feng. "During that time, I went to meet every possible investor, but kept hitting dead ends," he said.
However, Feng and his four partners held on, despite the lack of investment. During that difficult time, he acknowledged that they were on a learning curve and had to wise up quickly.
Feng, who grew up watching science fiction films and novels, believes that the scenarios depicted in the science fiction world, such as artificial intelligence generating tremendous productivity, controlled nuclear fusion addressing humanity's energy issue, and biomedicine curing most diseases, can become a reality. "Because we believe, we carry on even when we are lost; because we believe, we see the future when we are in a dilemma," said a resilient Feng.
At present, while also continuing his postgraduate studies, Feng is working hard to realize his dream. He said that at the beginning of 2021, his startup received funding of RMB 10 million from angel investors. This money targeted the development and commercialization of an AR tutor lamp product.
"The lamp directly connects users with the virtual world, making cell phones or other digital gadgets unnecessary. It will be a game changer," said Feng. This was part of the speech Feng gave at the second round of the 2019 MARS Innovation and Entrepreneurship Competition.
Now, he is one step closer to his dream.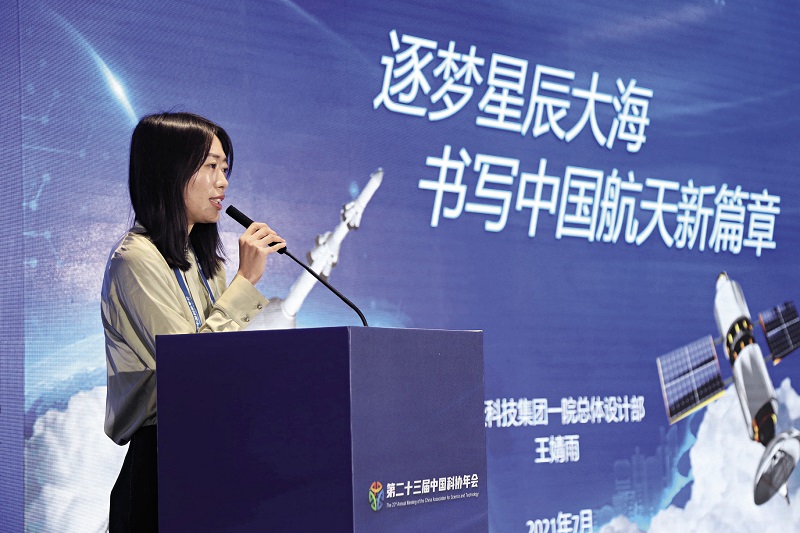 Wang Jingyu is a researcher in the General Design Department of the China Academy of Launch Vehicle Technology of the China Aerospace Science and Technology Corporation.
Vitality from the Youth
Wang Jingyu, 26, is a researcher in the General Design Department of the China Academy of Launch Vehicle Technology of the China Aerospace Science and Technology Corporation. Since she joined the space industry three years ago, she has had many proud moments. In 2018, China registered the most space launch operations in the world. In 2020 and the first half of 2021, China launched Tianwen-1, Chang'e-5 and the Tianhe Core Module, realizing Chinese people's dreams of exploring the Mars and the moon, and sending astronauts into the space station.
A large number of young researchers have been seen in the task teams for China's major space missions. According to Wang, young staff have become an integral part of the China space industry – the average age of the research and development team for the Chang'e-5 lunar probe is 33. "The most obvious change is that the launch hall used to be filled with gray-haired people, but is now packed with young faces," said Wang.
She is especially fond of a comment made by a senior fellow: the Chinese youth born in the mid-90s are fearless when facing challenges. "We, as Gen-Z, want such an image, climbing the stairs of dreams and undertaking a treacherous voyage without stopping," she said.
Today, like Wang, more and more young people are joining in scientific research and contributing their energy and talent.
Shen Yifei, 23, is a doctoral student who was admitted to the Southeast University at 15. At 17, he joined the National Key Laboratory of Mobile Communication, where he began his research on 5G technology. His research focus is set on polar code technology, which makes it possible to run 200,000 sets of data per second. The technology solves the time delay problem in 5G telecommunications, and brought forward the commercialization of 5G telecommunications in China one year ahead of schedule.
However, despite his success, as a student younger than his classmates, Shen also had perplexing moments. It was the teachers and senior students' encouragements that helped him get back on track. "You can [always] find your value as long as you are dedicated and hardworking," he said.
Another young man with remarkable achievements is 22-year-old Liu Hongji, CEO of Shangrong Science and Technology. At only 16, he created and operated an online community for anime, comic, and game fans, which attracted more than 200,000 users in two months. Despite his many accolades, Liu did not become complacent. In December 2020, Liu and his young team launched an online social platform "P Universe" app, which is committed to creating a new lifestyle for modern youth. The app quickly became popular among Gen Z.
Gen Z members, who grew up with fast emerging scientific and technological innovation and knowledge explosion, are talented, passionate about science, and dare to make innovations. They inject much youthful energy into the science and technology world.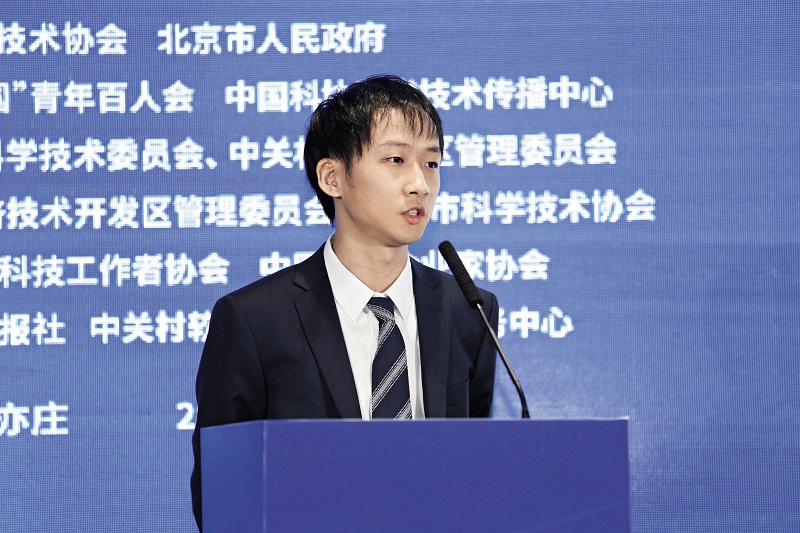 Feng Chong is the 25-year-old founder and CEO of Beijing Shenguang Tech Co.
Bright Future
Gen Z witnessed the process in which people's daily lives are upended by technology. The advent of smartphones, mobile payments, unmanned driving, artificial intelligence, and other technologies was not a remote history, but happened in the last 10 years. Growing up in such an era, Gen Z respect science and technology from their heart.
"It is an inevitable trend and result for Gen Z to grow to be the leading force of future technological innovation," said Chen Rui, deputy director of the Science and Technology Communication Center of the China Association for Science and Technology. He said that according to the law of science and technology innovation, the golden age for making innovation is between 25 and 45. Statistics show that the average age of Nobel Prize winners is around 37, meaning China's current crop of science savvy Gen Z will enter their prime time for innovation in a few years. This fills him with expectation.
Zhang Shuangnan, director of the Particle Astrophysics Division of the Institute of High Energy Physics of Chinese Academy of Sciences, agrees with Chen, and also expects the emerging crop of youth do big things. "The future of Chinese science lies with the young people, who can make a [big] difference," said Zhang.
At the same time, young science and technology workers face hinderance in development as they are still growing to be strong both psychologically and academically. Chen Rui believes that it is essential to create a favorable environment for them to explore and experiment.
Zhongguancun, a dynamic hub for innovation and entrepreneurship in downtown Beijing, gathers the country's leading high-tech talent, especially the youth. Chen said that Zhongguancun boasts an enabling environment for innovation. It attracted more than 100 billion RMB of venture capital investment in 2020 alone, accounting for more than one third of the national total. Today, Zhongguancun is home to 25,000 high-tech enterprises, over 400 listed companies, and 93 unicorn companies. It also sees the birth of more than 100 tech start-ups every day on average.
Chen believes that to create more hubs for innovation like Zhongguancun, the thoughts and ideas of smart youth should be listened to a greater extent, and their urgent needs deserve more consideration.