The 2021 World Winter Sports Expo was an essential part of the special exhibition on sports services of the CIFTIS, which gathered resources of the ice & snow industry from various countries around the world, exhibited cutting-edge technologies and achievements in certain sectors, and provided all-round support for the upcoming 2022 Beijing Winter Olympics to reach the goal of "300 million people participating in ice & snow sports."
At the Expo, the "time tunnel" composed of five Olympic rings scrolled to play the video of Beijing's successful bid and meticulous preparation for the 2022 Winter Olympics, including the gorgeous venues of Water Cube (Beijing National Aquatics Center), Bird's Nest Stadium, and Ice Ribbon, and performances of breathtaking figure skating and ice hockey. At the Shougang Park, the exhibition area for the Beijing 2022 Winter Olympics Organizing Committee attracted numerous visitors to the ice and snow industry.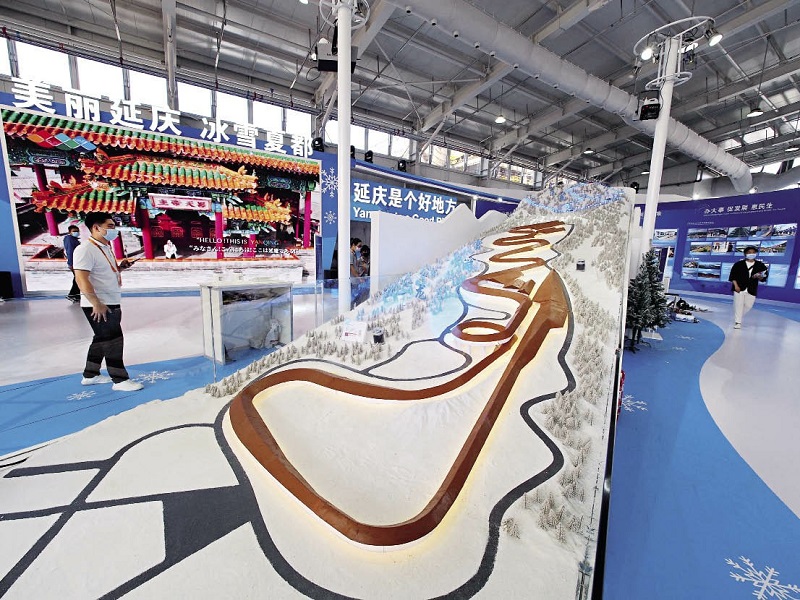 Visitors at the winter sports booth of Yanqing District at the 2021 CIFTIS on September 6, 2021.
Gathering Global High-quality Resources
The 2021 Winter Sports Expo attracted more than 500 ice & snow brands from more than 20 countries, with an international participation rate of more than 60 percent. Compared with 2016, it achieved a three-fold growth. Among them, Italy was the guest of honor at this Winter Sports Expo and will be the host country of the Milan-Cortina d'Ampezzo 2026 Winter Olympics. Relying on the perennial snow and ice in the Alps, Italy has a long history of ice & snow sports, making it a veritable ice and snow powerhouse.
"This time, the Italian National Tourism Administrations, Veneto Region and 20 Italian companies are in attendance at the exhibition. Some of these companies are well-known in the production of ski equipment and clothing, sports safety equipment, sports floors, and snow blowers," Gianpaolo Bruno, chief representative of the Beijing Office of the Italian Foreign Trade Commission and general coordinator of China and Mongolia, told China Today.
The participating Italian TechnoAlpin Group is a supplier of snow-making equipment and automation systems for the 2022 Beijing Winter Olympics. As a leader in the global snow-making equipment industry, the company has a long-standing reputation for providing snow & ice equipment and corresponding services to global clients. It has also provided snow-making equipment and technical support for many Winter Olympics.
Central Project SRL of Italy, known for designing and producing sportswear, especially ski clothing, exhibited dozens of its products to meet various demands of customers. Zhou Xiang, head of its subsidiary company in China, hoped to take the opportunity of the Winter Expo to design more professional and comfortable ski clothing for Chinese fans.
In addition to Italy, Austria, Japan, Czech Republic, Finland, Germany, Belarus, and other countries also displayed their own distinctive products. SNOW51, a joint venture between the Austrian Schild Ski Racing School and a Chinese business, also showed off products at the Austrian exhibition area. According to SNOW51, they draw on the concept and technology of skiing in the Alps, combined with the development of Chinese skiing, and introduce European skiing tutorials, equipment, coaches, and other resources to Chinese clients, so that more people can learn how to ski. SWANS snow goggles and helmets, SINANOHU ski poles, ERGO GRIP gloves, and other Japanese ice & snow trendy products of Tanabe Sports (Beijing) Co., Ltd. debuted at the ice & snow equipment show, giving Chinese customers a professional, safe, and comfortable skiing experience.
Cutting-edge Technologies & New Products
In the era of intelligence, the idea of technology empowering innovation in the ice & snow industry has been universally recognized. At this year's CIFTIS, the cutting-edge technologies and the fruitful innovations displayed at the Winter Expo projected incredible possibilities for China's ice & snow industry.
As one of the three major competition areas of the Beijing 2022 Winter Olympics, Yanqing District exhibited nearly 20 kinds of sports technology and smart application products from 12 companies. Bisheng Sports, a leading company in China's ice & snow sports arena, displayed its optical shooting guns at the expo. Their products of electronic targets and optical shooting systems have been used in the training for athletes at the base of the State General Administration of Sports, the Chinese biathlon national training team, and the Chinese cross-country skiing national training team.
Bingfeng Technology exhibited its intelligent motion sensing technology and auxiliary training system. As a technology company that provides intelligent motion perception technology based on precise positioning technology for sports training, it provides daily training test services to the Chinese national teams for the 2022 Beijing Winter Olympics and Winter Paralympics.
Also showcased in this expo are the smart service platform of ski facilities from the Xuezoo Technology Co., Ltd., epidemic prevention, and inspection robots from the Qiweixin Security Technology, as well as 5G+8K intelligent vision systems and other high-tech products based on artificial intelligence.
To further promote winter sports in China and achieve the goal of "300 million people participating in ice & snow industry," major companies also revealed their "hard core technologies."
At the booth of Astor Refrigeration and Solar Technology (Beijing) Co., Ltd., visitors of all ages enjoyed skating on a special ice rink. According to the company, the ice rink and the curling experience area at the Country Exhibitions held at the China National Convention Center are both removable, using Austrian patented technology of making ice blankets and ice boxes, which can be installed and produce ice within 48 hours, and complete disassembly within 24 hours. The cutting-edge technology can also make ice in any environment, which is recycled, with zero emissions, zero leakage, and no pollution, saving energy by more than 30 percent compared with the traditional ice rinks.
Compared with permanent ice rinks, removable real ice rinks break the limitation of climate and geographical conditions on skating, which can be widely used in outdoor squares, schools, shopping malls, exhibition halls, stadiums, and parks, allowing more Chinese sports enthusiasts to enjoy the freedom of skating.
Sunac Ice and Snow placed a rotatable 8-meter-diameter large-scale three-dimensional model of the section of a ski slope in the center of their booth, which was particularly eye-catching. The device can display real-time and dynamic data of indoor ski field designs, cooling and heating zone operation, along with consumer experience, and provide detailed and accurate reference information for further improving ice & snow products and services, so that more people can experience the fun of ice & snow sports with the aid of technology.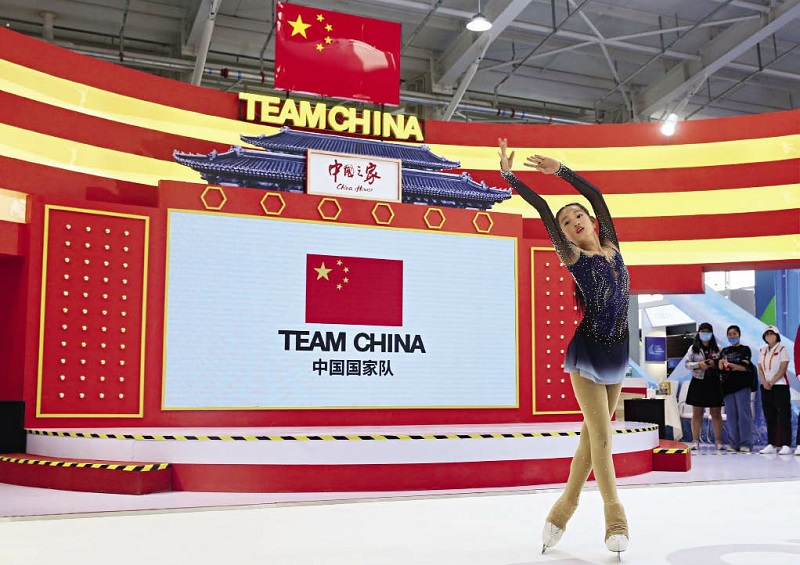 A figure skater performs at the Sports Services Pavilion on September 3, 2021.
Creative Ice Entertainment
VR skiing, Jilin ski field, rime, hot springs, meteorite 3D effects, and a real time LED large screen of "Lake Tianchi" were part of the exhibition of the Changbai Mountain booth at the Winter Expo, which brought a unique ice & snow landscape to the event. "Skiing, sightseeing, and gourmet food are a perfect combo for team building. Next time, our company can organize outdoor activities at the scenic spot of Lake Tianchi," said Xiao Guan, marketing director of a technology company in Beijing.
At the main forum of the Winter Expo, Wang Ku, secretary of the Party Working Committee and director of the Management Committee of Changbai Mountain Conservation & Development Zone in Jilin Province, gave a comprehensive introduction to the development of Changbai Mountain in recent years, especially the experience in building ice & snow brands, developing ice & snow tourism, and promoting related industries.
"Changbai Mountain seizes the opportunity of the Winter Olympics, and focuses on the three levels of competitive sports, national fitness, and ice & snow tourism, to create a model of mountain ice & snow tourism plus scenic spots. We aim to build a complete winter tourism industry chain, including sightseeing, skiing, snow sculptures, touring small towns, enjoying hot springs and gourmet food," he said.
Due to the promotion activities, visitors have changed their stereotype perception that Changbai Mountain is closed for frozen winter. The number of tourists to Changbai Mountain has increased from 400,000 to 6.1 million in recent years. The number of tourists in the 2019-2020 snow season reached 1.088 million, a year-on-year increase of 33.6 percent. Ice & snow tourism and sports are proving to be a gold mine for the mountain, which continue to attract more tourists to experience the glamour of ice & snow.
"I didn't expect to have such a wonderful experience at the Winter Expo! The materials and styles of the clothes are similar in quality to famous foreign brands. I bought a Yulin wool winter suit and will go to Chongli for skiing," said Zou, a visitor at the winter outdoor fashion show in the pavilion of Yulin, Shaanxi Province.
Located on the southern edge of the Mu Us Desert, Yulin at the northern end of the Loess Plateau in northern Shaanxi is far removed from ice and snow, but it has a unique way of developing the ice & snow industry. Chai Xiaoping from the Yulin Bureau of Industry and Information Technology told China Today, "We have an edge on quality natural products. The length of Yulin white cashmere is more than 5 cm, and the fineness is within 15 microns, which is the perfect material for retaining warmth. In addition, a sound policy system, first-class brand technology, and huge market potential have enabled Yulin's wool winter clothing to have a broader market by leveraging the Winter Olympics."
Nowadays, Yulin Yanglaoda Brand Apparel Operation Co., Ltd. has become a platinum partner of the series of winter sporting events dubbed "Experience Beijing." Since the 7th Wool Industry Expo was successfully held, the regional brand of Yulin Cashmere and a series of representative clothing brands have successfully seized the opportunity amid ice & snow games and competitions, and become the new fashion for Chinese winter outdoor sports.