Austria, Sweden show Europe's involvement in Beijing 2022 and beyond.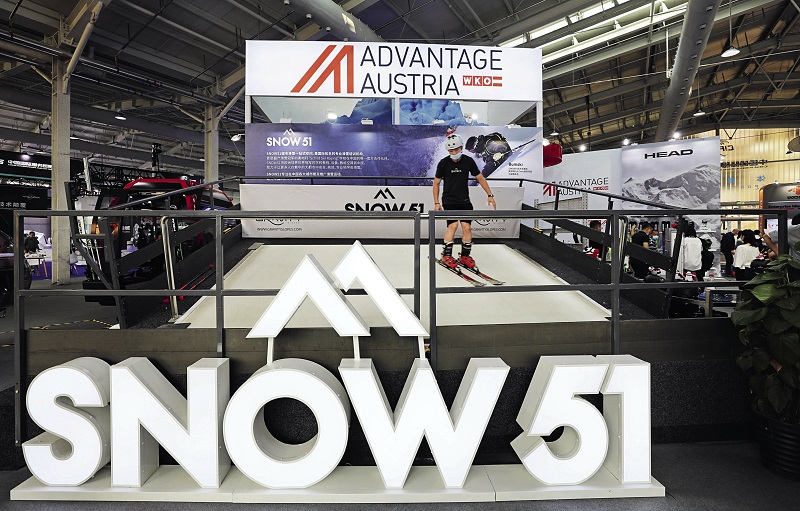 The booth of SNOW51, an Austrian professional ski training institution, at the 2021 China International Fair for Trade in Services held last September. SNOW51 has participated in a project launched by Chinese and Austrian governments to train 1,000 Chinese ski instructors.
Thirty years ago when Michael Berger went to ski in Heilongjiang, China's northeasternmost province, it was an underdeveloped region shivering from icy winds from Siberia and far from being a bustling tourist destination. But when Michael Berger, now Dr. Berger, and the commercial counselor at the Austrian Embassy in China, recently visited a string of new ski resorts in northeast China, which is comprised of Heilongjiang, Jilin, and Liaoning, he was stunned by what he calls the "incredible development and quality of these modern installations."
Like him, Helena Sångeland, the Swedish ambassador to China, is also a winter sports enthusiast. Having seen skaters on lakes and rivers in Beijing over the past years, she thinks it would be marvellous if skating became possible on a larger scale on the capital's rivers in winter. "I would definitely join in as skating on lakes and at sea is a very popular sport in Sweden," she said.
She has also visited all the competition arenas ahead of the 2022 Beijing Winter Olympics and thinks the venue for Big Air, a snowboarding dash from a high snow ramp that culminates in a big jump and daredevil tricks in the air, at Shougang Park, an industrial park transformed for the event, makes for a striking competition site, both for athletes and spectators.
Despite a chill in China's relations with the United States and a few of its allies who have declared an official boycott of Beijing 2022 – meaning while their national teams will take part in the event, there will be no delegation of government officials – countries in Europe that have a name for winter sports are however fostering links with Beijing 2022 in different ways. They also welcome the Chinese government's plans to get 300 million Chinese to take up winter sports by this year.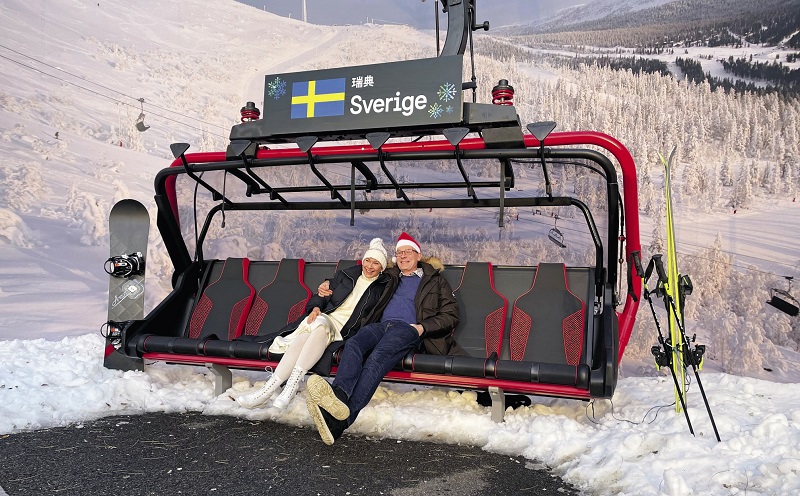 Sweden's Ambassador to China Helena Sångeland tries out the temporary ski lift during a Swedish Winter event with her husband Patrick Orhammar. Photo courtesy of Embassy of Sweden in China
"Getting their citizens to live an active and healthy lifestyle is of interest to most nations," Sångeland said. "Sweden has a long history of winter sports and the prospects of cooperation is good, especially in making different sports available for everyone. The pandemic makes things more complicated but when it is possible to travel again, collaborations and exchanges will be much easier."
Sweden has a special role in winter sports events. The first Winter Paralympics was held in its northern town of Örnsköldsvik in 1976. Sixteen countries took part and while what was then West Germany bagged the lion's share of the medals, Sweden notched up a respectable tally of 20 medals, including six golds.
Several Swedish winter sport companies are present in China and some of them have a presence in the Winter Games. While Fjällräven is known for its backpacks which are very popular in China, it also makes winter sports clothing including jackets, trousers, and socks. Thule, Haglöfs, Peak Performance, Hestra, and Stiga also produce equipment and products that are relevant. Hestra is also the official supplier of gloves to the Swedish Olympic team. Stiga, well known among Chinese table tennis lovers, also produces table hockey games and equipment for winter sports.
In addition, Sångeland said the Chinese cross-country skiing and speed skating teams are training on skate treadmills from Swedish company Rodby Innovation. And Swedish snow cannons and water pumps are used to make snow for Chongli, a suburban district of Zhangjiakou in Hebei Province neighboring Beijing where most of the skiing events will be held. They are being used for Yanqing District in Beijing as well.
The slopes in Yanqing have also been built by a Swedish team from Åre, one of the leading Scandinavian ski resorts. "They have been here for the last three winters to educate their Chinese colleagues and to build the slopes for the Olympic and Paralympic [Winter] Games," Sångeland said.
Austrian companies are also keen to reinforce their already strong presence in China's winter sports sector, Berger said. Their products and services range from the latest ski and outdoor equipment to alpine transport systems and winter sports-related technology and know-how.
Doppelmayr, a leading Austrian manufacturer of ropeways, cable cars, and ski lifts, which is now part of the Doppelmayr/Garaventa Group, has provided the cable car equipment for the Winter Games venues in Beijing and Chongli; another Austrian firm, AST, has supplied the ice-making systems for the venues in Beijing.
When Austrian President Alexander Van der Bellen visited China in 2018, Austria's Federal Ministry for Arts, Culture, the Civil Service and Sport and China's General Administration of Sport signed a memorandum of understanding on sports cooperation and exchange. "Our Olympic Committees have already been cooperating since 2014, as well as the winter sports cities Zhangjaikou and Kitzbuehl (in western Austria)," Berger said.
As a top skiing nation, Austria is also cooperating with China in ski instructor education. The "1,000 Chinese skiing coaches" project, supported by the Austrian government, Austrian Federal Economic Chamber, and the Austrian ski industry is nurturing Chinese ski instructors to meet the demands of the burgeoning Chinese winter sports market. As a result of the project, the first Chinese ski instructors completed their training in 2019.
There are many more inter-country coaching engagements. The Chinese curling team's coach Peja Lindholm is a three-time world champion and former national coach of Sweden who moved to Beijing after his success at the PyeongChang Winter Olympics in the Republic of Korea in 2018.
The 52-year-old is optimistic about his new proteges: "I do believe we have an advantage," Lindholm told the World Curling Federation. "Historically, the home countries usually have great success at the Olympics. We have good preparations, and we know what to expect."
The Chinese ski jump and free skiing teams have been training in Sweden. Sångeland said a Chinese delegation visited the Mid Sweden University and their Sports Tech Research Center to learn more about Sweden's work within sports science. The visitors also got valuable insights into the experience of hosting the biathlon and downhill skiing world championships.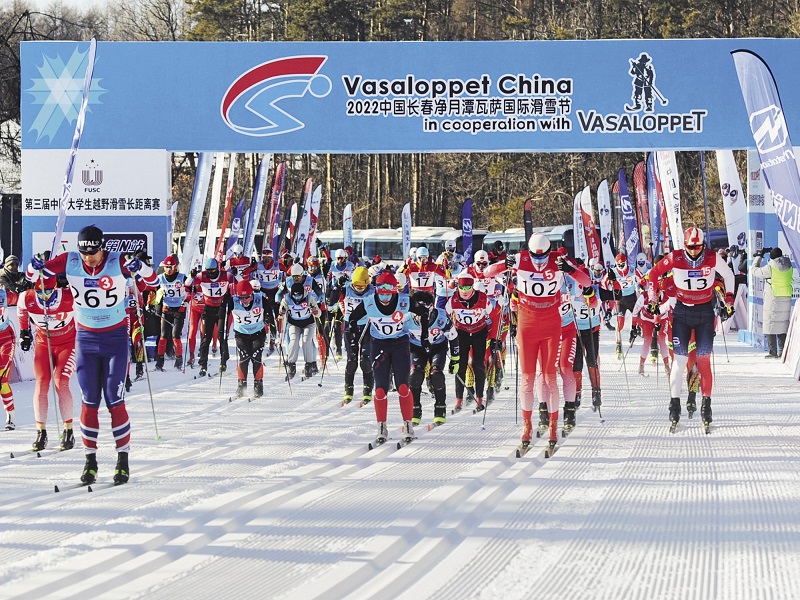 Vasaloppet China 2022, a cross-country skiing competition event replicating Sweden's Vasaloppet, kicks off on January 4 at Jingyuetan National Forest Park in Changchun, northeast China's Jilin Province.
Sweden's Vasaloppet has been replicated in China as Vasaloppet China, a cross-country skiing race organized in Changchun, Jilin Province, which has been enjoying greater public interest during the 19 years since its inception. In addition, the Austrian Winter Sports Days hosted annually by the Austrian Embassy promotes skiing and is combined with a three-day winter sports industry forum.
Foreign companies, however, have to be ready to grapple with several hurdles. Besides some issues like the language barrier and some domestic laws and regulations that make it mandatory for companies to have a local partner to operate in China in many cases, the protracted pandemic perhaps poses the biggest block. "The biggest hurdle now for foreign companies is that they cannot travel to China due to the pandemic measures," Berger said. "Therefore they cannot meet in person with their Chinese business partners or participate in trade fairs or trade missions or seminars.
With the emergence of the Omicron variant and a resurgence of the pandemic in January, international travel still remains uncertain. Besides, the Chinese government announced that only those residing on the Chinese mainland and meeting the anti-COVID-19 criteria would be able to watch the Winter Games events on site.
"It is still unclear what conditions will exist for participation in the Winter Olympics and Paralympics. Hence, the Swedish government will not send any representatives to the Games but will follow them from Sweden and take part in digital events with the participating athletes," Sångeland said.
Austrian Chancellor Karl Nehammer has stated that there will be no official diplomatic boycott of Beijing 2022. Berger added, "But due to the pandemic situation in Austria and the relevant measures, probably no member of the government will be able to come."
Looking into the future, European winter sports companies' interest in the Chinese market will continue to grow beyond Beijing 2022. The latest survey shows that over 346 million Chinese people have engaged in winter sports since 2015, which will definitely further boost the industry. China also set the 2025 target of expanding the total value of the winter sports industry to around US $155 billion. The sports industry, especially winter sports, will become an important economic growth point.
SUDESHNA SARKAR is a journalist and editor based in Beijing. A former commentator for a regional program of Deutsche Welle Radio, she follows China's development, culture, and international links.