Just after the Spring Festival, Peng Yi, a designer of cultural and creative products, and the embroidery ladies at a rural poverty alleviation workshop were inundated with calls ordering Miao embroidery and batik products.
The workshop is located at Huawu Village, Qianxi County, Bijie City of Guizhou Province, an ethnic Miao community visited by Chinese President Xi Jinping on the eve of the Spring Festival this year. Xi encouraged the locals to carry forward traditional ethnic culture and continue to contribute to rural development. The village was recently lifted out of poverty.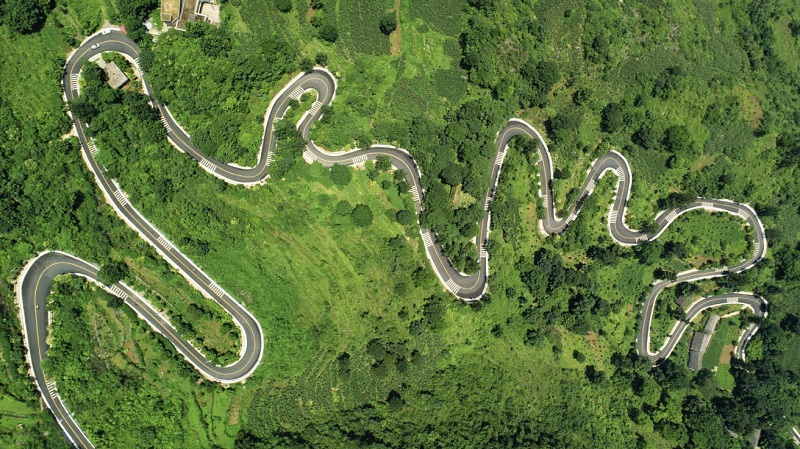 This public road built along the cliffs helps connect Huawu Village in Qianxi County, an ethnic Miao community, with the outside world. Shi Kaixin
Effective Connection
"When President Xi walked in, I was working on a painting for the Year of the Ox. He asked me what the dye was made of, and I told him it was made of Isatis leaves we picked locally," said Peng, who added that the fight against poverty laid a solid foundation for helping the inheritance process of passing on handicrafts by Huawu villagers, while also offering a bigger market.
"Before the Spring Festival this year, a total of 36 ladies produced 260 pieces of batik and embroidery products with an output value of RMB 1.02 million." The COVID-19 epidemic last year had little impact on the sales of the products, according to Peng. "The ladies no longer have to leave their hometown to work, as they can earn an income in their community."
Peng plans to expand the development of new products such as batiks, handmade embroidery, and small handicrafts by taking advantage of rural tourism. "Today, we are bringing these handicrafts out of China's remote mountains and giving them a path to the world," said Peng.
At Dafang County, 65 kilometers away from Qianxi County, also in Bijie City, Mu Pengyu, a poverty alleviation team member from property developer Evergrande Group, did not return home during the Spring Festival holiday in 2021. For more than a month, he commuted back and forth between the company and a farm it built so as to carry out daily inspections for its smooth operation during the holiday.
Since 2015, Evergrande Group has provided assistance to Bijie City. Over the past five years, the group has donated RMB 11 billion to poverty alleviation and sent a full-time poverty relief team of 2,108 workers to lift more than one million people in the city out of poverty.
Evergrande invested RMB 5.7 billion to help relocate 218,800 local impoverished people by building 17 poverty-relief communities and 50 new villages, well equipped with educational, medical, commercial, and other facilities. Evergrande also ensures follow-up support for poverty-alleviation relocation by creating public welfare jobs.
Among the company's 611 key aid projects covering 21.16 million square meters, there were 498 industrial poverty alleviation projects. Now, Bijie has developed into the largest cold climate vegetable base in south China. It is also the largest Angus beef cattle breeding base in China, is home to a herbal medicine production base in the Wumeng Mountain area, and has the largest edible fungi and fine fruits production base in Guizhou.
Getting rid of poverty is not the end. The Evergrande professional team including Mu will continue to live in Bijie to carry out the follow-up support projects, aligning efforts to consolidate and expand the achievements in poverty alleviation with efforts to promote rural revitalization and facilitate modernization of agriculture and rural areas.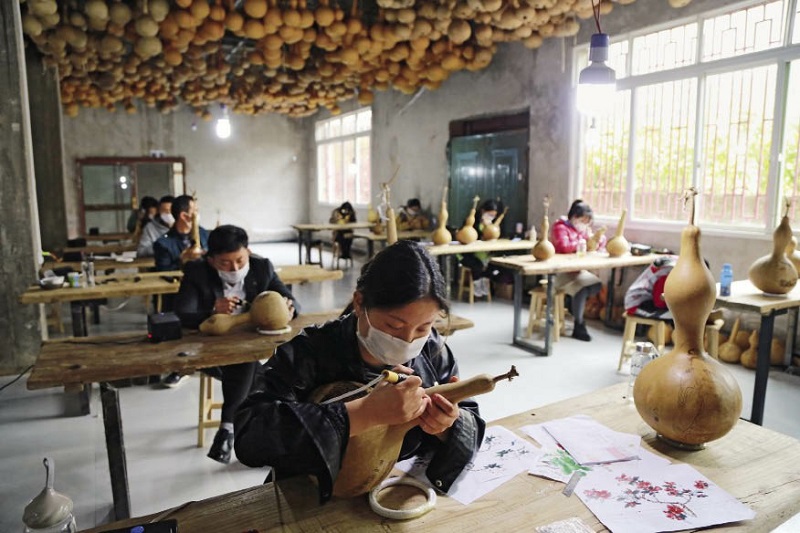 Workers with disabilities are making gourd pyrography in Li Dehua's poverty alleviation workshop established in Chabai community of Dujuan Subdistrict, Qianxi County.
Industry as Driving Force
In 2015, Wang Jingfang, from a registered poverty-stricken household in Cuijiaji Town, Pingdu City, Shandong Province, spent all of her family's savings on medical bills due to a serious illness. Villagers stepped up to lend Wang a helping hand.
Wang later came to work for the township cherry tomato planting greenhouse, a poverty alleviation project located at Qianwa Village, where she learned skills in cherry tomato cultivation and greenhouse management.
In August 2017, Wang approached Ju Bingjin, Party secretary of Qianwa Village, and expressed her desire to operate a greenhouse. Ju allowed her to open the greenhouse first and pay the rent later. Wang's income from operating the greenhouse reached RMB 250,000 the following year. Encouraged by her success, Wang's daughter and son-in-law, who then worked in Qingdao, returned home to also get involved in greenhouse farming. "The more people get involved, the easier it is for the industry to develop a business cluster effect," said Ju.
The vegetable greenhouse project is an innovative township agricultural assistance project. Back in 2016, Cuijiaji Town planned to integrate the RMB 5.4 million of poverty alleviation funds allocated to six economically-weak villages, and build 36 high-standard greenhouses with winter heating facilities as a demonstration project. The project has helped lift Qianwa Village out of poverty and moved into the fast lane of rural revitalization ahead of schedule.
Qianwa Village is a fine example of the rural industry development in Cuijiaji Town, where the number of greenhouses for cherry tomato planting has grown from 36 to more than 1,200 now. "Up to now, more than 30 of 121 villages in the town have planted cherry tomatoes, with sales revenue of more than RMB 420 million, driving the villagers' income by RMB 310 million, or nearly RMB 4,000 per capita," said Zhang Shunze, deputy magistrate of Cuijiaji Town.
Zhang said that as an economically-weak town in Qingdao, Cuijiaji has not only succeeded in getting rid of poverty, but also extended the industrial chain from planting to other links like purchasing and selling, processing, logistics, e-commerce sales, and agricultural materials. It has completed the transformation and upgrading from "poverty alleviation cooperative" to "agricultural innovation," and promoted agricultural modernization through industrial integration.
Pingdu City has established 32 "poverty alleviation demonstration units for agricultural innovation." "Its poor households and poor villages had participated in projects to develop industries with distinctive local features and advantages, and drive the development of poverty alleviation and prosperity by establishing and improving the mechanism of interest linkage and revenue sharing," said Tang Yunli, director of the local poverty alleviation office.
She said the city has explored a path to poverty alleviation and rural revitalization by developing industries with distinctive local features, which as a result has made Pingdu a model for rural revitalization in Shandong Province.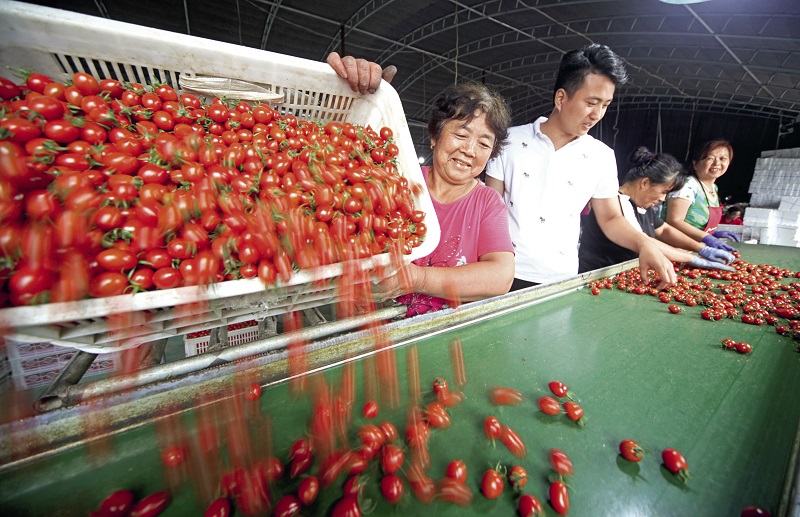 Ju Penghao, head of the e-commerce company of Qingdao Qianwa Fruit and Vegetable Cooperative, is checking the quality of cherry tomatoes on the sorting line.
Future Prospects
Pingdu in Shandong Province and Bijie in Guizhou Province are typical representatives of the east and west of China respectively, with distinctive local features and resource advantages in industrial development. Luo Shaming, a member of the National Committee of the Chinese People's Political Consultative Conference (CPPCC), voiced his concern on how to find a development model that suits the central and western regions and what experience they can learn from each other after China ushers in the new stage of rural development.
"In the future, both the eastern and western regions will face the task of effectively integrating the consolidation of poverty alleviation achievements with rural revitalization," said Luo. He believes that the depth, extent, and difficulty of comprehensively implementing the strategy of rural revitalization are no less than those of poverty alleviation. Therefore, governments at all levels must strengthen the top-level design, while improving work systems and institutional systems by adopting more powerful measures and gathering greater strength, accelerate the modernization of agriculture and rural areas, and ensure that agriculture is of a high quality and efficiency, villages are livable and workable, and farmers are prosperous. "Rural revitalization is another protracted battle like China's decades-long war on poverty," he said.
Luo pointed out that the economically well-developed provinces in eastern China should make efforts to promote rural innovation and entrepreneurship upgrading, and strengthen the new drivers of rural industrial development. "We must optimize the environment for innovation and entrepreneurship in rural areas, enhance innovation and entrepreneurship to generate more jobs, improve the leading role of scientific and technological innovation, and develop endogenous driving force of rural industry development," said Luo.
According to Luo, only by introducing favorable policies, increasing the appeal of the countryside and building more projects can the range of talents and investors needed to start businesses and innovate rural areas be attracted. Talent and industrial development is key to comprehensively revitalizing China's rural areas, he said.
Likewise, underdeveloped areas in western China, while consolidating their achievements in poverty alleviation, should also keep their agricultural and rural development on a track of steady growth.
"In areas like Bijie in Guizhou that have just been lifted out of poverty, we need to continue to safeguard lucid water and lush mountains, and combine fiscal transfer payments for ecological protection with support for eco-friendly industries," said Luo, adding that experience in the east can be replicated in the west, like during the fight against poverty. "The lessons learned through east-west collaboration on poverty alleviation can be carried forward," he said.
According to Luo, more efforts now should be put into consolidating achievements in poverty alleviation. The comprehensive poverty alleviation strategy through multiple means, including special poverty alleviation, industrial development-oriented poverty alleviation, social poverty alleviation, and the east-west coordination, will continue to play its important role, with its focus on coordinated development of rural areas.
"Victory in the poverty battle laid a solid foundation for China's future development by illustrating a magnificent blueprint for rural revitalization," said Luo. "We should look forward to a new countryside that features flourishing industries, livable ecology, civil customs, effective governance, and a prosperous life."