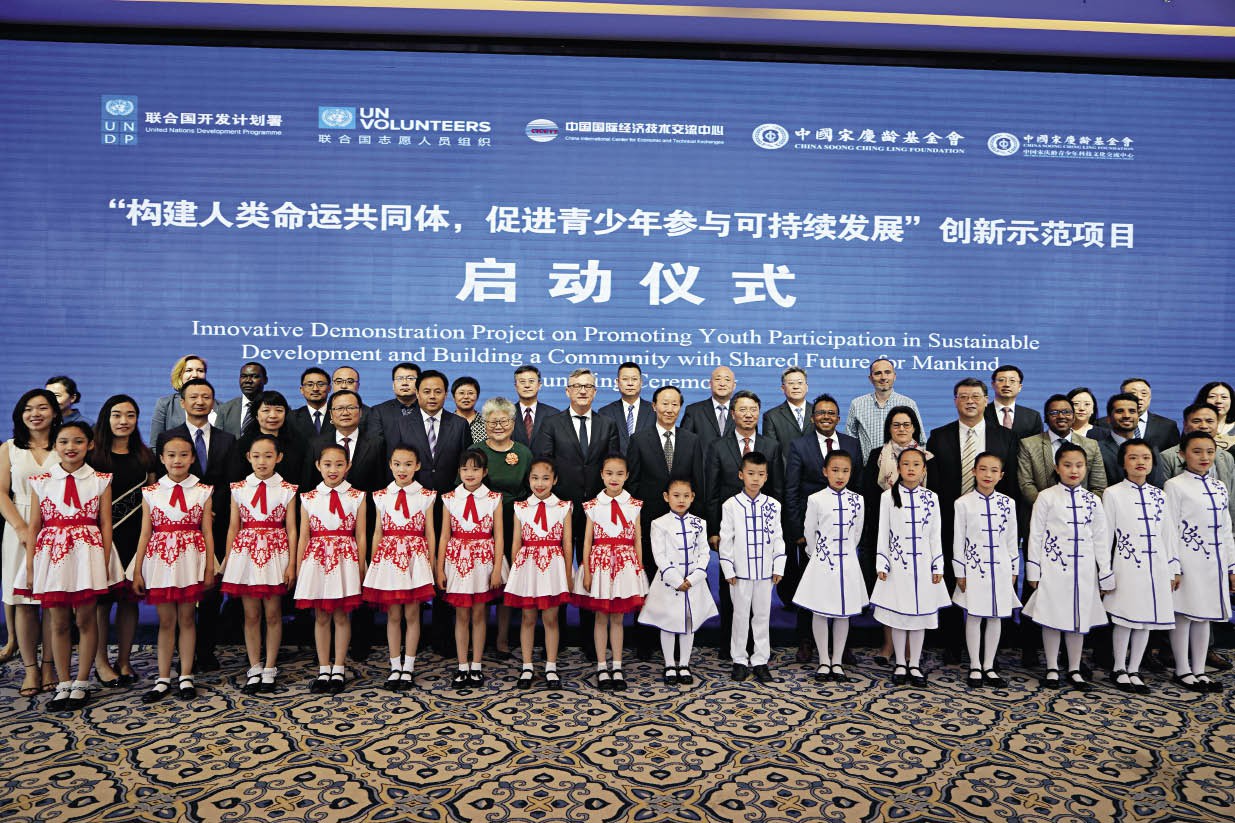 On June 20, 2019, the project "Promoting Youth Participation in Sustainable Deve-lopment and Building a Community with Shared Future for Mankind" jointly initiated by the China Soong Ching Ling Foundation, the UNDP Office in China, and other institutions is launched in Beijing.
MS. Beate Trankmann, the United Nations Development Programme (UNDP) Resident Representative in China, has a diverse career with the UNDP since the late 1990s, particularly in the Asia-Pacific region. "Poverty reduction has always been the core of UNDP and its Chinesen office, and I have witnessed China's unparalleled success in poverty alleviation," she said.
China's Unprecedented Achievement
By the end of 2020, China is to achieve a moderate prosperity society in all respects and accomplish its key goal in its 13th Five-Year Plan (2016-2020): ending extreme poverty. According to statistics released by the World Bank, since 1978, China has lifted more than 750 million people out of poverty, accounting for four-fifths of the world's total over the last four decades. This is an unprecedented achievement in human history.
In 2019 when it celebrated the 40th anniversary of its inception in China, the UNDP released the 2019 Human Development Report. According to the report, China is the only country to have progressed from the low to the high human development category as is indicated by the global HDI trends the UNDP first began to analyze in 1990. The share of China's population living below the poverty line has dropped from 97.5 percent in 1978 to just 1.7 percent today, while the per capita income of the Chinese people has increased 20-fold.
"Personally, I think China's transformation is the result of continued political commitment and effective policy measures since the launching of reform and opening-up, and efforts of governments at all levels – from provinces to villages – to eradicate poverty. This allowed the government to selectively conduct pilot projects, addressing local problems on the ground through a targeted poverty alleviation approach – and taking successes to scale," Trankmann said.
The allocation of adequate financial and human resources has also been essential to China's success in poverty reduction. Massive investments in infrastructure have connected remote, impoverished regions to the rest of the country, giving people better access to services, markets, and other opportunities to build better lives. In 2019 alone, the central government invested RMB 126 billion (US $18 billion) in poverty reduction. Since 2017, about 775,000 civil servants have been dispatched throughout registered impoverished villages to support local authorities in carrying out measures to reduce poverty at the individual household level and monitor progress every step of the way.
China has been implementing "the targeted poverty alleviation strategy" to help more people shake off poverty based on the conditions of specific regions. The strategy includes such tactics as implementing a pairing-up support mechanism between developed regions and poverty-stricken regions, and helping develop businesses or industries which are based on the strengths of that region.
The targeted poverty alleviation campaign emphasizes the importance of contextualized assistance. To achive that purpose, a thorough assessment of the local resources, environmental conditions, and culture are carried out for each county and village. The "pairing-up support mechanism," a particularly innovative measure, has played a key role in China's poverty alleviation. This mechanism has been effective in mobilizing resources and leveraging expertise from developed regions across the country to contribute to the development of poverty-stricken counties. Poverty alleviation funds are channeled from developed regions to support poor counties, and remote areas are connected to markets, all of which help promote sales of local products and improves the livelihoods of poor households. This mechanism is particularly helpful in fostering industry in poverty-stricken counties. For example, Xiamen, a coastal city in southeast China, has helped Linxia Hui Autonomous Prefecture in northwest China's Gansu Province promote the development of the agricultural processing industry so as to increase the added value of agricultural products. According to statistics released by Linxia's bureau of commerce, Xiamen has helped the prefecture sell RMB 118 million (US $16.9 million) worth of local products to date.
Despite China's significant progress in poverty reduction, challenges still remain. Slower economic growth, a growing gap between rural and urban areas, and the intergenerational transmission of poverty are piling up pressure on poverty eradication. COVID-19 outbreak in 2020 also made the situation grimmer. The Leading Group Office of Poverty Alleviation and Development of the State Council, in collaboration with competent authorities, has announced a series of actions to ensure continued efforts in poverty eradication. These include prioritizing the allocation of funds designated for poverty alleviation to areas and industries hard hit by the epidemic, improving employment services, and helping migrant workers return to work. In addition, the National Development and Reform Commission has allocated RMB 5.6 billion (US $790 million) to help create job opportunities in local communities for the poor population.
No Poverty: Key to Achieving the SDGs
Since 1979, the UNDP has been a partner in China's development, and poverty alleviation has been central to that cooperation. "Over the last two decades, one of UNDP's main priorities has been to assist China with its increasing role in global development cooperation and help to share China's development lessons with countries around the world," said Trankmann. China's focus on a people-centered approach that looks at enhancing people's capabilities and opportunities also aligns with the global vision of leaving no one behind, encompassed in the Sustainable Development Goals for 2030 – to end poverty, reduce inequality and protect the planet, she added.
In 2005, the UNDP initiated and supported the International Poverty Reduction Center in China (IPRCC) aimed at creating a global knowledge hub on poverty reduction. The IPRCC has since provided government officials and experts from developing countries all over the world with training sessions on poverty reduction and sustainable development.
In 2006, the UNDP and China's Ministry of Science and Technology jointly launched the Technical Task Force (TTF) Program. It aims to provide farmers with environmentally friendly and locally relevant technology, and help them increase their income and achieve sustainable development. Under the programme, market approaches were introduced to traditional agricultural production in China's rural areas. From 2012 to 2014, the program was expanded to cover 31 provincial-level regions across China, and 75,000 TTF personnel were dispatched to implement it. It benefited one million farmers each year beginning in 2008, as rural residents had their annual income increased by 10 percent on average over the years. For this, the UNDP received the China Poverty Eradication Award.
In 2015, the UNDP and the IPRCC among other organizations jointly sponsored the 2015 Global Poverty Reduction and Development Forum. The forum is held every two years to expand the influence of the International Day for the Eradication of Poverty and promote the sharing of poverty reduction experience. Chinese President Xi Jinping attended the forum and delivered a keynote speech on China's poverty reduction strategies and goals. The then Secretary-General of the United Nations Ban Ki-moon recognized China's ambitious goal of alleviating poverty by 2020 in a video speech. Helen Clark, then administrator of the UNDP, attended the forum as a representative appointed by the UN Secretary-General. She commended China's commitment to achieving sustainable development on a global scale as the country was to include the SDG No. 1, eliminating poverty, into its 13th Five-Year Plan (2016-2020).
During the same year, the United Nations proposed 17 SDGs based on the Millennium Development Goals for 2000 to 2015. The SDGs, a more ambitious global development framework from 2015 to 2030, aim to solve the development problems in a comprehensive way from three dimensions of society, economy, and environment, and turn to a path of sustainable development.
The UNDP is working hard to bring together the power of the government, private enterprises, charities, and civil society to achieve these goals. China had promised to incorporate sustainable development into its national development plan long before the "sustainable development goals" were formally adopted.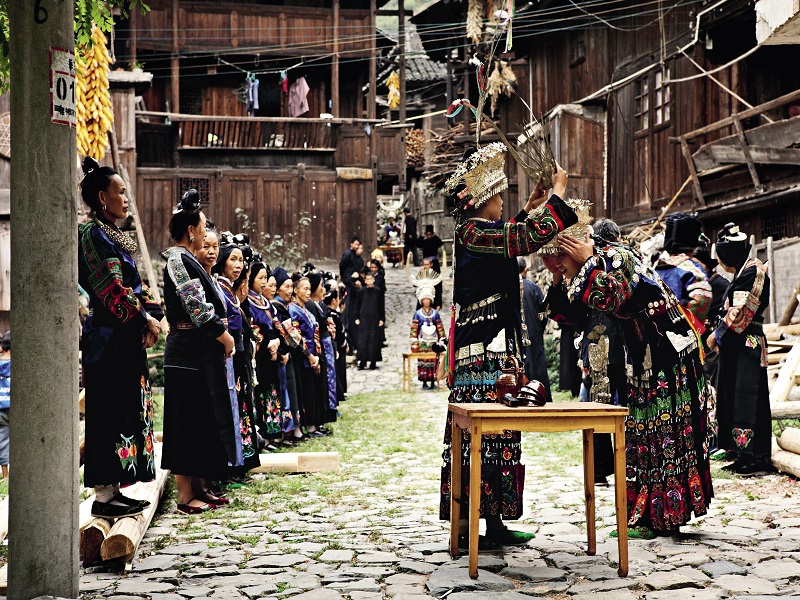 The UNDP works in accordance with the national poverty reduction initiatives to help people in ethnic minority areas increase their incomes.
Offering Valuable Experience
across the Globe
China's huge population and economic size mean that everything it achieves also has corresponding global impacts. Its successful development experience not only can be used by other parts of the country, but also by other developing nations across the world. "China's success in eradicating poverty over the last 40 years has been historic. These feats have contributed significantly toward the achievement of SDG1, no poverty," said Trankmann.
Despite the fact that every country has different national contexts, they can find inspiration from China's experiences. The South-South Cooperation (SSC) provides such a platform for knowledge sharing and technology transfer. The UNDP has been regarding trilateral cooperation as a pivotal model for development cooperation. Under the model, China, partnering country, and the UNDP jointly take an innovative approach to development based on effective global practices toward the goal of poverty eradication and common development.
For example, China's targeted, bottom-up approach to poverty alleviation offers valuable experience for the global fight against poverty. First, through a thorough assessment of local conditions and resources, China identifies who the poor are down to the household level, what challenges they face, and what needs they have. Second, tailor-made assistance measures are designed and implemented specifically in each county and village. Each village decides what to plant, raise or sell according to their comparative advantages and local conditions. Third, the progress of every village and household is monitored and tracked to ensure that poverty alleviation measures are generating the desired effect.
The Belt and Road Initiative offers an avenue for developing countries to achieve prosperity through better infrastructure connectivity. It is in line with both the SDGs and the needs of developing countries. While creating jobs for partnering countries, cooperation under the initiative helps achieve sustainable and inclusive development.
Moving forward, the UNDP stands ready to support China's continued efforts to fight poverty and inequality, while addressing emerging challenges and sharing lessons from its targeted approach to poverty reduction with the rest of the world. "We must move forward with the same resolve, ingenuity, and cooperative spirit of the last 40 years and apply it to the challenges faced by the next generation. With effective collective action, poverty in all its forms can be eliminated, and the SDGs can become a reality for everyone, everywhere," Trankmann said.