MANY people may remember 2020 for China's effective containment of COVID-19, but an even greater achievement this year will be China's eradication of absolute poverty. This has been done through targeted poverty alleviation – a philosophy that Chinese President Xi Jinping first crafted and honed during his 17 years in Fujian Province. His policies and practices were so insightful and effective that many were adopted nationwide, long before anyone dreamed that the young provincial leader would take the helm of the country as well as the Communist Party of China.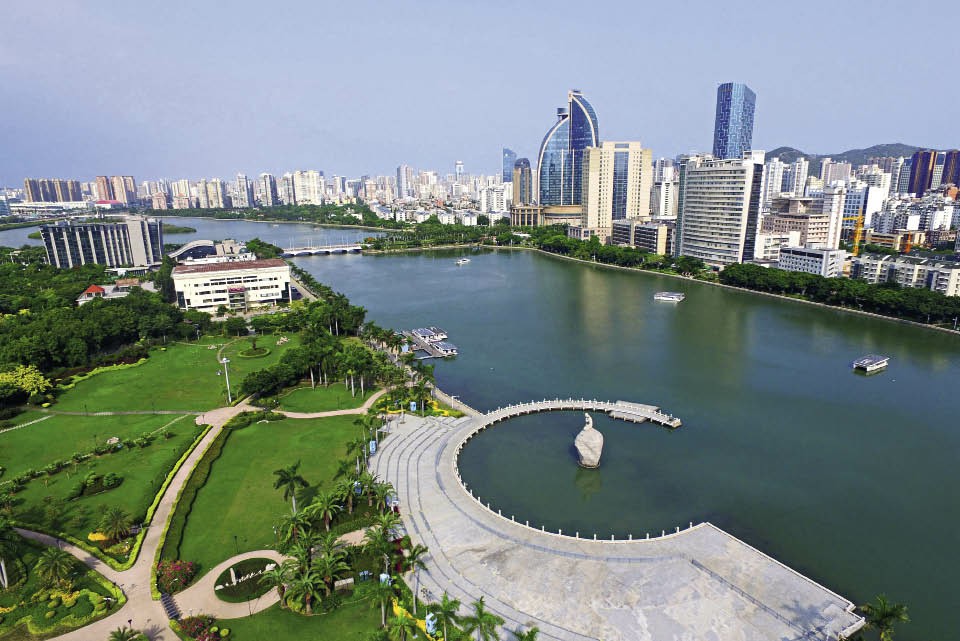 Yundang Port was once a "smelly lake" that Xiamen locals were ashamed of. Thanks to ecological restorations, it has become a beautiful scenic spot in Xiamen City now.
Targeting Tricky Issues
Xi has inherited farsightedness from his father Xi Zhongxun. When serving as governor of Guangdong Province, Xi Zhongxun saw that many Guangdong youth were fleeing to then prosperous Hong Kong. He then suggested resolving the problem not with a "Hong Kong Wall," but by narrowing the gap in living standards between Hong Kong and Guangdong. Later Shenzhen of Guangdong was set as one of four Special Economic Zones (SEZ) in 1980, together with Xiamen, Shantou, and Zhuhai, and then in 1985, the younger Xi became vice mayor of Xiamen.
From day one, the 32-year-old Xi tackled Xiamen's affairs the same way he would later approach provincial and national issues. He carefully explored the island, conducted time-consuming research, and engaged in precision targeting of problems and solutions related to the city's long-term comprehensive plans, including the 1985-2000 Xiamen Economic and Social Development Strategy. His efforts were so successful that in 1994 the city became one of only 15 cities nationwide elevated to vice-provincial level status.
Xi was very pragmatic, and warned that it wasn't enough for a SEZ to simply offer tax exemptions and then sit back and wait for foreign investment to pour in. Foreign companies not only want to save money, they also want to make more money and be able to do business easily and smoothly, said Xi, who emphasized the importance of building stable business environments and good infrastructure.
To ensure the sustainability of development, Xi addressed not only economic issues, but also environmental protection, such as reclaiming Yuandang Lake. As he would say years later, "Don't destroy a real treasure to gain a false one."
Even as Xi embraced Xiamen's future, he cherished and sought to preserve its rich past. Some of his ideas, such as restoring Bagua Mansion, helped lay the groundwork for Gulangyu's designation as a UNESCO World Heritage Site almost 30 years later. It was his understanding of Fujian's Maritime Silk Route that later led to his proposal of the historic Belt and Road Initiative.
In 1988, Xi was transferred from Xiamen to northeast Fujian's Ningde, one of China's 18 poorest counties then. When his family worried about his poor living conditions, he replied cheerfully, "At least the scenery is beautiful."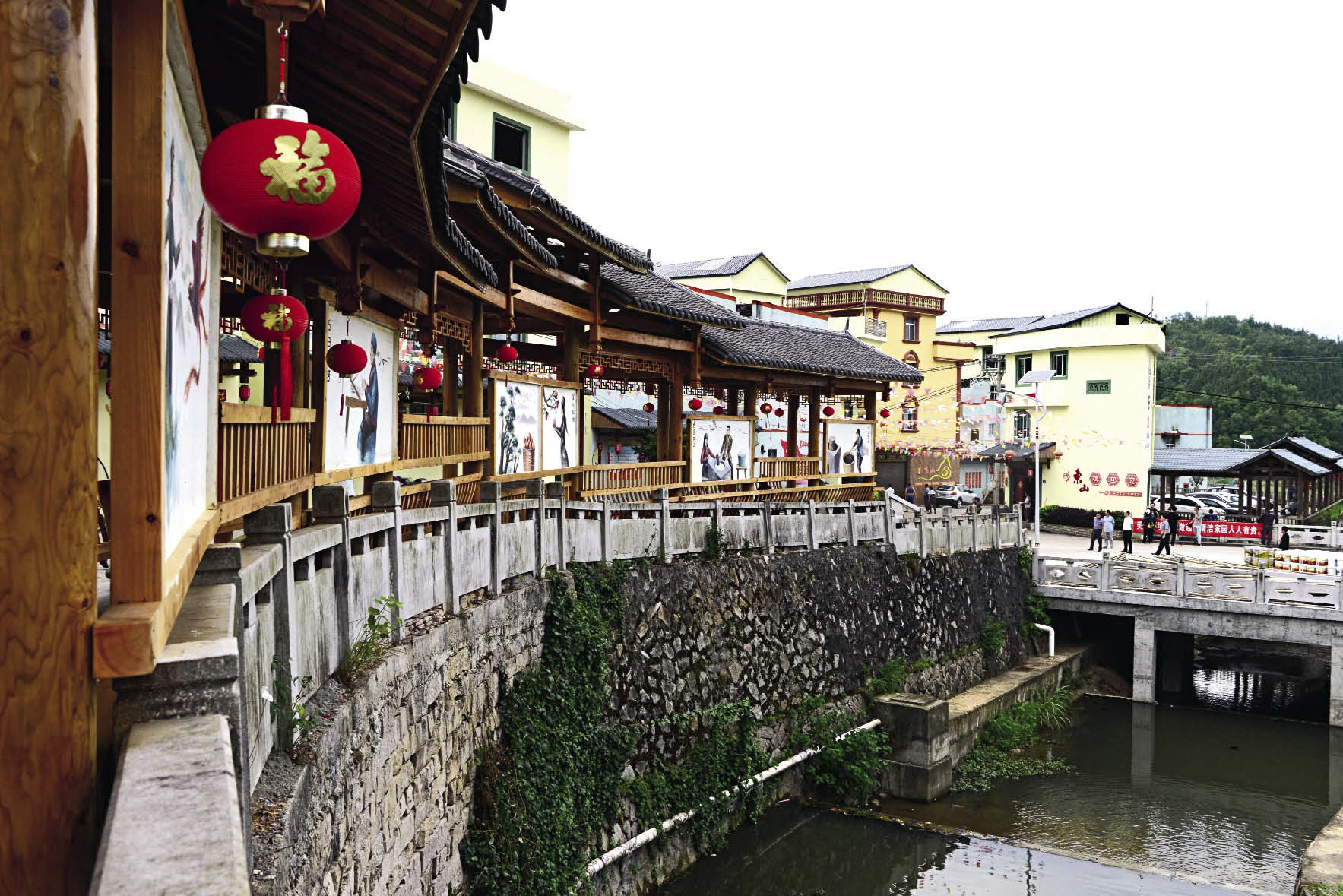 In 2016, the relocated Dongshan Village was listed as a "National Key Village for Rural Tourism," which aims to help the villages out of poverty by exploring their traditional culture. The She ethnic cultural corridor is just one of the scenic spots inside the newly-built village.
China's First "Barefoot First Secretary"
For decades, China's barefoot doctors (rural Chinese healers with some rudimentary medical training), lived and worked with those they served. Even today, global leaders hold up barefoot doctors as a model for poor nations' universal health care. While we no longer have barefoot doctors, thanks to Xi Jinping's lead, we do have what I have termed "barefoot Party secretaries."
In 1986, China established a special poverty alleviation agency, the State Council's Leading Group for Economic Development in Poor Areas. While this did help rural economies, the weak link was the lack of direct contact between the administration level and poor farmers and households. But at that time, Xi was working at the grassroots level in Ningde, in ways that would later be emulated by the Party secretaries of counties across China. I've met many of them, from Fujian to Ningxia and Tibet, and they live and serve in the same way as the barefoot doctors before them.
Xi immediately won peoples' hearts by visiting every Ningde village, talking to the farmers themselves and even working in their fields with them. He scrutinized the specific causes of poverty in each setting and stressed using targeted methods to resolve the root cause of problems. He stressed blood production over blood transfusion, meaning improving poor people's ability to create wealth is more important than providing aid. While aid is often needed initially, aid can foster dependency, but fostering internal motivation and ability empowers the people, engenders self-sufficiency, and helps heal the "impoverished spirit."
In 1988, he criticized some government departments for displaying "Excellence" and "Number One" awards that had nothing to do with economic development. "Hanging up so many award banners without one for economic development was not very impressive. To put it more politely, it reflected the state of working hard without performing a true service. Working without setting priorities and sticking to the fundamentals is simply tinkering," said Xi.
He also lashed out at corruption, prompting some to urge caution. Xi once said in Ningde, "Should we upset three million people or the officials who violate Party discipline?"
In Xiamen, Xi learned how to craft comprehensive long-term plans, and he did the same for Ningde, including improving infrastructure, education and technical training, and medical care.
At the same time as he oversaw large-scale long-term macro plans, Xi also made pragmatic suggestions for development in each area, such as growing mushrooms in Gutian and seaweed and mustard root in Xiapu, and developing electrical machinery in Fu'an and pharmaceuticals in Zherong. Xi expected that as one industry grew, it would drive the growth of others and lead to the areas' overall development. His vision bore fruit. Today, the formerly poor county now exports fruits, seafood, and specialty teas such as its famous white tea – an industry spearheaded by one of Ningde's first college graduates to return and seek his fortune in his hometown. Xi also especially emphasized preserving the natural environment and promoting cultural tourism with rural farmhouses, rafting, and sales of local cultural products and handicrafts.
Ningde was the first place Xi came in close contact with the She minority group, and he and his wife both emphasized preserving their culture and heritage, especially their music. Xi emphasized, "To build a moderately prosperous society in all respects, there must be no minority group and no single person left behind."
After two years of remarkable changes in Ningde, Xi moved to Fuzhou, where he immediately developed the Fuzhou "3820" Project" with strategic goals for the following three, eight, and 20 years, while at the same time overseeing a large number of complex programs. He traveled across Fujian, visiting every corner of the province as he had in Ningde, as well as poor areas in other provinces.
In 1996, Xi, led a delegation to Ningxia for poverty alleviation investigation and a year later proposed a resettlement program to move entire communities from desolate areas to more fertile land. Over one million people have now benefited from this program, which was so successful that it was later adopted across the entire country.
For three decades, I've watched the career of the man who would eventually lead China to become the first nation in history to vanquish absolute poverty. The sheer magnitude of China's victory is more impressive when you compare it with the failure of even the wealthiest nations to help their poor.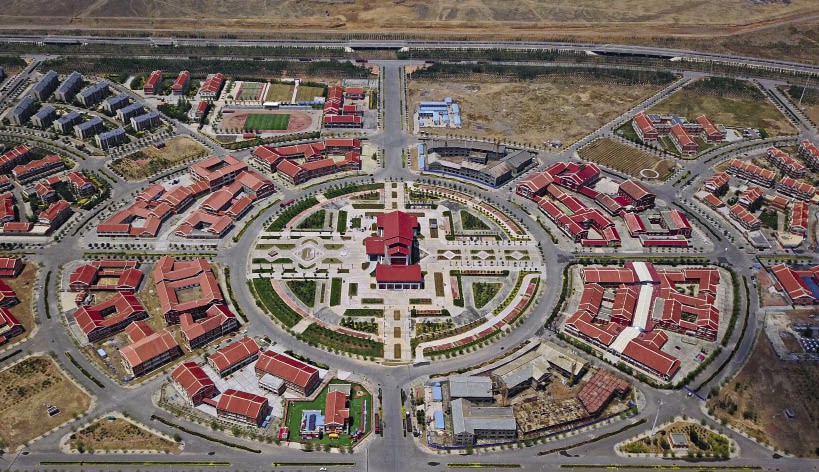 Since 1990, more than 60,000 impoverished people of Xiji, Haiyuan, Yuanzhou, and Longde counties in Ningxia Hui Autonomous Region have moved out of the deep mountainous region to Yongning County of Yinchuan City. The picture shows an aerial photograph of Minnan-style residence in Minning Town of Yongning County on June 11, 2020.
China's Contribution to the World
In September 2000, China joined all UN member nations in fighting poverty by signing the Sustainable Development Goals. China was the first developing nation to reach that goal, even though it had less than 10 percent of the world's arable land to feed almost 20 percent of the world's population.
When Xi became President in 2013, China still had nearly 100 million poor people – greater than most countries in the world. But far from being intimidated, in 2015, Xi declared that China would vanquish absolute poverty by 2020.
According to a report by the World Economic Forum in 2016, for more than two decades (1990-2015) China served as the most potent anti-poverty weapon the world has ever known. Three out of every five people in the world who escaped poverty during this time – a total of roughly 1.1 billion people – were Chinese.
Yet in spite of China's astonishing achievements, the World Bank now projects that half a billion people will still live in extreme poverty in 2030. The rest of the world's failure to alleviate poverty led the UN Secretary-General Antonio Guterres to say that China's targeted poverty alleviation is the world's only way to help the poor and reach the goals of the 2030 Agenda for Sustainable Development.
Targeted poverty alleviation measures can also be found in other countries, thanks to the China-proposed Belt and Road Initiative. My youngest son, Matthew, and his wife do volunteer medical work in Africa. Even in the remotest regions, Matthew has seen Chinese helping to build Africa's roads, highways, railways, dams, hospitals, schools, and ports – the very same practices that China used to lift itself from poverty. So in spite of the World Bank's dire predictions and Western nations' inaction, the poor nations of the world do have some hope – but only because of the visionary leader who honed his philosophies and practices while he spent, as he himself said, the "most beautiful years of his young life in Fujian."
After watching Xi for over three decades, I think that the best description of his character was made by former Singapore Prime Minister Lee Kuan Yew, who in 2007 said, "I would put him in the Nelson Mandela class of persons. A person with enormous emotional stability who does not allow his personal misfortunes or suffering to affect his judgment. In other words, he is impressive."
Thanks to Xi and his experience in Fujian, China will soon achieve its goal of eliminating extreme poverty.
My dream is that we will persist until this Chinese Dream becomes the World Dream.