THE clean energy industry has become an important engine for global economic growth. In the context of the global economic recession and oil price fluctuations brought about by the COVID-19 pandemic, the industry is playing a more significant role in boosting global economic transformation in a green and low-carbon manner.
In recent years, China has actively promoted the development of clean energy such as wind and solar power, and formulated plans for such development. The country has seen substantial improvement of the environment as it made great efforts in adjusting the energy mix, transforming the model for economic growth, tackling pollution, restoring the ecology, and promoting a green lifestyle among the general public.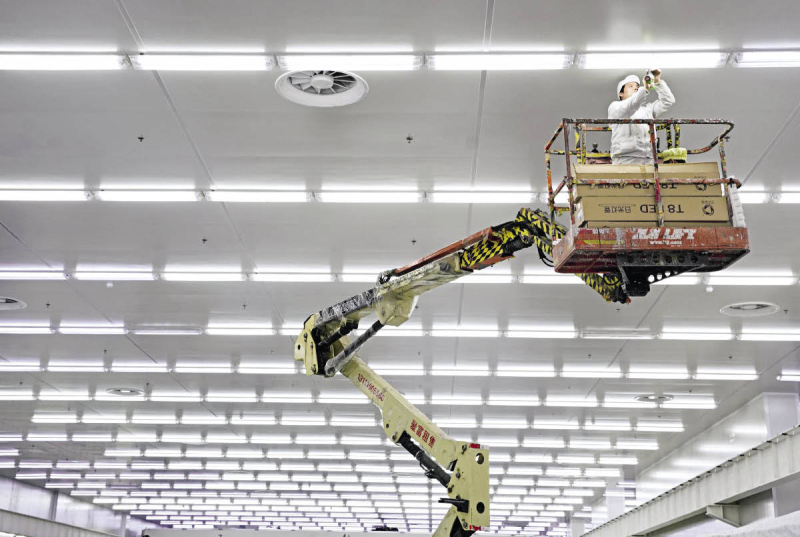 A worker in a solar power generation equipment manufacturing facility carries out maintenance on energy-saving lamps in Jinzhong City, Shanxi Province, on November 9, 2019.
Currently, installed wind and solar power capacities in China account for more than one-third of the world's total. In the future, transformation to clean energy in China is expected to speed up thanks to its strong policy support, huge market potential, powerful manufacturing capability as well as integrated and efficient supply chain. Such transformation will also give a strong boost to China's high-quality economic and social development.
Significant Increase
According to the annual report on China's ecological and environmental conditions released by the Ministry of Ecology and Environment on June 2, air quality in the country continued to improve, with 337 cities at the prefecture level and above recording good air quality on an average of 82 percent of the days in 2019. The quality of surface water was also getting better, according to the report, noting 74.9 percent of surface water monitored by the ministry was graded Class I to III (meaning the water was up to standard) in 2019, up 3.9 percentage points from the previous year.
While promoting economic development, China has been expanding the use of renewable energy to alleviate pressure on the environment. The idea of combining economic development with ecological protection has become the consensus of the whole society.
Since the introduction of the Airborne Pollution Prevention and Control Action Plan in 2013, China has been adjusting its energy mix, encouraging the use of clean energy in transportation, and intensifying regulatory measures on industries to reduce emissions amid efforts to defend "the blue sky." The measures have generated fruitful results.
According to preliminary calculations by the National Bureau of Statistics (NBS), the proportion of coal consumption nationwide in 2019 fell to 57.7 percent, a year-on-year decrease of 1.5 percentage points. The share of clean energy consumption rose to 23.4 percent of the total energy consumption, a year-on-year increase of 1.3 percentage points. High-polluting coal-fired boilers were basically phased out.
As China pays more attention to environmental protection and energy security, it has become the essential requirement of its energy revolution and the urgent need of economic and social transformation and development to build a clean, low-carbon, safe and efficient modern energy system, optimize energy structure, and achieve clean and low-carbon development.
Visionary Goals
In a large wetland in Yantao Village in Huzhou City, Zhejiang Province in eastern China, a woman rows her small boat through the "photovoltaic jungle" to catch mature crayfish. In greenhouses nearby, the cultivated dendrobium officinale, a medicinal herb unique to China, is flourishing.
This is the look of a project featuring farming under solar panels built by China Energy Conservation and Environmental Protection Group. With the project, cash crops are grown and aquatic products are raised under solar photovoltaic panels. While saving land, it also boosts agricultural production, supplies power generated from clean energy sources, and improves local people's income. New vitalities were injected into traditional photovoltaic power stations.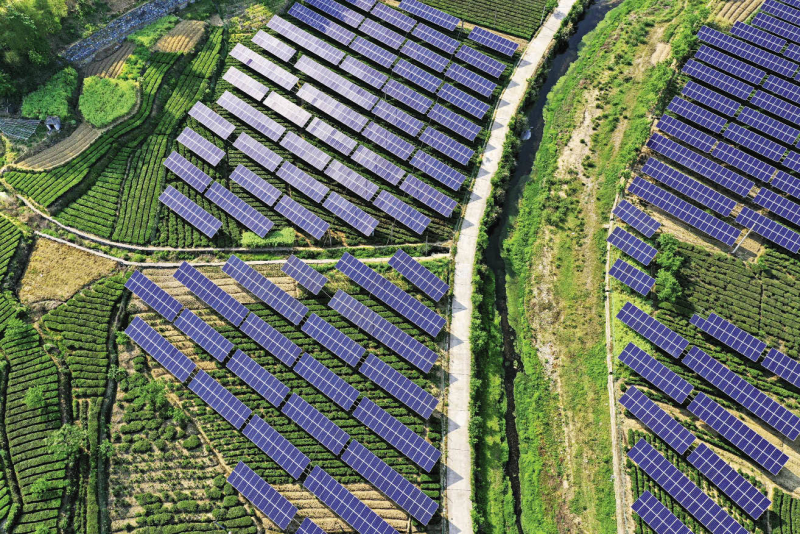 Photovoltaic panels installed in a tea garden in Maocao'ao Village in Huanggang City, Hubei Province.
In the future, the place will build a 40-hectare tourist spot, and develop into a demonstration base integrating solar power generation, aquaculture, intelligent agriculture, and cultural tourism.
China has become the world's largest market for solar energy application. According to data released by the NBS, China logged an increase of 17.4 percent in power supply generated by solar energy in 2019.
Liu Hanyuan, board chairman of Tongwei Group, one of the leading companies in China's photovoltaic industry, pointed out that over the past decade, with the joint efforts of global market players, the cost of photovoltaic power generation has dropped from RMB 100,000 (US $14,410) per kilowatt to no more than RMB 4,000 (US $576). Solar power has accounted for more than half of the global newly installed capacity of renewable energy for three consecutive years. "The current photovoltaic power generation has sufficient cost advantages," Liu said. Based on the equivalent energy output, the cost of photovoltaic power generation is already lower than traditional energy in many countries. Besides, the whole process of power generation has zero pollution or emissions. "The cost of photovoltaic power generation is equal to or lower than that of thermal power in some parts of China. It is primed for large-scale application," Liu said.
At present, most of the photovoltaic equipment in the world is made in China, and the market share of Chinese photovoltaic companies accounts for more than 70 percent of the global total, according to him. "When we first entered the field more than 10 years ago, high-purity crystalline silicon products sold at about RMB 3.3 million (US $475,200) per ton, and the current price is no more than RMB 70,000 (US $10,080). Our production capacity is already ranked among the top three in the world," said Liu. He believes that the fundamental way to treat pollution and mitigate global warming is to make affordable renewable energy universally accessible, upgrade the structure of energy production and consumption, enhance the penetration of electric vehicles, and generate power in a clean manner.
Li Xinlei, deputy director of the Institute of Environmental Politics, Shandong University, believes that countries across the world should make clean energy the core of their stimulus plans to cushion the heavy blow dealt by the ongoing COVID-19 pandemic. Large amounts of investments should go towards developing renewable energy including solar and wind power to steer the economy toward a green, low-carbon, and recyclable path. "China should and can be a pacesetter in this regard," Li noted.
The year 2020 is the final year of China's 13th Five-Year Plan period (2016-2020). Various sectors in China are now preparing for development over the next five years. At this critical moment, making visionary plans for the clean energy sector is of great significance to fundamentally tackling environmental pollution and reducing carbon emissions.
___________
WANG ZHE is a reporter with China Report magazine.