YONGTONGXIANG, an agricultural technology development company located in Lianyungang City of east China's Jiangsu Province, had developed quite well over the last few years, until 2020. Unfortunately, the COVID-19 epidemic brought an end to that.
An exchange activity on scientific and technological achievements and service is carried out in Fengxian County, Jiangsu Province, on May 29, 2020.
"Early February is the peak season for edible mushrooms, but the company almost shut down back then," said Lin Xiaolong, manager of Yongtongxiang. "I was terribly anxious. In fact, if not timely picked and processed, ripe mushrooms can quickly lose their flavor or be no longer edible at all," he said.
Yongtongxiang's business involves the growing, processing, and selling of edible mushrooms. Its products are exported mainly to the U.S., the Republic of Korea, and Japan, with annual sales of around US $8 million. During the COVID-19 outbreak, international demand for mushrooms has shrunk significantly, and as of March, only five containers of products were exported to the U.S.
Modify Business Model
To save its business, Yongtongxiang quickly changed its business model. The company started to dehydrate part of its shiitake mushrooms by modifying its production line to adapt to the domestic market demands.
"Because of good quality, our shiitake mushrooms, authentic organic products, are popular on the domestic market," said Lin Xiaolong. By the end of May, his company's four production lines were running at full capacity, producing five tons of fresh mushrooms and one ton of dehydrated mushrooms every day. As a result, Yongtongxiang's business is gradually finding a new direction.
"Currently export-oriented Chinese companies are facing many challenges, such as canceled or postponed orders, and reduced long-term orders," said Ren Hongbin, assistant minister of commerce of China.
"At present, the U.S. and Europe are severely affected by the epidemic. Beyond rigid demands for essential goods such as food and medicines, the consumer demand for non-essential goods will remain weak for the long term," explained Zhuo Xian, deputy head of the development department of the Development Research Center of the State Council. The resumption of work and production is faster in China than in other countries, as the country is putting the epidemic under control. Therefore, increasing domestic demand and selling products initially intended for export on the domestic market is important for China to stabilize the industrial and supply chain, as well as promote a virtuous cycle of production and consumption."
Government Support
During this year's Two Sessions, Huang Maoxing, a deputy to the National People's Congress and director of the School of Economics at Fujian Normal University, proposed that local governments adopt measures to help enterprises sell domestic market products initially intended for export. According to him, policy support in areas such as finance, taxation, employment, and social security is urgently needed to help companies ride out their current predicaments before the global economy recovers.
On April 15, the Ministry of Finance announced that from that day until the end of the year, deferred sales tax interest on the domestic market would be temporarily exempt for businesses who are in the process of transforming their business. This measure aims to reduce the internal sales costs of businesses and ease their financial pressure.
As many services like hairdressing became unavailable due to the epidemic, stay-at-home people began doing everything themselves, thus making sales of many home appliances surge remarkably. For example, sales of hair dryers and curlers have doubled, while some products such as hair clippers have sold out. Home appliance company Yueli in Ningbo, east China's Zhejiang Province has seen great benefits after seizing this opportunity. With sales of 100,000 electrical hair driers per month, it performed brilliantly against its competitors. As it previously focused on the U.S. and European markets, the company quickly created three brands for the domestic market and expanded the domestic sales team members from 10 to 300. In addition, Yueli has formulated a new development plan, with the goal of making domestic sales represent 50 percent of its total sales within five years.
To help similar businesses realize transformation, government departments at different levels have taken action. The municipal government of Cixi in Zhejiang Province implemented a support policy: from February to April 2020, large companies shall be benefited by a 50 percent reduction in insurance against work accidents, unemployment, and old age insurance. Local tax authorities refund 1,500 export companies export taxes of RMB 612 million.
Located in the Donghai Economic Development Zone of Jiangsu Province, the Boxing Nonwoven Fabrics Company is seeing burgeoning business. Specializing in the production of surgical gowns, operating sheets, and insulation gowns for export, after a temporary setback, it registered a sales value of RMB 22 million in April in the domestic market. For the brisk business, local policy support also played an important role. The municipal department of human resources and social security has implemented a deferred payment policy for the company in many areas such as old age insurance and unemployment insurance; the local economic development administration has provided labor and transportation guarantees; and the Donghai Economic Development Zone administration made the green passage available to help the company complete domestic sales formalities.
In addition, it is not uncommon to use big data to help businesses. One of the beneficiaries of big data is Zhang Rongjian, CEO of the Yipin Organic Tea Company in Huangshan, Anhui Province.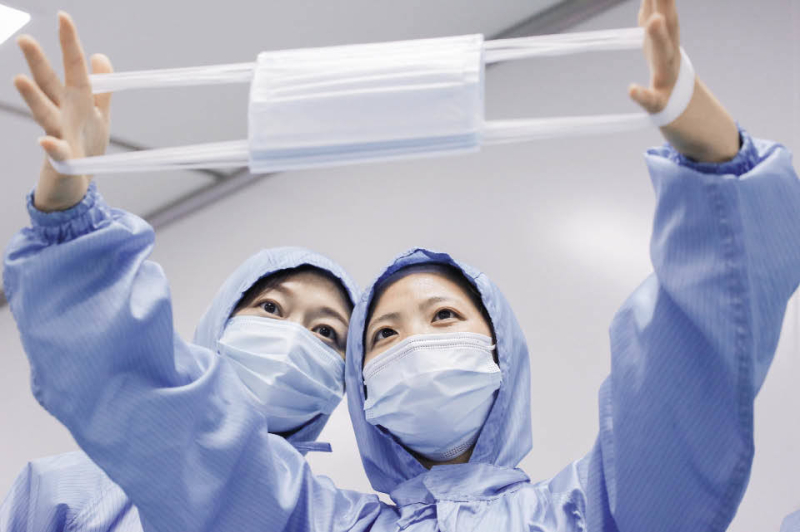 Tax officers learn about the trial production of the new mask equipment of a local company in Nantong City, Jiangsu Province, on May 19, 2020.
"The Tunxi District tax office has put our product information on the big data platform of the tax system, helping us connect with buyers," said Zhang. Now, the domestic sales are improving, and the number of orders is gradually increasing. In an attempt to resolve corporate financing difficulties, tax departments actively communicate with financial institutions, to promote the model of "getting loans by credit."
Helpful E-Commerce Platforms
"The government reduced the rent for our offices and provided protective supplies for the resumption of production. With the economic recovery, domestic sales are starting to increase," said Wen Tao, sales director of Xinjiaye Agricultural Products Company in Hunan Province. As a result, he is no longer worried about the future.
Located in Lixian County, this small export company was quite vulnerable. After the outbreak of the epidemic, it only concluded a citrus export deal for US $20,000. Subsequently, it then turned to the domestic market via such e-commerce platforms as Alibaba and JD. The company achieved sales of more than RMB 30 million in the first three months after the move, a figure exceeding their total export volume for the previous year.
Numerous e-commerce platforms have provided targeted technology, data, and logistic support to companies selling products initially intended for export to domestic customers, helping them to find a precise reorientation. The upgraded customer-to-manufacturer (C2M) business model helps companies understand the needs of domestic consumers, customize their products to the domestic market, and solve the problem of dormant stocks.
The kitchenware company Sanhe has 16 years of experience in subcontracting products for foreign trade. It produces more than 25 million cookers each year for sale in Europe and the U.S., and on the Italian market, its market share has exceeded 50 percent. In recent years, the e-commerce platform Pinduoduo has launched the "New Brands Project" which focuses on the development of Chinese companies. Sanhe was one of the first to participate.
"In accordance with the data analysis and operation suggestions provided by Pinduoduo, we have been able to carry out in-depth development on quality products at a price of RMB 99, to better meet the consumption habits of the Chinese," said Fang Cheng, CEO of Sanhe.
In fact, almost all major e-commerce platforms have launched similar plans. The plan developed by Alibaba consists of 16 support measures, covering online promotion of the originally export-oriented products and financial support. Jingxi, a social e-commerce platform owned by JD, has designed a project, planning to build an efficient retail system in China between consumers and 100,000 manufacturing companies.
In addition, many regions are promoting the new "government + e-commerce + social platform" model, helping export-oriented businesses find opportunities through product promotion.
The epidemic has had a huge impact on multitudinous enterprises of different sizes. However, it also marks a turning point for businesses, providing them with an opportunity to transform and modernize their business models. Many heads of foreign trade enterprises say that in the face of unprecedented challenges, they must react actively and redouble efforts to transform the crisis into an opportunity for development.
_______________
GUAN XIAOPU is a reporter with www.ccdi.gov.cn.