HUBEI cuisine became a countrywide trend in early April after a series of activities were livestreamed under the campaign called "Buy Made in Hubei products" via a range of online platforms. More than 540 million views, and 139,000 discussions around the campaign on China's premier social media platform Weibo showed enthusiastic netizens sharing orders on their favorite food like Wuhan hot-dry noodles and Hubei fried rice.
Deputy Party chief of Zigui County, Hubei Province Xu Benyu promotes local farm products via a live-streamed activity on April 29, 2020.
A Growing Hubei Market
China is ahead of the curve in its recovery from the recent COVID-19 outbreak. However, blocked supply chains and logistics problems amid the pandemic in Hubei Province, where the virus was first detected, severely affected the sales of its agricultural products. This surely affected the livelihood of businesses and farmers concerned. But help has arrived. On March 27, the China Media Group launched a media campaign focusing on live broadcasts to help Hubei, which received an overwhelming response from a wide audience.
On April 1, CCTV News new media platform, together with more than 20 well-known e-commerce brands such as Taobao, JD, and Pinduoduo officially launched a large-scale non-profit campaign entitled, "Thank you for group buying Hubei's products." Zhang Yuanmei, Secretary of Honghu Municipal Party Committee, Hubei Province, joined a live streamed program on April 1, showing how to make lotus root soup with pork ribs, which attracted more than 20 million viewers. Meanwhile CCTV news host Zhu Guangquan paired up with one of China's top livestreaming celebrities Li Jiaqi on April 6 to promote a range of commodities of Hubei, from hot-dry noodles to tea. The online show hosted by the unique pair drew nearly 122 million views, resulting in sales of about RMB 40 million worth of Hubei products.
This was followed on April 12, with a livestream program featuring another well-known CCTV news anchor Ouyang Xiadan together with three Chinese actors, the deputy mayor of Hubei's Shiyan City, and 66 sales influencers on the Chinese video sharing platform called Kuaishou. The combination of broadcasting on various media platforms such as the CCTVNews app, Weibo, and Kuaishou simultaneously attracted 127 million views. As of April 19, the campaign advocated by CCTV News had brought in over RMB 100 million for the sale of 796,000 tons of Hubei agricultural products.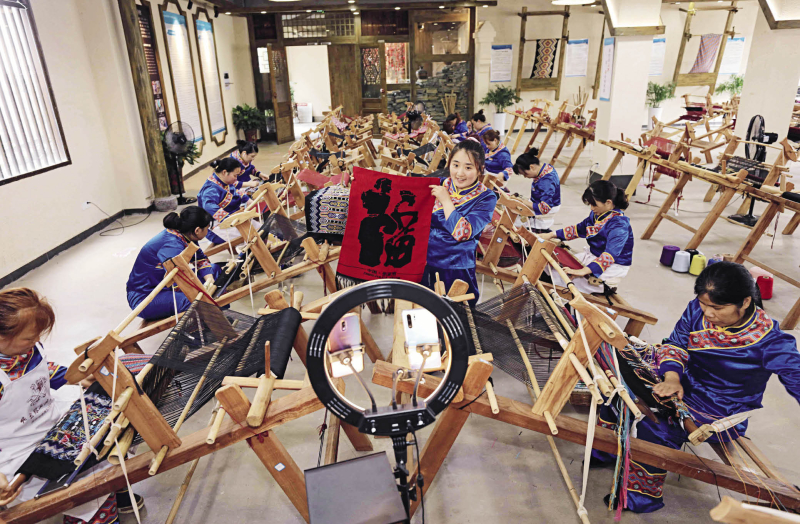 At the Guai Yaomei Tujia ethnic brocade base located in Zhangjiajie City, Hunan Province, salespersons showcase their brocade products via live stream on June 10, 2020.
Since then, this new method of sales promotion has continued to gain popularity nationwide, expanding to products from across the country. On May 1, CCTV hosts Kang Hui, Sa Beining, Zhu Guangquan, and Nigel Maiti launched a live broadcast with the theme of "Let's Go for a Better Life." TV sets, washing machines, and air conditioners sold out immediately, with the total sales volume exceeding RMB 528 million.
On June 6, the opening day of the "Beijing shopping season," a star-studded group of TV hosts helped to secure sales worth more than RMB 1.39 billion in a three-hour livestream in Wangfujing, Beijing. During the livestream, the promoted products covered a variety of categories, like food and beverages, electronics, household appliances, and cars.
These sales campaigns are a clear indication of the massive sales impact made by live broadcasting and the huge potential of domestic demand after the pandemic.
Surge of E-Commerce Sales in Live Streaming Era
Influencer marketing is a form of e-commerce marketing involving endorsements and product placement from influencers through live broadcasts. It evolved from traditional TV shopping advertisements. In recent years, the ever-changing Internet technology has provided more opportunities and platforms for a range of enterprises, thus giving birth to live streaming shopping. This convenient and fast buying mode has quickly gained attention, greatly lowering the threshold of e-commerce, both for sellers and consumers. Lower prices, seeing the hosts test the products in real time, interaction with audiences, and lucky draws are all factors that attract consumers to live streaming.
Live streaming platforms are enjoying a significant spike in viewership amid the coronavirus pandemic in 2020. The COVID-19 outbreak hasn't resulted in lower customer demands over the past few months; instead, new forms of consumption are emerging, and new forms of business are flourishing. According to China's Ministry of Commerce, there were more than four million live streaming shows during the first quarter of 2020; more than 100 government officials became the influencers to boost their hometown specialties. According to Taobao, China's leading e-commerce platform, the number of new merchants using its live-streaming platforms surged more than eightfold from January to February, with transactions in March up 160 percent year-on-year.
Live streaming is becoming an integral part of Chinese people's shopping mode, as well as a new channel to promote sales and a source to generate income, widely used by businesses across the spectrum. An 80-year-old grandmother Cui Shuxia, in northwest China's Shaanxi Province, has won the hearts of netizens across the country by helping her grandson sell red apricots through her rustic and humorous style of live streaming. In less than one week, her stream reached more than 10 million views, and the average daily sales of her hometown apricots have exceeded RMB 10,000. Inspired by CCTV's live broadcasts, news anchors from regional TV stations such as Hunan Satellite TV and Dragon TV have seen great success in sales of agricultural products by cooperating with social media influencers and celebrities in assisting with poverty alleviation and helping farmers via livestream. This also makes the live shows more interesting for viewers, as it combines the credibility of mainstream TV media with the appeal of social media influencers and other celebrities.
Every new industry will meet challenges in its embryonic phase. To assist with this, the China General Chamber of Commerce has drafted two national standards, The Basic Specifications for the Operation and Service of Live Streaming Shopping and The Evaluation Guide for the Integrity Service System of Online Shopping, which were released and implemented in July. Entrepreneurs who are looking to take their brand to the next level are bound to include live streaming and influencer marketing in their business plans.