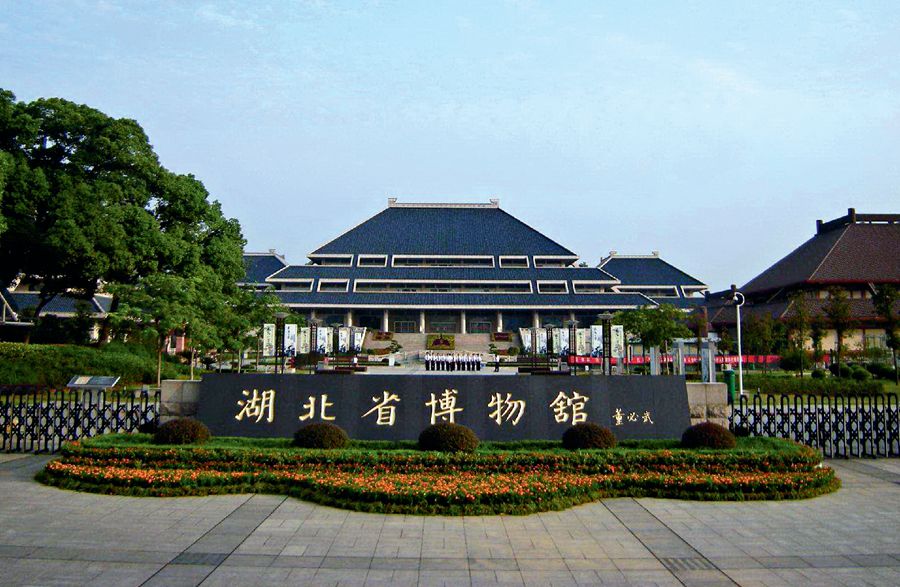 Hubei Provincial Museum
Located in the East Lake of Wuchang District, Hubei Provincial Museum represents distinctive Chu architecture, featuring high foundations, broad eaves, and one-piece sloping rooves. The museum has one main building flanked by two wings. The national first-class museum has 260,000 sets of cultural relics, many of which are rare treasures and important materials for scientific research. Bronze vessels, lacquer woodworks, and bamboo slips are part of its unique collection. It also houses the largest exhibition hall for Chinese ancient musical instruments. Among the collections, there are 945 pieces or sets listed as state first-level cultural relics, and 16 as national treasures, which include the chime bells of Marquis Yi of Zeng.
How to get there: Bus line 14, 108, 402, 411 or 552.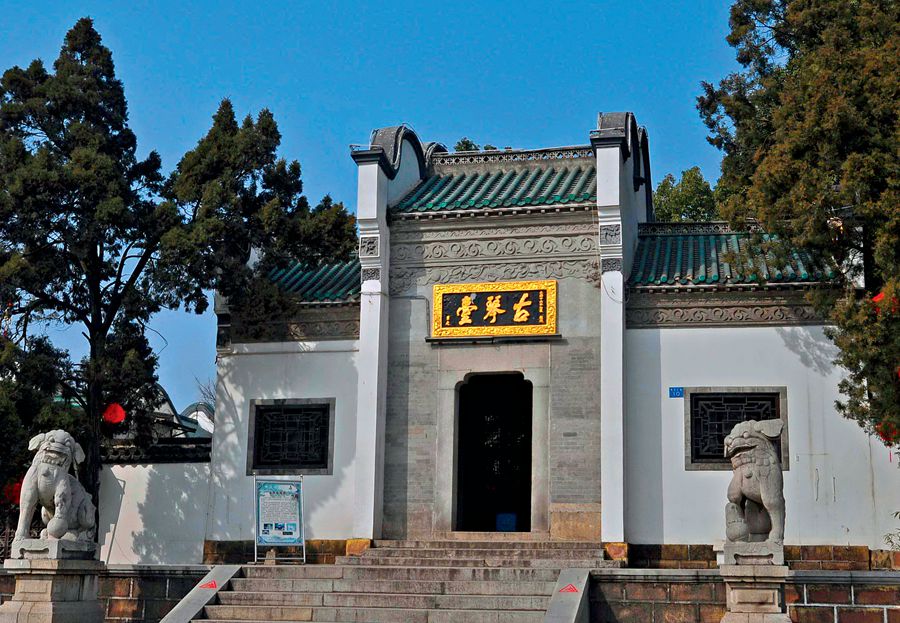 Guqin Platform
The ancient Guqin Platform is situated on the bank of the Moon Lake, at the west foot of Guishan Mountain, Hanyang District. The memorial site was to honor the friendship of Yu Boya and Zhong Ziqi from the Spring and Autumn Period (770– 476 BC). It is said that Boya was good at playing guqin, a plucked seven-string Chinese musical instrument of the zither family, whereas Zhong Ziqi was good at listening to it. Whatever thoughts Boya had, Ziqi would always understand. From their story, a term of zhiyin, literally translated as "to know the tone," has come to describe a close and sympathetic friend.
The layout is well designed with a main hall, a courtyard, a garden, and a tea room. In front of the main hall, the square-shaped Guqin Platform is built with white marble and measures 20 square meters. First erected in the Song Dynasty, the platform was destroyed and rebuilt in 1796. Together with Yellow Crane Tower and Qingchuan Pavilion, it is known as one of the top three scenic spots in Wuhan.
How to get there: Electric bus line 1 or 4; bus line 10 or 402.
Yellow Crane Tower
The Yellow Crane Tower is the landmark of Wuhan. First built as a military fort at one corner of the city in 223, the tower then evolved as a destination of entertainment. It was made famous by poets Cui Hao (704 to 754) and Li Bai (701 to 762) during the Tang Dynasty. The current structure was built in 1981 after several reconstructions. It is a five-storey building on the Snake Hill, 61.7 meters above sea level, and covers an area of 3,219 square meters.
The roof is constructed with more than 100,000 golden glazed tiles, adding a unique Chinese style to the entire building. It is in perfect harmony with the Wuhan Yangtze River Bridge at the foot of Snake Hill. Looking out from the tower, tourists have a panoramic view of the three sectors of Wuhan.
How to get there: Electric bus line 1 or 4; bus line 10, 61, or 64 to Yellow Crane Tower stop.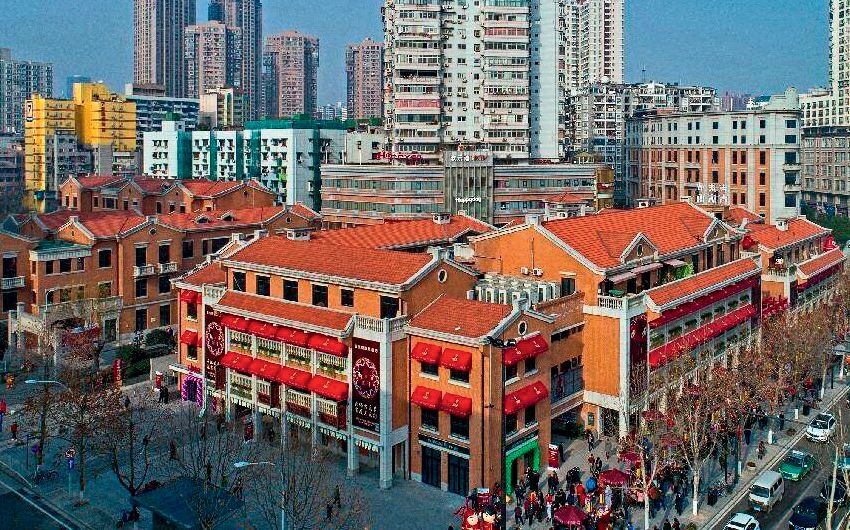 Jiqing Street
Jiqing Street is known for its glamorous nightlife. Stretching from Dazhi Road in the east to Jianghan Road in the west, it is a street lined with food stalls. Quiet during the day, the street comes alive after night falls when masses of neon lights illuminate the festive area. A marketplace where indigenous street food meets local casual folk performances, Jiqing Street is a gateway to experience the unique urban energy of Wuhan.
How to get there: Take the ferry to cross the Hanjiang River and start the journey from Hanjiang Road. After a 200-meter walk, arrive at Jiqing Street for folk performances and local delicacies. Or take night line 38 or bus line 402 or 520 to Nanjing Road stop on Zhongshan Avenue.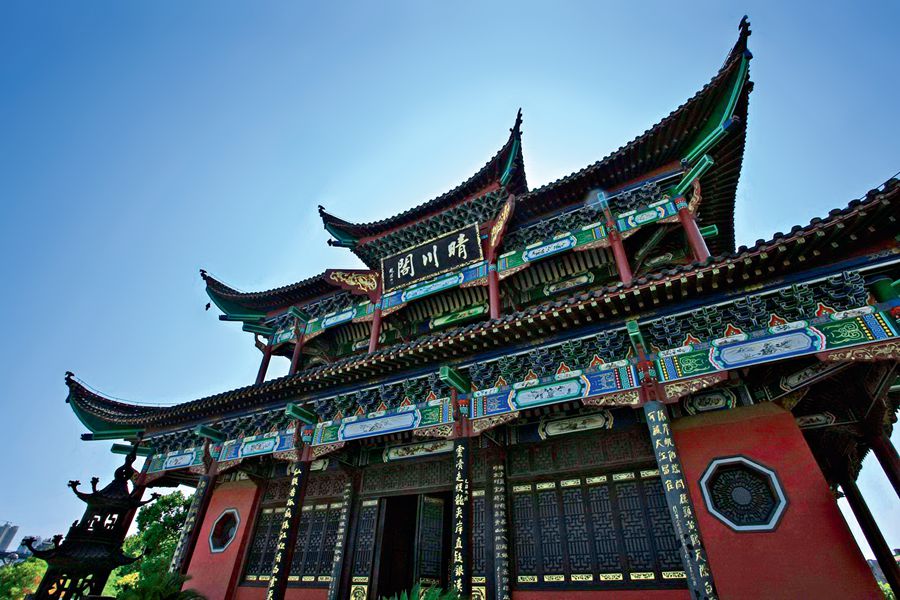 Qingchuan Pavilion
On the east foot of Guishan Hill, the Qingchuan Pavilion is the only such historical site towering over the Yangtze River in Wuhan. It faces the Yellow Crane Tower on the opposite side of the river.
First built in 1547, it was dedicated to Yu the Great for his achievements in flood control in the Chinese heartland. The existing main building was reconstructed in 1985 after several destructions and reconstructions. With a granite foundation, red walls and columns, multi-layered eaves and a penthouse-like roof, the 17.5-meter-high main building of Qingchuan Pavilion is a good representation of the Chu culture.
How to get there: bus line 30, 45, or 108 to Qingchuan Pavilion stop.