THE year 2020 marks a decade since the launch of the Free Trade Agreement between China and Peru, two countries with a longstanding friendly relationship, which is also reflected in their economic ties. China has been the prime commercial partner of the South American nation for six consecutive years. At the end of last October, Walter Martos Ruiz, who was then the Prime Minister of Peru, took time out to speak to China Today about his confidence that the increase in trade relations with China will favor the policy of economic reactivation promoted by the government of President Martín Vizcarra. The following is an edited excerpt of the interview.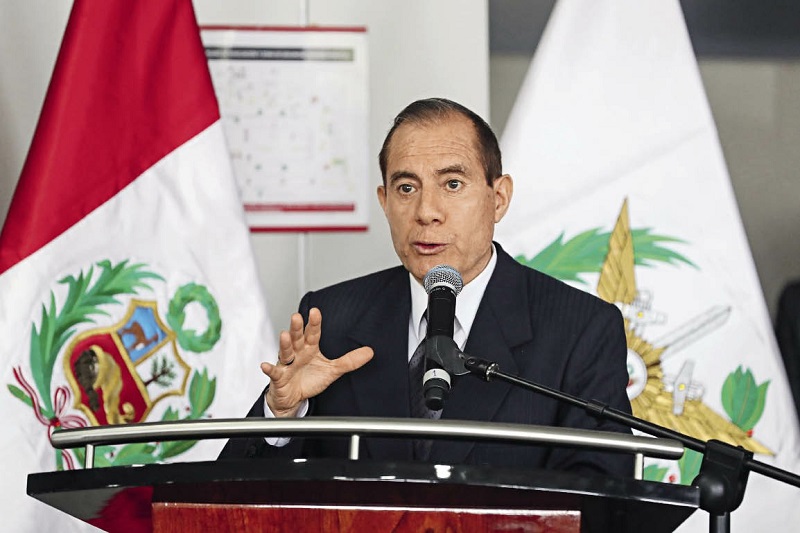 Walter Martos Ruiz, former Prime Minister of Peru.
China Today (CT): What is your assessment of the collaboration between China and Peru to successfully deal with the COVID-19 pandemic?
Walter Martos Ruiz (WMR): The collaboration between the Chinese government and Peru is important. Donations of medical and surgical equipment, masks, gloves, thermometers, and ventilators have arrived in Peru. Likewise, a delegation of Chinese specialists arrived, traveling through the provinces with the highest risk of infection, where they collaborated with local scientists by giving recommendations and crucial information to combat COVID-19.
Knowing about China's experience in the fight against COVID-19 has been fundamental. An example of the help from China has been the recommendations of Chinese experts for the mandatory use of face masks in the first phase of the outbreak, when it was not mandatory in many countries. In Peru, the use of masks was mandatory from almost the beginning of the pandemic, thanks to the information provided by Chinese specialists.
It should be noted that our government has worked together with the Chinese Ambassador to Peru, Liang Yu, whom we thank for his ongoing efforts to obtain important donations from the Chinese government and Chinese companies that operate in Peru. The National Emergency Operations Center, which has been operating since July in the Lima district of Chorrillos, was given a donation from the Chinese government, along with the Armed Forces of Peru, which included field hospitals and medical equipment.
CT: What are your views on the development of clinical trials in Peruvian volunteers on a potential vaccine from Sinopharm? What do you think of its results and what goals does the Peruvian government have?
WMR: The government of Peru considers Sinopharm one of the most important laboratories in the world, and for this reason it was of great importance to get Peru considered for the third phase of testing of its vaccine against COVID-19. Through the Ministry of Health and the Ministry of Foreign Affairs, Peru has signed agreements and memoranda of understanding with various laboratories worldwide, thus monitoring the development process of each vaccine.
With Sinopharm, 6,000 Peruvian volunteers are participating, and 6,000 more have joined for the third phase of testing of the vaccine. The results have been positive so far, and the main objective of Peru is to be one of the first countries to receive the vaccine. With Sinopharm, a commitment has been reached to receive 10 million vaccines for Peruvian citizens, once the three phases of vaccine development are completed.
CT: Do you think that in light of COVID-19, China's economic recovery could favor Peru's policy of economic reactivation?
WMR: According to World Bank reports, China is the only country in which GDP has continued to grow in recent months, and this is a good sign for all countries that, like Peru, have China as one of their main business partners. It must be taken into consideration that Peru and China have signed a Comprehensive Strategic Association agreement, and this will help both countries, after the pandemic, to continue to increase their bilateral trade.
It should be noted that exports to China have been developing quite regularly, despite the current restrictions on international trade. The products that are exported from Peru to China have been diversifying, and we can affirm that the Peruvian economy has grown in recent years, thanks to our strategic relationship with China.
Peru is in a process of economic reactivation in a gradual and prudent manner. In this sense, the increase in trade with China will help some economic activities to thrive and increase, such as exports of agricultural and fishing products.
CT: How do you see the future of Chinese investments in Peru, given that an electoral process and a change of government are coming in April 2021?
WMR: Chinese investments are welcome in Peru. We consider relations with China very important for the development of our country and, therefore, we feel that they will continue to strengthen.
There are many projects in various sectors, such as energy and infrastructure, which arouse the interest of Chinese investors. Peru is confident that Chinese investments will continue. It should be noted that in Peru there is a state policy that recognizes the existence of only one China, a country with which we have been linked to by migratory and cultural ties since the 19th century. Peru is committed to carrying out a transparent and safe electoral process in 2021, and all the political parties that will participate in this process show great interest in continuing to maintain the close relations with China, considering above all, the important international role of China today.
CT: This year marks the 10th anniversary of the Free Trade Agreement between Peru and China. What do you think are the benefits of this agreement for both countries and what path will bilateral diplomatic relations follow?
WMR: The Free Trade Agreement has been one of the main mechanisms that has boosted the constant increase in trade between Peru and China over the last decade. Peru's exports to China have been increasing every year, and imports from China are very important for boosting the Peruvian economy.
During these 10 years, there have been many benefits for both parties. The Peruvian economy has grown considerably thanks to our relations with China, which is Peru's main trading partner. Promperu (the Commission for the Promotion of Peru for Exports and Tourism) has many projects to promote export of non-traditional products to China.
Therefore, the Peruvian Ministry of Foreign Affairs has repeatedly pointed out that the governments of Peru and China have common positions in the international arena, such as supporting multilateralism and the opening of economies. Bilateral relations between the two countries will continue to improve after the pandemic. We are confident that our relationship will continue to grow.