On April 12, a new batch of 500,000 doses of COVID-19 vaccine developed by Chinese pharmaceutical company Sinovac arrived in Bogotá, the capital city of Colombia. On March 20, following the arrival of a prior batch of vaccines, Chinese President Xi Jinping addressed the Colombian people in a video message, which is taken as a special gesture. In a conversation with China Today, Colombian Ambassador to China Luis Diego Monsalve reflected upon this gesture, and also emphasized Colombia's objective to join the Belt and Road Initiative (BRI). He expects that President Iván Duque will be able to visit China in November.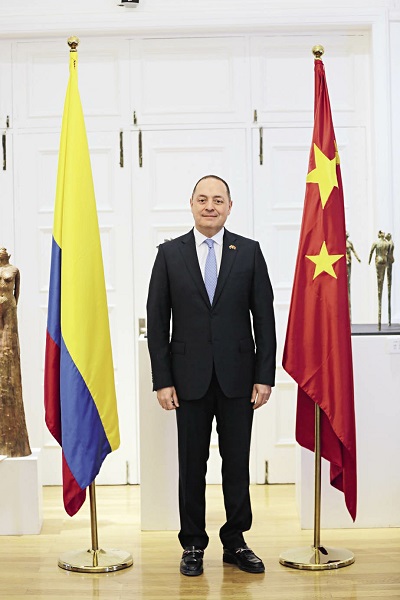 Luis Diego Monsalve, Colombian ambassador to China.
China Today (CT): Following the arrival in Colombia of a batch of Sinovac vaccines, at the invitation of President Iván Duque, Chinese President Xi Jinping addressed via video message the Colombian people. How did this idea come about?
Luis Diego Monsalve (LDM): This was the successful outcome of work that has been done in recent years by President Duque, who has focused on deepening and expanding relations with China. He made a state visit to China in 2019 when he had been president for less than a year, and had a meeting with President Xi Jinping.
In the midst of this COVID-19 crisis, China has been very generous in allowing the export of vaccines to many countries, including Colombia. There was a telephone conversation between the two presidents in late February. Many issues on the bilateral agenda were touched upon and one was that of vaccines. It was agreed that China would continue to support Colombia in its fight against the pandemic and allow it to be part of its vaccine export plan.
During the call, in a very spontaneous way, President Duque raised the idea of President Xi Jinping directly addressing the Colombian people, and President Xi Jinping thought it was a good idea. As a result of that, a video was prepared by President Xi Jinping, which was released in Colombia on March 20, when a batch of vaccines arrived and the total delivery of the first 2.5 million doses had been completed. Today 500,000 more doses have arrived, bringing the total number of vaccinations to three million.
CT: Sinovac vaccines have been vital in immunizing the Colombian population of the Amazon region. Are you going to seek acquisition of more vaccines developed in China?
LDM: Of course. The first point is that, even before the conversation between the presidents, Colombia already had an agreement with Sinovac to acquire 7.5 million doses of vaccine, which means 4.5 million pending. We hope that will be handled in a timely manner in the coming weeks. The Sinovac vaccines have been a key element of Colombia's national vaccination plan. The Columbian government has been using other drugs, but during this first stage, Sinovac was the main vaccine that was used and, as you said, it was very important to be able to cover the Amazon region to control and limit the entry of the strain that is developing in Brazil, which seems to be much more aggressive.
The message is that we are very grateful. President Xi Jinping has clearly stated that vaccines should be a common good, and we understand that China is going to great lengths despite its own needs to maintain the flow of vaccines to other countries. Colombia is a very friendly country with China. In recent years, bilateral relations have been further strengthened. This support from China is a way of showing that.
CT: China has begun to shape a new economic pattern, the "dual circulation," in which the stimulation of domestic demand could generate great opportunities for exports. How do you hope to take advantage of this new development stage?
LDM: We certainly welcome China's "dual circulation" economic pattern. The Chinese domestic market grows and at the same time it entails opportunities for foreign entrants, which will increase the market share of countries like Colombia.
Colombia is a complementary country to China economically. We are a country abundant with agricultural produce, as well as products from other sectors that can meet some of the needs of the Chinese market. China has a vast domestic market with great consumption capacity, which is very important for Colombia. So in order to get out of the economic crisis that the pandemic has generated for us, being able to see a growing Chinese market where our products can reach, is essential.
CT: How are the preparations for the fourth China International Import Expo (CIIE), in which Colombia is expected to be the guest of honor country?
LDM: We are very excited and looking forward to participating in it with a very solid presence from Colombian exporters and exhibitors. During his fruitful conversation with President Xi in February, President Duque indicated that he would love to come to China again in November for the CIIE. It would be of great significance.
Last year we had already been informed that we would be the CIIE's guest of honor country, but obviously there was no presentation of country flags at the end due to the circumstances of COVID-19. We hope that this year it will happen and we will have a very large presence and, if all goes well, with the in-person attendance of President Duque.
We will have all our traditional products on display. We hope that by the time the CIIE is held this year, Colombian beef will have already been approved for import and can also be presented as a new Colombian product.
CT: In 2019, a consortium led by Chinese companies won the bid for the construction of the Bogotá Metro. It is kind of the flagship Chinese investment in Colombia today. What are you planning to do to encourage the arrival of more Chinese investment?
LDM: We are undoubtedly very happy. It is the largest project being carried out in Colombia and probably one of the largest in Latin America.
There are more projects that have been initiated over the last two years. For example, the project RegioTram de la Sabana de Bogotá will be carried out by another important Chinese construction company to build a regional commuter train line. Similarly, in a large renewable energy generation project bidding a year ago, a Chinese company also participated and won the contract for developing solar farms. And there is a very important mining investment on the part of Zijin Mining, a Chinese company from Fujian Province and a large gold producer, which acquired a mine in Buriticá, one of the most important gold mines in Latin America.
There are also other instances where Chinese companies are participating in the construction of hospitals and roads. There are companies like BYD and other electric vehicle manufacturers that are playing an important role in the development and transformation of main Colombian cities' transportation systems. We see this as a great environment for growth and a very important moment for Chinese investment in Colombia.
CT: Has Colombia considered participating in the Belt and Road Initiative? Has this issue been discussed between President Iván Duque and President Xi Jinping?
LDM: In 2019, when he came to China, President Duque presented President Xi Jinping a proposal called the China-Colombia Initiative, which is in line with the postulates of the Belt and Road. It is the focus of my attention currently. Perhaps due to the circumstances of the pandemic, the possibility of frequent communication and meetings has been lacking, but the documents are being shared and we hope to be able to reach a positive outcome soon, including on the Belt and Road and China-Colombia initiatives.
It's very possible that President (Duque) will come (to China) in November, which would be another milestone.
CT: Could we state as a fact that Colombia will join the Belt and Road?
LDM: Right now, yes. That is the goal.