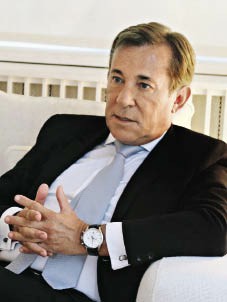 "This transformation from a regional initiative to a global one shows the extent and importance of the initiative."
ALTHOUGH the battle against the COVID-19 pandemic continues to rage across the world, the past few months have been so auspicious for Sino-Argentine relations that in this South American country, there has been discussion of the birth of the "ArgenChina." In fact, China has overtaken Brazil to become Argentina's main trading partner, a country that will also be the guest of honor at the third China International Import Expo (CIIE), to be held this month in Shanghai.
During the following interview with China Today, Argentina's new ambassador to China, Luis María Kreckler, confirms that his country is making plans to join the Belt and Road Initiative (BRI) very soon. This decision would make Argentina the 20th country in Latin America and the Caribbean to join the initiative.
China Today (CT): Ambassador, the fight against COVID-19 remains the main hot topic nowadays. Argentina is also part of the clinical trials of the potential vaccine which is developed by the Sinopharm Group. In light of this, how does your government look at this cooperation with China?
Luis María Kreckler (LMK): It is difficult for me to rate it because it is so invaluable to us. Ever since the pandemic began, China has done much to lend us a helping hand. At this moment we are going through what I believe to be the peak of the pandemic for our country, and for almost five months, China has collaborated with our country with supplies to prepare the entire Argentinian health system for this peak.
On a practical basis, Sinopharm has been very important because, as you know, Peru has also joined together with Argentina, the United Arab Emirates, and other countries to do vaccine testing.
We believe that having our laboratories participate in the final stage of testing this inactivated virus vaccine is very important, for it is one of the most advanced among the several that are being tested globally. We hope that the tests will be a success, because the results will lead to negotiations on how to have this vaccine in our country, with the possibility of producing it jointly with Argentine laboratories.
CT: After 20 years of negotiations, Argentine lemons have entered the Chinese market, and will be part of Argentina's exhibition at the CIIE. What preparations have you been making for this CIIE, bearing in mind that Argentina will be one of the guests of honor countries?
LMK: Argentina places high value on the CIIE, and since its inception, has participated a lot in it. As you have said, this year we will be "guest of honor" and, therefore, will have a Country Pavilion especially dedicated to promoting the country of Argentina as a whole, featuring themes ranging from agriculture to football. In addition, we will have two stands covering an area of about 900 square meters, where not only will there be Argentine lemons, but also private companies from sectors such as meat, wine, dairy, fishing, poultry, among other participants that will be present.
The entry of Argentine lemons into the Chinese market has been important. After 20 years of negotiations, today Argentine lemons are sold in China, but at the CIIE we are going to exhibit various kinds of products, mainly food, which is Argentina's greatest asset. We are going to bring all kinds of food that we are exporting to China, which over the last three months has surpassed Brazil and become our top commercial partner.
As China and Argentina are complementary economies, this CIIE presents us with a unique opportunity to increase business contact between companies of both countries and thus increase our exports.
CT: Will President Alberto Fernández be present at the CIIE?
LMK: For now, we have confirmed the trip of Foreign Minister Felipe Solá, some other ministers, and quite possibly President Fernández. Due to the uncertainty of the COVID-19 pandemic, I cannot guarantee that these arrangements will materialize. But we and the Chinese government are excited with the prospects of President Fernández attending the CIIE.
CT: After the entry of lemons into the Chinese market, what are the prospects for trade with China?
LMK: Look, China is a buyer with 1.4 billion people and has an enormous scope. For this reason, our objective is not only try to sell you more quantity of products, but sell you more added value. We are selling commodities. Our biggest sales are in the sector of primary products, with some type of added value, based on the agricultural field, and, therefore, we are looking to sell more food.
With an increasing consumer demand in China for our food, Argentina is preparing to sell more food to China. We have had a significant trade deficit with China in recent years, but that is decreasing, having a very small deficit at the moment. We hope to balance this aspect as quickly as possible with the increase in exports.
As I mentioned earlier, China has become the main destination for our exports. Despite that fact though, we are continuing to work to reduce bilateral trade deficit. Today, there is a wide-open market for chilled beef with and without bones, frozen without bones, pork, goat meat, blueberries, cherries, table grapes, aquatic products, dry pasta, and other products like our various kinds of renowned wine.
CT: Regarding the Chinese consumer demand for food that you mentioned, Argentina has been discussing the possible agreement to export pork to China. What makes this agreement so important?
LMK: We have a memorandum of understanding that we signed with China to start designing pig farms in Argentina for the Chinese market. According to usual protocol, the process first begins with the signing of a government-to-government agreement, and then the private sectors of both countries are put to work on this issue.
Presently, we are producing around 450,000 tons of pork, and we intend to increase that production level to more than 800,000 tons within the next two or three years. We will start this work by establishing 10 farms, each having between 10,000 and 12,000 sows, which will allow us to considerably increase pork production for the Chinese market during the aforementioned period.
Your information is accurate, it is an important milestone for Argentina. Also, a lot of jobs will be created for our country. As a result of the African swine fever, China had to slaughter around 50 million pigs. As a result, the country has a great demand for pork and protein to feed its population.
CT: Is the agreement expected to be signed in November?
LMK: Yes, yes, of course. Our deadline is November.
CT: So far, 19 countries in Latin America and the Caribbean have formally participated in the BRI. The Argentine Press said that there is already a green light from the Argentinian government for Argentina to join the initiative. Is that the case?
LMK: That's right. We are planning to join very soon, but I can't tell you exactly when. The entry of our country to the New Silk Road, as we call it, could be finalized with the visit of President Fernández to China.
The four major Latin American countries of Mexico, Brazil, Colombia, and Argentina have not joined yet, but we are undoubtedly going to join. I cannot tell you when, but yes, Argentina intends to join.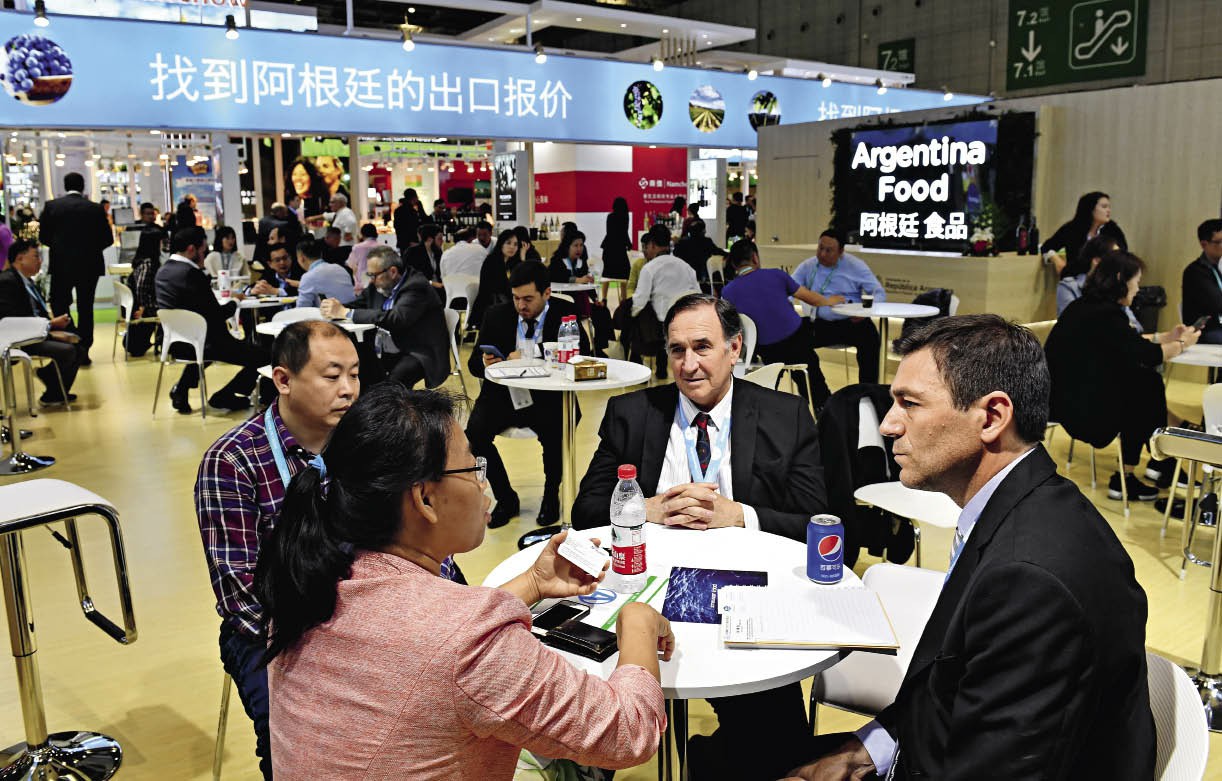 The Argentine food export negotiation zone at the Second China International Import Expo.
CT: What is your opinion of the BRI?
LMK: The focus of the BRI has continued to evolve since it was launched in 2013. At first, it focused on Central Asia, part of Europe, and Africa, and then later expanded its focus to other regions such as Latin America. This transformation from a regional initiative to a global one shows the extent and importance of the initiative.
Its relevance has been demonstrated through the government participation at the highest level of many countries in the two Belt and Road Forums for International Cooperation held in 2017 and 2019. Argentina has participated in both of them, and we hope to continue participating in the future.
The BRI is undoubtedly one of the most important initiatives in the world and provides enormous opportunities in terms of infrastructure in the areas of transport, energy, telecommunications, as well as financing. In other words, it offers wide possibilities for cooperation in areas that our country needs to have more development. And for us it is important to improve all infrastructure and solve logistics issues in Argentina as part of this initiative.
CT: Do you like the term "ArgenChina," as it has been published in the Argentine Press?
LMK: We have a traditional relationship with China. Although Buenos Aires and Beijing must be two of the most distant capitals in the world, the relationship between them has always been very close and deepened as a result of the efforts of both countries. And this has been reflected in the investments the People's Republic of China has made in Argentina over recent years.
Obviously, when investments are made and trade increases enormously as a result, it means — I do not know if we could say "ArgenChina"— but it does mean that China is an important partner to Argentina, and we have been declared a comprehensive strategic partner of China, a status that China gives to very few countries. It is evident that there is a relationship built on friendship and closeness between the two countries that must be highlighted.