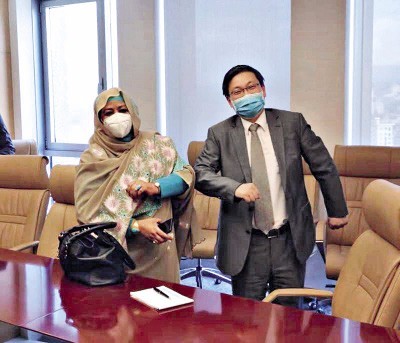 China's Ambassador to the African Union Liu Yuxi (right) with Commissioner for Social Affairs of the African Union Commission Amira El Fadil.
IN face of the global outbreak of the contagious coronavirus disease 2019 (COVID-19), China and Africa have made concerted efforts to contain the pandemic. In reflection upon history, China and Africa, in the struggle against imperialism, colonization, apartheid, and in the endeavor to win national independence and liberation, have forged a brotherhood of common aspiration and solidarity in the pursuit of economic development and national rejuvenation. As the world ushered in the new century, China-Africa relations have embarked on a fast track of development. To achieve common development, oppose hegemonism and power politics, safeguard multilateralism, China and Africa are united in close cooperation. The Forum on China-Africa Cooperation has won acclaim in the realm of international cooperation with Africa, and the headquarters of the African Union and other new landmarks of China-Africa cooperation constitute the symbols of vitality of China-Africa friendship in the new era. China has been Africa's largest trading partner for 11 consecutive years and is an important booster for Africa's development and rise. No matter how the international situation changes, China and Africa will always be connected, as guardians of each other's development, and fellow travelers braving hardships.
This year, the COVID-19 epidemic has swept the world leading to a global public health crisis, an unfortunate situation but one which has helped consolidate and sublimate the brotherly friendship between China and Africa in the trying times. Whether it is to give each other the most powerful support in fighting the epidemic, opposing the politicization of the epidemic and the labeling of the virus, calling for strengthening international cooperation in fighting the epidemic, or supporting the WHO in leading the global anti-epidemic efforts, China and Africa are at the forefront of the world, once again setting a model of South-South cooperation and building a community with a shared future for mankind. The Chinese people will not forget that at the most difficult time in the fight against the epidemic, the African Union and African governments and peoples always maintained strong unity with the Chinese people, and gave China the most resolute moral support, with some African countries even providing valuable material assistance, something which the Chinese people bear in mind and have been deeply moved by.
As the epidemic continues to spread in Africa, China, still confronting the task of domestic epidemic prevention and control, has extended its helping hands to Africa, and Chinese non-governmental organizations and enterprises have actively contributed to epidemic prevention in Africa. This is not only out of the spirit of international humanitarianism, but also the due meaning of China-Africa community of a shared future. President Xi Jinping has made special calls to some African state leaders to express solidarity and support. He called on the G20 countries to help developing countries with weak public health systems to improve their coping ability. China has provided batches of medical material assistance to the African Union and African countries, including medical masks, protective clothing, and testing kits, organized Chinese experts to hold a video conference on anti-epidemic experience exchange with African countries, mobilized thousands of Chinese medical team members in Africa to actively participate in the anti-epidemic moves in their host countries, and actively assisted Africa in purchasing materials from China.
On April 16, two Chinese government-chartered planes carrying Chinese medical experts and materials arrived in Ethiopia and Burkina Faso to help the two countries and their neighboring countries in their fight against the epidemic. Six years ago, China once sent its medical team to help Africa battle Ebola; and now, China is renewing this all-weather friendship. China will continue to increase its support for Africa's anti-epidemic efforts within its capabilities until the final victory against the epidemic is achieved.
At present, as the epidemic continues to spread, China's resolute efforts to prevent the epidemic's resurgence continue to increase. Guangdong, as an open province in China, is one of the first to bear the brunt. In order to minimize the rebound of the epidemic, Guangdong has taken strict epidemic prevention measures to ensure the life and health safety of all Chinese and foreigners in the province. However, discontent arising from strict control measures may be taken advantage of by people with ulterior motives. China and Africa have a long history of exchanges. As long as they trust each other and strengthen communication, there will be no knot that cannot be untangled. I have worked in Africa for many years. I care about Africa, love Africa, and know that African people hate racial discrimination. China and Africa had similar historical experiences. China had been oppressed by Western colonizers for a long time, and there has never been a gene of racial discrimination in its DNA. China's friendly policy towards Africa has not changed and will not change in any way. China treats all foreign people in China equally, does not have a differential policy towards any special group, and has zero tolerance for racial discrimination. African friends will be treated fairly and in a friendly manner in China.
In recent days, China and Africa have maintained close communication and friendly consultation on the situation of African expatriates in Guangdong. State Councilor and Foreign Minister Wang Yi spoke by telephone with Moussa Faki Mahamat, Chairperson of the AU Commission; Chen Xiaodong, China's Assistant Foreign Minister, also met with African envoys to China collectively. The Chinese embassies in Africa have also actively communicated with the related African countries. Guangdong attaches great importance to African opinions and is further improving health management measures for foreigners. China has also opened relief channels, and some foreigners of African origin with difficulties have been properly resettled, and some severe patients have been treated in a timely and effective manner.
China-Africa relations will not be affected by one incident and temporary difficulties. Many African countries appreciate China's efforts in addressing African concerns, and the issues of Africans in relevant cities of Guangdong Province have been basically solved. In a phone call with state councilor Wang Yi, AUC Chairperson Faki said that China and Africa are friends, and comrades in arms. Nothing can change or damage the friendship. Nigerian Foreign Minister Geoffrey Onyeama said at a press conference that the Chinese government is actively responding to Africa's legitimate concerns and demands, and relevant issues have been significantly improved. Uganda's minister of foreign affairs Sam Kutesa said that Uganda will explain things clearly to and appease Ugandans in Guangdong, while protecting the safety of Chinese citizens in Uganda.
In the face of the severe test of the epidemic, China and Africa need to strengthen unity more than ever, and further safeguard the overall situation of friendship and cooperation more than ever. I believe that the China-Africa relations, which have been carefully nurtured by the leaders of China and Africa for several generations, and the brotherhood based on solidarity and mutual help, can stand the test, and will burst out new vitality in the unity against the epidemic. The virus knows no borders. At present, international cooperation is the most powerful weapon to defeat the epidemic. Let's unite and join hands in fighting against the epidemic with the belief that we will win the war. We should support the WHO in leading the global fight against the epidemic with open and cooperative actions, and safeguard the life, health, and safety of peoples of China and Africa with positive and effective anti-epidemic results.
LIU YUXI is the Ambassador and Head of Mission of the People's Republic of China to the African Union.