IN Chinese costume dramas, imperial concubines are always seen wearing delicate decorations on the head, from phoenix coronets dotted with splendid jewelry to hairpins with elegant dangling ornaments. Those crafted items combine colorful jewelry with gold wires; the craft used to manufacture them is called Chinese filigree inlay.
In 2014, at the APEC Summit held in Beijing, China's first lady Peng Liyuan sent two gifts to the first ladies of the 20 participating member states. One was a handbag and the other was a fruit tray, both of which featured Chinese filigree inlay art.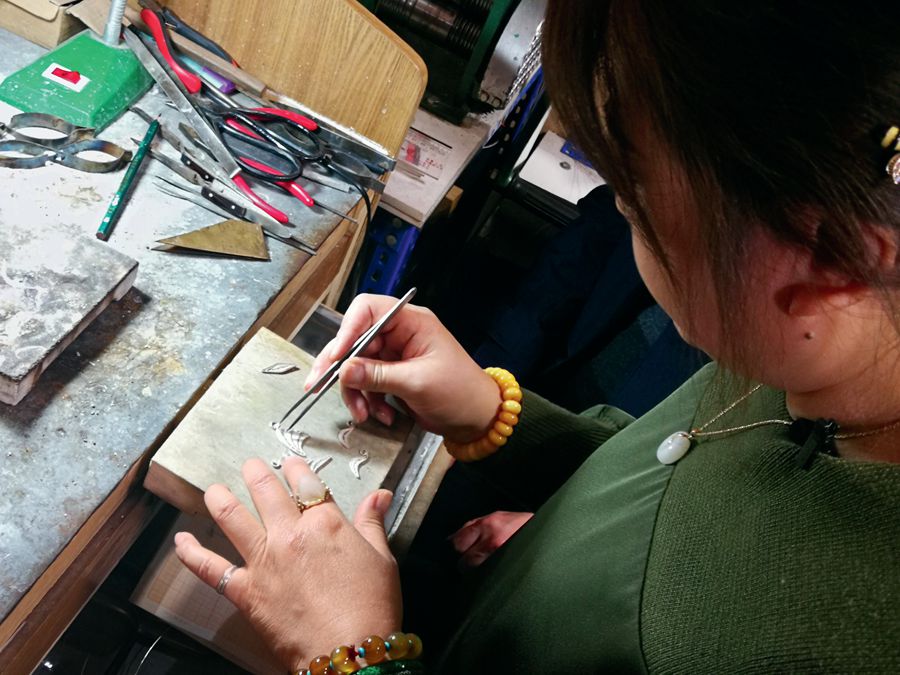 One of the most difficult steps is to solder the patterned metal threads together.
Chinese filigree inlay art is a delicate kind of jewelry metalwork, usually of twisted threads made of gold, silver, and copper, soldered together and arranged in artistic motifs with mounted gems. The complicated craft is mainly used for the making of imperial luxury ornaments. In 2006, it was inducted into the Beijing intangible cultural heritage list, and in 2008 it was declared as national intangible cultural heritage.
A Complicated Imperial Craft
A profoundly complex art form, Chinese filigree inlay art is comprised of two separate crafts, one is thread weaving and the other is the process of inlaying. Threads, which have up to 20 kinds of decorative patterns, are weaved as the structure onto which the ornaments, many kinds of precious jewels, are mounted.
People in the East have a particular fondness for gold, but gold easily appears chunky when used in large quantities. In order to solve this dilemma, skilled craftsmen tried to extract threads from gold or silver and then intertwined them together to form different shapes which were hollow inside and therefore much lighter to wear.
Chinese filigree inlay art originated in the Spring and Autumn and Warring States periods (770-221 BC). Later in the Tang (618-907) and Song (960-1279) dynasties, this craft began to be widely used in officers' hats, noble women's bun decorations, and other accessories. In the Yuan (1271-1368), Ming (1368-1644) and Qing (1644-1911) dynasties, Beijing was the center for patterned thread weaving. It's worth noting that in the Ming Dynasty, gems were in wide use and the traditional notion preferring the patterns on the gold thread to gems was altered. The most noted product using this craft is the gold crown of Ming Emperor Wanli (1563-1620), which is 24 centimeters high and is weaved with gold threads as thin as human hair. What is amazing is that there is not a single visible joint between these threads, making it a truly seamless work of perfection.
In the Qing Dynasty, an agency with hundreds of craftsmen was specially set up in the palace for the making of gold and silver products for royal families. At the peak of the Qing Dynasty, people spared no effort in the pursuit of refined craft. Meanwhile, the treasures offered by each province laid the foundation for the Chinese filigree inlay art to develop. The Jin'ou Yonggu Cup, a cup for the emperor's use in the Qing Dynasty at important ceremonies, was made of gold and several precious gems with filigree inlay art.
A bracelet made by Wang Xiaojie with the Chinese filigree inlay art.
It's recorded that the first Jin'ou Yonggu Cup took the craftsmen a year to finish. And there are only four existing today. One is in the Palace Museum of Beijing, one is in the Palace Museum of Taipei, and the remaining two are in the Wallace Collection in London.
Into the Homes of Ordinary People
Chinese filigree inlay art has already gone out of the palace and into the homes of ordinary people. Favored by the public, today it can be seen applied to the decorations of daily products such as necklaces, earrings, brooches, and furnishings.
Wang Xiaojie, an inheritor of this art, has a studio on the first floor of Baigongfang, a space for traditional Chinese crafts in Dongcheng District of Beijing. It is a room of about 20 square meters. Next to the studio door is her work table, and a display case besides the wall holds her works of Chinese filigree inlay art. This year is the seventh year since the 51-year-old woman honed this craft. Out of pure love, she turned craftsperson from an IT worker.
The present industry has already become mechanized or semi-mechanized, while Wang still chooses to do it all manually in a bid to retain the originality of the art. She does the whole process by hand, from melting gold and silver, pressing the liquid into certain shapes, to extracting threads, weaving them, in certain themes, and mounting gems.
Extracting gold or silver threads is a difficult procedure. A metal plate with 40 to 50 holes arranged in order of size is used. The smallest hole is as thin as a strand of hair. The thread to be extracted needs to pass all the holes from the biggest to the smallest without skipping any one of them. During the process, any thread that breaks is seen as a failure and will be thrown back to the furnace to melt again.
Why bother doing it by hand? "Extracting metal threads by hand is a repetitive task. The thread made this way is more 'mature,' or in other words, more pliable than the machine-made ones, therefore more suitable for later use," Wang explained.
For her, the most trying moment is to solder the patterned metal threads together. Normally a coin-sized piece of work consumes at least two meters of thin threads. Sitting still for three to five days to complete a small piece is not uncommon for her. "You won't have that kind of patience if you don't really like it,' Wang said.
Passed Down for Generations
For the art itself, Wang is still a new hand at it, "Three to five years are the basic requirements for an apprentice, but to be qualified as a craftsperson takes longer."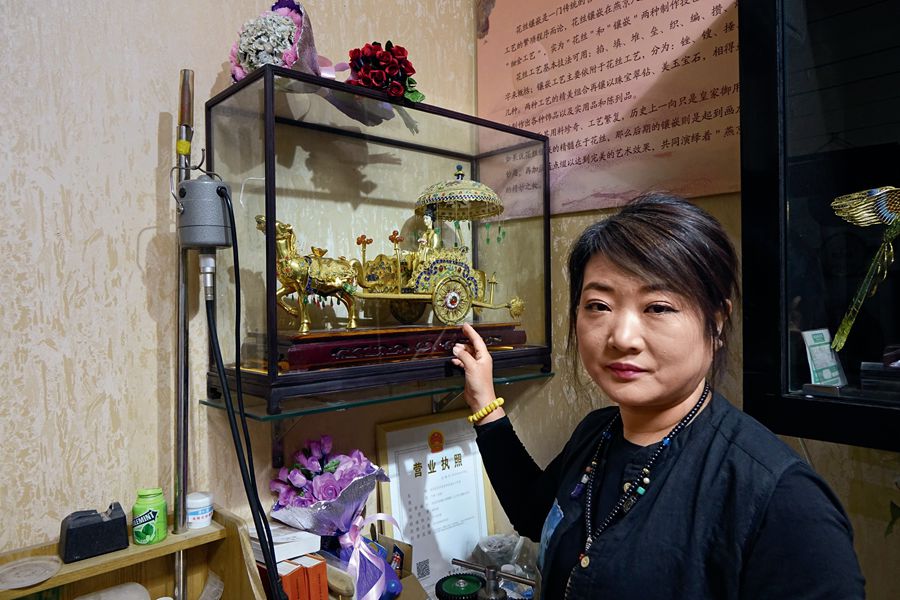 Chinese filigree inlay art is a delicate kind of jewelry metalwork, usually made with twisted gold, silver, or copper threads, soldered together, and arranged in artistic motifs inlayed with gems.
Wang said that although she can now complete a piece by herself, some aspects of the process, such as piling, are still difficult for her.
Born in the late 1960s, Wang is a lover of traditional Chinese realistic paintings since childhood. Her pastime somehow laid the foundation for her later change of careers.
"When I was a child, life was all about food and clothing. Now everything is different. The government and parents all pay great attention to the cultural activities of children. For me, I would love to register my daughter in the best classes I could find if she loves any kind of traditional Chinese craft."
Wang's studio has been open in Baigongfang for many years. Visitors often come in to have a look. Sometimes she will explain the production process and the craft itself in detail to those who are interested. There are also customer-turned apprentices.
"One of them is a college student majoring in jewelry design. She saw the filigree inlay art here and immediately fell in love, as she gets new ideas for integrating traditional Chinese craft into modern jewelry. There are also other customers coming to my class, and practice the craft in my studio. A boy made a pendant for his girlfriend as a birthday gift to show his love."
Wang said that because of the limitations of materials and manufacturing techniques, it is difficult for Chinese filigree inlay craftwork to become a popular consumer product, but she hopes more people will learn about it.
"It is human nature to love beautiful things. Now that life is better, people's taste is also improving. I've designed and made some earrings and brooches appealing to young people, in the hope that this craft will be known and inherited in this way."