SIMON Sebag Montefiore is tall, lean and full of energy. Born in London in 1965, he is one of the world's best-selling authors of history and fiction. The celebrated historian is also a fellow of the Royal Society of Literature.
At the end of 2018, Montefiore began his first official trip to China, visiting Beijing, Nanjing and Shanghai, where he held in-depth discussions with Chinese writers, publishers and readers while promoting the Chinese translation of his book Sashenka.
More of a Novelist
Montefiore was born with a silver spoon in his mouth. His father's family descended from a line of wealthy Sephardi Jews who were diplomats and bankers across Europe, the most notable figure of which was the legendary businessman and philanthropist, Sir Moses Montefiore (1784-1885). The privileged background gives Montefiore resources beyond the reach of ordinary people, while he himself is also hard-working. His works have been published in more than 40 languages and have brought him many awards in literary biographies in Britain and America. In addition to being widely loved in the field of literature, he also made many achievements in the field of film and television. Montefiore has hosted BBC television documentaries on the history of Istanbul, Jerusalem, Rome, and Vienna. Several of his novels are now being adapted into films and TV drama series.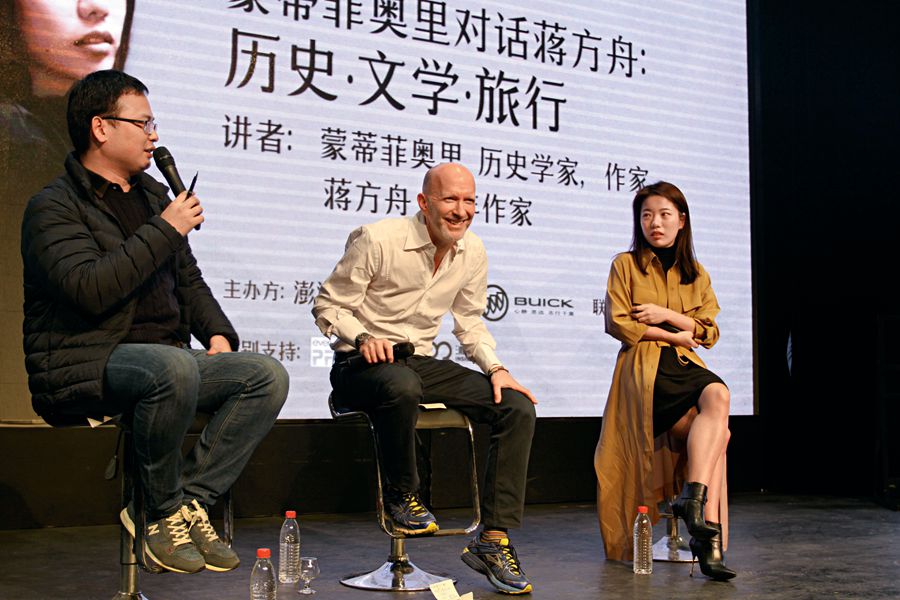 A salon named "History, Literature, and Travel" with the speakers of Montefiore (center), Jiang Fangzhou (right), a young Chinese writer, and Lu Dapeng, a translator and editor from China, in an art museum in Beijing. Deng Di
For Chinese readers, Montefiore is best known for his bestseller Jerusalem: The Biography (2011). Later, his other book, The Romanovs: 1613-1918 (2016), was widely praised after its publication, and became the book of the year selected by the New York Times, The Times and Economist, among other mainstream media, which consolidated his position as the top best-selling author worldwide and a master of Soviet history.
Sashenka is Montefiore's first fiction and the first of his Moscow trilogy. With high expectations, he hopes to use the novel as a biography of women who have experienced "revolution, war, and great changes." He told Chinese readers, "I love literature. I prefer to read novels rather than history. I would rather be remembered as a novelist than a historian."
His Chinese fans are more concerned with what kind of literary stories this historian will tell.
Lu Min is an outstanding Chinese contemporary writer who has won the Lu Xun Literature Prize and other major awards in China. She discussed the theme of "history and fiction, historian and novelist" with Montefiore in a Page One bookshop in Beijing. In the exchange, Lu said that Sashenka fulfilled her expectations for a work of fiction. Montefiore impressed her with a resemblance of Émile Zola's naturalistic descriptions in his writing: the depiction of czarist courts, the lifestyle of the residents, as well as the details of clothing and life scenes are all very authentic, and remind her of the overlapping of similar scenes between novels of different countries.
Montefiore brings texture to his novels and pleasure to his readers with the accumulation of historical materials he has delved into.
Every Translation Is a Journey
"I'm really excited to be here in China. I've always wanted to come to China. All my life I travel as much I can, as it's an intense experience."
On a winter afternoon, Montefiore welcomed more than 100 readers and two special guests in the auditorium of an art museum in Beijing: One was Jiang Fangzhou, a young Chinese writer and the other his Chinese friend, Lu Dapeng, who is a translator and editor. The three talked and laughed, about everything from travel to historical novels, and shared their travel and writing experiences from different cultures and backgrounds with readers.
"I should say as a writer, my writing is for myself. My books have been translated into 49 languages, and to me every translation is a journey and a new life. So to be published in China, the biggest country in the world, is refreshing for the soul."
It is said that every writer's writing is an autobiographical process. This is especially true of Montefiore. Referring to Jerusalem: The Biography, he talked about the intention of the writing with great interest:
"My family has something to do with Jerusalem. In the 19th century I had an ancestor, Sir Moses Montefiore, who went to Jerusalem, and fell in love with it. Jerusalem in 1820 was not quite like Jerusalem today. It was desolate. In the 1860s Sir Moses Montefiore built the new city of Jerusalem. The new town was outside the old one. It's still called Montefiore. When I started writing my book, I wanted to write about Jerusalem. But I also wanted to find the true story of Jerusalem. I want to write a fair and objective history of it. I want to write about different peoples and empires and so on, from King David to the 21st century. I was looking for a book like this about Jerusalem, and I looked everywhere, but I couldn't find it. A British prime minister once said: when I want to read a book, I write it. So do I."
As a native Briton, Montefiore's writing is dominated by the histories of places outside Britain, such as Russia. He says that both his parents' families have deep ties with Russia and that he likes to write about the flamboyant figures of history. He may write a book about England in the future.
In the eyes of Lu Dapeng, Montefiore's books are the first of books written from a Western perspective that portray a positive image of the important figures in Russian history, the Russian Empress Catherine the Great (1729-1796) and Grigory Potemkin (1739-1791). The Russians liked him very much, and when the Soviet Union had just collapsed, they invited Montefiore over to read the secret archives of Stalin, which makes him one of the first Westerners to read that material.
Life Is an Adventure
Montefiore has had many strange experiences during his travels. He told Chinese readers that to make life more exciting, one must have a little fear. In his eyes, life is short, and it is also like an adventure, so anything is possible. We should embrace the uncertainties of life, he said.
He wittily introduced moments of war and history which he personally experienced. He said he traveled to Tbilisi, the capital of Georgia, Baku of Azerbaijan, Grozny of Chechnya; and Samarkand of Uzbekistan, where he met local leaders, presidents, warlords, and insurgents. He has experienced fear and anxiety, which has helped him to understand the meaning of quiet solitude.
In the eyes of Jiang Fangzhou, this is also the most wonderful thing about travelling, as people hand everything over to the unknown, and everything that they are familiar with disappears. The sense of strangeness and uncertainty is the meaning of travel. "For example, I started climbing in 2011, then I went to climb Kilimanjaro in Africa, climbed the highest mountain in Europe a few years ago, and last year I spent a year in Tokyo, which was totally different to my previous life."
In addition to being a writer, Montefiore has also appeared in a number of television shows. Once, on a hot August day, he was asked to go down Rome's stinking sewers during a shooting. He sweat a lot, tried to decline, and was about to burst into tears, desperate to quit. But in the end, under pressure from the director, he persuaded himself and went down a sewer of ancient Rome. It was disgusting, but suddenly this new underground world gave him a completely different experience. "I found that I was very fond of sewers. There were huge rats in the sewers, but it was like a new world inside that inspired me to explore."
Staying curious in life, going out, cherishing the sense of fear and uncertainty, and doing as the Romans do are the secrets to experiencing a bigger world. "I love Chinese food," Simon said. "Every meal is a treat." It is also a wonderful experience to have such frank and interesting exchanges with people in Beijing.