Cracks in the off-hand perception of China's "two sessions" as eyewash are ever more apparent. The world is now acknowledging the annual event on the country's political calendar as the core of understanding China's comprehensive success. Cohesively designed, decided and implemented by lawmakers and political advisors, the "two sessions" have generated positive impact on both people's lives and global affairs. Such global admission adds credence to the value and significance of the "two sessions."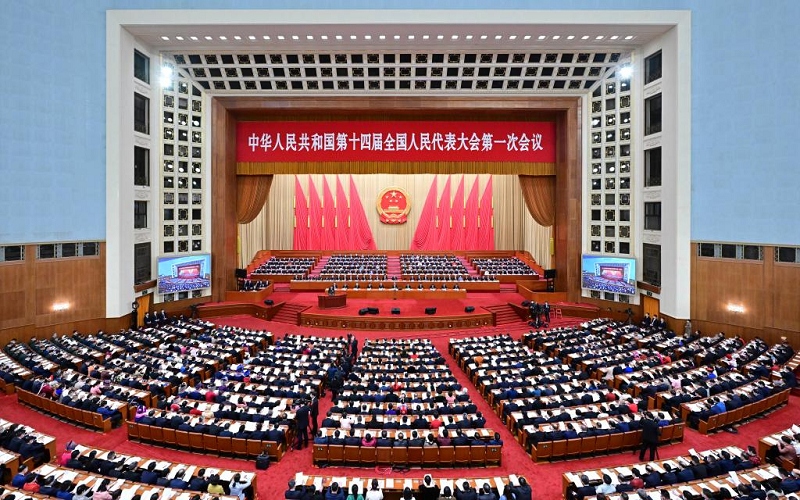 The opening meeting of the first session of the 14th National People's Congress (NPC) is held at the Great Hall of the People in Beijing, capital of China, March 5, 2023. (Xinhua/Zhai Jianlan)
The first sessions of the 14th National People's Congress (NPC) and the 14th National Committee of the Chinese People's Political Consultative Conference (CPPCC) this year have enabled global leadership to fathom the functionality of a socialist democracy and its grassroots dynamics. They have unboxed the knowledge as to how a system — propelled by socialism with Chinese characteristics and led by President Xi Jinping and his team — produces creditable results in regard to the eradication of absolute poverty, the overcoming of pre and post COVID-19 challenges, and the keeping of China's economic sustainability through people-centric policies. They also offer food for thought sufficient to zoom in on the Xi Jinping Thought on Diplomacy, and its role in tackling today's formidable global challenges. Economically speaking, these include ongoing recession and inflation, and, in the political arena, those of a creeping cold-war mentality, bloc politics, a lop-sided world order, and zero-sum policies.
Given that China is the world's second largest economy and a major global player in many fields, the global effects of the "two sessions" are profound and wide-ranging. For instance, in regard to the current world agenda's number one priority of democratization, the event — by virtue of its distinct modalities that draw no parallels with democracies elsewhere in the world — has ignited a pragmatic sense of whole-process democracy.
China's whole-process people's democracy, "is a model of socialist democracy that covers all aspects of the democratic process and all sectors of society. It is a true democracy that works," according to the white paper titled "China: Democracy That Works," released by the State Council Information Office.
The white paper stresses the role of democracy as an instrument whereby to address issues that concern the people. It states: "Whether a country is democratic depends on whether its people are truly the masters of the country; whether the people have the right to vote, and more importantly, the right to participate extensively; whether they have been given verbal promises in elections, and more importantly, how many of these promises are fulfilled after elections; whether there are set political procedures and rules in state systems and laws, and more importantly, whether these systems and laws are truly enforced; whether the rules and procedures for the exercise of power are democratic, and more importantly, whether the exercise of power is genuinely subject to public scrutiny and checks."
In the Chinese democratic system, deputies to China's county and township-level people's congresses are directly elected by voters, while deputies to congresses above the county level are elected by congresses of the next lower level. As of last June, over one billion voters had cast their ballots, on a one-person-one-vote basis, in the election of over 2.6 million deputies to people's congresses at the township and county levels, according to the General Office of the Standing Committee of the NPC. President Xi himself was elected to the 14th NPC by a unanimous vote at the first session of the 14th Jiangsu Provincial People's Congress in January.
In the past decade, President Xi has participated in deliberations with lawmakers and political advisors at the annual "two sessions" on dozens of occasions. These entailed listening to the opinions and suggestions of hundreds of NPC deputies and CPPCC members.
The government work report delivered by Premier Li Keqiang at the opening of the first session of the 14th National People's Congress listed the main development targets for 2023, calling for the stage to be set for building a modern socialist country in all respects. They include a GDP growth of around five percent, an increase in the consumer price index of around three percent, and a deficit-to-GDP ratio of three percent. The government work report so informed the world that, "China's economy is staging a steady recovery and demonstrating vast potential and momentum for further growth," the country's consumer demand, market distribution, industrial production, and business expectations all having markedly improved.
The report also announced that China will intensify efforts to attract and utilize foreign investment. It stated: "With a vast and open market, China is sure to provide even greater business opportunities for foreign companies in China." More than 90 percent of companies participating in a report compiled by the American Chamber of Commerce in South China (AmCham South China) considered China as one of the most attractive investment destinations. Meanwhile, the International Monetary Fund raised China's estimated growth to 5.2 percent.
The two session's global impact, therefore, is writ large, thus offering international stake holders an opportunity to understand the global significance of Chinese strategies. The global focus having polarized on green development by virtue of the Paris agreement and UN SDGs, this topic was a prominent feature of China's annual gatherings of national and provincial-level lawmakers and political advisors. Green development and low-carbon transition indeed constituted the predominant focus of the recent government work reports. "Green development," "carbon reduction," and "pollution reduction" were the most frequently heard buzzwords during the meetings. Statistics from China's Ministry of Ecology and Environment showed that the country's emissions of major pollutants had maintained a steady decline.
Premier Li Keqiang stated in his government work report that China would continue cutting its energy intensity and emissions of major pollutants. The National Development and Reform Commission, meanwhile, said that China would act on 10 major initiatives for reaching peak carbon emissions "in a well-planned and phased way." The initiatives were released by the State Council in 2021 as part of an action plan to fulfil President Xi Jinping's pledge to reach peak carbon emissions by 2030. China also aims to be carbon neutral by 2060.
As the year 2023 marks the 45th anniversary of China's reform and opening-up drive, and also the 10th anniversary of the Belt and Road Initiative (BRI), "two sessions" is rapidly becoming a global buzzword. As, amid complex domestic and international situations, China gears up for a new stage of development, its work plans for the next 12 months will chart a new course for the country and also wield significant global impact.
Chinese Foreign Minister Qin Gang observed at a press conference held on the sidelines of the two sessions that the BRI had over the past decade galvanized around US $1 trillion of investment, having established 3,000 cooperation projects, so creating 420,000 jobs in the countries and regions involved, and lifting 40 million people out of poverty. Qin's comment on Western media hype accusing the BRI of pushing relevant countries into debt traps was scathing. China could never be accused of creating so-called debt traps, Qin stated on March 7.
Statistics show that multilateral institutions and commercial creditors account for over 80 percent of the relevant countries' debt, which is the biggest source of their debt burdens, Qin pointed out. He then added that the U.S.'s unprecedented interest rate hikes last year caused massive capital outflows and negatively impacted their debt levels. He indicated that China had exerted unceasing efforts to reduce these countries' debt burdens, and made the greatest contribution to the G20 Debt Service Suspension Initiative.
___________
YASIR HABIB KHAN is the founder and president of the Institute of International Relations and Media Research (IIRMR) in Pakistan.