As waves of local consumers converge on China's festively adorned shopping malls and markets, the general ambience conjured is of a long-awaited return to normalcy. Optimization of COVID-19 response measures has revitalized markets and expanded the traffic flow in cities. And as the Chinese Lunar New Year approached, images of the rabbit, one of the 12 rotating animals of the Chinese Zodiac, emblematic of each year, can be seen everywhere. Some global brands indeed launched special-edition products in honor of the Year of Rabbit, and to cater to the rapidly-recovering Chinese market.
Three years ago, the COVID-19 outbreak halted the time-honored Chinese Spring Festival tradition of family reunions. But after the country scrapped the required showing of a negative COVID result to enter public places, people bent on attending their January 21 Lunar New Year's Eve family reunions began to swarm train stations, airports, and coach terminals across the country. The Spring Festival travel rush that started on January 7 will continue through to February 15.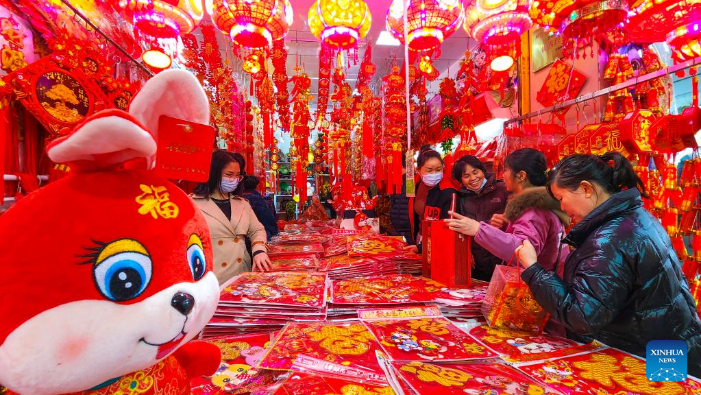 People select decorations for the Spring Festival at a local market in Yiyang Subdistrict of Changning City, central China's Hunan Province, Jan. 11, 2023. (Xinhua/ Zhou Xiuyuchun)
Ministry of Transport officials predict a 99.5 percent surge, compared with last year's Spring Festival travel rush, to 2.1 billion passenger trips, which amounts to 70.3 percent of the 2019 figure. The 34.74 million trips made on the first day of the travel rush was 38.9 percent higher than that for the same period in 2022.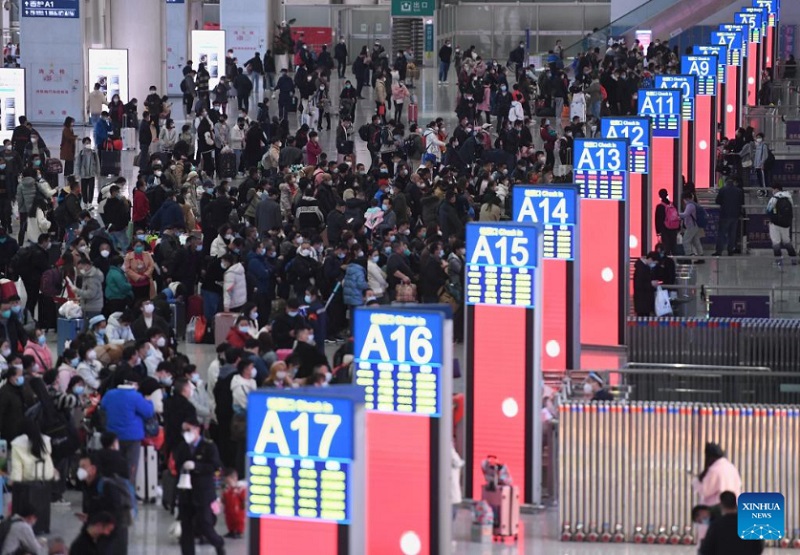 Passengers are seen in Shenzhen North railway station in Shenzhen, south China's Guangdong Province, Jan. 7, 2023. (Xinhua/Mao Siqian)
The Yangtze River Delta, one of China's major migrant worker strongholds, sets about handling 60 million rail passenger trips throughout the 40-day travel rush, which reached a three-year high equivalent to 80 percent of the 2019 level. Meanwhile, Southern economic powerhouse Guangdong Province has braced for 25.4 million railway trips over the period, according to a Xinhua report, while Beijing is expecting over 9.93 million railway passenger departures, according to China Railway Beijing Group. To offer optimum passenger services, some railway operators have provided free over-the-counter medicines to those in need, and also disinfected public spaces to ensure a safe travel environment.
Apart from attending family reunions, there are also people intent on making up for lost time and sating their wanderlust who have also chosen to travel purely for pleasure during the Spring Festival holiday. The lifting of COVID-19 restrictions on international travel on January 8 opened the sluice gates of a long pent-up travel demand. The volume of international flight tickets booked on January 8 surged 628 percent, year-on-year, hitting a three-year high, the outbound and inbound booking volumes each accounting for half of the total, according to the online Tongcheng Travel agency. Singapore and Thailand are Chinese tourists' hottest overseas destinations. The Thailand Tourism Authority expects visits from some 5 million Chinese tourists this year, compared with only 274,000 in 2022.
The many countries applauding China's refined COVID response are eager to welcome back Chinese tourists. Abu Dhabi's tourism bureau, for one, has been proactively preparing for the reopening of China's markets. "China has always been a key market for Abu Dhabi. In 2023, we will be focusing on key segments, including couples and families interested in culture, luxury, new experiences, and family entertainment," said Abdulla Yousuf Mohammad, director of Travel Trade and Market Development at the Abu Dhabi's Department of Culture and Tourism, in a Xinhua interview. South African tourism authorities have also expressed keen anticipation of Chinese tourists' return. China has been a key source market for inbound tourists to South Africa, and shown huge growth potential. Before the pandemic, one in 10 international tourists was Chinese, according to London-based The Economist. The return of Chinese travelers to overseas destinations is undoubtedly a shot in the arm for the global tourism market as a whole.
Domestically, southern China's island province of Hainan is a popular tourist destination. More than 5.2 million passengers are expected to travel during the Spring Festival travel rush via the province's two major airports in Haikou and Sanya. Many hotels have also been fully booked in popular winter travel destinations across the country. The bouncing back of the country's economic vitality was evident in packed shopping malls and queues of diners outside restaurants during the three-day New Year holiday. Takings in Hainan's duty-free shops also exploded, according to Haikou Customs, their average daily sales having reached RMB 140 million during the New Year holiday, courtesy of a total of 43,000 duty-free shoppers.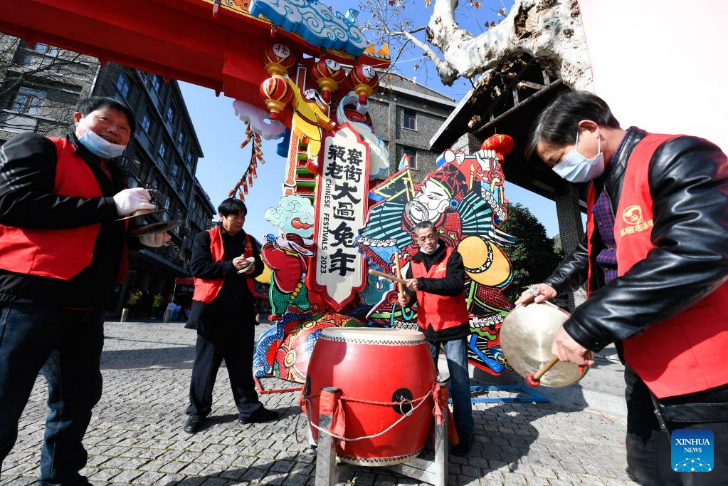 People play traditional Chinese musical instruments to celebrate the opening of a shopping festival in Pingyao Town of Yuhang District in Hangzhou City, east China's Zhejiang Province, Jan. 11, 2023. (Xinhua/Xu Yu)
Across the country, an array of shopping festivals, coupon distribution activities, cultural events, and ice and snow-themed activities – aimed at stimulating the consumer market and adding color to the people's festival break – have been staged. In a bid to enhance Sanya's attraction for the young generation, Sanya Tourism Promotion Board and local enterprises have jointly launched a beauty contest and a wedding festival. Harbin, capital of northeast China's Heilongjiang Province, famed for its wealth of ice and snow resources, opened three ice and snow-themed parks this winter, launched 12 ice and snow experience products and 10 such tourism routes, and held more than 100 related activities to promote winter tourism and sports. Meanwhile, Southwest China's Chongqing Municipality held a hotpot festival to spice up the consumer market. In Beijing, several districts, including Daxing, Yanqing, Haidian, and Chaoyang, are holding lantern festivals and light shows, so creating iridescent winter wonderlands to delight local residents. Chinese markets have warmed up amid the gearing up of businesses for the festival spending spree, and multiple channels await people to realize long-cherished wishes for a joyful family reunion, exotic travel, and an altogether exhilarating Spring Festival.