The risk of a global recession in 2023 continues to increase, and products from Yiwu will resume supplying the world, injecting new vitality into the world economy.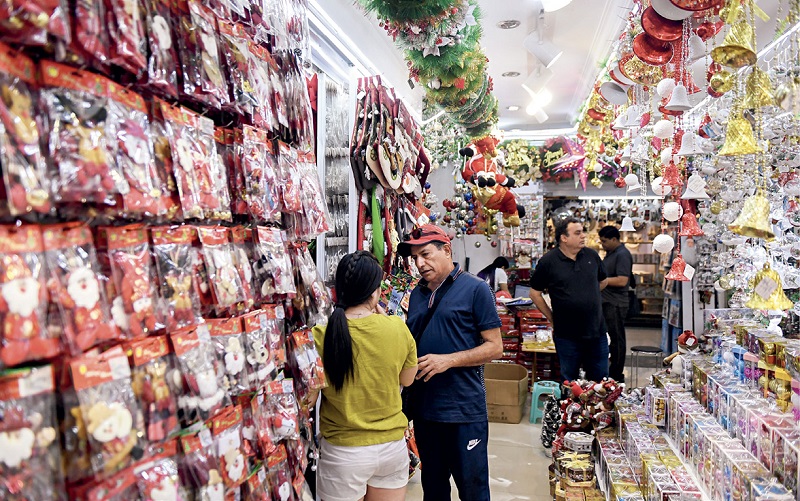 Customers shopping amid the dazzling arrays of goods in a small commodity market in Yiwu.
Having worked and lived in Yiwu, Zhejiang Province, for more than two decades, trading company owner Tirera Sourakhata from Senegal will return to his second home in late February. "I dream of meeting [up with] my Chinese friends [again] and am really looking forward to it," said Sourakhata, who has been outside of China for the past three years, due to the COVID-19 restrictions.
Known as the world's capital of small commodities, Yiwu trades with 232 countries and regions around the world. Before the pandemic broke out, there were about 15,000 resident foreign businesspeople in Yiwu, and more than 500,000 foreign traders visited Yiwu every year. Hindered by the pandemic, the number of resident foreign businesspeople fell by half at its lowest point. After the Spring Festival in 2023, "returning to Yiwu" has become the most urgent need for foreign businesspeople like Sourakhata.
China optimized immigration policies, beginning on January 8, 2023, in compliance with the country's downgraded COVID-19 response measures. Data from Yiwu Airport showed that the number of flights on that day returned to the level of the same period before the pandemic, and overseas buyers were returning in great numbers. Even prior to this policy change, the Zhejiang provincial government had repeatedly organized charter flights for overseas buyers. "The return of buyers has quickly resuscitated our foreign trade," said Zhu Yi, director of the Policy and Regulation Bureau under the Management Committee of Yiwu International Trade Comprehensive Reform Pilot Zone. With further facilitation for the entry of buyers from various countries, the number of resident foreign businessmen returning to Yiwu after the Spring Festival has exceeded 10,000.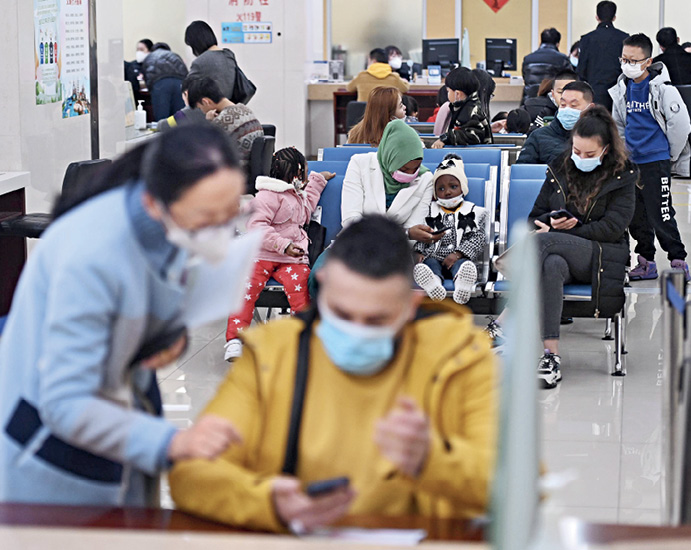 Foreigners handling personal business in the Exit-Entry Administration Bureau of Yiwu Public Security Bureau on January 11, 2023.
Getting back on Track
Huang Lijian is Sourakhata's business partner and friend in Yiwu. Sourakhata placed an order of RMB 200,000 in Huang's hardware store 20 years ago. Since then, the two have not only become trusted partners in business, but also close friends.
"At present, my foreign trade business is mainly in Senegal, and Tirera Sourakhata has helped me a lot in terms of business development," said Huang.
Yiwu market has the largest market area for small commodities in the world of more than 6.4 million square meters, with 75,000 stores selling more than 2.1 million kinds of commodities. The less than container load (LCL) export of small-scale and multi-variety small commodities is an important part of Yiwu's international orders. To promote the recovery of its foreign trade as quickly as possible, from December 2022, local government introduced supportive policies such as free accommodation, storage discounts, and increased business financing quotas for foreign traders.
"As soon as the policy came out, many friends that I knew had already returned to Yiwu around the Spring Festival, and 'new friends' who had not been to China also planned to visit Yiwu." Sourakhata said. He and his friends are confident that business will bounce back in 2023.
With Yiwu's rich and diverse commodities, convenient and fast logistics, as well as favorable business environment, Sourakhata's foreign trade business has employed more than 30 employees in Yiwu, with an annual sales revenue of about RMB 500 million. His business has already spread to other African countries, such as Gabon and Gambia, with new business sourced in Paris.
Hassan, an Indian businessman, returned to Yiwu in August 2022 on a chartered flight organized by the Zhejiang provincial government.
"For a long time, it has been impossible to go to Yiwu to conduct onsite purchasing, resulting in slow new product updates, which has had a great impact on my business," he said. Hassan is engaged in the sales of home appliances, building materials, and daily necessities from Yiwu, which requires him to test samples and place orders according to customer needs. Back in Yiwu, he found a lot of innovative products, and has been working intensively to meet the needs of his customers, confident that business prospects are promising.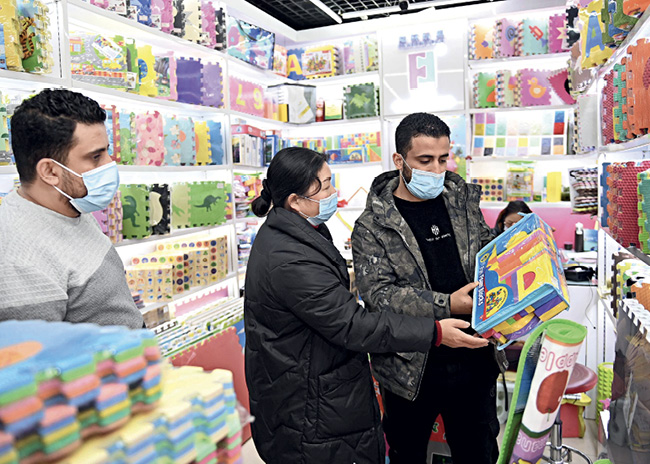 Foreigners selecting toys at Yiwu International Trade Market on January 11, 2023.
Signals of Economic Recovery
In order to welcome the reopening of Yiwu International Trade City, Cheng Weiguang, president of Yiwu Jiande Chamber of Commerce, was already busy making preparations during the Spring Festival holiday.
Cheng and Sourakhata have been friends for many years, and he was happy to learn that Sourakhata and many other foreign friends would be returning to Yiwu in the near future. "After the optimization and adjustment of pandemic prevention and control measures, foreign friends consult me about the situation in Yiwu every day," said Cheng, acknowledging that this is a signal of economic recovery.
According to Cheng, in 2022 mechanical and electrical products were still the largest category exported from Yiwu, reaching RMB 167.95 billion, a year-on-year increase of 24.4 percent, accounting for 38.9 percent of the city's total export value. In recent years, the rapid development of the photovoltaics industry has become a new growth pole for local exports. The export value of diodes and similar semiconductor devices was RMB 29.55 billion, and that of solar cells was RMB 29.48 billion, an increase of 1.91 times and 1.92 times respectively.
Cheng is involved in electrical lighting business in Yiwu. During the pandemic, he spent most of his time communicating with new and old customers online. "We expanded our online sales during the pandemic, but now, more than 90 percent of our customers are still willing to come to meet and negotiate on site," he said.
Sourakhata adjusted his business this year. During the pandemic, his company sent 200-400 containers to Africa every month, and in December 2022 and January 2023, this number increased to 1,000 per month. "Numbers are the best indicator of growth," said Sourakhata. "This year we need to recoup the previous losses."
Tirera (second left) and his friends watching a rugby game in Yiwu.
Upswing in Foreign Trade
The activity of purchasers in Yiwu International Trade City is a barometer of Yiwu's economy, and Yiwu's economy is the indicator of China's foreign trade.
Local customs data show that in 2022, the total value of Yiwu's imports and exports was RMB 478.8 billion, an increase of 22.7 percent over 2021. Among them, exports were RMB 431.64 billion, a year-on-year increase of 18 percent; imports stood at RMB 47.16 billion, a year-on-year increase of 93.5 percent.
"Despite the impact of adverse factors such as the pandemic, with the joint efforts of various market entities, Yiwu's import and export performance in 2022 was gratifying, with exports exceeding RMB 400 billion for the first time, and its proportion to the provincial and national total has continued to increase, while imports have doubled," Zhu said. According to Zhu, the market procurement trade mode, as one of the dividends released by the pilot project of Yiwu's comprehensive reform of international trade, has occupied a dominant position in its exports in recent years. Under this trade mode, business operators who purchase goods in a designated market cluster area can go through customs clearance procedures for export commodities at the place of purchase when the value of goods in a single customs declaration form is less than US $150,000. "This provides great business convenience and accelerates the global circulation of small commodities," Zhu said.
According to Zhu Yi, Yiwu's imports and exports to Africa in 2022 were RMB 84.02 billion, a year-on-year increase of 10.2 percent. Imports and exports with the EU and the U.S. amounted to RMB 60.45 billion and RMB 56.21 billion, up 47.1 percent and 35.5 percent respectively, and imports and exports to countries and regions along the Belt and Road totaled RMB 183.11 billion, up 13.3 percent year-on-year. The data show that the demand for goods from developed regions such as the EU and the U.S. has not abated.
According to Bai Ming, deputy director of International Market Research Institute at the Chinese Academy of International Trade and Economic Cooperation, Yiwu, as a "world supermarket," has ushered in a new period of development after three years of the pandemic, benefiting from a complete industrial chain and efficient production capacity.
"The risk of a global recession in 2023 continues to increase, and Yiwu's commodity trade will continue to inject new vitality into the global economy," said Bai, who believes that China's foreign trade is expected to see a full-speed recovery in the second and third quarters of this year.
"Yiwu's foreign trade has shown a recovery trend. We are not only benefiting ourselves, but also driving the recovery of the whole country's foreign trade," said Zhu.