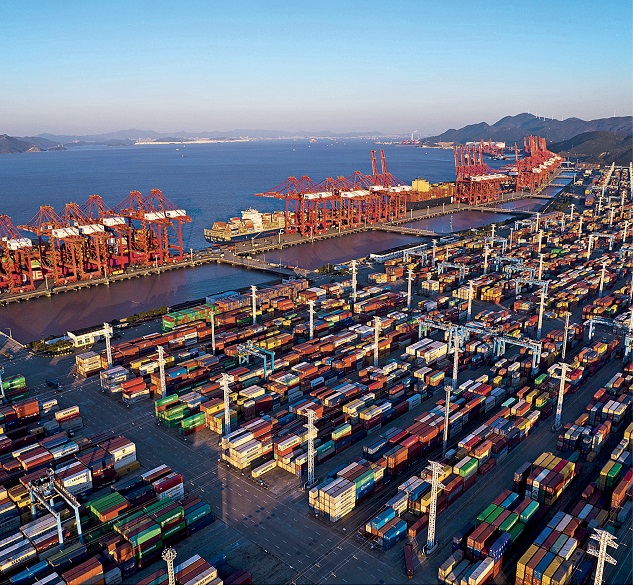 The Chuanshan port area of Ningbo-Zhoushan Port in east China's Zhejiang Province on December 18, 2022.
In a volatile and complex world, beset by geopolitical conflicts, bloc confrontation, surging inflation, and a harrowing energy crunch, China is blazing a trail in international engagement by following its major-country diplomacy with Chinese characteristics.
Crisis begets change. Despite the headwinds to global growth, peace, development, and win-win cooperation still represent the prevailing trend of the times, as evidenced by the solidary and consistent efforts of many countries in trying to find ways to solve the problems facing the whole world. A new type of international relations advocated by China is presently gaining momentum.
As the China-U.S. relations came into a plight, China stressed the need to abandon the zero-sum mentality and define China-U.S. interactions by dialogue and win-win cooperation. Meanwhile, the country has been pursuing friendly cooperation with Europe. The frequent high-level bilateral exchanges and a raft of bilateral cooperation projects testify to the fact that China and Europe both offer each other opportunities instead of threats.
China has also promoted solidarity and cooperation with other developing countries, and forged a new paradigm of equality, sincerity, and mutual assistance among developing countries. China-Africa cooperation has been elevated across the board, and China-Arab relations have taken historic strides forward.
Going forward, China is looking for the widest possible convergence of interests in global governance. It will hold high the banner of building a community with a shared future for mankind and advocate the common values of humanity, so as to build more consensus, pool greater strength, and take more actions for the cause of global development and security.