For Europe, the year 2022 is seen as a "turning point," prompted by the Ukraine conflict that has plunged Europe into an unprecedented regional security crisis not seen since World War II. In addition, the serious consequences of the energy crisis, rising prices and the real threats of economic recession, social instability, and refugee issues are all serious causes for concern. The trend that sees the EU and its major member states adjusting their foreign policies in response to these challenges has undoubtedly impacted China-EU relations, and their relations have consequently entered a new period of adjustment.
In 2022, China-EU relations generally maintained a steady and pragmatic progress.
On the one hand, high-level contacts set a tone for stable bilateral relations. China and Europe have maintained frequent high-level interactions via video meetings or telephone calls during the COVID-19 pandemic. With the easing of pandemic restrictions, offline high-level contacts are also increasing. Germany Chancellor Olaf Scholz became the first Western leader to visit China since the 20th National Congress of the Communist Party of China. Chinese President Xi Jinping met with the leaders of France, Spain, the Netherlands, and Italy separately within the framework of the G20 Summit in November. The president of the European Council Charles Michel also visited China in early December on behalf of EU leaders. In addition, French President Macron has repeatedly expressed his plan to visit China in 2023, and Prime Minister of Italy Giorgia Melon has also accepted President Xi's invitation to visit China. These gestures reflect that the EU and its leaders are fully aware that maintaining contact and dialogue with China is irreplaceable, despite their differences with China and external pressure from the United States.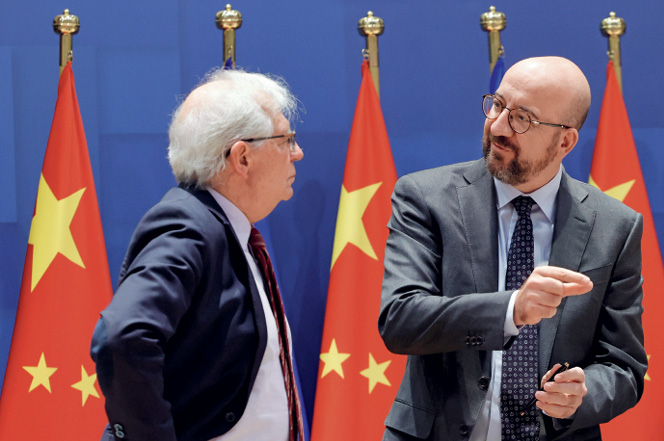 European Union foreign policy chief Josep Borrell (left) and European Council President Charles Michel talking together prior to speaking with European Commission President Ursula von der Leyen and Chinese Premier Li Keqiang via video-conference during an EU-China summit on April 1, 2022.
On the other hand, economic and trade cooperation provides a stable foundation for bilateral relations. As China has become the EU's largest trading partner since 2020, the reciprocal economic ties between China and Europe have further deepened. China's share in EU's foreign trade increased from 4.4 percent in 2000 to 16.2 percent in 2021. It has become not only an important market and source of raw materials for European enterprises, but also a major investment destination as European companies, especially larger ones, are increasing their investments in China against the backdrop of the COVID-19 pandemic. Cooperation between China and Europe in the field of science and technology innovation is deepening. The development of China-EU economic and trade relations is of great significance for stabilizing and boosting the European economy under the impact of the Ukraine conflict.
At the same time, there are growing structural problems in China-EU relations. Europe's trust deficit toward China is not only persistent, but is further reinforced against the impact of the ongoing developments. With a combination of Europe's political upheavals and strategic anxieties, a rising sense of competition and geopolitical awareness in political, economic, and security spheres is emerging. It presents a binary narrative of democracy and authoritarianism, and a solidified triple labeling of China as a "partner, competitor, and systemic rival," especially the perception of systemic rivalry. Systemic competition has increasingly become a defining element of China-EU interactions, which has exerted two main implications for China-EU relations in the past year:
On the one hand, Europe reinforces the sense of camp confrontation. The conflict in Ukraine has brought the U.S. and Europe closer, leading to a "decoupling" between Europe and Russia. Europe has drawn an erroneous conclusion from the Ukraine conflict that Europe must fully consider the possible greater consequences of its economic dependence on China, in view of the serious consequences of Europe's energy dependence on Russia. With Europe's extensive ties with China in various areas, including key raw materials such as rare earth, primary products such as electronic components, chemicals and pharmaceuticals, new-technology products such as electric cars, and sales markets, its dependence on China far exceeds that on Russia.
Based on this perception, the EU and many of its member states have started to rethink their China policies. The ideas of "friendshoring," against "weaponized interdependence" and against economic duress is replacing the idea of "promoting transformation through trade" as the new norm of European policy toward China. At the same time, Europe is putting more emphasis on European solidarity and a consistent stance toward China, and further strengthening coordination with the United States and other Western allies.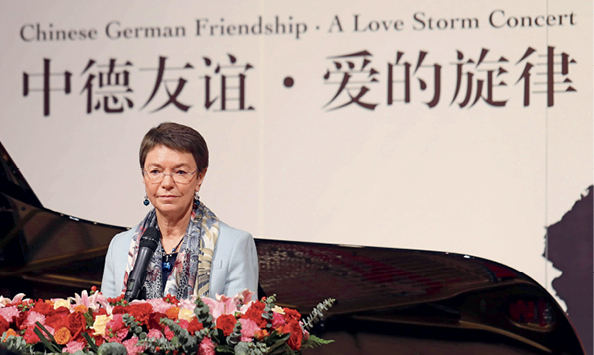 German Ambassador to China Patricia Flor delivers a speech at an art museum event in Beijing on January 4, 2023.
On the other hand, Europe has become more defensive. The EU and the major European powers, whether Germany, France or Italy, are adopting a more pragmatic and defensive approach in their dealings with China. Seeing economic, trade, and technological policies as a battleground for competition, they are hoping to develop long-term strategic plans, rebuild supply chains, increase economic resilience, so as to reduce dependence on China and strengthen defensive protection for European businesses, industries, markets, technologies, supply chains, and infrastructure.
When acting on these ideas, Europe is actively promoting various industrial policies, "global gateway" projects, critical raw materials strategies, and the Indo-Pacific strategies, while introducing strategic projects at all steps of the supply chain. In addition, it is finding alternative markets and expanding trade networks in Asia Pacific, Latin America and Africa, and seeking to conclude more free trade agreements with other Indo-Pacific countries. At the same time, European companies that are close to China are conducting stress tests to introduce tougher policies, planning to adopt a two-way foreign investment review mechanism and more stringent restrictions.
In the face of "Zeitenwende," Europe strongly hopes to redefine its role and position, and strengthen its overall competitiveness and global influence so as to become an essential geopolitical power. It hopes to gain confidence in diplomacy and security, seek to improve decision-making mechanisms, and achieve strategic autonomy. As the largest economy in Europe, Germany, which has undergone a major transition in strategic culture, has the intention to play a leading role. Germany's efforts to increase investment in hard power of the military, enhance military participation under the NATO framework, and accelerate common policies of the EU in areas like military, industry, and diplomacy with other countries including France, reflect Europe's diplomatic and security transition.
The role Europe intends to play affects its policies. To play a more important strategic role in geopolitical issues instead of becoming marginalized in the "Zeitenwende," Europe should strengthen the major-country thinking. Its foreign policies should be more comprehensive, balanced, and independent, and pay more attention to the needs of international cooperation and global governance, which include recognizing the meaning of developing China-Europe relations in modern times and in relation to the world from a strategic and long-term perspective.
When tackling the challenges of our times, such as climate change, public health crises, food shortage, and the escalation of regional conflicts, China and Europe can improve the quality and level of their cooperation. Regarding resolving the Ukraine conflict, China can play a constructive role by opposing using nuclear weapons and engaging in a diplomatic settlement. When it comes to carrying out higher-level economic and trade cooperation, China and Europe can jointly build new growth engines, including digital economy, environment protection, new energy, and artificial intelligence, in an open and down-to-earth manner. Meanwhile, they should provide a fair and transparent business environment for each other.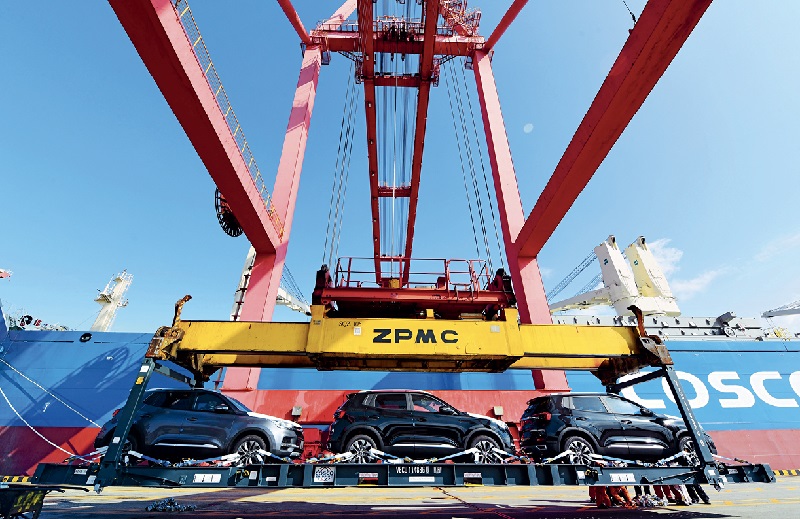 A batch of vehicles are being loaded aboard a freight ship at Taicang port in Suzhou on November 23, 2022, to be shipped to the European market.
Looking ahead at 2023, all-around engagement, dialogue, and cooperation are a sure path for China-Europe relations. China and Europe should meet each other halfway in three areas:
First, deepen political mutual trust. China's foreign policies are overall predictable. China is willing to develop China-Europe relations as it has continued to make goodwill gestures of hoping to strengthen strategic communication and coordination with Europe and ensure a stable and long-term China-Europe comprehensive strategic partnership in high-level dialogues. It has stressed over and over again the importance of enhancing high-level reform and opening-up and the opposition to politicizing and weaponizing economic, trade, science, and technology issues, or making them a security issue. However, many European political leaders still regard the economic and trade dependence on China as a risk and challenge that needs to be treated with caution and correction. Relevant policy trends fully reflect that Europe's trust deficit in China has grown rather than dropped. China and Europe should continue to improve communication.
Second, respect and accept different systems. A country's political and social systems are formed over a long period of time. The differences in the political systems are objective. Competition over the system shouldn't become the guiding principle or the decisive factor for making foreign policies. Instead, Europe should find a solution for different systems to coexist, reduce Eurocentrism, downplay its systemic competitive way of thinking, overcome differences in the system, and respect and accept the modernization paths chosen by different countries based on their national conditions. It should also maintain basic political consensus on matters that concern principle, including multilateralism, peaceful diplomacy, territorial and sovereign integrity, and mutual benefit, and continue to expand mutual interests and political consensus.
Third, realize true strategic autonomy. China's foreign policy follows the principle of independence featuring partnership rather than alliance. Its foreign policy is based on comprehensive judgment of its national interests and the international landscape. The EU has increasingly pursued economic sovereignty and technological sovereignty with the hope that it doesn't need to choose a side between China and the United States. Both the "America First" drive during the Trump era and the Inflation Reduction Act by the Biden administration fully demonstrate that the United States can't represent the interests of Europe and that the EU's China policy should not be bundled with that of the United States. Instead, it should keep a proper distance from the United States, maintain its flexibility and independence, and make independent policies according to its own interests and values. Trade and investment are the most crucial strengths for the EU to have a say on the international stage. "Decoupling" exaggerates the geopolitical factors, lacks economic rationality, and creates confrontation between different groups. Only seeking common ground while setting aside differences and win-win cooperation serve the common interests of China, the EU, and the international community.
WU HUIPING is a professor and deputy director of German Studies Center at Tongji University.