China has made world-renowned achievements in ecological preservation and environmental protection over the past decade.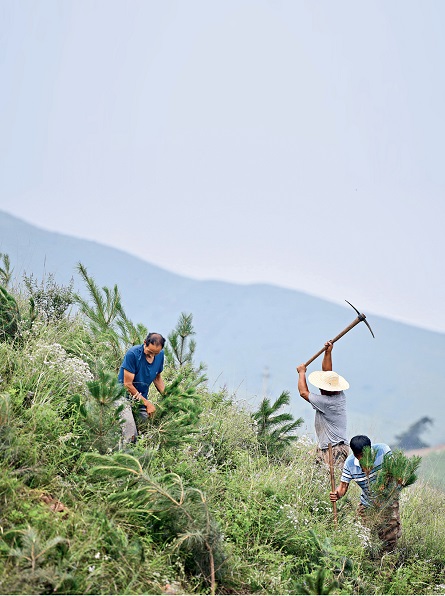 Foresters plant seedlings on the slope of a barren mountain in Luanzhou, Hebei Province, on July 23, 2021.
Living under the sky they now call "Beijing blue," residents of the capital city are among those who have witnessed a sea change in China's air quality. A decade of air pollution control efforts have made blue skies a normal feature of Beijing that was once beset with persistent grey skies and hazy winters.
But this change in the air quality is only a microcosm of China's green development. Han Wenxiu, executive deputy director of the Office of the Financial and Economic Affairs Commission of the Communist Party of China Central Committee, said that the decade from 2012 to 2022 has seen solid progress in the country's green development, with a historic turnaround in its ecological and environmental conditions.
According to him, China has planted about a quarter of the world's artificial forests, and carbon dioxide emission per unit of GDP has dropped by about 34 percent. The country ranks number one in installed capacity of power generation from wind, photovoltaic and other green energy sources as well as the production and sales of new energy vehicles.
China has also made important contributions to the international cooperation on climate change and global environmental governance by promoting the conclusion of the Paris Agreement and committing to achieving carbon peak by 2030 and carbon neutrality by 2060, he said.
Keeping Skies Blue
In September 2013, the State Council issued an action plan for the prevention and control of air pollution, proposing 35 measures covering 10 areas such as motor vehicle pollution control, total coal consumption control and regional industrial restructuring, marking the launch of China's battle to preserve blue skies. In July 2018, the State Council issued a three-year action plan for winning the battle for blue skies, after which air quality was further improved.
In Beijing, the government has implemented an array of measures since 2013, ranging from reducing the use of coal and fossil fuel to dust control. These have contributed to a significant reduction in pollutant emissions.
According to the Beijing Municipal Ecology and Environment Bureau, from 2013 to 2020, fine particulate matter (PM2.5) in the atmosphere dropped by 63.1 percent. In 2021, the annual average concentration of PM2.5 dropped to 33 micrograms per cubic meter – the first time the city fully met the standard, achieving what the UN Environment Program called a "Beijing miracle."
Some other cities of the country have also gone through the same control processes. According to data released by the Ministry of Ecology and Environment (MEE), from 2013 to 2020, PM2.5 concentrations in the first 74 cities that had implemented the new air quality standards fell by 48.6 percent, with the ratio of days with good air quality rising by 17.9 percentage points, and the number of heavily polluted days falling by more than 80 percent.
Wang Jinnan, an academician of the Chinese Academy of Engineering and president of the Chinese Academy of Environmental Planning, pointed out that China has cleaned up its air in only about seven years, an achievement that developed countries took up to 30 years to attain. He said that the success doubles in magnitude when considering the fact that it was achieved while maintaining rapid economic development at the same time.
And the battle for better air quality has not stopped. In 2022, China's budget for air pollution prevention and control totals RMB 20.7 billion (US $3.07 billion), an increase of RMB 8.2 billion (US $1.22 billion), or 65.6 percent, compared with RMB 12.5 billion (US $1.86 billion) of the previous year. These funds will be used to support key programs such as clean energy-based heating during the winter in north China, deep treatment of industrial pollution, and capacity building, in a bid to optimize the country's industrial and energy structures, which are essential for air quality.
"Our target is to reduce the proportion of heavily polluted days to lower than 1 percent after several years of efforts," said Wu Xianfeng, deputy director of the MEE Department of Atmospheric Environment.
According to him, in addition to structural adjustment and optimization in terms of industry, energy, transportation and land use, air quality forecasts, and joint emergency response to heavy pollution incidents will also be used for reducing pollutant emissions.
Improving Forest Coverage
The forest farm of Saihanba in Hebei Province launched a campaign to raise its forest coverage, and the once barren stony mountains in the area are now mostly covered with trees, with the overall forest area increasing to 1.15 million mu (76,733 hectares).
Chang Weiqiang, deputy chief of the Forestry Section of the farm, said that as of 2021, the farm has afforested more than 100,000 mu (6,666.67 hectares) of barren stony hills with the preservation rate and survival rate both exceeding 90 percent. At the Third UN Environment Assembly held in December 2017, the developers of the farm were awarded the Champions of the Earth Award, the highest honor of the UN for environmental protection.
Data from the National Forestry and Grassland Administration show that since 2012, China's forest coverage has constantly increased to reach the current level of over 23 percent, and the overall vegetation coverage of grasslands has reached 58 percent, with over 50 percent of the wetland under protection. Globally, the country ranks first in afforestation. The period from 1981 to 2021 registered 17.5 billion citizen participations nationwide in voluntary tree planting, with 78.1 billion trees planted.
Zeng Yande, director of the Department of Development and Planning, Ministry of Agriculture and Rural Affairs, said that China has contributed the largest amount of new green areas in the world by preserving and recovering forest and grass ecosystems, carrying out large-scale land greening actions, and implementing seasonal and prolonged grazing bans and control of animal husbandry based on local grasslands' capacity to provide fodder.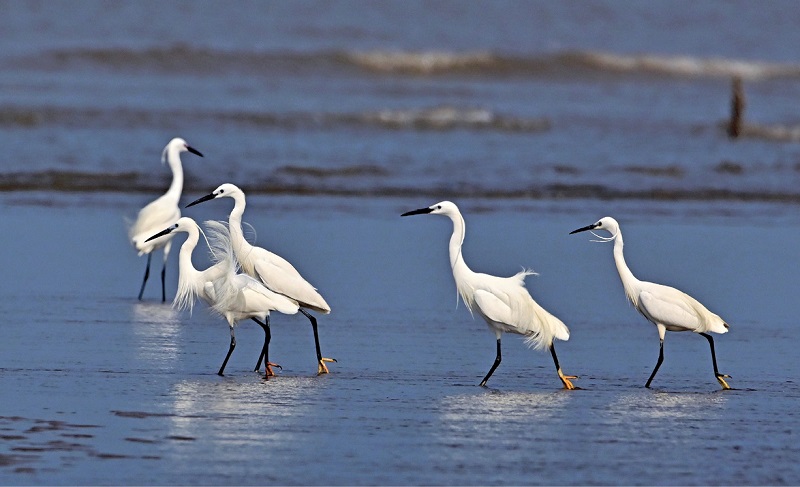 Egrets forage around the wetlands of the Minjiang River estuary in Fuzhou, Fujian Province, on April 21.
Preserving Biodiversity
Li Dongwei, captain of the Patrol Team of Hunchun Forestry Administration in Jilin Province, has patrolled local forests for 10 years. In the Northeast Tiger and Leopard National Park, footprints of Siberian tigers are clearly visible deep in the dense forests after the rain. Li and his team members have found them from time to time by tracking these footprints.
The park was officially established in 2021, four years after it was included in a trial program to set China's first national parks. It covers an area of about 14,100 square km across Jilin and Heilong-jiang provinces. The latest data show that the number of wild Siberian tigers and Amur leopards in the park has increased from 27 and 42 at the beginning of the pilot program to 50 and 60, respectively.
The establishment of the park and four other parks was announced by Chinese President Xi Jinping at the Leaders' Summit of the 15th Meeting of the Conference of the Parties to the Convention on Biological Diversity, to which China is one of the earliest members. These national parks cover a combined area of 230,000 square km and are home to nearly 30 percent of the terrestrial wildlife species under prioritized national protection.
China is among the countries with the richest plant diversity, with more than 37,000 plant species among the more than 300,000 species discovered worldwide. Lin Qinwen, senior engineer at the China National Botanical Garden and the Institute of Botany of the Chinese Academy of Sciences, said that of the roughly 2,000 new plant species named each year around the world over the past decade, one-10th were found in China.
So far, China has established a nature preservation system consisting of national parks, nature reserves, and various types of nature parks, bringing over 90 percent of terrestrial ecosystem and 71 percent of the key wildlife species under state protection.
Sun Jinlong, secretary of the Party Leadership Group of the MEE, said that as the decline in biodiversity is yet to be contained, the international community needs to continue to make great efforts in this regard. He said that under the concept of harmonious coexistence between humans and nature, China will intensify its efforts in promoting biodiversity conservation with more practical measures and contribute Chinese wisdom and strength to global biodiversity conservation.
Reducing Carbon Emissions
The past decade has seen major progress in the shift to green and low-carbon development in China's energy sector.
The installed capacity of power generation from renewable energy in China has exceeded 1 billion kw, with the installed capacity of hydropower, wind power, solar power and biomass power generation ranking first in the world. The share of clean energy in total energy consumption has increased from 14.5 percent to 25.5 percent, and the capacity of coal-fired power generation units with ultra-low emissions has exceeded 1 billion kw, with world-leading energy efficiency and lowest emission levels.
Data from the Ministry of Industry and Information Technology show that in 2021, 3.5 million new energy vehicles were sold in China, up 1.6 times year on year, ranking first in the world for the seventh consecutive year.
China achieved an annual average economic growth of 6.5 percent with an annual average energy consumption growth rate of 3 percent, resulting in a combined decrease in energy intensity by 26.2 percent. The drop was equivalent to the use of 1.4 billion tons of standard coal or 2.94 billion tons of carbon dioxide emissions. The reduction in carbon dioxide emission per unit of GDP exceeded the Intended Nationally Determined Contributions (INDCs) target.
In September 2020, at the General Debate of the 75th Session of the UN General Assembly, President Xi solemnly announced to the world that China will scale up its INDCs by adopting more vigorous policies and measures, aiming to peak carbon dioxide emissions before 2030 and achieve carbon neutrality before 2060.
According to Hu Zucai, vice chairman of the National Development and Reform Commission, following the proposal of the dual targets announced in 2020, China has completed the top-down design for achieving these targets, with solid progress taking place as scheduled. "We are off to a good start," he said.
Xie Zhenhua, Chinese Special Envoy for Climate Change, said that China has made addressing climate change an inherent requirement of its own sustainable development. According to him, China has formulated and implemented the 1+N policy framework for peaking emissions and achieving carbon neutrality, with measures to implement the policies announced for 37 sectors. The timetables, roadmaps, policies, and action plans to counter climate change are all explicitly available, he said.
On July 16, 2021, China's national carbon emission trading market came into operation online. The market will eventually become the world's largest greenhouse gas emissions trading center. Power generation is the first industry to join the national carbon market, involving more than 2,000 key entities that together account for more than 40 percent of the national carbon emissions. The trading system will also be joined by other key industries such as steel, chemicals, building materials, paper making, and non-ferrous metals in due course.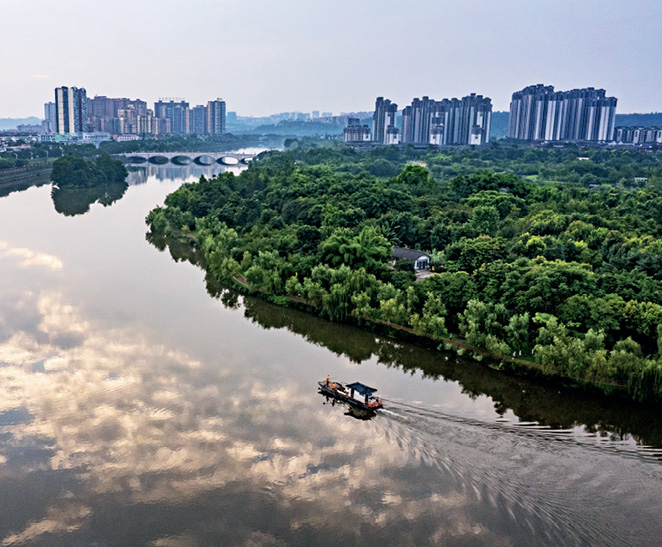 Workers clean up rubbish in a lake of a wetland park in Meishan, Sichuan Province, on June 24.
International Cooperation
In the field of green development, China is a learner as well as a promoter. It learns from the advanced experience of the developed countries in the fields of environmental protection, dealing with climate change and biodiversity conservation, while strengthening cooperation with developing countries in these fields through South-South cooperation. In September 2021, at the General Debate of the 76th Session of the UN General Assembly, President Xi announced that China will step up support for other developing countries to develop green and low-carbon energy, and will not build new coal-fired power projects abroad.
Cooperation in dealing with climate change has also become an important area of China-Africa cooperation. In 2021, the Eighth Ministerial Conference of the Forum on China-Africa Cooperation (FOCAC) adopted the Declaration on China-Africa Cooperation on Combating Climate Change, and green development was included as one of the nine programs in the first three-year plan of China-Africa Cooperation Vision 2035.
According to the plan, China will undertake 10 green development, environmental protection, and climate action projects for Africa, support the development of the "Great Green Wall," and build centers that focus on low-carbon development and climate change adaptation in Africa.
As a follow-up activity, a workshop on the construction of the "Great Green Wall" was held in April this year. More than 20 officials from six African countries, namely, Burkina Faso, Chad, Mali, Niger, Mauritania, and Senegal, attended the workshop online.
China is a strong supporter and important partner of Africa's green transformation. So far, China has implemented hundreds of clean energy and green development projects within the framework of FOCAC, supporting African countries' self-reliant and sustainable development by utilizing their advantages in solar energy, hydropower, wind energy, biogas and other clean energy sources.
In Cameroon, Chinese company PowerChina built the Memve'ele Hydroelectric Power Station. Completed in December 2017, the plant has eased Cameroon's serious power shortage and reduced expenditures on thermal power production. Cameroon's Ministry of Water Resources and Energy estimated that with the plant in operation, the country can save about 350 million CFA francs (US $544,483) per week in financial expenditures that would have been used to subsidize thermal power generation. Ngangoua Serge, PowerChina's country representative for Cameroon, said that the hydropower plant has brought clean energy to Cameroon, expanding the country's electricity supply and reducing the cost of power generation, benefiting the people in a tangible way.
As the China Council for International Cooperation on Environment and Development (CCID) celebrates its 30th anniversary this year, Zhang Jianyu, executive director of the Belt and Road Initiative Green Development Institute, said that the CCID itself is a testimony to the great progress made in China's cause of environmental protection. He noted that one phenomenon the CCID has witnessed many times over the years is that China has been able to make progress in economic and social development and poverty alleviation while keeping green development as part of its core development philosophy. "This shows that social, economic and environmental development can go hand in hand," he added.