The China Beijing Green Exchange (CBGEX) in downtown Beijing's Financial Street, the seat of headquarters of Chinese and foreign financial giants, is one of China's pilot market platforms for trading carbon emission equities.
Since its inauguration in 2013, the trading platform has been leading others in terms of trading volume.
In 2020, Beijing emitted merely 0.41 tons for every RMB 10,000 worth of GDP. The emission figure represented a 26-percent drop from the 2015 level, and showed that the capital city had outperformed its emission reduction target of 20.5 percent set by the state in the 13th Five-Year Plan (2016-2020) for national economic and social development. Beijing set an example for Chinese cities on the path to low-carbon development.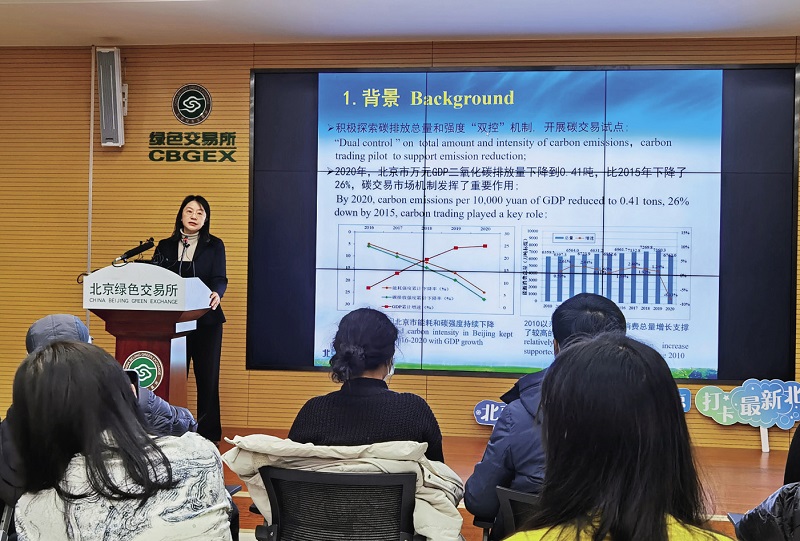 Ming Dengli, director of the Beijing Municipal Ecology and Environment Bureau's climate change department, is giving an introduction about the pilot work of carbon emission trading in Beijing on February 16, 2022.
Empowering Low-Carbon Development
CBGEX was established on August 5, 2008, with the approval of the Beijing municipal government. Its original name was China Beijing Environment Exchange (CBEEX), later changed to its current version in September 2021. In its exchange hall, visitors can see a conspicuous electronic screen with the phrase "Climate Exchange for Climate Change."
Over the past 14 years of operation, CBGEX has played a decisive role in promoting green and low-carbon development in Beijing. There is a long list of achievements, from facilitating China's first voluntary emission reduction transaction, to developing the first voluntary emission reduction standard, also known as the Panda Standard, issuing China's first low-carbon credit card, and building the first carbon neutral bank. This year, it assisted the Olympic and Paralympic Winter Games Beijing 2022 in achieving its carbon neutrality goal.
The first voluntary carbon emission reduction transaction in China can be traced back to August 2009, when the then CBEEX celebrated its first anniversary. An auto insurance company in Shanghai paid RMB 277,000 to purchase a quota of emitting 8,026 tons of carbon dioxide from Beijing, which saved the amount by encouraging a green way of traveling during the Beijing 2008 Summer Olympics. The purchased amount offset the insurance company's carbon emissions from 2004 to the end of 2008, making it the first company in China to reach carbon neutrality through voluntary carbon trading.
In December of 2009, China's first voluntary carbon emission reduction standard – the Panda Standard – was released globally, marking a positive step taken by China in establishing its own carbon emission trading market. The move enabled China a louder voice in the international carbon trading market.
"The amount of carbon emissions is a matter of development quality and level to a region," said Ming Dengli, director of the Beijing Municipal Ecology and Environment Bureau's climate change department. She said that Beijing, as the capital city of a major country, has always taken green development as its basic strategy for urban development. It has been working to control both the amount and intensity of carbon emissions, made explorations in the operation of carbon trading market, and optimized the city's energy mix and industrial structure by using clean energy alternatives, Ming said.
According to Ming, the Beijing Organizing Committee for the 2022 Olympic and Paralympic Winter Games adopted such measures as building low-carbon venues, using renewable energy, and encouraging a green way of traveling to reduce carbon emissions during the preparation and staging of the grand event. The local governments of Beijing and Hebei have also donated part of their emission quotas to the Beijing 2022 Organizing Committee for the goal of making the event carbon neutral. In addition, some Chinese business partners offered another 200,000 tons of such quotas. "Overall, through green technologies, forestry carbon sink, corporate donations, and social participation, we managed to achieve the carbon neutrality goal," said Ming.
Major Players on Board
In 2013, Beijing was among the first batch of seven provincial-level regions to establish a pilot market for carbon trading with the goal of capping carbon dioxide emissions. The capital's market operates carbon trading in eight major sectors including power generation, petrochemicals, and cement making, and serves more than 800 key emitters. The price of carbon quotas in Beijing's market is the highest among the seven pilot carbon markets across the country. As of the end of 2021, its cumulative turnover had exceeded RMB 2.11 billion.
Ming took Beijing Public Transport Group (BPT Group) as an example. In 2016, it started to replace diesel vehicles with electric buses and those powered by natural gas. By the end of 2020, the company had 39,000 tons of unused carbon emission quotas, with a market value of close to RMB 2.7 million. Meanwhile, its diesel consumption dropped by nearly 60 percent and the carbon emission intensity fell by more than 11 percent compared with 2016.
On August 18, 2021, BPT Group released its Corporate Social Responsibility (CSR) Report 2020. According to the report, as of the end of 2020, the company had 23,948 public buses in operation, of which new energy and clean energy buses accounted for 87.34 percent. "It is the eighth consecutive year that the company has released a CSR report, recording the company's efforts in contributing to Beijing's green development," said Liu Baolai, deputy general manager of the company's department of information science and technology. He further indicated that top priority has been given to increasing the proportion of new-energy vehicles to replace conventional diesel vehicles. "To this end, we have also sped up the construction of facilities, such as gas refueling stations, charging stations and piles, and hydrogen refueling stations," said Liu.
Tuqiao Terminal is the first bus terminal purely for electric buses, and the largest bus charging station in Beijing's Tongzhou District. Dozens of charging piles are in use, generating no noise, or the unpleasant smell of diesel. A passenger surnamed Liu said that he found it very comfortable to ride on an electric bus.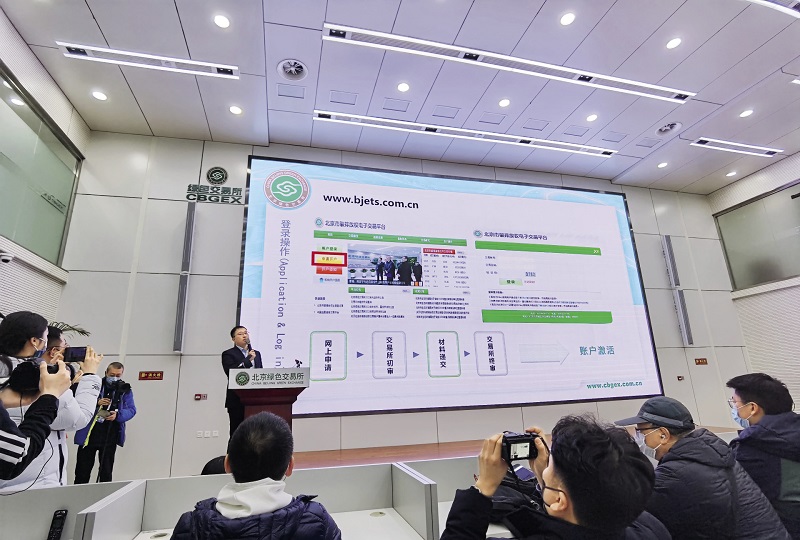 A staff member demonstrates the operation process of carbon trading on CBGEX's platform, on February 16, 2022.
Active Public Participation
Beijing also rolled out incentives to encourage the general public and small and micro-sized businesses to adopt a green and low-carbon way of traveling.
In September 2020, Beijing launched a platform named Mobility as a Service (MaaS). It is a digital platform that supports end-to-end trip planning, electronic ticketing, and payment services across all modes of public and private transportation. It now covers 95 percent of the city's public traffic lines.
MaaS users can log into the platform from the Gaode map app on a smartphone. They can gain low-carbon points by choosing public transport, bicycling or walking as a way of traveling. The points can be changed into coupons or used in environmental conservation.
"I have accumulated 81.2 kg of low-carbon points. When it reaches 200 kg, I can exchange the points for a 10-yuan bus ticket. I can also donate 400 g to safeguard one-square-meter of a lake," said MaaS user Lin.
Ming said that the carbon trading mechanism, as a policy tool to deal with climate change and reduce carbon emissions across society, has spurred businesses to make moves in technological innovation, the use of new energy, and industrial restructuring. It has also motivated the public to participate in reducing emissions, which is conducive to promoting the green transformation of the economy and society in an all-round way, and underpinning the city's high-quality development.
A national trading center for the China Certified Emission Reduction (CCER) scheme is now under construction. The CCER scheme is a carbon offset program that was launched in 2005 to help China meet its emission reduction targets under the Kyoto Protocol. The trading center aims to encourage companies that do not undertake mandatory emission reduction obligations to actively develop forestry carbon sinks, recycle methane, and adopt solar and wind energy to help reduce greenhouse gas emissions. Emissions avoided through such efforts are then quantified, and developed into carbon products to be traded on the exchange market.
Wang Huijun, executive deputy general manager of the CBGEX, said, "The CCER is an internationally acknowledged scheme. In addition to serving the domestic carbon emission reduction goals, it will cooperate with the international carbon trading mechanism and provide a Chinese solution to the global action against climate change."
Based on the extensive experience Beijing has accumulated in the carbon trading market, the Ministry of Ecology and Environment will support Beijing to build a national voluntary emission trading center amid efforts to achieve carbon peaking and carbon neutrality.