In an uncertain world beset by many challenges and crises, and further worsened by the frequent reshuffling of state leaders and the rise of zero-sum Cold War mentality, the certainty of steady development and the promise of a better future is what can help soothe people's frazzled nerves. The recently concluded week-long 20th National Congress of the Communist Party of China (CPC) has just sent encouraging signals to the world by committing to promoting world peace and development and building a human community with a shared future.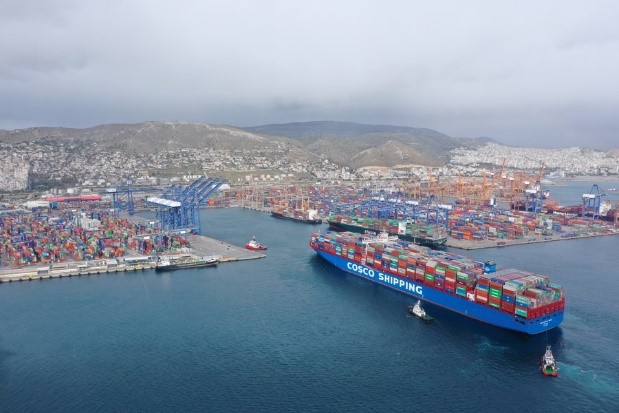 This aerial photo taken on Feb. 15, 2019 shows a container ship of the COSCO Shipping approaching Piraeus port, Greece. (Xinhua/Wu Lu)
The global deficit in peace, development, security, and governance is growing, General Secretary Xi Jinping of the CPC Central Committee pointed out in his report delivered to the congress. However, the historical trends of peace, development, cooperation, and mutual benefit are unstoppable, Xi observed, adding, "Building a human community with a shared future is the way forward for all the world's peoples."
China's unwavering effort in domestic development, championing of economic globalization and initiatives to promote global development over the past decade has contributed a lot to alleviating the global deficit in development. China's GDP reached US $17.7 trillion in 2021, accounting for 18.5 percent of the world's total. From 2013 to 2021, its annual GDP growth rate stood at 6.6 percent, beating the global average of 2.6 percent. During the same period, the country's contribution to global economic growth averaged 38.6 percent – higher than that of the G7 countries combined – making it a major engine for global growth. Moreover, the World Bank estimates that infrastructure investment under the framework of the China-proposed Belt and Road Initiative (BRI) could lift 7.6 million people worldwide out of extreme poverty and 32 million out of moderate poverty. In a recent joint interview with Chinese media, Dominican Prime Minister Roosevelt Skerrit called the BRI "one of the most remarkable initiatives," since China helped build the infrastructure to boost the economy, create jobs, and enhance resilience in coping with natural disasters and addressing poverty in Latin America and Africa.
"China is prepared to invest more resources in global development cooperation. It is committed to narrowing the North-South gap and supporting and assisting other developing countries in accelerating development," Xi Jinping promised at the congress.
China has also been an active player in safeguarding world peace and regional stability. Being the second-largest funding contributor to UN peacekeeping operations, China has dispatched over 50,000 peacekeepers to nearly 30 UN peacekeeping missions since 1990 – the largest number among permanent members of the UN Security Council.
Nearly three years into the COVID-19 pandemic, global development and governance is facing grim challenges as some Western countries wield their power and leverage the dominant position in the global governance system to arbitrarily impose sanctions and stoke contention worldwide. This aggravates the global deficit in governance. Adamantly opposed to all forms of power politics and the Cold War mentality – China promised at the Party congress "no matter what stage of development it reaches, it will never seek hegemony or engage in expansionism." Xi said in his report, "China upholds true multilateralism, promotes greater democracy in international relations, and works to make global governance fairer and more equitable."
Meanwhile, China also commits to promoting high-standard opening-up. In its endeavors to open up wider to the outside world, the country's foreign trade has seen robust growth over the past 10 years. China outperformed the United States in 2020 to become the world's largest trader for the first time with a total foreign trade volume of US $5.3 trillion. Since 2020, China has remained the second-biggest recipient country for foreign direct investment. Latest data from the General Administration of Customs of China showed China's imports and exports were valued RMB 31.11 trillion (US $4.29 trillion) in the first three quarters 2022, up 9.9 percent from a year ago.
China has also steadily advanced institutional opening-up. China launched the first negative list of foreign investment access with 190 restrictive measures in 2013, which have been pared to just 27 items today. At the same time, a total of 21 pilot free trade zones have been established since the establishment of the first one in Shanghai in 2013.
On the convening of the 20th CPC National Congress, leaders of foreign political parties and government officials worldwide congratulated the CPC Central Committee and General Secretary Xi Jinping. While speaking highly of the CPC's remarkable achievements and its important contributions to improving the well-being of the Chinese people and people in the rest of the world, they also indicated their expectation for the bigger and more active and positive role of China in global development and governance.
China is committed to building a world of lasting peace through dialogue and consultation, a world of universal security through collaboration and shared benefits, a world of common prosperity through mutually beneficial cooperation; an open and inclusive world through exchanges and mutual learning, and a clean and beautiful world through green and low carbon development. Xi depicted the vision of a promising world and the path to achieve it in his report.