From realizing a moderately prosperous society to building a modern socialist country – the people have always been the priority in the CPC's mission and tasks.
In the report delivered by General Secretary of the CPC Central Committee Xi Jinping to the 20th National Congress of the Communist Party of China (CPC), the word "people" occurred more than 100 times. As the incredible achievements made by China over the past decades have piqued the interest of ever greater numbers of China observers and pundits worldwide to study the country and pinpoint reasons behind its development feats – the people-centered development and governance orientation has come to the fore of their perception about China. This orientation has been one of the hallmarks of the governance of China.
The 20th National Congress of the Communist Party of China (CPC) opens at the Great Hall of the People in Beijing on October 16, 2022. (Xinhua/Yue Yuewei)
"Bringing benefit to the people is the fundamental principle of governance," Xi said at the 20th CPC National Congress, which has garnered a great deal of global attention. The Party has no special interests of its own – it has never represented any individual interest group, power group, or privileged stratum, Xi noted last year in his speech at a ceremony marking the centenary of the CPC.
Eliminating absolute poverty nationwide after lifting around 100 million rural poor out of poverty in just a decade, China declared the successful attainment of the goal of building a moderately prosperous society in all respects – thus successfully realizing its first centenary goal. Now, the country has embarked on a new journey of building a modern socialist country that is prosperous, strong, democratic, culturally advanced, harmonious, and beautiful, to meet its second centenary goal by the mid-21st century when the People's Republic of China celebrates its 100th anniversary.
Xi's report at the 20th CPC National Congress clarifies the main features of Chinese modernization – a huge population, common prosperity for all, material and cultural-ethnical advancement, harmony between humanity and nature, and peaceful development.
"The immutable goal of our modernization drive is to meet the people's aspirations for a better life," Xi said in the report. The country will endeavor to maintain and promote social fairness and justice, bring prosperity to all, and prevent polarization – as achieving common prosperity is a defining feature of socialism with Chinese characteristics.
Reviewing the history of the country's development under the CPC's leadership, people's concerns have always topped the central authorities' agenda. That people-centered philosophy has thus become one of the secrets behind China's success.
Ten years ago, after first being elected as the general secretary of the CPC Central Committee, Xi said, "The aspirations of the people to live a better life must always be the focus of our efforts." The past decade has seen the Chinese leader honor his commitment to the people and the country. And in his report to the Party's national congress, Xi presented a new blueprint for bringing greater betterment to the people's lives.
Increasing People's Income
While visiting Shibadong Village of Xiangxi Tujia and Miao Autonomous Prefecture, Hunan Province, in November 2013, Xi Jinping formally proposed "targeted poverty alleviation." It entailed that local authorities should make clear the concrete situation of each impoverished household as well as the factors responsible for their predicament, and then get the corresponding alleviation measure tailored to help them. Thanks to the nationwide campaign and local efforts, the annual disposable income per capita of the once poverty-stricken village rose to RMB 20,167 from just RMB 1,668 in 2013 by developing local agricultural brands and rural tourism.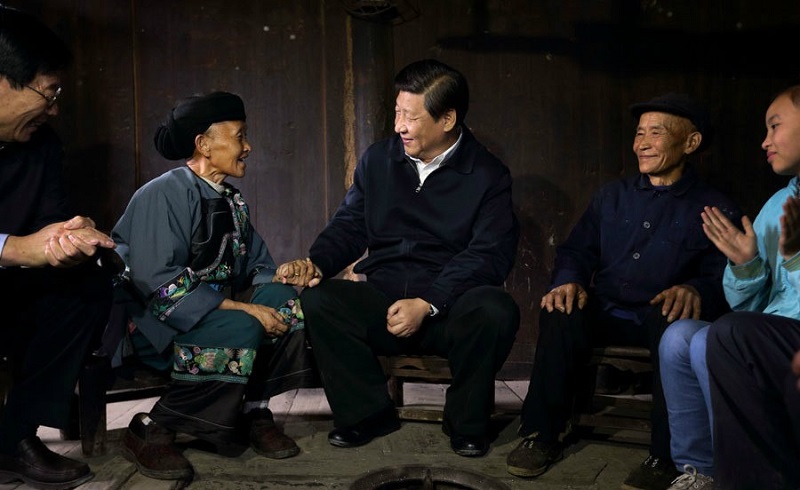 "Targeted poverty alleviation" was first proposed by President Xi Jinping when he visited Shibadong Village, central China's Hunan Province, in 2013. (Photo/Xinhua)
In 2021, as a result of the country's efforts to consolidate its poverty alleviation achievements and push for rural vitalization, the average net income of people who have shaken off poverty climbed to around RMB 12,500, official data show.
As rural revitalization is on the move, in order to further increase people's income and promote common prosperity, urban employment is becoming a major issue for the country to address. "Employment is the basic component of the people's well-being," Xi said in the report. "We will ensure higher pay for more work and encourage people to achieve prosperity through hard work. We will promote equality of opportunity, increase the incomes of low-income earners, and expand the size of the middle-income group," he indicated.
Over the past decade, the number of newly created urban jobs in China has exceeded 13 million annually. In 2013, the share of urban workers of the total employed population surpassed that of the rural working population for the first time by reaching 50.5 percent and then rising to 62.7 percent by 2021 with a population of 467.73 million. Benefiting from the country's relentless efforts to increase people's income, a large middle-income group of 400 million people has emerged in China.
In the report to the 20th CPC National Congress, Xi emphasized the need to intensify efforts to implement the employment-first policy and improve related mechanisms to promote high-quality and full employment. He also called for efforts to refine the public service system for employment and the system of providing employment support for key groups and do more to help those in difficulty find employment and meet their basic needs.
New professions like delivery staff for online platforms, big data engineering technicians, and Internet marketers are attracting increasing numbers of job hunters. In 2020, the number of people employed in China's sharing economy platform enterprises reached 6.31 million. Meanwhile, entrepreneurship and flexible employment are being encouraged with training sessions and subsidies provided.
While visiting Yibin University in June 2022 during his inspection tour of Sichuan, Xi told the students there that a happy life is the result of one's own hard work. He also called for special attention to be given to graduates from families who have been freshly lifted out of poverty and families depending on subsistence allowances or with no employment, and graduates with disabilities in local efforts to secure employment for more graduates. He hopes to ensure that "everyone has the opportunity to pursue a career through hard work," as his report indicates.
Providing a Safety Net for People's Livelihoods
"We will further improve the multi-tiered social security system that covers the entire population in urban and rural areas and see that it is fair, unified, reliable, well-regulated, and sustainable," Xi said in the report.
China has built the world's largest and fully functional social security system. The population covered by the basic pension insurance program surged to 1.04 billion in 2022 from 790 million in 2012; the basic medical insurance program coverage rose to 1.36 billion from 540 million, and the unemployment insurance program coverage increased to 290 million from 190 million. The full-coverage social security system is providing a safety net for people's livelihood, contributing to the country's sustainable development and stability.
Meanwhile, the report also addresses people's concern about medical services. Recognizing people's health as a key indicator of a prosperous nation and a strong country, Xi noted in the report, "We must give strategic priority to ensuring the people's health and improve policies on promoting public health." According to the report, the availability of quality medical resources will be increased with more even distribution among regions.
Shao Xiaoying (L), person in charge of an elderly service center, puts on make-up for the elderly before they pose for a group photo at the elderly service center in Wuxing District of Huzhou, east China's Zhejiang Province, on October 14, 2020. (Xinhua/Weng Xinyang)
In addition, the report has attached great importance to child and elderly care to brace for an aging society and improve the country's demographic structure. China will "establish a policy system to boost birth rates, and bring down the costs of pregnancy and childbirth, child rearing, and schooling." And China will "pursue a proactive national strategy in response to population aging, develop elderly care programs and services, and provide better services for elderly people who live alone." According to the report, China will ensure that basic elderly care is accessible to the entire elderly population.
Data from the Ministry of Civil Affairs show that a total of RMB 35.9 billion had been invested in the building of elderly care facilities during the period of 2012-2021. As of now, almost all urban communities and more than half of rural communities in China have access to elderly care services. Nationwide, there are around 360,000 elderly care service institutions available, able to provide 8.13 million beds, nearly double the figure of 2012.
When visiting a community in Huanggu District of Shenyang City during his inspection tour of northeast China's Liaoning Province in August 2022, Xi called for efforts to expand available care services for the elderly, considering China's aging population and their increasing life expectancy. He then laid emphasis on boosting old-age programs and the corresponding industries.
Building Beautiful China
"Respecting, adapting to, and protecting nature is essential for building China into a modern socialist country in all respects," Xi pointed out in the report delivered to the 20th CPC National Congress.
Fresh air, clear water, agreeable climate, and beautiful environment all constitute an essential part of a quality life and people's well-being. Nature also provides the basic conditions for human survival and social development. Over the past decade, remarkable improvement has been made in the country's ecological environment. People enjoy bluer skies, greener mountains, and cleaner waters.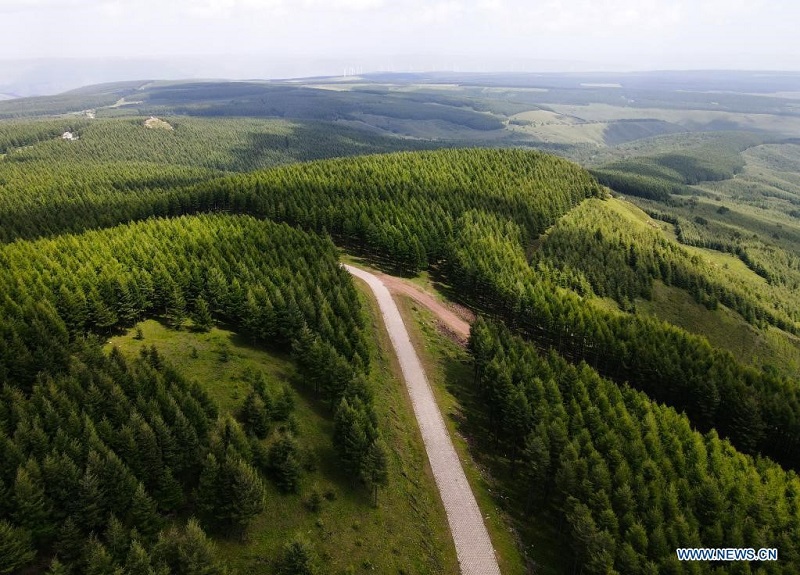 Aerial photo taken on August 22, 2021 shows the scenery of Saihanba forest farm in north China's Hebei Province. (Xinhua/Mu Yu)
Data show that the past decade has seen a steady increase in China's forest coverage rate, which now stands at 23 percent. China has led the world in increasing green cover with a whopping 25 percent contribution to the global green cover according to a study published by the journal Nature Sustainability in February 2019. Meanwhile, to better protect biodiversity and the ecological environment, China has established a nature preservation system composed of national parks, nature reserves, and various types of nature parks, putting more than 90 percent of the terrestrial ecosystem and 71 percent of the key wildlife species under state protection.
Smoggy days were once a nuisance for citizens in Chinese metropolises like Beijing.
In July 2018, the country released a three-year action plan to wage the battle for blue skies. Official data show that from 2013 to 2020, PM2.5 concentrations in the surveyed 74 cities fell by 48.6 percent — with the ratio of days with good air quality rising by 17.9 percentage points — and that of heavily polluted days dropping by more than 80 percent.
During Xi's countless inspection tours of the country, environmental protection has been always one of his main focuses. In July 2019, while inspecting Inner Mongolia, he called for adherence to the path of green development that puts ecology first and efforts to build a beautiful China with green mountains and fresh air.
According to Xi's report at the CPC national congress, China will "advance the Beautiful China Initiative and take a holistic and systematic approach to the conservation and improvement of mountains, waters, forests, farmlands, grasslands, and deserts." Meanwhile, China will also carry out major projects for preserving and restoring key ecosystems at a faster pace in priority areas, including key national ecosystem service zones, ecological conservation redlines, and nature reserves. Xi stated that the modernization China pursues is one that boasts harmony between humanity and nature.
By wholeheartedly serving the people, the Party has earned their sweeping support. The American public relations and marketing consultancy firm Edelman's 2022 Trust Barometer shows that Chinese citizens' trust in their government is at a record 91 percent – the highest seen in a decade. The result is even more striking compared to the U.S., where trust in government stands at 39 percent.
"We must strive to realize, safeguard, and advance the fundamental interests of all our people. To this end, we must do everything within our capacity to resolve the most practical problems that are of the greatest and most direct concern to the people," Xi said at the 20th CPC National Congress. This commitment has greatly boosted Chinese people's confidence in seeking a better life in their way forward and realizing the great rejuvenation of their nation.