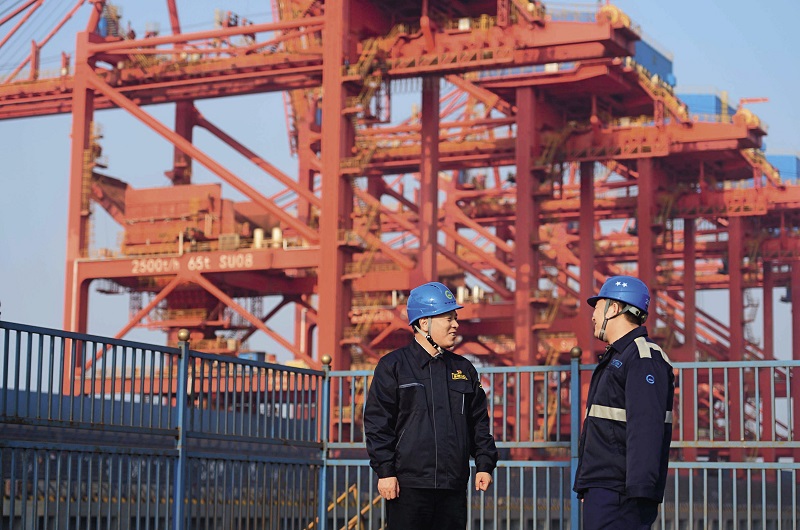 Shao Limin (left), deputy to the National People's Congress and deputy general manager of Cangzhou Huanghua Port Crude Oil Port Co., Ltd., investigates the development of port-related industries at the Huanghua Port Ore Terminal, on February 24, 2022.
The annual gatherings of China's top legislature – the National People's Congress (NPC), and political consultative body – the National Committee of the Chinese People's Political Consultative Conference (CPPCC), widely known as the Two Sessions, are very important political events in China, and inevitably always draw both domestic and global attention.
Lasting for roughly one week in early March, the 2022 Two Sessions gathered together nearly 3,000 lawmakers and around 2,000 political advisers to perform their duties, deliberating on a range of legislative items, reviewing and discussing a series of work reports, and putting forward proposals related to all walks of life, striving to reach a common ground with the convergence of interests of the Chinese people.
Meanwhile, the events provide observers with a window to understand the practice of the country's whole-process people's democracy. As the people's representatives, NPC deputies and members of the CPPCC National Committee bring with them proposals and issues of public concern by collecting people's opinions and pooling their wisdom. In this way, the will of 1.4 billion people can be embodied in the top-level design of national development.
The Special Report in this issue intends to show our readers how these people's representatives have done their jobs, as this year marks the end of their five-year tenure.